Gathering grey kitchen ideas is a favourite pastime of ours. Whether you want to add a few touches of the now and forever-trending colour to your space, or if you're looking to overhaul your entire kitchen with a completely grey colour scheme, you've come to the right place. From light grey kitchen ideas or dark colour schemes, beautiful kitchen cabinets and more, we've 16 lovely ideas to get you inspired.
More inspiration and kitchen ideas can be found on our hub, and whether your preference is for a sleek and contemporary space complete with matt cupboards, a cohesive design and stylish kitchen island or something a little more pared back, we have it all covered below.
Why is grey a good colour for a kitchen?
There are many reasons why grey is an increasingly popular colour in our homes, and most especially in our kitchens!
Light or dark: it's a colour that ages well and won't highlight grotty spots that other colours might.
Easy to match: as grey is neutral, you can pair it with bright colours or natural and rustic finishes and it will work perfectly. Whether that's your utensils, cabinetry or coffee maker.
On trend: and unlikely to step off the catwalk for home decor, for a while.
1. Achieve a stylish finish with matt-grey cabinetry 
If you're seeking stylish simplicity, it doesn't get better than gorgeous matt-grey cabinetry. Touch-close with sleek silhouettes, this stylish design is perfect for a contemporary space with a muted, minimalist design and makes a difference to white.
We love the distinct feel of this modern kitchen, designed by Optiplan Kitchens. If you're looking for more kitchen cabinet design ideas, you'll be pleased to know that our stylish guide was written with you in mind. 
2. Warm up a grey kitchen with copper accents
If you want the timelessness of grey and the interest of interiors trends, consider opting for fixtures and fittings that can be replaced as styles come and go.
We love the idea of pairing a simple grey scheme with copper kitchen accessories. Combining cool and warm tones in this way will add depth to a space without compromising the simplicity that many seek when opting for a grey scheme.
Recreate this look with Norsu Interiors. 
3. Choose blue-greys for a warmer finish
If you find traditional greys to be too cold (or too common), you may consider opting for a more unique and slightly warmer blue-grey.
A great compromise if you also like the idea of using colour in the kitchen, we'd advise pairing blue-grey cabinetry with more traditional grey tones – this could be in the form of flooring or a marble-effect splash-back. And, if you want to add interest and contrast, paint kitchen furniture in a brighter shade. Find out how to paint furniture with our step by step.
Style with understated features, such as this Christie Pendant Light from Original BTC.
4. Incorporate a depth-enhancing feature wall
If you're looking to add depth or create a focal point in your kitchen, consider opting for a grey(ish) feature wall. This draws the eye effectively and can help create the feeling of a larger space if positioned correctly. 
5. Paint the wall grey to contrast with wooden cabinetry
Warm, richly textured wooden cabinetry is the perfect match for the cool, steely tones of grey. Make even more of a statement with the addition of stylish wall lighting, like these Oxford 2 Wall Lights from Original BTC. Not your style? 
You'll find out pick of the best kitchen lighting in our handy guide. In case you were wondering, we've got how to plan kitchen lighting covered, too.
6. Use grey with purpose in mind
While aesthetic appeal is (of course) important to consider when designing a kitchen, it's essential that you balance this with considerations as to how the space will function.
Combining function and aesthetics is the easiest way to achieve your dream kitchen. For example, the addition of a concrete breakfast bar effectively ties together the design of this grey-toned kitchen, all while functioning as a handy spot to host and entertain guests.
7. Match your walls and cabinetry for a smart and cohesive finish 
In addition to creating a space that feels smart, cohesive and considered, matching your wall and cabinetry shade is an easy way to make a small kitchen feel larger (and who doesn't want that).
Opting for open shelving is another space-enhancing trick that will make your kitchen feel less boxy and create a striking focal point if styled with pretty kitchen accessories.
For more beautiful small kitchen ideas, take a look at our feature.
8. Light grey kitchen additions can create a unique rustic look
For a twist on a rustic or Scandi-inspired kitchen, consider styling simple, light grey, handleless cabinets with wooden accessories – gorgeous chopping boards in a variety of shapes are a great option, as well as plenty of ceramics.
It's this feeling of a kitchen being in use, with handy (but stylish) bits and bobs at hand, that gives this space that laid back, rustic feel that many people adore.
Browse flexible freestanding kitchen ideas if, like us, you're down with the laid back feel. 
9. Use grey as a base for combining bright interiors
If you like the idea of combining different interiors' trends or styles, you may consider opting for grey as a base to build on. 
A light shade is likely to complement most shades – including corals, yellows and reds – and acts as the perfect link between modern and more traditional interiors. 
These Woodland Matt Tiles from Walls & Floors make the perfect base for a grey kitchen.
10. Consider grey kitchen blinds
If you can't detach yourself entirely from the appeal of a white kitchen, but want to incorporate a little grey for added interest, consider blinds an easy way to incorporate the colour into your scheme.
These 50mm Athene Faux Wood Blinds from English Blinds are a perfect example. If blinds aren't your thing, remember that the same rules apply to most other kitchen window treatment ideas – our guide's got you covered. 
11. Choose a grey toned splashback for a subtle use of the shade
Opting for a grey splashback is another option for those who like the idea of incorporating a touch of grey into an otherwise white scheme.
White marble or granite with grey veining is the perfect option – particularly in a more traditional or Shaker style kitchen (which you can find more of in our stylish Shaker kitchen design ideas)  – as it adds interest, texture and colour to a space without compromising the appeal of a white (or cream) finish.
The addition of these gorgeous Stanley Pendant Lights in hammered copper, available from Original BTC, helps to warm up a cool toned kitchen. Find more kitchen splashback ideas in our design gallery.
As this kitchen from Ikea demonstrates, it's possible to opt for a splash-back with really fine grey detailing for an incredibly subtle injection of the shade into your space.
12. Combine complementary shades of grey
Combining complementary shades of grey is an easy way to add depth to a kitchen and can be particularly effective in a small space. To achieve this look successfully, we'd recommend opting for shades with the same hue. 
Stainless steel appliances will complete the look, while open shelving is effective in providing a handy storage solution, all while making a small kitchen feel larger and less boxy. We have plenty more storage ideas for small kitchens, if that's what you're in need of.
13. Pair grey with complementary pastel shades
If you're keen to design a kitchen with a feminine, millennial feel, consider working pastel shades into your otherwise grey scheme.
We love the addition of a pastel pink recess into this stylish kitchen, which not only breaks up the traditional grey and white combination, but creates a handy spot for storing ceramics and other pretty (yet practical) kitchen essentials.
Find more pretty pastel design ideas in our gallery.
14. Incorporate the moody interiors trend into a grey kitchen
if you're tempted by the dark and moody interiors trend but don't want to sacrifice the lightness and brightness of grey, consider working the trend in more subtly. 
We love the idea of opting for a kitchen island in an inky shade while keeping the rest of the kitchen much more neutral. If you already have a perfectly functioning island, why not consider giving it a fresh coat of paint? Our guide to how to paint furniture tells you all you need to know. 
Find more dark kitchen design ideas that are more than just grey in our gallery.
This gorgeous kitchen from Blakes London also uses a large kitchen island to incorporate the moody interiors trend into an otherwise white-grey scheme and is a great example of a luxury grey kitchen.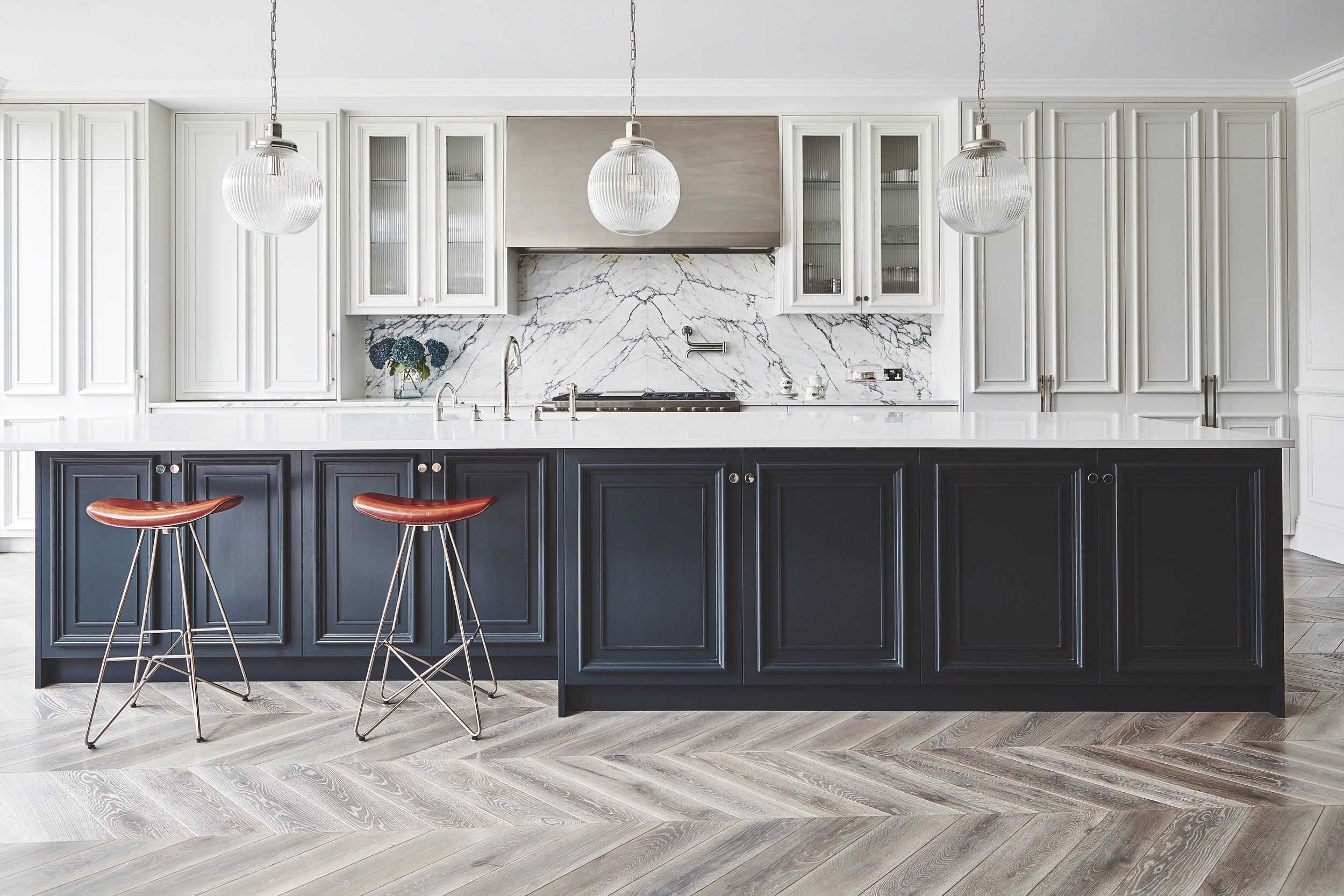 15. Paint furniture grey to create links between adjoining rooms
Alternatively, paint (or purchase) furniture in a matching grey shade if you're designing an open plan space or want to create cohesion throughout your home.
Giving old furniture a fresh coat of paint is an easy way to up-cycle; creating less waste and giving old favourites a brand new lease of life. 
You can pick up the best furniture paints with our help, too. 
16. Add interest to a space with a gorgeous grey patterned tile
If you like the idea of styling your kitchen with on-trend patterned tiles, but want to stay well away from colour, consider opting for a stylish grey finish. This is an easy way to work pattern and interest into a scheme without compromising too much on the appealing simplicity of white and grey tones.
We love the idea of positioning patterned tiles behind a range cooker to create a striking focal point that draws the eye as soon as you enter the kitchen. Ensure you're picking the right style for your home with our super simple guide to choosing the best kitchen tiles. We've even catered for small kitchen owners, with our small kitchen tiles advice piece.
Looking for more beautiful and practical kitchen ideas?