We will be the first to admit that grey kitchens are some of our favorites out there – although we don't like to be biased. A lot of time is spent scrolling through gorgeous pics of these rooms, be it classic Shaker or rustic farmhouse styles.
So we thought, to give us an excuse to continue down our social media rabbit hole of dreamy kitchens, we've put all our best grey kitchen decor findings in one place to give you all some inspiration.
Whether you want to add a few touches of the now and forever-trending kitchen color, or if you're looking to overhaul your entire kitchen with a completely grey color scheme, you will find a plethora of inspo.
From light grey kitchen ideas to dark charcoal color schemes (and everything in between) we've covered it all.
Grey kitchens that are tasteful and serve purpose
'Kitchens are rarely recognized for their color potential, as a highly functional space, it is too often reduced to white walls and tiles, but what if you could combine form and function?' says Kathryn Lloyd, color specialist, Crown Paints.
'When choosing, kitchen units and appliances, we often take shelter with tones of white and grey to extend their shelf life. They form a neutral canvas, to which we can add personal touches of color and accessories.'
1. Create a modern farmhouse feel with wood and brick
If you're worried about a grey kitchen having its hay day prematurely and quickly becoming outdated, go for traditional kitchen ideas and trends. A modern farmhouse set-up will stay stylish for years and years to come.
'If you're starting from scratch, choose traditional style kitchen cabinets such as Shaker Forest for natural wood grains or an opulent framed country style. It's timeless, it's beautiful and brings a countryside feel to your home,' says Darren Watts, design director, Wren Kitchens.
'Color-wise, choose a traditional palette and then highlight a feature cabinet such as an island or dresser with a natural earthy tones such as Pebble. This creates the perfect canvas to add your own nostalgic touches.'
2. Make Shaker-style cabinetry work in a small kitchen
Bring the new favorite neutral into the heart of the home with Shaker-style kitchen cabinet doors in on-trend grey. Complement this classic design with elements that echo a traditional kitchen, like an oak block worktop and wooden floorboards.
To make this look work in a small kitchen, keep the walls free of units to make the room feel more spacious. By integrating the fridge and installing a ceramic undermount sink, the kitchen will feel more open.
For a relaxed and rustic look, wall paneling is perfect aesthetically, with the vertical 'lines' of shiplap drawing the eye upward. This round dining table and chairs provide a welcoming spot for eating, socializing and catching up on work while not taking over the entire floor plan. And, making the most of every nook and cranny of space, this cute window seat offers supplementary seating.
3. Create a modern pantry or breakfast station
Although modern tech advances in refrigeration means that we no longer have to store our food like previous generations, having a pantry as one of your kitchen storage ideas is actually really smart.
'The pantry continues to be on top of the nostalgic kitchen wish list, and retaking its place at the heart of the home, offering substantial storage space for all your culinary essentials,' says John Lewis, founder of John Lewis of Hungerford.
'The interiors can be adapted to your needs including a marble 'cold' shelf, solid oak drawers and door mounted spice storage. Additionally, sockets and lighting can be added so that small appliances can be used, creating a functional workspace.'
'Pantries are a great addition to a working kitchen, whether you are having your entire space re-designed for just looking to add to your current kitchen.'
4. Create a dining nook
Dining ideas for small kitchens can be much more sophisticated than just wedging a small table and chairs in the middle or corner of the room and hoping for the best. You can be so much more creative if you use your space wisely.
'Get cozy and create a snuggly corner in your kitchen with a kitchen nook,' says Watts.
'It's a versatile space ideal for an informal get-together, intimate candlelit dinners, reading on a blurry-eyed weekday or a quiet space for the kids to do their homework.'
'No matter how big your space is, you can always add kitchen nook seating. If you have a quiet corner, or a stunning window view that you want to make the most of in your kitchen, then we can make your nook the star of the show. Add layers of cushions and throws as well as rug to keep the chill at bay.'
5. Blend espresso brown shelving with greige cabinets
'A warm, natural neutral, Brave Ground is the perfect tone to use in combination with other colors.' says Marianne Shillingford, creative director, Dulux.
'Bolstering and balancing, it lets other shades shine, and harmonizes perfectly with out Trust palette of toning, earth colors from all over the world.'
Complementary shades – soft browns, greys and neutrals – can help create a sense of unity in a room, and bring together the different elements of the kitchen scheme. Softening the hard lines of a contemporary space and adding a subtle modern touch to more traditional kitchen spaces.
A warm, natural shade like Brave Ground is a great choice for kitchen cabinets in a grey and brown kitchen, as it looks good with a variety of other colors and materials. Here, it frames natural wood shelves and a collection of copper, glass and ceramic accessories to create a smart and tactile contemporary kitchen.
6. Create a statement grey floor design
Whether you have a small or big kitchen, your kitchen flooring (assuming it's not raised) is one of the decorative furnishings that won't take up any space.
We love this modern traditional design in this grey kitchen which fuses grey geometric tiles and wooden-effect Herringbone motif. The latter really helps to zone the dining set 'away' from the food prep setting.
Grey-painted cabinets match the tones of the darker hexagons to really hone in on the hues and create a cohesive look.
7. Create a cozy open-plan kitchen diner
When looking to create a sociable hub of the home, open-plan kitchen layouts are one of the most advantageous designs that pay dividends. So, when constructing this space, it's important to make way for a casual dining area in your grey kitchen.
An on-trend, Scandi-inspired kitchen with lots of wood is perfect for creating an airy, but still cozy vibe in the home. Add a bench and in-built seating on one side, with individual dining chairs on the other.
And, don't forget about the greenery to break up the grey and brown. Faux plants dotted around the dinner table and potted herbs by the windowsill add a fresh feel.
8. Break up dark grey paint with exposed brick walls
Dark grey kitchens provide a softer alternative to black kitchen ideas, but if you still want to add an edgy and industrial vibe, forgoing paint for an exposed brick wall can create a stripped-back-but-still-sophisticated scheme.
Keeping your cabinets white and your wooden dining set light can stop this space looking more homely and less like a warehouse.
Learn how to create a feature brick wall with our step-by-step guide.
9. Turn living room furniture into an island and shelves
Two cool and ingenious grey kitchen ideas for those who want a cheap kitchen island design and creative shelving: use your coffee tables! Here, Neptune have popped two tables on top of each other to create a makeshift island. We'd go one further by adding wheels to the bottom table to create a fixture that can be moved.
'We wanted to turn Henley upside down,' explains Fred Horlock, head of design, Neptune.
'We did that quite literally in some parts where we upturned consoles and re-imagined coffee tables to create a kitchen island and wall cabinets.'
'Industrial with a contemporary spin was what we were trying to achieve. Think barn conversion meets industrial loft, all designed around a person who really enjoys their kitchen and appreciates good food, hence why we took the doors off the larder so it became a showcase for delicious ingredients.'
'We also backed the larder with marble so it became a more usable space, like a fancy meat curing area. It's very much a cook's kitchen.'
10. Warm up a grey kitchen with copper accents
Contrary to opinion, grey kitchens can still have a nice warmth. We love the look of pairing a simple grey scheme with copper kitchen accessories. Combining cool and warm tones in this way will add depth to a space without compromising the simplicity that many seek when opting for a grey scheme.
'If you're looking to add a little more natural warmth to your home, brass and copper are gorgeous materials that can add real visual interest and charm. Perfect as part of country kitchen decor, they are surprisingly easy to incorporate into interiors.' says Lewis.
11. Choose blue-greys for a warmer finish
If you find traditional greys to be too cold (or too common), you may consider opting for a more unique and slightly warmer blue-grey.
A great compromise if you also like the idea of using color in the kitchen, we'd advise pairing blue-grey cabinetry with more traditional grey tones – this could be in the form of flooring or a marble-effect splash-back. And, if you want to add interest and contrast, paint kitchen furniture in a brighter shade. Find out how to paint furniture with our step-by-step.
'Fresh whites and soft greys can create a wonderfully versatile backdrop for daily life, setting the scene for first cups of tea and after-dinner drinks alike.' says Patrick O'Donnell, brand ambassador, Farrow & Ball.
12. Incorporate pattern into a grey kitchen
We know a lot of grey kitchens are minimalist and simple, often void of pattern. However, if you're looking to add depth or create a focal point in your kitchen, consider opting for a grey(ish) feature wall in the form of kitchen wallpaper. This draws the eye and can help create the feeling of a larger space if positioned just right.
We like this idea by Lime Lace which uses this wallcovering material as a backsplash. It's more budget-friendly than a tiled design and this particular Art Deco-inspired Granite Hexagon motif is water and fireproof so also usable behind your stove.
13. Create a grey kitchen with just paint
Looking for a super quick way to create a grey kitchen? Paint! Just paint a feature wall in a lovely versatile soft grey to transform your space. We love this dusty lilac grey combined with the richly textured wooden cabinetry. But if you don't have wooden cabinets just bring in some of those natural textures with a collection of chopping boards.
The trio of kitchen lighting fixtures over the range cooker are perfect for showing off this statement oven and as task lighting over the hob.
14. Design a grey kitchen with purpose in mind
While aesthetic appeal is (of course) important to consider when designing a kitchen, it's essential that you balance this with considerations as to how the space will function.
Combining function and aesthetics is the easiest way to achieve your dream kitchen. For example, the addition of a breakfast bar effectively ties together the design of this grey-toned kitchen, all while functioning as a handy spot to host and entertain guests.
We particularly love the backless stools which add a pop of red kitchen decor to contrast the grey and sage green.
15. Match your walls and cabinetry for a cohesive finish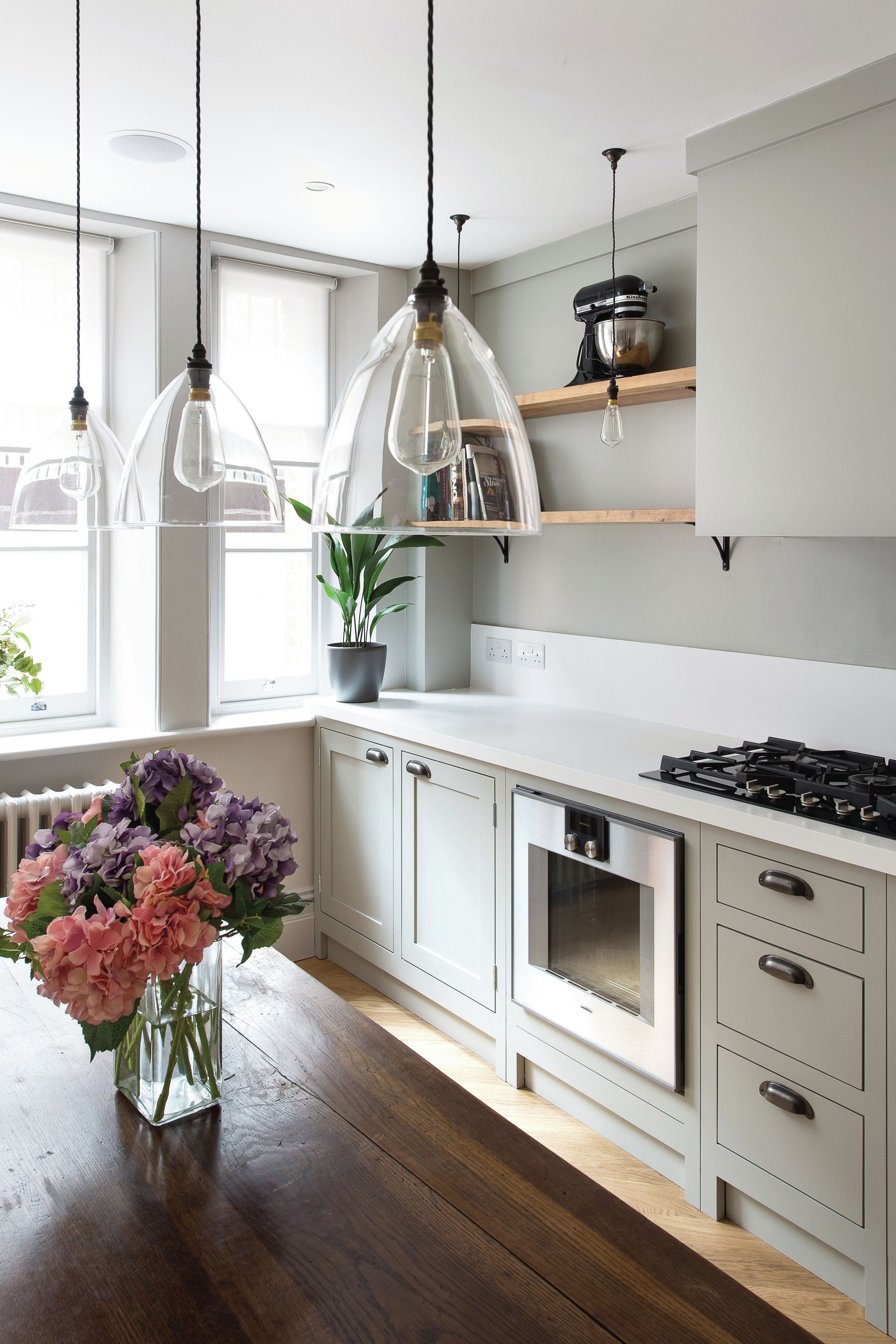 In addition to creating a space that feels smart, cohesive and considered, matching your wall and cabinetry shade is an easy way to make a small kitchen design feel larger (and who doesn't want that).
Opting for open shelving is another space-enhancing trick that will make your kitchen feel less boxy and create a striking focal point if styled with pretty kitchen accessories.
16. Go light grey in a smaller kitchen
If you are working with a smaller kitchen, going for a lighter grey will be the best color choice for expanding your space. It's design 101 that smaller spaces benefit from light colors so pick warm toned pale greys that are going to feel fresh and bright but warm and welcoming too.
Just because the space is small doesn't mean you have to hold back on the decor either. Accessorize your countertops with chopping boards in a variety of shapes are a great option, hanging rails, herbs and crockery. It's this feeling of a kitchen being in use, with handy (but stylish) bits and bobs at hand, that gives this space that laid back, rustic feel that many people adore.
Also note how in this grey kitchen the cabinets are on legs – a great small kitchen storage hack as it creates the feeling of more floor space.
10. Mix grey and pink for a classic combo
Name a more dreamy combo than pink and grey? Go on will we wait... Clearly our love of dusky pale pink kitchen ideas is going nowhere so this isn't a look that's going to date.
Pinks are the perfect color to warm up grey cabinetry and make darker greys less dramatic. In this kitchen the island breaks up all the grey and softens the room, it's complimented by the matching pink tiles behind the oven too.
17. Or go for a brighter color clash
Want to bring some sunnier hues into a grey kitchen? Be bold and pick a colorful worktop that's going to counteract any dull tones. We love how this vivid blue kitchen idea works in this contemporary space, its really brings out the blue tones of the grey and there's something a bit retro about the color blocking going on here.
Yellow also works really well to brighten up what can potentially be quite a gloomy color. And you don't have to paint a whole wall or anything, just add a pop of yellow in a backsplash or even a large print if you want something you can regularly switch out.
18. Choose a grey backsplash for a subtle look
Opting for a grey kitchen backsplash is another option for those who like the idea of incorporating a touch of grey into a grey and white kitchen.
White marble or granite with grey veining is the perfect option – particularly in a more traditional or Shaker kitchen ideas – as it adds interest, texture and color to a space without compromising the appeal of a white (or cream) finish.
19. Layer up greys
If you want to stick to an all grey scheme but still want a space that's interest and filled with texture, try layering up different greys. There are at least five shades of grey in this kitchen and they blend seamlessly together whilst adding interest and depth to the scheme. If you've ever wondered how to make a small kitchen look bigger without remodeling it – this is one of many ways.
White is the balancing color and we love the pop of brass that prevents the look from being 'cold' visually. And if you are going for this layered look pick greys that all have the same undertones so they don't clash.
20. Combine grey kitchen ideas with pastel hues
If you're keen to design a kitchen with a feminine, millennial feel, consider going for a more colorful kitchen – working pastel shades into your otherwise grey kitchen scheme.
We love the addition of a pastel pink recess into this stylish light grey kitchen, which not only breaks up the traditional grey and white combination but creates a handy spot for storing ceramics and other pretty (yet practical) kitchen essentials.
21. Incorporate the moody interiors trend
If you're tempted by the dark and moody interiors trend but don't want to sacrifice the lightness and brightness of a grey kitchen, consider working the trend in more subtly.
We love this grey kitchen idea – opting for a kitchen island in an inky shade while keeping the rest of the kitchen much more neutral. If you already have a perfectly functioning island, why not consider giving it a fresh coat of paint? Our guide to how to paint furniture tells you all you need to know.
22. Link adjoining rooms with grey furniture
Alternatively, paint (or purchase) furniture in a matching grey shade if you're designing an open-plan kitchen space or want to create cohesion throughout your home.
Giving old furniture a fresh coat of paint is an easy way to upcycle; creating less waste and giving old favorites a brand new lease of life.
23. Add pattern to a grey kitchen with tiles
If you like the idea of styling your kitchen with on-trend patterned tiles, but want to stay well away from color, consider opting for a stylish grey finish. This is an easy way to work pattern and interest into a scheme without compromising too much on the appealing simplicity of white and grey tones.
We love the idea of positioning patterned tiles behind a open shelving to create a striking focal point that draws the eye as soon as you enter the kitchen. Ensure you're picking the right style for your home with our super simple guide to choosing the best kitchen tiles.
24. Pick a green-grey in a country kitchen
Muted sage green kitchens are everywhere at the moment, and we love this rustic, country-style hue. But if you are worried that it will date, why not pick a more classic grey with greener undertones so you still get a touch of that sage color just in a much more subtle way. Try Farrow & Ball's Mizzle for a nice light grey green.
If you are feeling a little more experimental, you can always add in more green kitchen ideas more gradually.
25. Go bold with a very deep grey
There are countless shades of grey to be found, and often we see paler shades being used, which is fine, but how about being a bit bolder and opting for a deeper dark color like this? It looks amazing with this crisp white kitchen because the contrast is so striking.
Note the tabletop and radiator are also similar in tone so they pull the dark grey into the room. Chrome accessories add a further dimension and you can literally add your own accent color weekly in the form of fresh flowers and fruit.
26. Go ultra contemporary with a metallic grey kitchen
This super smooth steel kitchen really stands out – its clean lines and minimal styling are the epitome of modern kitchen decor. It works brilliantly in this space because of the texture surrounding it - the brick style walls, wooden slat ceiling and lime-washed flooring.
They provide a tactile background that ensures the kitchen units are the star of the show. The dining chairs in their warming shade tie in with the ceiling and prevent the space from looking sterile.
27. Warm up a grey kitchen with wooden flooring
If you want to add warmth to a grey kitchen, your choice of flooring is a really easy way to do so. When looking at the best types of wooden flooring available, real wood wood-effect LVT or imitation laminate floors are instantly going to bring in that cozy vibe – it's just about pick the right hue to match your choice of grey.
Here you can see a dark, cooler grey looks lovely with the ashy flooring and the exposed brick only brings in more of that warmth. Our tip would be to order plenty of flooring samples and see how the look alongside your paint swatches.
28. Modern rustic works perfectly with a grey scheme
If you've ever wanted to bring the modern rustic style into your home then here's how to do it in your kitchen. It's all about beautiful textures like sheepskin, lovely grained woods, rattan, exposed brick walls and bare floorboards and a hint of industrial style.
All of this looks fabulous when teamed with this mid-grey color that the units are painted in which is a kind of gunmetal shade. The kitchen island worktop carries on the industrial element as do the metal pendants.
Although there are lots of light elements (including the white alcove walls and pale brick decor, this grey kitchen also includes kitchen ceiling lighting in the form of spotlights. A bright idea if ever we saw one!
23. Match your walls to your cabinets
We love the cohesive look of cabinets and walls painted the same color grey, and it's such a good trick for making a smaller space feel bigger too. You can lift the look by choosing a contrasting worktop and picking a lighter floor.
29. Add texture
Depending on the lighting in your kitchen, grey kitchens do risk looking a bit flat, so picking a kitchen that has some texture to it can avoid this. The Sebastian Cox kitchen from deVOL is perfect for getting this rustic look because you can see the grain of the wood and it just gives any shade of grey a lift.
30. Use accessories to add pops of color
A really easy way to bring some color into a grey kitchen is with accessories – nice crockery, prints, books, plants, there are so many ways to do it. If you have gone for a darker blue grey we think bright, vivid colors like red and orange kitchen ideas look best as they will really stand out against that dark background.
The best dutch ovens by Le Creuset, Staub and other leading brands usually come in bright and ombre colorways and is such a good investment in this cooking space.
31. Mix greys with warm woods
To warm up cooler greys, add in plenty of wooden tones, this can be in the form of something as big as a kitchen island or as small as a shelf. Pick woods that have warmer more orangey tones if you want a more rustic look, and cooler tones for a more Scandi vibe.
Is grey a good color for a kitchen?
'Grey is the perfect shade to use as a backdrop to contrasting pops of color, while matt grey walls provide texture as well as being hard-wearing and practical.' says Shillingford.
'Dove grey kitchens embody traditional country-style themes, and grey and copper kitchens add a modern, metallic twist.'
How can I warm up a grey kitchen?
'Create a grown-up palette by bringing in natural textures to ground the look. Rustic wood flooring, woven baskets on shelving or butcher block worktops integrate seamlessly with these softer shades to create a welcoming look you'll love for years to come.' says Kimberly Duran, creator of @swoonworthyblog.
While Horlock hones in on warm metal decor. He says: 'Copper pipes are pretty easy to sort out. They lend a room a sort of 'no nonsense' demeanor. It's all about the raw and the rustic. You can expose existing pipes or use new ones, whatever your builder advises. Take a look at Pinterest to get even more ideas.'
What colors go best with a grey kitchen?
This depends on the vibe you are trying to create – if you want to play it safe and like a neutral scheme, than layering greys and adding in hints and black and whites is always a classic look. You could however be a bit bolder and throw in some contrasting colors like oranges and yellows to warm up your kitchen. It also depends on the tone of grey you are using in your kitchen.
'Bluer based greys will team wonderfully with rich blue tones, brick reds and terracotta shades. Whilst browner greys look beautiful with an added punch of warm burnt orange and chartreuse yellow in your accessories through to more restful layering of caramel and chocolate tones.' recommends Patrick O'Donnell, Farrow & Ball Brand Ambassador.
'Grey is a beautiful color on its own but it also works so well with every other color because it's the ultimate neutral. This is brilliant if you like grey - but don't want to have it on every wall. Explore colors that work with grey like Concrete Grey, Spiced Honey and Vintage Smoke.' says Shillingford.