Between nightmare-inducing memories of jumpers shrunk to Chihuahua size and recent reports of fire hazards, finding the best tumble dryer can be a daunting task. But, as this handy guide to the best tumble dryers proves, that doesn't have to be the case.
If you're looking free your home from dripping clothes, condensation and overloaded radiators, this is the article for you. We've covered everything from energy efficiency and ensuring you choose a tumble dryer with the right load size, to the difference between condensing and venting options. So, sit back, relax and read our recommendations when it comes to the best tumble dryers...
Once you've browsed our pick of the best tumble dryers, take a look at our guide to how to buy a washing machine and tumble dryer for more specific buying advice. Then, find more advice and inspiration for other household essentials over on our appliances hub page.
What is the best tumble dryer?
When it comes to the best tumble dryer, our top recommendation comes in the form of the Bosch WTW87560GB Heat Pump Condenser Tumble Dryer, which offers everything you could need in a tumble dryer for a very affordable price.
A handy heat pump means this model if far more economical than many of its competitors, as proven by its A++ energy rating. On top of this, it's self-cleaning and has a large load capacity, which is perfect for larger households.
Not sure whether you're looking for a stand alone tumble dryer, or an all-in-one washer dryer? Browse the following guides before making a final decision:
How to buy the best tumble dryer
Our recommended tumble dryer retailers
Before you buy, you'll need to know a little of the lingo, and that includes what type of tumble dryer you should buy for your particular needs.
Energy efficiency
It used to be that tumble dryers were hugely frowned upon for being outrageous energy guzzlers but things have improved greatly and the latest designs are energy efficient and super effective.
Vented vs condensing
First, there are vented dryers, which take damp air from the drum and pump it out of the machine, and can either attach to a wall vent or be used in a room with the window open. These are usually on the cheaper end of the scale. Then, there are condenser tumble dryers, which remove the water vapour from the drum and deposit it as liquid into a separate tank, meaning they can be installed anywhere, but will usually cost more in the first instance.
Finally, there are heat pump dryers, which recycle and reuse the warm air to dry clothes, and while they'll cost more again to buy, they can cut down immensely on running costs. Vented models are pretty outdated now, so most dryers on the market are condensers, with a drawer that collects the water and simply needs to be emptied when it's full. This is great, as it means you can site the dryer anywhere there's a plug, without having to hang a ducting hose out the window.
For lower energy consumption, a condenser with heat pump technology passes hot, humid air through a heat pump and re-uses it, resulting in 50 per cent less energy use.
Capacity
Check out the capacity and make sure it has at least the same kg drum as your washing machine. The larger the drum, the better the air flow and the faster the drying time. There's less creasing, too.
Additional features
It's worth paying more for added benefits such as sensor drying, which reduces the need for ironing, crease care, cool air settings and final cool tumble. Reverse tumble is a handy feature too which separates clothes better and speeds up the drying process.
Energy efficiency contributes greatly to running costs (as does the time the machine is left running and how full you've loaded it). Since tumble dryers cost more to run than washing machines, it makes sense to invest in an A-rated one: heat pump condenser models or ones with sensor drying (see below) being the most energy efficient).
Heat pump technology, available in condensing tumble dryers and some washer dryers, helps contribute to an A energy rating; the hot air produced in the drying process is reused, making the it much more efficient.
Dimensions
Measure up the space you've allocated for the new machine and check dimensions of the product you're interested in carefully. A few mm can make all the difference.
The best tumble dryers you can buy right now
1. Bosch WTW87560GB Heat Pump Condenser Tumble Dryer
Get the best of both worlds with this heat pump condenser model
Specifications
Best for: Large volume
Dimensions: H84.2 x W59.7 x D67cm
Energy rating: A++
Load capacity: 9kg
Reasons to buy
+ Large load capacity + Self-cleaning condenser system
Reasons to avoid
- Instruction manual reportedly not the best
If you're undecided, based on our advice above, as to which type of dryer is right for you, this Bosch tumble dryer looks to be an ideal middle ground, so long as there's room in the budget.
Its heat pump makes it far more economical than a conventional condenser dryer, as attested to by its A++ energy rating, but it may also be economical in terms of saving you time, as its condenser system is self-cleaning, automatically rinsing away fluff for a very clean and efficient machine.
But it really earns our top spot with its large load capacity, up to 9kg, a great insurance policy for particularly heavy laundry days or bigger households. In our opinion, this is the very best tumble dryer you can buy.
Browse more tumble dryers from Amazon
2. Samsung DV90M8204AW
A smarty-pants offering from Samsung that works even when you're not there
Specifications
Best for: Best smart home
Dimensions: (H)85.0 x (W)59.5 x (D)58.0
Energy rating: A+++
Load capacity: 9kg
Reasons to buy
+ Control washes through the app + Incredibly efficient
Reasons to avoid
- Most expensive on our list
With an impressive A+++ energy rating, and heat pump technology to constantly recycle air inside the drum, this Samsung model is the most efficient tumble dryer on our list, and also easily the most expensive. If you can afford the initial outlay though, it'll save you lots of pennies and energy in the long run, thanks to that clever wasteless system.
But perhaps its biggest value, and the one that sets it apart from our Bosch pick, lies in its talents as a "smart" appliance. Using the Samsung Smart Washer app from an Android or Apple device, you can choose the drying programme and check on your wash's progress even if you're not home.
3. Miele TDA 140C 7kg Load Condenser Dryer
Our best condenser tumble dryer: quick-drying and sweet-smelling
Specifications
Best for: Best condenser
Dimensions: H85, W59.5, D58cm
Energy rating: B
Load capacity: 7kg
Reasons to buy
+ Protective honeycomb drum design + FragranceDos for amazing smelling laundry
Reasons to avoid
- Can't see through door
At first glance, some may not be a fan of the vaguely old fashioned design with its opaque door that means you can't keep an eye on your load as it dries, but this Miele dryer proves it's what's on the inside that counts.
Reviewers loved how quickly it dried loads with which previous dryers had struggled, and found it simple to operate despite ample settings to meet most drying needs.
We particularly like the sound of the honeycomb drum, which is designed to form a film of air around the fabric to protect and extend the life of your clothes, but by far the most glamorous feature is FragranceDos, whereby you can add one of Miele's five specially formulated scents to the load for great-smelling laundry. Our top pick of the best tumble dryer if you're after a condenser.
Browse more tumble dryers available at Currys PC World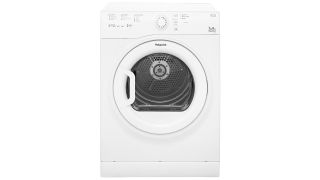 4. Hotpoint Aquarius TVFS73BGP Vented Tumble Dryer
A smaller vented model that goes big on function
Specifications
Best for: Best vented
Dimensions: H85 x W59.5 x D55 cm
Energy rating: B
Load capacity: 7kg
Reasons to buy
+ Excellent value + Quiet to run
Reasons to avoid
- Requires an air vent
If your household is small and your dryer use not too frequent, the Hotpoint Aquarius TVFS73BGP is the best tumble dryer for you. As a vented model, it's not as efficient as a heat pump or even a condenser tumble dryer, but if you tend to dry smaller loads, or only dry less high-maintenance items like bedding or towels, it shouldn't make too much of a dent.
Some reviewers found the pre-programmed modes, as opposed to setting their own temperatures, to take a little getting used to, but overall found it simple to use and, crucially, very quiet. Its high praise and small price make it our best pick for first-time buyers, or anyone who'd like a great value dryer for occasional use.
Shop the full range of tumble dryers available from Argos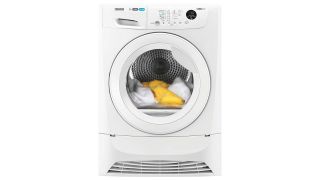 5. Zanussi ZDC8203W Condenser Tumble Dryer
A family-friendly condenser with room for large loads
Specifications
Best for: Value
Dimensions: H85 X W60 X D60cm
Energy rating: B
Load capacity: 8kg
Reasons to buy
+ Generous capacity + Easy to use and clean
Reasons to avoid
- Some found the range of options too much
Combining a reasonable price with a decent energy rating and a decidedly above-decent load capacity, this Zanussi model is our best tumble dryer for value.
At a slightly higher price point than the Hotpoint Aquarius, it may not be the natural first choice if it's your first time buying white goods and you have a rigid budget, but as a condenser model, it will end up saving more money in the long run, and is more suitable for bigger households thanks to its ability to dry up to 8kg of laundry in one go.
And, as its reviewers commented positively on the ease of use and cleaning, as well as its extra dry mode to eliminate guesswork, it seems it might save busy families those extra few minutes, too.
Browse more tumble dryers available from Appliances Direct
Looking for more advice on washing and laundry?