Having the best tumble dryer in the home is a must. We say this because the majority of the Real Homes team have one in their own homes and honestly, it can revolutionise how (and how quickly) you work your way through the laundry pile (we think so, anyway!) Essentially, they are weatherproof appliances because they can be used no matter the weather, to ensure your washing is dry in a timely fashion.
However, we know they're (perhaps) not the most glamorous, or the easiest, to buy which is why we've put together this expert guide to show you five of the best vented, heat-pump and condenser tumble dryers 2020. Each make and model has been carefully selected from the top brands around, such as Miele and Bosch, taking into consideration the price, programmes and usability so you can be confident you'll be investing in the best tumble dryer for you.
If you're kitting out a new home or upgrading your laundry room, then you might want to see our best washing machines, too, so that you can complete your very own washer and dryer set-up.
What is the best tumble dryer?
Why you can trust Real Homes Our expert reviewers spend hours testing and comparing products and services so you can choose the best for you. Find out more about how we test.
If you want the best tumble dryer then (in our opinion) we wouldn't hesitate to buy the Miele TDA 140C Condenser Dryer, which has everything you need to get your laundry dried quickly and smelling great. It's a sturdy machine, and has been designed to make it easier to iron your clothes whilst reducing energy bills simultaneously.
Not sure whether you're looking for a stand alone tumble dryer, or an all-in-one washer dryer? A standalone tumble dryer is always best if you have the space as they tend to have a larger capacity for drying (and tend to do it faster and more efficiently). However, a combi or washer-dryer is definitely better than no dryer at all and is the only choice if you don't have room for both. Our top pick? The Haier HWD120-B14979 Freestanding Washer Dryer – it scored 4.5 stars in testing, too.
Prefer to keep looking? Then keep scrolling to see more of our favourite tumble dryers.
The best tumble dryers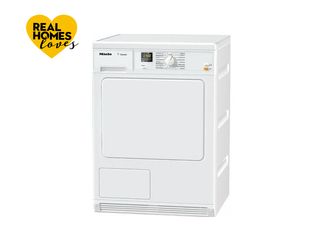 This Miele tumble dryer has got our vote for the best tumble dryer on the market right now, and for good reason too.
Quick drying
Condenser tumble dryer reviews indicate that users loved how quickly it dried loads with which previous dryers had struggled. We particularly like the sound of the honeycomb drum, which is designed to form a film of air around the fabric to protect and extend the life of your clothes.
Scent boost
By far the most glamorous feature is FragranceDos, whereby you can add one of Miele's five specially formulated scents to the load for great-smelling laundry.
Simple but effective
Users found it simple to operate, despite ample settings to meet most drying needs, helping to make it our top pick of the best tumble dryers if you're after a condenser.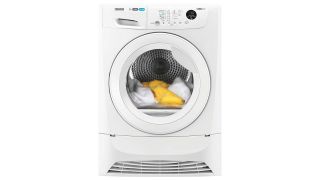 Combining a reasonable price with a decent energy rating and a decidedly above-decent load capacity, this tumble dryer by Zanussi is our best tumble dryer runner-up and is one which offers fantastic value, too.
Behind the door
The larger sized door makes loading and unloading quicker and easier, especially if you're drying large items such as bedding.
The door is even reversible with a choice of four positions for the handle, so you can place the tumble dryer wherever you need in the home.
Great for busy homes
This machine is more suitable for bigger households thanks to its ability to dry up to 8kg of laundry in one go.
And, the condenser tumble dryer reviews display positive comments on the ease of use and cleaning (once used to the settings), as well as its ability to dry lots of clothes in the large drum, quietly too.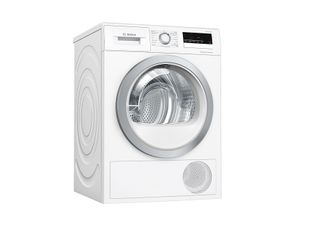 If you're undecided as to which type of dryer is right for you, this tumble dryer from Bosch looks to be an ideal middle ground, so long as there's room in the budget.
Heat pump and condenser
Its heat pump makes it far more economical than a conventional condenser dryer, as attested to by its A++ energy rating, but it may also be economical in terms of saving you time, as its condenser system is self-cleaning, automatically rinsing away fluff for a very clean and efficient machine.
Great for a big household
But it really earns our top spot with its large load capacity, up to 8kg, a great insurance policy for particularly heavy laundry days or bigger households.
Value for money
In our opinion, this is the best tumble dryer you can buy for the convenience factor. The price tag may be a little higher, but as this model has heat pump and condensing functionality it is a good long term investment as it can be placed anywhere. So no need to worry if you move to a home where it won't have access to an external wall to be vented.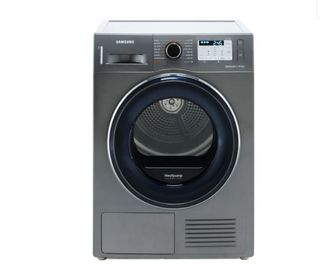 This machine will save you both time and energy which is why we rate the Samsung DV5000T DV80TA020AX as one of the best tumble dryers your money can buy. You certainly get your money's worth if you live in a household that does a lot of washing.
Efficiency
With an impressive A++ energy rating, and heat pump technology to constantly recycle air inside the drum, this Samsung model is one of the most efficient tumble dryers on our list.
It also has sensor drying, too, which detects the moisture levels in laundry and adjusts the settings so it doesn't use more energy than it needs.
Anything else?
Reviewers LOVE how easy this model is to set up and use. It also has 14 drying programmes so you can choose which is the most suitable for you and your laundry. The AirWash cycle is one the programmes which uses hot air to remove odours and bacteria from clothes when they need freshening up, so they're left feeling totally clean.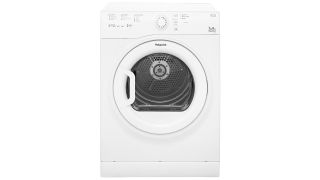 If your household is small and your dryer is not in frequent use, then this tumble dryer from Hotpoint gets our vote for the best small tumble dryer.
Big impact on small loads
As a vented model, it's not as efficient as a heat pump or even a condenser tumble dryer, but if you tend to dry smaller loads, or only dry less high-maintenance items like bedding or towels, it shouldn't make too much of a dent.
Settings
Some tumble dryer reviews found the pre-programmed modes took a little getting used to, but you can set your own temperatures for a custom wash. Overall though, they found it simple to use and, crucially, very quiet.
Value for small homes
Its high praise and small price make it our best pick for first-time buyers, or anyone who'd like a great value dryer for occasional use.
---
How to choose the best tumble dryer
Our recommended best tumble dryer retailers
Before you buy, you'll need to know a little of the lingo to understand what type of tumble dryer you should buy for your particular needs.
Energy efficiency
It used to be that tumble dryers were hugely frowned upon for being outrageous energy guzzlers but things have improved greatly, and the latest designs are energy efficient and super effective.
Vented vs condenser vs heat-pump dryers
First, there are vented dryers, which take damp air from the drum and pump it out of the machine, and can either attach to a wall vent or be used in a room with the window open. These are usually on the cheaper end of the scale. Then, there are condenser tumble dryers, which remove the water vapour from the drum and deposit it as liquid into a separate tank, meaning they can be installed anywhere, but will usually cost more in the first instance.
Finally, there are heat pump dryers, which recycle and reuse the warm air to dry clothes, and while they'll cost more again to buy, they can cut down immensely on running costs. Vented models are pretty outdated now, so most dryers on the market are condensers, with a drawer that collects the water and simply needs to be emptied when it's full. This is great, as it means you can site the dryer anywhere there's a plug, without having to hang a ducting hose out the window.
For lower energy consumption, a condenser with heat pump technology passes hot, humid air through a heat pump and re-uses it, resulting in 50 per cent less energy use.
Heat pump technology
This tech is available in condensing tumble dryers and some washer dryers, and helps contribute to an A energy rating; the hot air produced in the drying process is reused, making it much more efficient.
Capacity
Check out the capacity and make sure it has at least the same kg drum as your washing machine. The larger the drum, the better the air flow and the faster the drying time. There's less creasing, too.
Additional features
It's worth paying more for added benefits such as sensor drying – which reduces the need for ironing – crease care, cool air settings and final cool tumble. Reverse tumble is a handy feature too which separates clothes better, and speeds up the drying process.
Energy efficiency
This contributes greatly to running costs (as does the time the machine is left running and how full you've loaded it). Since tumble dryers cost more to run than washing machines, it makes sense to invest in an A-rated one: heat pump condenser models or ones with sensor drying (see below) being the most energy efficient.
Dimensions
Measure up the space you've allocated for the new machine and check dimensions of the product you're interested in carefully. A few mm can make all the difference.
Which size tumble dryer should I buy?
Tumble dryers come in a range of sizes but, generally, a good guide for which drum size to opt for is the following:
7kg: 35 t-shirts / double duvet – small / medium households
8kg: 40 t-shirts / queen duvet – medium-sized households
9kg: 45 t-shirts / king duvet – large households
10kg: 50 t-shirts / king duvet – large households
Can you stack a tumble dryer on top of a washing machine?
In short, yes you can! This is a brilliant way of saving space in your kitchen or utility room, so long as you have the ceiling height and the correct equipment to make it happen.
Some brands, such as Bosch, manufacture their own stacking kits which can only be used when stacking a Bosch tumble drier on top of a Bosch washing machine. Going by brand can be more expensive than not though, especially if you want to have a pull-out shelf between the two. However, you do not need to stick with the same brand you have gone for with the washing machine, with the Wpro stacking kit for washing machines and tumble dryers. This way you can get that pull-out shelf (which is mega handy) AND have the freedom to choose any tumble dryer, so long as it measures 60 x 60cm or is the same as your washing machine.
Once you have the kit, make sure to recruit some help, because you will need to lift the tumble dryer on top of the washing machine.
Do you want a washer-dryer instead?
Washer-dryers do not mean a compromise on the washing or drying function, but handily create a means to fit the functionality of both into a small home. This might sound very appealing if you have no outdoor space, but no room for a tumble dryer and a washing machine. Starting prices used to be higher than for a standard washing machine or tumble dryer, but that is shifting – plus when you only have to buy one machine it works out much cheaper overall. See the best washer-dryers if you're feeling convinced.
You've reached the end of the page. Jump back up to the top ^