A glass extension is a contemporary build option that makes a striking design statement, floods your home with light and will increase its value. What more could you want if you're considering transforming your home?
But is it more complicated than a traditional extension? And what design considerations should you factor in to make it a success?
From how much you can expect to pay for a glass extension to planning permission, design ideas and finding tradesmen to do the job, our guide to glass extensions is here to talk you through the possibilities.
Planning a glass extension
Before you get on to the design of your glass extension, consider the planning details, such as cost, planning permission, appointing a builder or an architect, how your build will conform to building regulations – and so on.
How much does a extension costs?
While we'd recommend budgeting for a minimum of £3,000 per m², you can find a more accurate estimation for your glass extension with the help of our extension cost calculator.
'While a conservatory can be a relatively inexpensive alternative to a more solid extension, a glass box extension will almost certainly be more costly,' says Alan Cronshaw from Acronym Architecture & Design.
'You will probably want it to flow from the rest of the house, which may mean compensating for the areas of glass by increasing insulation levels elsewhere or carrying out other energy-saving measures. High-specification glass, the structural solution and alterations to the rest of the house are all costs that are likely to be greater than if you build something more conventional.'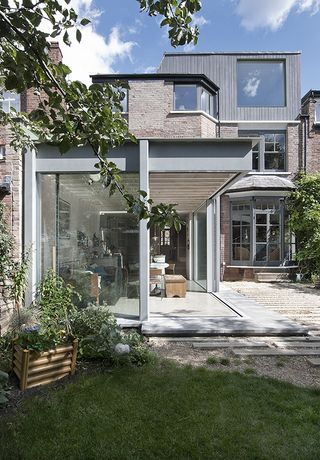 'Fees are likely to be higher for the architect or designer and structural engineer, too, as more work will be involved. You may also have to employ a thermal consultant, unless you're building something more solid.'
You can keep your costs down by project managing an extension yourself but ensure you are on top of the detail because mistakes, especially if you're ordering large expanses of glass, will be very expensive.
Does a glass extension need planning permission?
'Planners like glass extensions to bridge connections between architectural styles or to add to a home with a very dominant existing style. Conservation officers also like the visible difference between traditional architecture and modern glass,' says Melanie Clear from Clear Architects.
'As long as it's a considered extension, and not at the front of the property, getting planning permission for your glass extension will be no different to getting planning for a regular extension.'
Who can build a glass extension?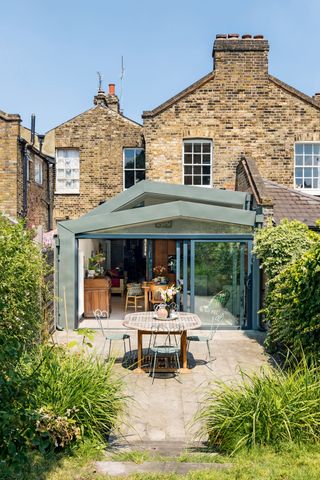 'Glass box extensions will usually involve specialist design detailing. So while you and your architectural designer may produce the layout and elevations for a glass extension, you'll need to find a designer, manufacturer or contractor to assist with details such as door systems and glazed walls,' says Real Homes property expert Michael Holmes.
'The degree of specialism will depend on what you want to achieve: a structure made entirely of glass, including load-bearing structural glass beams and columns, is very specialist, and there are only a handful of companies that produce this kind of work.
'A contemporary glass extension built with a more conventional structure, such as a steel frame, but with floor-to-ceiling glazing and sliding or folding-sliding glazed doors, is less complicated, and any suitably experienced residential architect and structural engineer can help, working with a glazing specialist or door supplier.'
Glass as a building material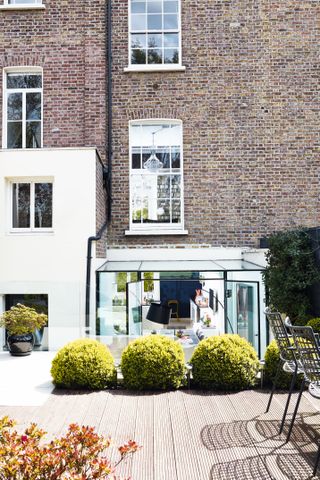 'While glass can be hard and strong in certain directions, it is rigid, brittle, heavy and unforgiving to movement. This makes it more difficult to install than most other building materials,' says Hugo Tugman of Architect Your Home.
'Uninterrupted areas of glass need to be transported and installed in the form of large, heavy sheets, and often the use of a crane is necessary, which can add to costs significantly.'
What building regulations are needed for a glass extension?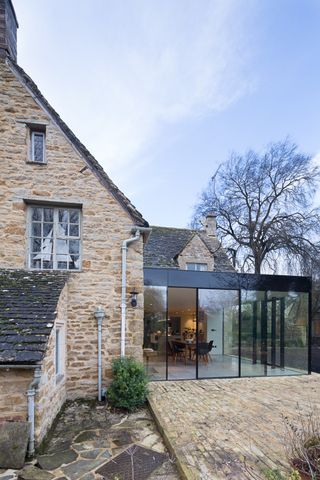 'Even when using specially formulated glass in double- or triple-glazed systems, more heat tends to be lost through glass than through a solid construction. Modern building regulations require quite high levels of thermal efficiency, and it can be difficult to get a completely glass extension to comply.'
'More of a problem than this can be glare and solar gain in the summer. Even here in the UK, I have seen many such extensions where the owners have had to install blinds to offer shade,' says Hugo.
'Timber framing will give more opportunities for coziness. Similarly, if you go for pure glass walls beneath a solid roof, or even a solid roof with some openings in it, rather than a pure glass roof, it is easier to conceal curtain tracks or blinds recessed into the ceiling that can be drawn down or across for added privacy, shade or warmth.'
Designing a glass extension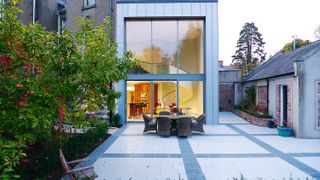 A glass extension is all about the design statement: 'It's hard to beat the wow factor of a substantially or totally glazed extension. It can bring glamour to any project and can also be used as a device to connect two or more solid parts of a house,' says architect Alan Cronshaw.
'If your property has a good view, floor-to-ceiling glass, or a glass roof, is a great approach to bringing these external elements into play. Using substantial areas of glass is also a way that you can build an extension to a historic building in a contrasting material that may be more subtle than something traditional.'
However, there are important design considerations to make, too. Read on for the most important factors:
1. Will a glass extension work on your house?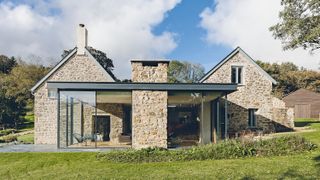 'Consider the age of the property and the type of use the glass extension will have. For example, a south-facing glass extension will receive more sun, and so risks becoming very hot inside. A north-facing extension with underfloor heating can be a nice, light addition to a property' says Melanie Clear.
2. How will you furnish your glass extension?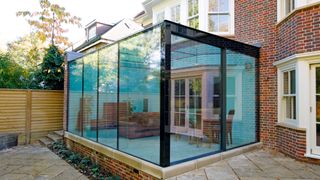 Glazed walls mean a lack of space for fitted furniture and even basics such as electrical sockets (which may need to be positioned in the floor instead). So, consider going part-glazed if that will make your new room more practical. Just ensure you position the glazed sides overlooking the best views of the garden.
'If your glass extension is part of a kitchen remodel, make sure the units are positioned in the center, as you won't be able to place them against a glass wall. Using glass as a feature can be a great addition to a period property, and in a 1970s-style home, a framed glass extension can work well with the expansive sections of glazing in the existing building.' says Melanie.
3. Consider framing options – or an unframed look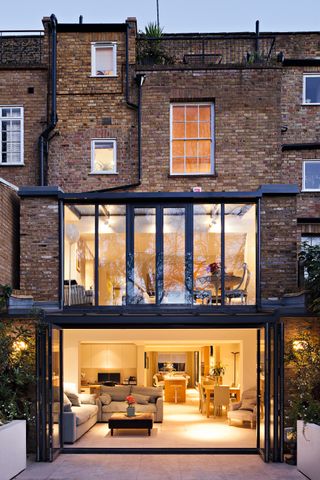 'Although the major element of your extension is glass, there are still plenty of design options. The expanses of glass will probably sit in some kind of frame, and it is likely that you will want this to be as thin in profile as possible. Powder-coated aluminum is often chosen where the paint color is applied in the factory, giving a wide range of shades.
'The glazing can have different coatings that will affect the look of the glass extension, from transparent to reflective,' says Alan Cronshaw.
'Whether the glazed panels are fixed, bi-fold, or slide open, will also have an impact on the frames and how the completed glass extension appears.'
4. Opt for glazed doors that open right out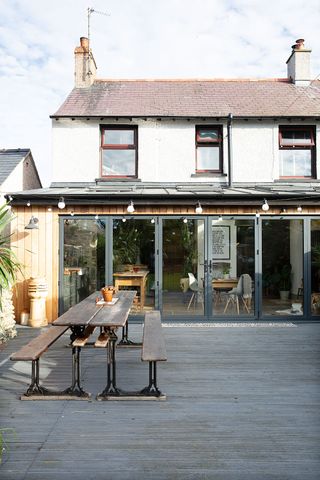 The beauty of a glazed extension is that it can look open to the elements when the doors are closed but really be truly open to the elements when they're open – so choose doors that fold, slide or pivot to create a wide, open expanse that helps you merge the indoors with the garden.
Ensure practicality is uppermost in your mind though – if the glass extension is the only access point for your garden, the doors you install need to be easy to crack open in winter, as well as to push back in summer.
5. Consider a glass extension's roof as part of the design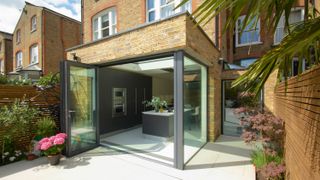 If you have a solid roof above the glazing, the structural solution for supporting this will also be a key part of the design, perhaps overhanging to shade the glass from the sun. A brise-soleil, or sun shield, can also be incorporated to perform this function, which will again change the character of the project.