Choosing the best kitchen tiles is really important whether you are designing a new kitchen, or giving your room an update. On walls, they'll protect working areas, including behind the hob and the splashback, and as kitchen flooring, they're hard wearing, easy to clean and handsome. Below we explore all the options so you can pick the best kitchen tiles for your space.
For more kitchen ideas, head to our gallery next. Find out all about kitchen design in our practical guide.
How to choose the material of kitchen tiles
Why you can trust Real Homes Our expert reviewers spend hours testing and comparing products and services so you can choose the best for you. Find out more about how we test.
There's an enormous choice of tiles suitable for kitchen walls and floors. Manmade tiles are the most cost-conscious option, and the easiest to look after. Different designs and colours, either plain or patterned, and a range of finishes mean you can create a scheme you love. Natural stone is a more expensive choice, but has beauty and individuality. Stone tiles (see our guide on choosing stone flooring) have stricter care requirements than manmade, but follow the rules and you can keep stone looking lovely.
Natural stone kitchen tiles
Check out marble, limestone, travertine and slate for kitchen walls and floors. Bear in mind that natural stone (see our guide on choosing stone flooring) must be sealed to protect it, and it needs to be cleaned with products designed for the stone; supermarket staples are too harsh. Finishes for natural stone tiles include the sheen of a polished tile, the smooth contemporary honed, and aged-looking tumbled.
Marble typically comes in tones of grey and white, but there are striking dark and coloured shades, too. Likewise, veining can be subtle or dramatic. Don't lay polished marble on a kitchen floor, as it can cause a slip hazard.
Limestone is widely available. Beige, grey, cream and dark colours mean it can be used to create a whole host of different looks. Limestones can have differing durability, so make sure that if you're using it on the floor, the stone is hard wearing enough for a heavy-traffic room.
Travertine is generally available in beige and grey tones, although there are warmer hues, too. It has natural voids on the surface which are filled in most finishes, or when the tiles are grouted.
Slate creates a textured surface that can boost grip at floor level, or add interest to a kitchen when used on the wall. Slate's dark and rich tones make it an attention-grabbing stone.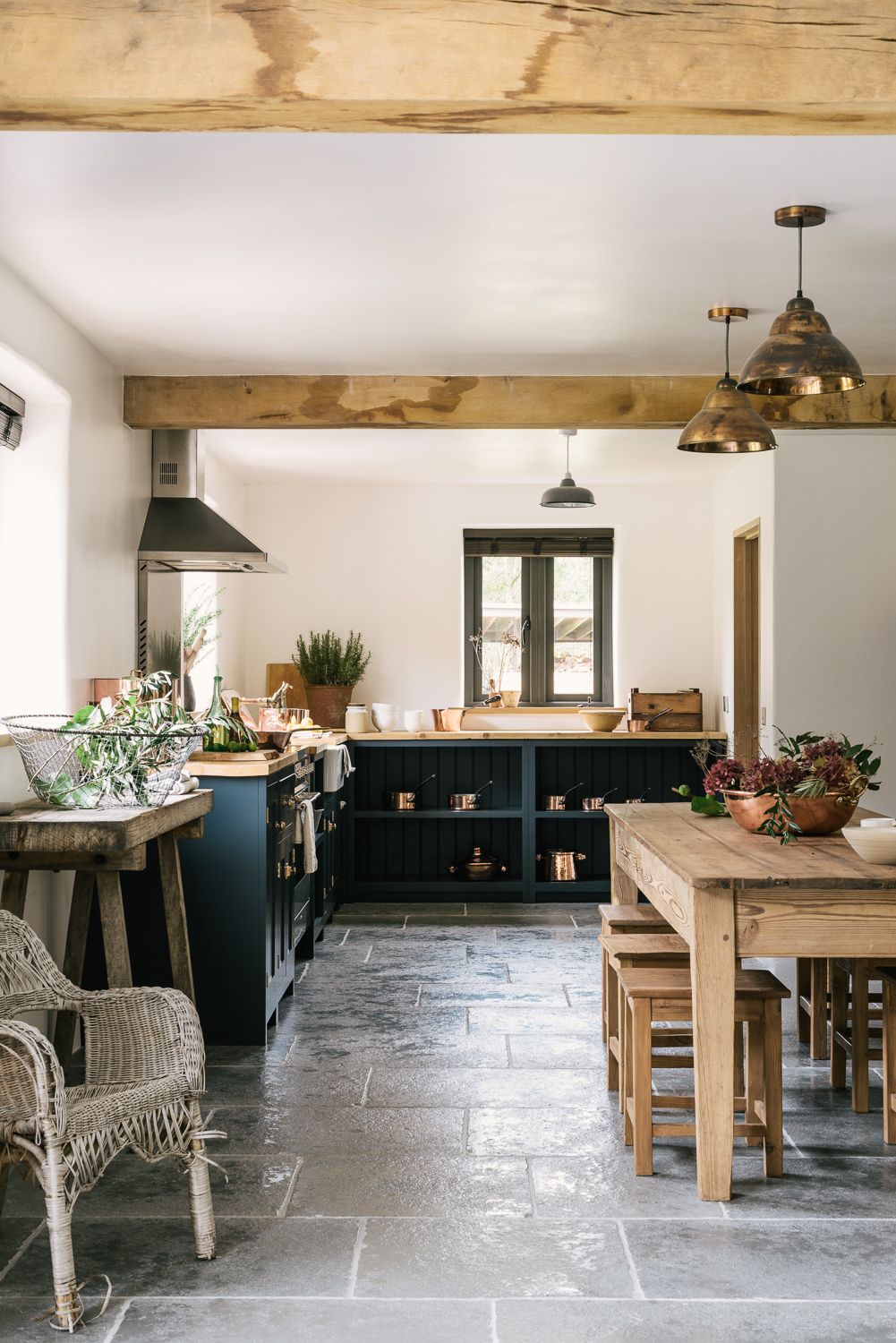 Manmade kitchen tiles
There's an enormous choice of ceramic and porcelain tiles (see our guide on choosing ceramic and porcelain flooring) for the kitchen and colour, pattern, the look of stone or wood, and different finishes mean you can be exacting in creating the finish you want. Glass tiles broaden the selection even further.
Ceramic tiles can be an immensely affordable choice for the kitchen. They're ideal for walls, but some aren't suitable for the floor. Check when you're buying because a tile that's made for walls only won't stand up to the wear of a busy room like the kitchen. Ceramic tiles don't need sealing and are simple to keep clean.
Porcelain tiles are fired at a higher temperature than ceramic and are high density, and this makes them very hard wearing. Often chosen for floors for this reason, they can also be used on the wall.
Glass tiles often feature in mosaics but are available in other wall tile formats, too. They'll add an extra sparkle to a kitchen, and with multicoloured glass mosaics among the options they can make a stunning focal point.
Gloss tiles are reflective, so pick a gloss finish for wall tiles if you want to brighten the kitchen. They can be a good buy if you're designing a small kitchen to help make it feel bigger. They're easy to wipe down, too.
Matt tiles have a flat finish. They'll look less prominent than a light-catching gloss version, but can be a great way to introduce subtle contrast with other kitchen surfaces in, for example, an all-white scheme. They might take a bit more wiping down.
How to choose tiles for kitchen walls and floors
As a vertical element in a kitchen design, a kitchen splashback (see ideas in our guide) creates an impact, and tiles make exploiting this potential easy. Use colour, reflectivity, patterned tiles, or tiles laid in a pattern like herringbone, interesting shapes such as hexagons or fish-scale tiles, or a natural stone or manmade lookalike to make a tiled splashback a feature. Find out how to tile a splashback if you're planning to DIY it.
Alternatively, make kitchen floor tiles the more decorative element of the scheme – patterning the floor is a huge trend, and is generally teamed with a plain wall tile, although repeating the pattern on the walls isn't out of the question.
If the floor tiles are the less extrovert partner of your wall and floor pair, consider here whether it's the timeless style of natural stone you're after, or the clean contemporary effect you could achieve with porcelain or ceramic. Don't forget that a wood-look tile can evoke a natural warmth a kitchen could be crying out for.
Create decorative effects with kitchen wall tiles
Small tweaks can make big differences to the appearance of a tiled splashback. Try these ideas:
Contrast grout colour to tile colour to change the look. Dark grout on pale tiles will make the tiled area stand out more. See more grouting tips in our feature.
Decide between metro (aka subway) tiles that are flat or have a bevelled edge. The latter throw shadows and create different reflections, so can gently liven up a plain kitchen scheme.
Using an unusual tile shape like a hexagon? Instead of cutting the tiles to make a straight edge, let the tile shape create the top of the splashback.
Think layout with metro-style tiles. A half tile offset is classic, but they can be stacked in a grid instead (or the two ideas combined, see above) or used in a chevron, basket weave or herringbone pattern instead.
Whatever design you choose, and particularly if you have a small kitchen, ensure you choose the right-size tiles for your project.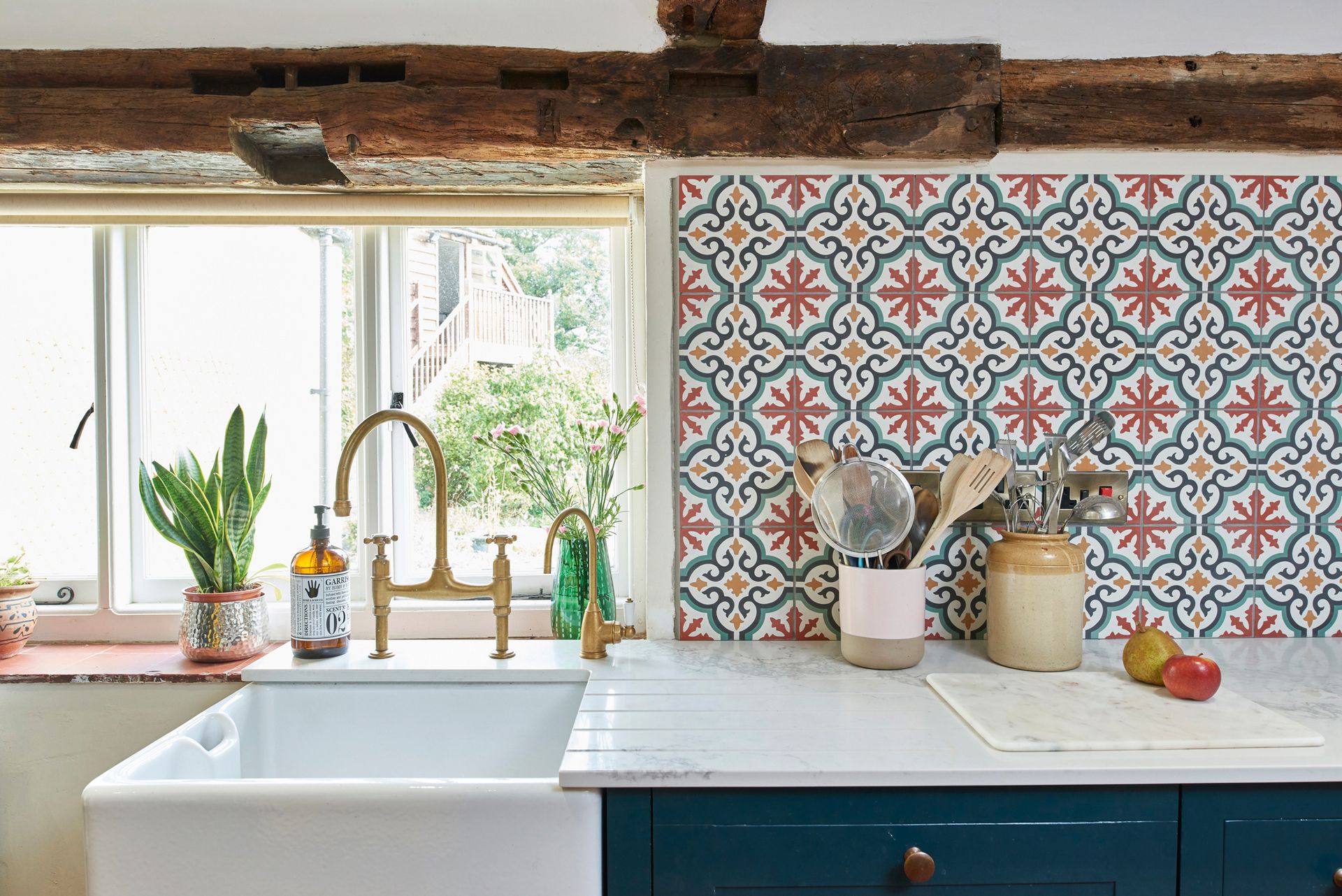 Who can fit floor and wall tiles?
If you're a competent DIYer, then fitting wall and floor tiles in your kitchen is a job you can take on. Be aware that cutting ceramic tiles is much easier than doing the same with porcelain or stone. Our advice? It's best to call in a professional if you don't have the right cutting equipment for the tile material or if you've invested in expensive tiles.
Read more: