Our obsession with copper kitchen accessories has reached the point where we thought it was time to dedicate a whole gallery to them. This is also the perfect time of year to be adding those warmer tones into your kitchen and get it feeling all autumnal and cosy.
Whether you've got a modern or traditional space, splashes of copper accessories will add warmth and glamour for an instant on-trend look. And fortunately for us copper fiends, everything from cutlery to cocktail shakers can be found in our favourite metal...
Oh and if you have any more kitchen related questions beyond which copper kettle you should buy, check out our savvy kitchen ideas feature.
1. Pick a proper copper coffee pot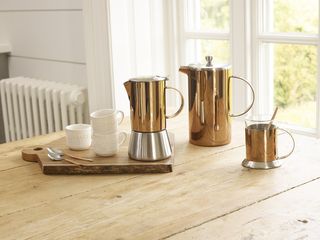 Coffee lovers, this is the copper kitchen accessory for you. French designers at La Cafetière have exquisitely designed this copper cafètiere, combining rustic charm with a chic contemporary look. Buy a set of copper mugs too for a proper copper coffee-party (they are great for serving up a Moscow mule too when you need a stronger brew).
2. Pop in a copper toaster
This copper toaster and kettle, is the perfect matching set to add subtle hints of copper around your kitchen. We love how the copper colour pops against the dark blue wall.
3. Choose a copper KitchenAid mixer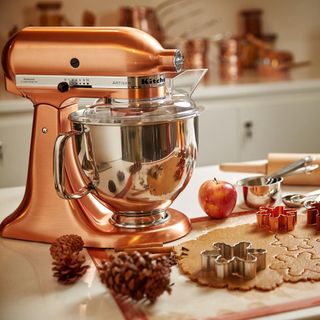 Make like the kitchen queen, Nigella, and get your bake on in style with the ultimate copper kitchen accessory, a copper KitchenAid mixer. You definitely won't want to hide this beauty away in a cupboard...
4. Fit a copper sink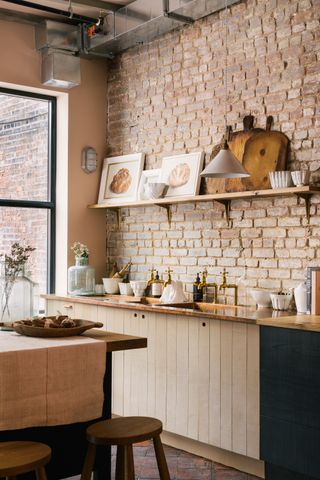 If you're looking to create a statement in your traditional kitchen, a copper sink is a great focal point. This rustic, hammered design can be under-mounted or freestanding. It is also incredibly low maintenance and the existing patina will withstand wear and tear well.
For more of the best kitchen sinks, check out our guide.
5. And pick a matching copper tap
If you want to just add a touch of copper, switching out your kitchen tap can be a really easy way to do so. We love a brass tap, they just add such a rustic vibe to a kitchen and is so much softer than going with silver chrome. This tap is from deVOL and has a lovely aged look that stops them from being too shiny and keeps the look subtle.
6. Add a touch of copper with kitchen hardware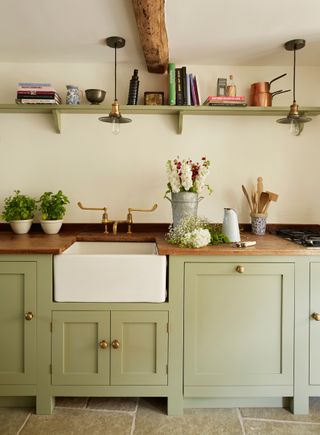 Want to add some copper hues but doing up a kitchen on a budget? Copper kitchen handles can totally transform the look and feel of a kitchen and is a really easy job you can do yourself. Copper works with so many colours too – dark blue, white and (our personal fave) sage green – so why not like your new copper handles inspire a new kitchen colour too and have a go at painting kitchen cupboards.
7. Choose on-trend copper pendant lighting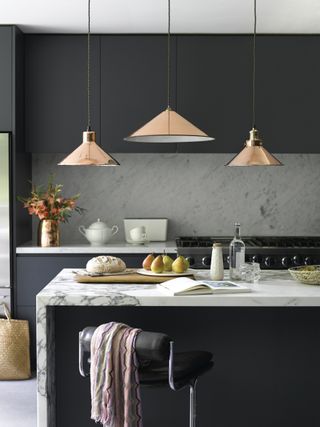 Pendants always look gorgeous and they actually make for super practical kitchen lighting. These lights from Pooky add a subtle splash of copper and work beautifully against the dark kitchen cabinets.
For more kitchen lighting ideas check out our guide.
8. Install a copper splashback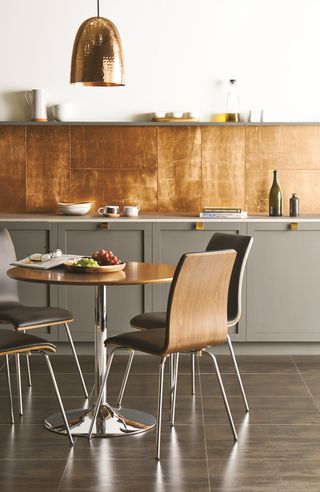 If you are loving all these copper kitchen accessories but want something that has even more of an impact then a copper splashback is for you. This one is made up of copper leaf glass tiles from Original Source, we love how it ties together all the other small copper accessories.
9. Or go all out with a copper worktop
If you want even mooore copper, choose copper as your choice of the best kitchen worktop material. In this deVOL kitchen, the glamorous countertop is the perfect match for the bared back simple Shaker-style kitchen cabinets.
10. Pick out copper pots and pans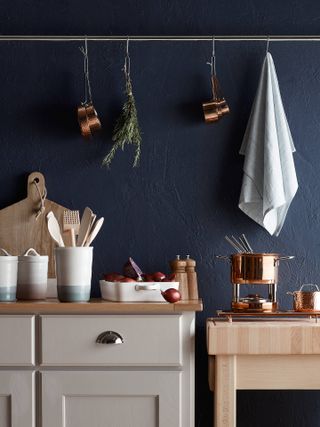 Copper pots and pans add a lovely rustic look to any kitchen, but we know they can get a bit pricey for the real thing. So if you are more into the look of copper pots than if they will actually last you a lifetime go and check out Croft Collection's hammered copper range for some affordable alternatives.
More kitchen ideas...