Rethinking your kitchen's styling? Move over stainless steel, copper is the metal of the moment, and what better place to inject some personality into your kitchen?
Whether you've got a modern or traditional space, splashes of copper will add warmth and glamour for an instant on-trend look. And fortunately for us copper fiends, everything from cutlery to cocktail shakers can be found in our favourite metal.
Combine with either dark moody tones for drama and sophistication, or bright neutrals for a pretty look.
1. Pick a proper copper coffee pot
French designers at La Cafetière have exquisitely designed this stovetop coffee pot, combining rustic charm with a chic contemporary look. Buy a set of copper mugs too for a copper coffee-party (they are great for serving up a Moscow mule when you need a stronger brew).
2. Pop in a copper toaster
This copper toaster and kettle, along with shiny frying pans, is the perfect matching set to add subtle hints of copper around your kitchen. We love how the copper colour pops against the dark blue wall.
3. Choose a copper KitchenAid mixer
Get your bake on in style with this KitchenAid mixer. You definitely won't want to hide this beauty away in a cupboard.
4. Wall-hang metallic storage shelves
This nifty space-saving solution simply attaches to your wall and frees up worktop space. You can even move the copper containers around to suit your needs perfectly.
5. Fit a copper sink
If you're looking to create a statement in your traditional kitchen, a copper sink is a great focal point. This rustic, hammered design can be under-mounted or freestanding. It is also incredibly low maintenance and the existing patina will withstand wear and tear well.
6. All in the detail: copper handles
These copper kitchen handles totally transform the look and feel of this kitchen. Along with a few copper kitchen accessories, the handles work to tie the colour scheme together – a simple, quick and inexpensive update that makes a huge difference!
7. Add copper in decorative details
Adorn your wall with a show-stopping copper clock. This swirly design is a piece of art in itself and is sure to become a talking point.
8. Add eye-catching style with copper taps
Time for a cuppa? Or a filtered water? This four-in-one tap really does it all. Providing hot and cold water, as well as filtered cold water and 100⁰C filtered boiling water – a quick cup of tea with the best quality water has never been so easy. Plus, this stylish U-shaped spout is so cool and contemporary. Find more boiling water taps in our guide.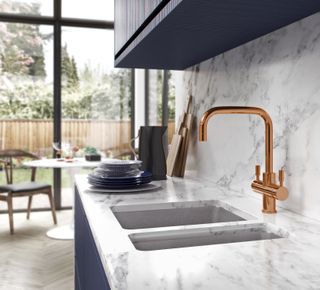 9. Dine in elegance with copper detailing
If you've got a kitchen-diner, draw your schemes together by combining copper kitchen accessories with this glass and copper table. This graphic design is sleek and modern, and glass will give the illusion of more space.
10. Add glamour to a dining table
Nothing says glamorous dinner party like metallic placemats, and these burnished beauties are just the ticket.
11. Invest in a stylish island hood
Rather than trying to hide your heat extraction, turn it into a stylish centrepiece like this copper island hood.
12. Dial up the style with a copper radio
Your kitchen is the hub of your home, so make it a happy place with this copper radio.
13. Display copper cookware
Copper tea pot, copper storage jars, and even mini copper frying pans – these bargain buys from Wilko are definitely on our shopping list.
14. Invest in copper storage
Looking for kitchen storage? Get organised with this freestanding kitchen storage unit. Perfect for displaying mugs and bowls, or plants and recipe books – a little extra storage space can go a long way. This copper statement embraces on-trend industrial style.
More stylish metallics: