It's all too easy to shy away from black kitchens, but a dark space can work so well in all types of home settings. Chic and sophisticated, they are the knee-high boots of the interiors world.
Whether you want to nod to this look with subtle accents or if you want to go all out with dark kitchen cabinets, walls and all, black kitchens are one of the most popular and versatile kitchen color schemes going and this look is totally worth tapping into.
Black kitchens that are bold and beautiful
You can create a dramatic kitchen with accessories, tiles, hardware and more. It's also easy to pair with lighter color palettes around the home and whatever your interior design style may be. From uber-modern to Farmhouse chic.
'Gone are the days where dark colors in the kitchen and living spaces are all 'doom and gloom'. Color completely alters the mood of a room. Used cleverly, darker shades give a side of sophistication and drama to the space.' explains Matt Baker, kitchen designer at Harvey Jones.
1. Blur interior trends with a Scandi Boho scheme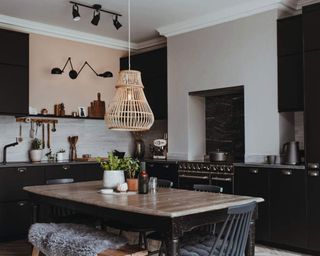 Whether it's through fashion or interior trends, we love layering different key trends, taking a little something from one, and another iconic design element from another. And because of the lack of color, black kitchens are the perfect foundation to work on.
Combining Scandinavian influence and Bohemian kitchen ideas makes this kitchen look so sophisticated but at the same time, relaxed and unsnooty. Light cream and grey walls contrast against black cabinetry, while a tactile rattan pendant light and soft grey faux throw function to add texture and soften any harshness in this space.
As well as the statement kitchen island lighting in the center, supplementary ceiling and wall lighting provide the owners of this space ample visibility to get on with tasks and activities.
2. Tackle wall and floor tiling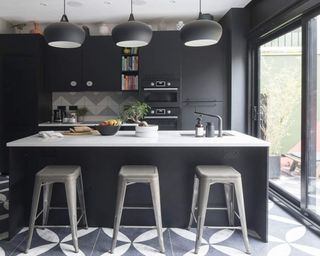 In terms of tone and texture, this space is quite different from the black kitchens that we've come across before. Conventional high-gloss and eggshell style furniture finishes are swapped out for matt black cabinetry and pendant lighting.
But, this black kitchen idea doesn't fall flat. And that's all down to the statement kitchen tiles. Pretty pretty designs and cool zig-zag motifs on the respective floor and walls add interest and texture and tonal variation in this space.
3. Add rustic charm with lots of textural variation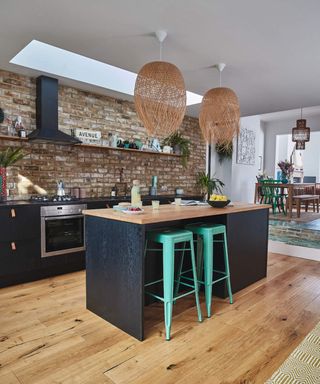 The best modern farmhouse kitchens are simple and understated, but executed well. And in this open-plan black kitchen, textured materials make such a statement. Something old and something new isn't just for brides – but makes for a really lived-in kitchen feel (and saves you having to trawl the shops in search of the perfect kitchen paint shade).
Look how many natural materials create warmth – the wooden floorboards, the wooden worktop, exposed brick walls and last but not least, the funky seagrass light (fave part for sure). They all work together to balance out the starkness of the black cabinetry and give the space a more laid-back feel.
4. Paint your ceiling black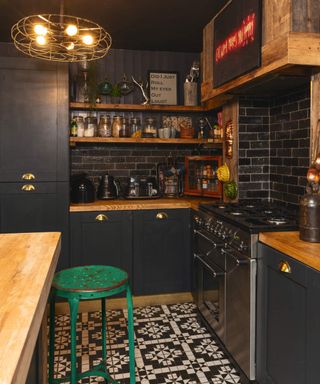 Ceilings are often referred to by interior designers as your fifth wall, so when it comes to kitchen wall decor – don't neglect this part of your kitchen. All-black kitchens can be something to contend with, and aren't for everyone.
But for those willing to take the leap of faith and put your trust in us, you can create a cozy and cocooning atmosphere that is comforting. Add a bit of a lift by going with a wooden worktop and add some wall decor in lighter colors just so you don't feel like you wandered into a cave every time you enter the kitchen.
5. Create a Jazz bar-style space for entertaining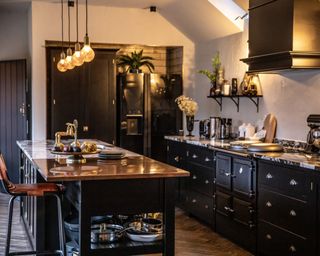 'Doesn't this almost look like some swanky bar, with the low warm glow of the hanging bulbs and the glimmering copper top?' asks Collette Black, PR assistant manager, deVOL Kitchens.
'The bold stone is just delicious. This is turning out to be a very popular mix, San Simone and our hand-aged copper, two natural materials that are absolutely perfect for kitchens.'
'San Simone is quarried in Brazil and has the most amazing bold veining and little glints of gold and rust. It's a really hardy stone, more like granite than marble, so it has a much higher resistance to scratching and staining and then you've got the beautiful copper with its inherent antibacterial properties and gorgeous patina that only gets lovelier the more you use it.'
6. Choose statement kitchen flooring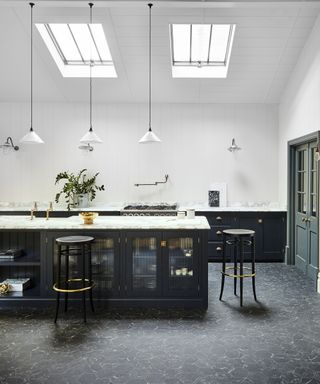 A quick, easy and budget-friendly way to modernize black kitchens is to switch up the kitchen flooring. And wouldn't you agree that this Platinum Nero Marquine Hexagon Black Gold Vinyl by Carpetright looks so stunning?
The secret to this expensive-looking motif is in the geometric, hexagonal motif, mixed with marble and gold. This punchy pattern is the perfect formula for a flash-looking space.
Kitchens can be hazardous places with risk of liquid spillages (think juice, oils and water), but this slip-resistant LVT surface means it is designed for busy families. For an extra-luxury touch, installing underfloor heating with this will create a cozy and premium feel.
7. Industrialize the space with copper lighting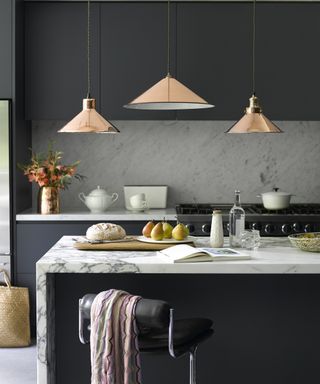 If an Art-Deco inspired black and gold scheme is a little too polished, or if you find yourself wearing more rose gold jewellery – incorporate copper touches into your kitchen lighting.
Black kitchens with industrial decor can often look a bit harsh, but with the pink undertones in this trio of pendant lights by Pooky, you can create a feminine but slightly urban scheme that's perfect for a city home.
Style this space with other homewares of a similar shade. We like the look of the metallic vase with floral arrangement on the worktop here.
8. Pair black with a barely-there pink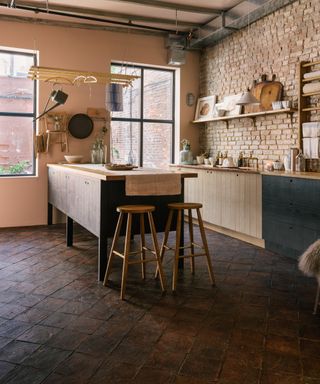 Helen Parker, creative director, deVOL went with a really classic color combination for the cabinetry in this black and pale pink kitchen. Using a mix of their Inky Blue Black and Natural colored furniture, she was able to create a light and bright alternative to what we'd usually think of a black kitchen.
Setting Plaster by Farrow & Ball was the paint shade of choice and we can totally see why. It is the most perfect neutral with the teeniest hint of pink which gives such a lovely softness to the room.
The floor by sister company, Floors of Stone, creates the perfect contrast and is very classic and hard-wearing. Aesthetically, we think it gives this space a rustic and humble quality.
9. Contrast a kitchen island with black cabinets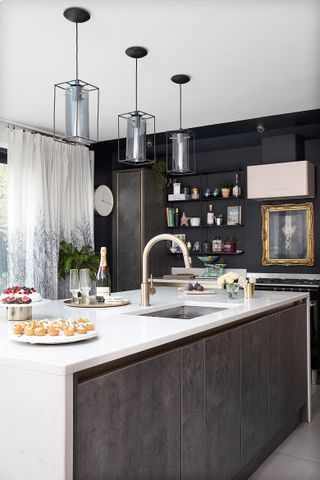 A kitchen island can be such an asset if you have the space. They are practical, great for storage and they obviously look gorgeous, too. If you are thinking about going for a black kitchen, islands are also a great way to break up all that dark cabinetry and bring some light into the room.
The contrast of the white worktop and black walls still has a really dramatic effect but it gives the room a lift and gives you a second color to work with. You can then bring this lighter color into the rest of the room like you see here with the white curtains and the cooker hood.
10. Add drama with a glossy black backsplash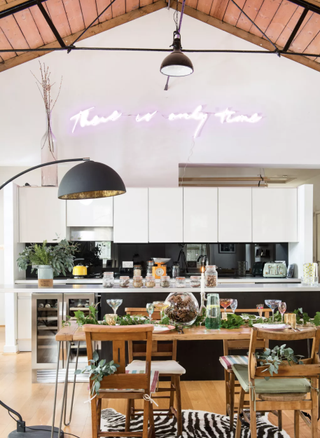 Not ready to go fully over to the dark side yet? You don't need to go for black cabinetry, add drama with a black backsplash instead. We love the look of this simple glossy glass backsplash and how it almost acts as a mirror to make the kitchen space feel bigger.
Black gloss subway tiles also look amazing in any colored kitchen and you could get your DIY on and learn how to tile a backsplash if you wanted a quick, affordable kitchen update.
Can we also all take a second to appreciate the faux zebra rug? It brings in just the right amount of pattern and ties together the dining area and the kitchen perfectly.
11. Pair black cabinets with crisp white walls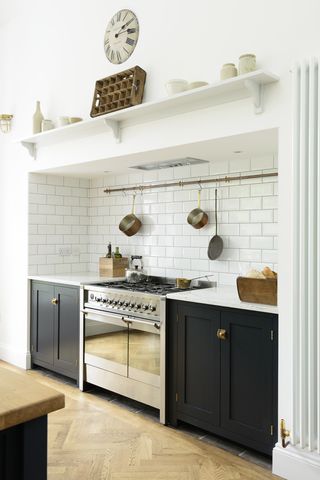 Again, this is a look for those of you who love black kitchens but still want the space to feel light and airy. It's simple really; keep everything else in your white kitchen bright and crisp – the walls, the floors, the worktop. The monochromatic look is a classic too and definitely the most popular way to incorporate black kitchen decor, it's just a really easy style to live with.
12. Combine black with an unexpected color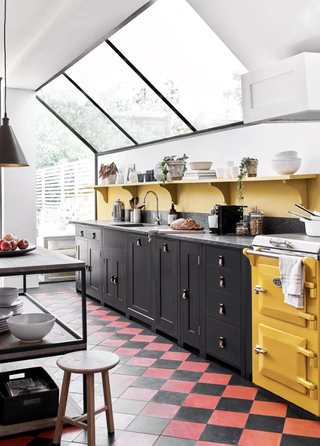 Who would have thought we would be drawn in by black and yellow kitchen ideas?! There's even some red kitchen decor in there too in the terracotta floor tiles. It shouldn't work but it totally does. The kitchen proves you can pair black with other bolder colors without the room looking too crazy.
The key is to stick to the more muted tones. The yellow here is still bold but it's more mustard than citrus and the same goes for the red, it's an earthy red rather than a vivid primary tone. There's plenty of light in this kitchen too which helps and white walls and ceilings balance out all the color going on. Anyone else now ordering all the yellow paint swatches?
13. Bring in some luxe vibes with marble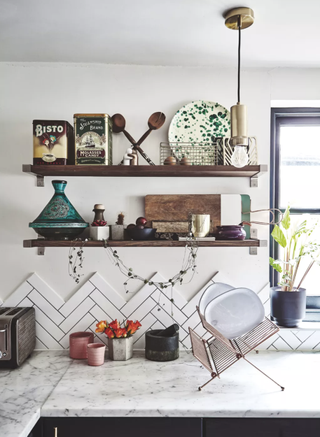 It's not surprise that some of the best kitchen worktops are made from marble. And in black kitchens, this durable material pairs well to provide a gorgeous contrast.
Marble with any dark-colored cabinets works, creating a really luxe feel but at the same time bringing in that all-important light. If you are on a bit of a tighter budget, marble effect worktops will look just as gorgeous. Why not take it all the way up as a backsplash, too? Pick gold or brass hardware and taps to complete the look.
14. Tone down a black kitchen with open shelves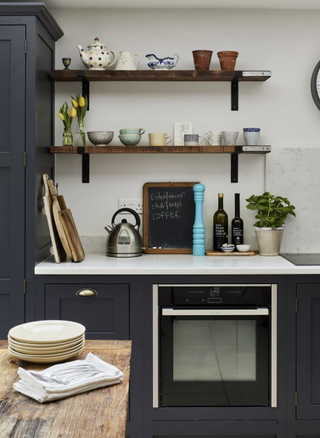 Dark kitchens can make a room feel cramped and closed in if there's limited natural light – or if you're working on a small kitchen design. One way to prevent this is to use open shelving rather than wall cabinets, as this lets the space breathe and it's a great way of displaying your favorite ceramics, glassware or cookery book collection.
15. Add patterned floor tiles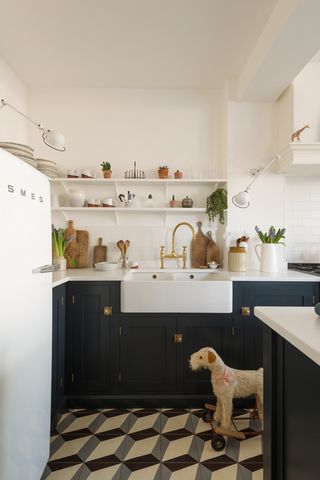 If you want to bring pattern into a black kitchen, tiles are a great way to do so. Keep your flooring lighter as a contrast if you have black cabinets, and pick a pattern that also has black or some grey tones to create a cohesive look.
We like how these kitchen floor tiles incorporate a black motif, but also include cream which works to warm up the room. The latter color brings in a nice softness that is less dramatic than going for a black and white tile.
16. Contrast an all-black kitchen with light stone flooring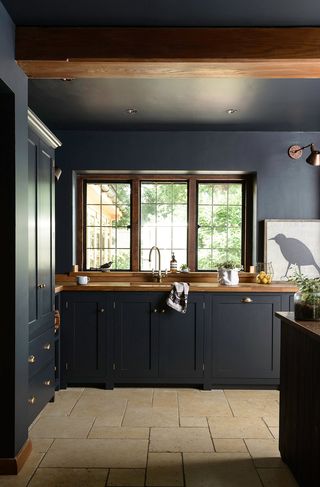 Now if you want a kitchen that will wow, be brave and go all over black – cabinets, walls, ceilings, the lot. The very important key to making this look work is getting the undertones of the color you go for spot on.
If your kitchen gets a lot of natural light you are pretty safe going for any black you like, but we will say, true blacks might look a bit harsh as a five wall color so go for something that has a softness and blue undertones. Just make sure you order plenty of color swatches before you commit and see what all the different shades look like in your space.
And when it comes what sits on the bottom of your interiors – go for stone flooring. Why? Well, we'll let the expert explain...
'Natural stone flooring can be one of the most forgiving floor coverings if the right stone and finish are chosen,' says Isabel Fernandez, director at Quorn Stone.
'Naturally some stones will be denser than others which provides more durability; however all natural stone will be subject to a little wear and tear over the years. A tumbled finish provides an aged look, its worn edges, textured surface and natural markings makes it extremely forgiving with day to day crumbs and dirt.'
Learn how to choose stone flooring with our polished guide.
17. DIY a black kitchen with paint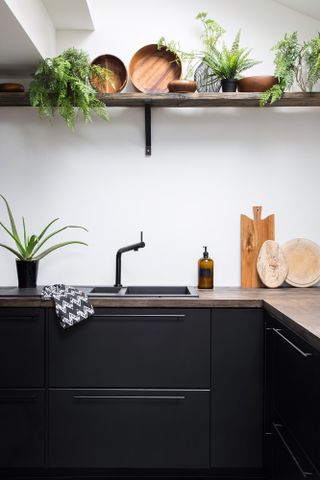 Choosing a black kitchen doesn't mean you have to go ripping out cabinets and starting over. If you're happy with the style of your cabinets, why not test out the trend by painting them?
It's not a super quick job but a couple of free weekends and you could have a whole 'new' kitchen for a lot less. Just check out our guide to how to paint kitchen cabinets for everything you need to know.
18. Add some glass-fronted cabinetry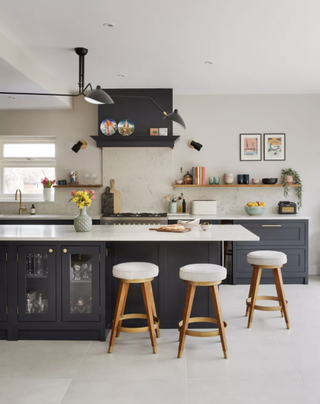 A row of very dark cabinetry, whether that be on the wall or floor, can look a bit intense, so break up all that darkness with glass-fronted cabinetry. Not only do they look lovely – and act as decor just as much they do storage – they also stop a black kitchen looking flat. You can light them from within too, creating even more of a contrast with the cabinets around them.
To add interest, try swapping 'plain' panes for a smoked glass or a fluted finish.
19. Tile a whole wall black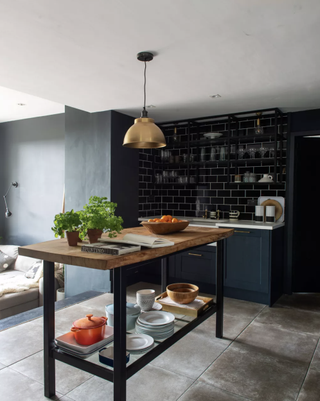 If you're working with a slighting smaller kitchen and looking to add some dramatic feels, tiling a whole wall with black gloss tiles will create such an impact.
The glossy kitchen wall decor will reflect light around the space plus they bring in loads of interest and texture without actually taking up any space. Pair with a white grout to really create a focal point in the room and add touches of gold for a really luxury look.
What finish should I choose for my black kitchen?
'Choosing the right finish for your kitchen is really important as it has a big impact on the overall design, which is especially significant when decorating with darker shades,' says Darren Watts, design director, Wren Kitchens.
'If you're worried about how you will get enough light into the space, a gloss finish is a great choice. Gloss will reflect the light, creating a mirror like surface and making the room appear more spacious. Gloss finishes are often used in modern design and will give your kitchen a glamorous feel.'
'Matt, on the other hand, looks great in a more traditional or country styled kitchen. Although it won't do much for reflecting the light, a dark matt finish looks charming with wood accessories and will give the space a contemporary twist.'
Is a black kitchen a good idea?
'Black kitchen design has been increasingly popular in recent years but this trend can be a little overbearing if it's not carried off correctly. Unfortunately, black won't look right in every space,' warns Watts.
'You'll want to carefully consider your kitchen's size, shape and the amount of light it gets each day, before deciding. Being very dark, black will make a room appear smaller, so if your kitchen's already a bit pushed for space you should use black sparingly. An eye-catching black island is a great way of creating a striking centrepiece, which can be contrasted against light walls and cabinets, as a singular black feature.'
'Black can dominate a décor scheme but there are ways to avoid this. It's all about getting the balance right, using enough black to make a statement whilst also ensuring the room remains light and airy.'
'Two tone cabinets are a great way to achieve this look. Try including a run of black cabinets along the back wall of your kitchen and contrast these against another softer shade. Remember that dark colours draw your eye into them, so useless you have a large kitchen you should avoid using them on any tall or wall hung cabinets as this will close in the space.'
What colors go with a black kitchen?
The colors that tend to go with black are neutrals. But as our gorgeous yellow and black kitchen proved, black goes with so many colors if you just keep them on the muted side. If you are looking for a combo with longevity, however, you can't go wrong with black and white, or cream, or grey... or what every neutral you are most drawn to.