Garage conversions can be an excellent way to add extra living space to homes. And if your existing garage is clutter-filled rather than the place where you park the car, it's a house renovation with plenty of appeal.
A garage conversion is generally less expensive than an extension, can be done quickly, and typically doesn't require planning permission. What's more, the space can be used for a whole host of different purposes, whether that's a living room, kitchen or bathroom, for example, or a space such as a gym with the best home gym equipment, office, or cinema room.
What's crucial when converting a garage is creating a good design that complements the rest of your home. Also vital is working with the right professionals and contractors, and understanding what goes into a garage conversion and the steps of the process. We've put together all the details you need here, so you can combine them with our garage conversion costs guide and successfully plan your project.
Do garage conversions add value?
A garage conversion could add up to 20 per cent to the value of your home, while you'll gain valuable extra living space that's less prone to planning complications. So if the cost of the project is less than the extra value added to your property, this is a great way to add more space. Note, too, that in the same way you can cut the cost of an extension, you can make a garage conversion a less expensive proposition and still achieve a fabulous result.
'Compared to other options like loft conversions, one or two-storey extensions, or even conservatories and orangeries, the price of a garage conversion is low,' says Thomas Goodman, property and construction expert at MyJobQuote. 'Moreover, as already mentioned, a successful garage conversion can increase a property's value by up to 20 per cent. This is a very healthy return on investment given the relatively low costs involved.'
Plus, if you have a double garage, one really popular garage conversion idea is to convert just half the space. Doing so means you will gain living room space, and continue to benefit from an off-road parking space. 'Some homeowners prefer to leave a portion of their garage unconverted for storage space,' adds Thomas.
However, before you begin planning a garage conversion, first consult an estate agent about whether this could have a negative impact on your property's price. If you'll be living in your home for years to come, it may well be worth proceeding whatever they say, but if garages are highly sought after in your area, and you are planning to sell in the short to medium term, think carefully before converting yours.
Should I convert my garage?
If you can't decide whether to convert a garage or not, consider these pros and cons:
Profit vs spend: a garage conversion should add more value to your home than it costs to build. But always ask a trusted local estate agent first.
Space vs spend: garage conversions can cost as little as £7,500, way less than you could ever hope to extend out for.
Moving costs vs spend: depending on how ambitious your plans are, it will be cheaper to convert a garage than to move house for more space.
Spend vs spend: converting a garage to add an extra bedroom might push you up a council tax band. Check the added cost before you proceed.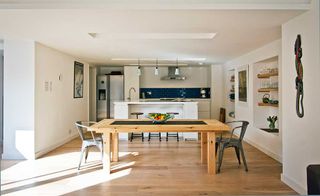 Do garage conversions need planning permission?
In the majority of cases, the work involved in converting a garage will be classed as permitted development. If you are taking advantage of these rights, getting a certificate of lawful development is a good idea so you can show your buyer when you come to sell.
However, if you live in a conservation area, a location where development can be restricted to protect the appearance of the surroundings, or on a new estate with strict guidelines (some new homes are built with a condition that the garage remains as parking, so you'd need to apply to change its use), it's worth checking what's allowed.
Detached garages are much more likely to require planning permission for a change of use, and you may have to gain planning permission:
If you live in a listed building;
If the garage conversion increases your home beyond permitted development rights;
You are converting the space for business;
Your council has restrictions on reducing parking.
Even if these restrictions apply, you should be able to convert the garage interior as long as the exterior is untouched.
Are garage conversions subject to building regulations?
As a 'change of use', a conversion is subject to building regulations approval, so your local authority will need to be notified. You'll need building regulations consent and sign off for the various elements of your garage conversion, as with other home alterations. To comply, it must:
Be structurally sound and have a damp-proof course.
Have the walls, the floor and the roof insulated to be energy efficient.
Have all new and existing electrics tested to ensure safety. Future-proof the space by allowing plenty of electrical points and a phone point, even if they won't be used now.
Be moisture proofed, with good ventilation.
Fire-proofed, with escape routes (in case of fire), that comply too.
Once the building inspector is satisfied, the completion certificate will follow within 28 days.
Are garage conversions subject to party wall rules?
The party wall act will apply if the garage conversion affects a structure shared with an adjoining property.
Sometimes there are legal restrictions on alterations to a property, too, so check the deeds to your home to see if permission is required from a previous owner.
Planning a garage conversion
Before you start work on the conversion, consider what you'll do with everything currently kept in the garage. If you store a lot of garden gear in it, you may need to factor a shed or another type of garden storage into your plans; if it's where you keep your chest freezer, you'll need to work out where it can be moved to – or whether you can live without it.
If you really have no room anywhere else for these things, perhaps a partial garage conversion or a conversion that has lots of storage space set aside within it will work better for you?
What are the different types of garage conversions?
You may wish to covert a garage that is attached, integrated, or detached. 'Attached or integrated garages have a bedroom above them and are connected to the main house,' explains Thomas Goodman. 'They may be on the side or project out the front. Since an attached garage is typically accessible inside the house, conversion is made easier.'
These are the different types of garage conversion accordingly:
Full Integral single garage conversion: the most common type and also very cost-effective, an integral garage is attached to your property within the main walls and access will be via an area of the home. Usually a utility room/through the kitchen.
Partial garage conversion: this is an ideal and speedy option if you really need to retain garage storage and if you're on a tight budget. It will usually be the rear part of the existing garage that gets converted into the new living space to allow for normal use of the front, dividing both areas by a partition wall.
Double garage conversion: much like the name suggests, it's simply double, so you will in essence be getting more room. Many often dedicate half the space to parking and storage as with a partial design.
Detached garage conversion: this is a matter of converting a single or double garage that is separated from the main property. A detached garage conversion asks for more design, including garage insulation, and work – and planning permission may be likely so this is often more costly, but the results can be exceptional. Plus, if it is close enough to the house, you may be able to fit an integrated passageway to improve ease of access.
Do you need insurance to convert a garage?
Yes: if you are project managing the garage conversion yourself, it is highly sensible to arrange conversion insurance. If you fail to insure yourself properly, and there is any loss or damage caused during the works, it's unlikely that your home insurer will cover you while your home is undergoing alteration or renovation.
Conversion insurance will cover the work being carried out and the existing structure: in other words, your house. It should also cover materials, plant tools and equipment (stolen or damaged during works – these can cost thousands to replace).
This type of insurance should also cover public liability and employer's liability – should any of the workers be injured on site, for example – do check as this is an important element needed to protect yourself.
Ensure that the conversion insurance is ready to go from the moment work starts, until the very end of the job when the new room is in use.
Architect or garage conversion specialist?
Using an architectural designer or a specialist garage design and build contractor, will help put your ideas into fully formed plans, and give you much needed expert design input. If the garage is attached or integral to your home, they will also help you consider the best position for access, and put plans in place to redirect this if required.
To find an architect, visit architecture.com or use an architectural technologist (see ciat.org.uk). The starting point for your design is to draw up a floorplan.
Specialist garage conversion companies can save you time in putting together applications, and will be experienced in getting the best from this type of project; but any good builder will be able to do the job too.
It's crucial to find reliable contractors. Ideally, work with someone who has been recommended and is a member of an accredited body, such as The Federation of Master Builders.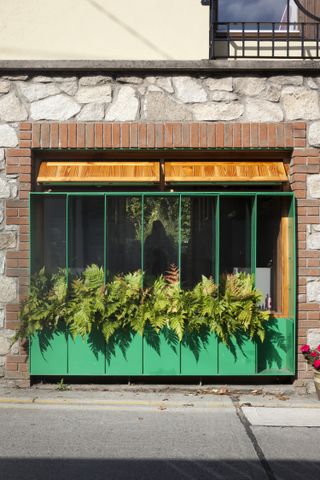 Planning a garage conversion: the DIY route
If you're on a budget, some people choose to come up with a design themselves and carry out all the work they can on a DIY basis – a good option for those with limited funds and the spare time to get stuck in.
You can do most of the work yourself, which is ideal if you're on a tight budget, but your work will be regularly inspected by building control officers and anything that's not up to scratch will have to be undone at your own expense. Understanding what's involved in project managing an extension is essential before embarking on this route.
Get written quotes (not estimates) from three different companies, with a clear specification of what's included. Using an architect can give a more creative result.
Garage conversion structural essentials
When planning a garage conversion, there are some important structural considerations that you need to tackle early on.
Replacing the garage door
'A combination of walling and windows will need to be used to close off the old garage door opener,' says Thomas Goodman. 'Whether you build with masonry or a timber frame, it must be structurally sound, connected to the existing walls, insulated, and designed to keep out dampness and water.
'To support its load, a masonry wall typically needs a new foundation that extends down to the depth of the neighbouring house walls. It is necessary to fully tooth and bond the new brickwork or blockwork into the older brickwork.'
If you live in a conservation area, you might find that your local council want you to retain the original door. There are ways to do this, including building a false interior wall behind the doors which, ideally, will have glazed sections. This isn't a bad place to site a kitchen sink, for example.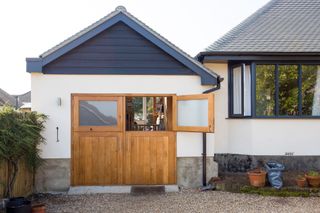 Upgrading the garage roof
The garage roof will almost certainly need to be upgraded to ensure it is water-tight. Use new tiles and materials that match those of the main roof. If you can swap a flat roof for a pitched one it will make the conversion less obvious from outside, and the new raised pitch may have space for rooflights. Doing much more than general repairs to the roof will have to be approved by your local building control department.
Internal and external walls
Stud walls built inside your garage will create its layout.
External garage walls will usually be single course brickwork, which won't meet building regulations for moisture and insulation. This can be solved by adding an interior, insulated stud wall built off a damp-proof course on a couple of courses of bricks. 'Set 75mm clear of the original wall, this stud wall can easily accommodate services and insulation prior to plasterboarding,' says designer Nigel Lewis of Space & Style Home Design.
Ventilating, heating and insulating a garage
Ventilation: Shower rooms and kitchens must meet building regulation requirements with extractor fans, but you might also like to include an extractor if you're planning on using the room as a home gym. Otherwise, an opening window and background ventilation in the form of air bricks or trickle vents will be needed.
Insulation: Building regulations require walls, windows, the floor and roof to be insulated to a certain level. It's important to get this right – poorly done, it will result in a cold, damp room.
'Attached or detached garages are usually only of single skin construction, meaning they use single skin brick or blocks,' explains Clive Holland, broadcaster on Fix Radio, a station for tradespeople and builders. 'Therefore, you can insulate internally to keep the place warm usually by erecting a stud wall, or timbers deep enough to accept sufficient insulation depending on what the space allows. But, in my opinion, it's best to build a second internal block skin with insulation in between; not only does it make it stronger, but it will also give you all the necessary U-values.'
With pitched roofs, insulation may be two layers of 150mm glass fibre quilt, one between the joists, another over; flat roofs tend to need one layer between the joists of rigid PUR insulation board and another below, with a 50mm air gap above for ventilation. The second layer underneath will drop the ceiling height, however.
Dry-lining the walls and fitting sealed double-glazed windows are also probable requirements. New windows won't usually need planning permission but will need to be energy-efficient and double-glazed to be approved by building control. They may also need to be able to be opened right up, too, to comply with fire safety regulations (see above). Match the style to the house's existing windows to help the conversion fit in.
If floor height is an issue (particularly if you've had to lower the ceiling to insulate it), fitting multi-foil laminate insulants rather than using polystyrene floor insulation can help reduce the thickness of the under layer.
Bear in mind floor level, too. 'A lot of garage floors tend to be much lower than those inside the main house so mainly it can be topped off with insulation, DPM (damp-proof membrane) and then self-levelling compound to keep it nice and flat,' says Clive.
Heating: If your boiler won't cope with another radiator, or it's not practical to run the new pipework, consider electric underfloor heating, which is relatively easy to install.
Bear in mind that bedrooms, home offices and playrooms will need more insulation and better heating than a utility room, while a home gym or shower room will need better ventilation than a living room.
Electrics and plumbing in a garage conversion
Plumbing: If you're planning on installing a toilet or shower, double check the location of the existing water and soil pipes – doing so may help you keep garage conversion costs down, if you can put your fittings in a convenient place.
Electrics: Ask your electrician or builder if rewiring the garage for lights and electric radiators will mean that your mains (fused at 100 amps) will be put under strain, too. They may suggest installing an additional mains supply and separate consumer unit, which can add significantly to costs.
Another option is to put the garage on the existing consumer unit, perhaps with its own miniature circuit breaker. Consider adding a minimum of one new 20-amp circuit, too.
If yours is a detached garage conversion, wiring can be run through an underground conduit, although a new connection may be needed if it is to be a separate dwelling, an annexe, perhaps. A good electrician will always be able to advise.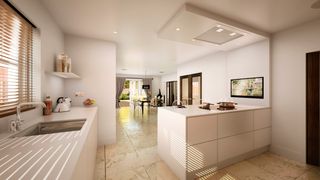 Fire safety for garage conversions
'You must consider fire safety and provide a fire exit window and main smoke detection if your new room doesn't open onto a hallway that provides a direct, protected route to an exterior door or is an interior room without a door leading to the outside,' says Thomas Goodman.
Only converting part of the garage? 'You must construct a fully insulated internal dividing wall that offers 30 minutes of fire protection if you convert an area of the garage,' explains Thomas. 'Blockwork or wood stud work with fire line plasterboard on the garage side can be used to build this.'
Garage conversion build schedule
Check structure is suitable for conversion
Produce design drawings
Confirm whether planning permission is required
Apply if consent is required
Produce detailed design and building regulations drawings
Arrange conversion insurance to cover the new works and the existing structure; most home insurers will exclude loss or damage while the property is undergoing alteration or renovation.
Notify local authority building Control of commencement
Strip garage back to retained structure
Structural alterations, including knocking through to house
Damp-proof new floor, if necessary
Insulate walls and new floor, plus the roof if single storey
Pour new floor, if required
Install new window and doors
First fix joinery, wiring and plumbing
Plaster and dry-line
Fit new doors, skirting, architrave, fixed floor finishes and light fittings
Decorate