If you're looking for decor inspiration for your conservatory ideas – and some expert planning advice along the way – we're here to make your project a success.
Traditionally separated from the main house, classic conservatory or sunroom ideas remain popular add-ons, particularly to a period property.
Recently, a more modern approach, in the form of a flexible, fully integrated open-plan space, is becoming popular. As a multi-functional space, a conservatory can accommodate a variety of key room types, including the kitchen, living room or dining area.
So whether you opt for a conservatory design that is classic or contemporary, be sure it works in harmony with both your home's exterior and adjoining rooms.
Conservatory ideas for all seasons
1. Be considerate of your conservatory's orientation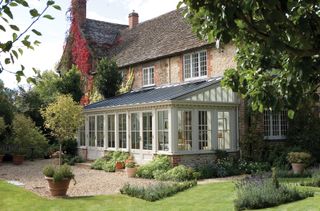 'Ensure your conservatory is positioned for your exact needs.', says Rob Smith, general manager at ConservatoryLand.
'South and west-facing conservatories will warm up throughout the day, but may require ventilation during the summer months, whereas north and east-facing rooms are more vulnerable to the cooler temperatures.'
'Another tip is to use soft furnishings to increase the cosy-factor when temperatures drop. Add blinds or curtains to keep the sun out during hotter days and the warmth during winter.'
2. Going Gothic? Opt for stain glassed windows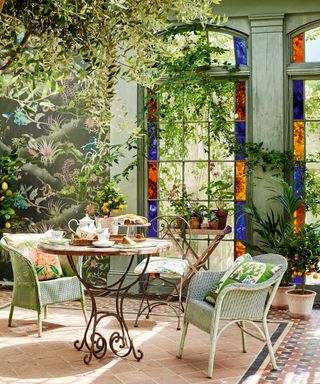 Colorful and reminiscent of boiled hard candy, a stained glass window in your conservatory adds Gothic interest and glamour to a plain scheme.
This accent idea has the best of both words, framing the rectangular panes of clear glass. But it'll all depend on the types of window you have in your conservatory on how creative you can be.
So you don't need rose-tinted glasses to have an optimistic and cheerful attitude in your home.
3. Hang plants to heighten a conservatory idea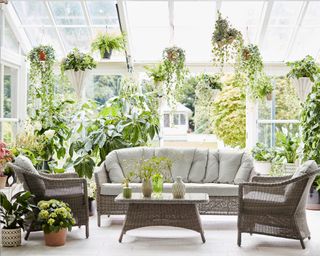 Add height to your conservatory design by using trailing plants and baskets on ceiling, on the floor and on your table decor – this is also one of the best orangery ideas.
Let's not forget; as well as being a visually aesthetic idea, there are many benefits of houseplants for your physical and mental health too.
4. Or use it as a quasi-greenhouse idea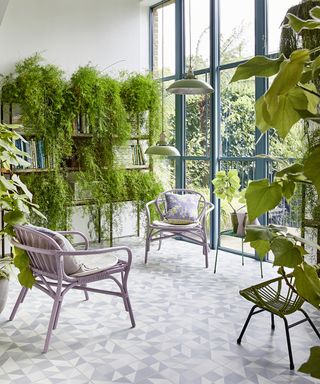 Typically, a conservatory idea is connected to a garden, but there's no hard or fast rule about where you should put plants in the home.
From living room Lillies, to Succulents in the shower, the best indoor plants provide a blooming gorgeous backdrop to your conservatory design.
But it's not just your typical houseplant that you should consider. Think easy-growing fruit and veg, such as cherry tomatoes and chillis and anything else you'd keep by the kitchen windowsill.
5. Create rustic charm with a hanging floral centerpiece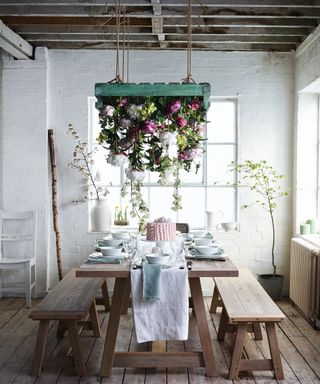 If you want to create a cute casual dining area for the family, this easy idea by Neptune is effortlessly chic.
Using a communal bench, and an upcycled pallet, you can create a romantic fresh flower arrangement in the center of your eating space.
Better still, if any of the family (or guests) have a pollen allergy, faux flowers will look just as good.
6. Freshen up with mint green woodwork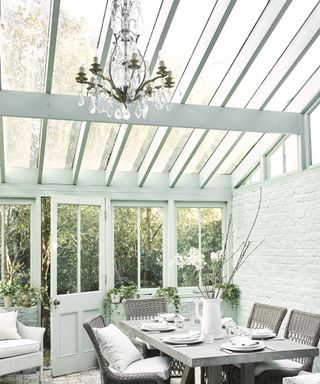 One of the cheaper, more cost-effective interior ideas in our armory, paint can transform your conservatory, and shouldn't be limited to just wall decor ideas.
In this idea, the doors, walls, windows and ceiling have all been given a pastel green makeover which we think looks great when coupled up with white and grey rattan furniture.
7. Mix and match pattern for a grannycore scheme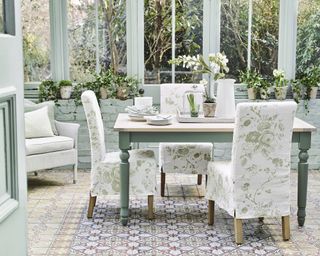 If you want to further develop the aforementioned pistachio scheme, don't be afraid to mix and match pattern in your conservatory.
Here, a busy Victorian flooring idea manages to complement a clashing floral motif on the white and green dining chairs.
This quintessentially British aesthetic is all brought together by potted ivy and pretty white foxglove flowers.
8. Add a hanging egg chair for exotic vibes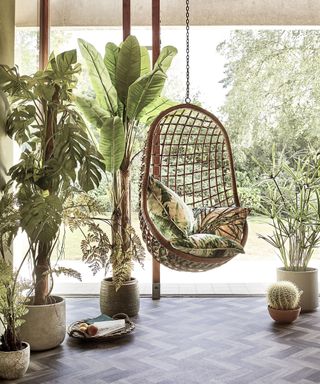 Defined by peace, love and an enthusiasm for nature, the sixties and seventies were eras we wish we could go back to.
Although there's no sign of a time machine being created any time soon, you can pay homage to yesteryear with a swinging rattan egg chair idea.
Pair your best hanging chairs with lots of palms and cacti for a hippie-chic space.
9. Create a kitchen conservatory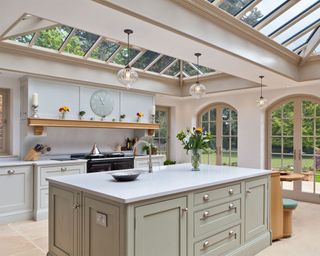 'The kitchen is one of the most important rooms in the house. It is a space for family gathering and is often the social hub of a home at mealtimes.', says Terry Hill, Managing Director at KLG Rutland.
'However, not everyone is fortunate enough to have a kitchen large enough to create a space for integrated cooking and dining.
'This is why kitchen conservatories are becoming more and more popular. They provide additional space and light, giving you the ideal room to cook, entertain and dine.'
'For garden lovers, a kitchen conservatory is a great way to link the garden to the house by bringing the outside indoors.
'They're perfect for summer BBQ's and alfresco dining, despite the unpredictable British weather!'
'One consideration to take into account is the kitchen island. They have risen greatly in popularity in recent years, but will need to be properly accounted for in the size and layout of a conservatory.'
10. Embrace the conservatory porch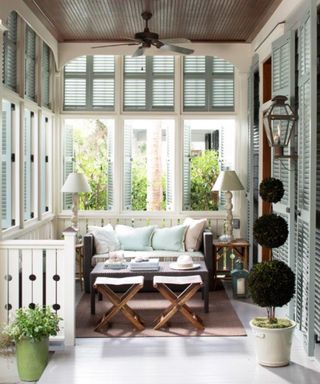 If you want to create the charm of a porch style seating area, but don't have the space in your front yard - flip this idea on its head and introduce it as part of your conservatory ideas.
This scheme, by Benjamin Moore uses mint colored shutters and a creamy off-white eggshell paint in shade 'Mayonnaise'.
11. Upcycle a tired chair idea for relaxing in style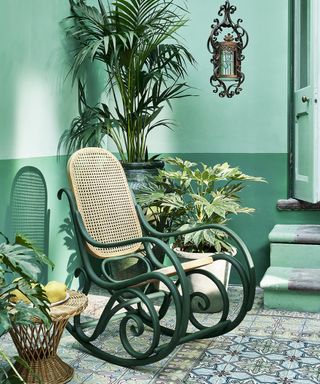 Conservatories offer a quaint and quiet space for us to relax and get our teeth into a book or podcast - whatever the weather.
In contrast to other interior spaces, they allow us to enjoy the warmth and brightness of the outdoors, while protecting us from some of the elements. Just remember your sunscreen as UV rays can penetrate through the glass.
Give your scheme the investment it needs with a wall paint idea and by upcycling your seating ideas.
In this conservatory idea by Annie Sloan, green paint in shade 'Florence' has refreshed a rattan rocking chair. So whether you're a millennial looking for a modern idea, or want your kids to use this space more - this is a cheap and affordable way to revitalize a tired room.
If you live in an area where the weather is unpredictable, bring a garden seating idea inside for it interior makeover. Not only will it stop it from eroding, but you're likely to get more use out of it in the conservatory.
12. Reupholster a worn sofa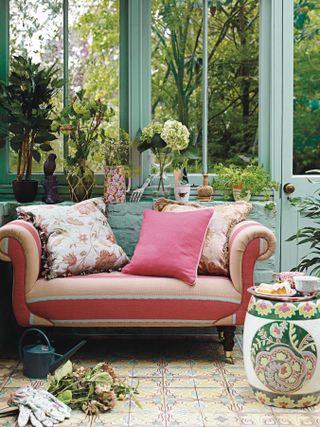 If a sofa or armchair in your living room has seen better days - don't throw it away. Instead recycle and relocate it to your conservatory.
With a trip to a haberdashery store, you can transform a dog-eared, sunken couch into a gorgeous seating idea for grandchildren or guests.
Choose a children's TV character motif, chintzy with a full-on floral idea or purchase plaid for rustic country vibes. If you know how to clean upholstery properly, these ideas can last a lifetime.
13. Go kitsch with colorful patterns and shapes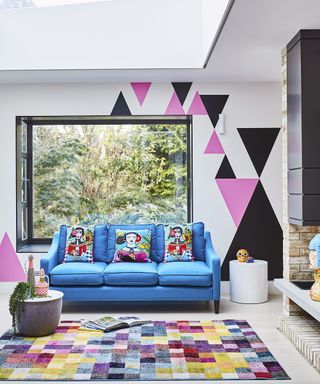 Contrary to what you may have seen or heard, conservatory ideas don't have to be conservative! So if you're an eccentric and extroverted character, let this be seen in your conservatory ideas.
Whether you want to opt for bright wall decor ideas, a statement sofa or a colorful rug design, go wild with bold hues and patterns to make the space your own.
This vibrant multi-colored squares rug from Carpetright is a steal from just £44.99 and, being made from polypropylene, it's stain resistance means it is ideal for high-traffic family homes.
14. Consider investing in a wood-burning or gas stove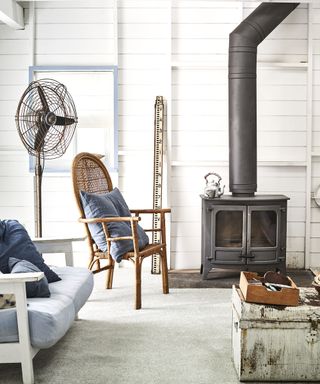 If you use your conservatory as an entertaining space, a wood-burning or gas stove can be a stylish focal point in a glazed extension.
Creating a cozy ambiance in the winter months, it is possible to choose a heating solution that is eco-friendly too.
If you're based in the UK, be sure to shop for a DEFRA (Department for Environment Food Rural Affairs) approved appliance so that you can use it in smoke-controlled areas.
15. Incorporate versatile shelving and peg rails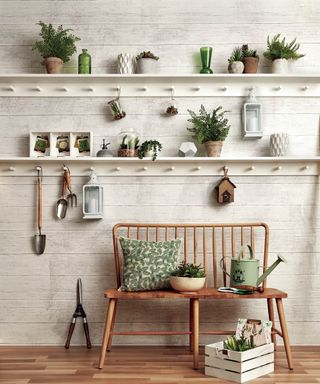 With such close proximity to the garden, you'll want all your equipment and apparatus nearby to carry out weeding, seeding and other maintenance tasks.
But if you haven't got a shed or summer house to store your wares, it can be tricky to house these tools indoors without cluttering up other rooms, or dragging mud and other debris around.
By incorporating shelving ideas, you can have shears and spades to hand, while keeping the rest of your house spic and span.
16. For a modern touch, add polished tiles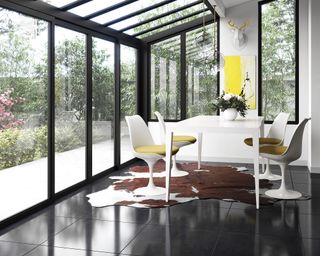 Move over traditional conservatory ideas! This modern design is making 'mooves'.
Emulating this chic black, white and yellow idea couldn't be simpler. To start, lay some polished black tiles.
Then add curvy, statement white table and chairs. This particular set oozes style and substance with a cute yellow cushion detail for comfort. Have you spotted the white and yellow stag head figurine too? These accessories definitely hit the mark when looking at how to modernize a conservatory. And of course, we cannot forget that wow-factor cow hide rug! Offering tactile comfort for your toes, it'll keep your feet warmer than if placed directly on the tiling.
17. Create a seamless space with indoor-outdoor tiles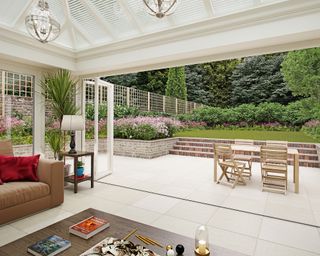 By using the same flooring in your conservatory as those in your garden, you can create a synchronized scheme that gives the illusion of a larger landscape. Slip-resistant and completely colorfast, this tiling idea by Valverdi has both style and substance.
'As many of us prefer more informal dining situations at home, a tile that can work in rooms used for both food preparation and enjoyment become increasingly sought after.', says Rob Whitaker, creative director at Claybrook.
'Add to that the popularity of opening up the indoors to connect with outdoors then tiles with an exterior option to continue the look are a sure-fire hit. This outside tiling needs more slip resistance for safety, but can be just as lovely.'
18. Go for Scandi-chic in a light colored conservatory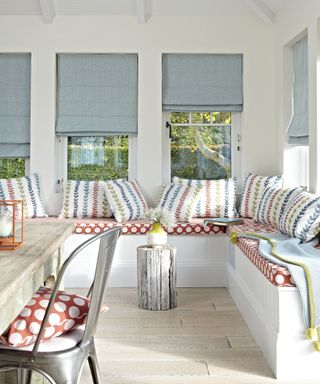 Using white and light wood in your conservatory idea? Congratulations! You've unknowingly (or consciously) adopted one of interior design's most sought-after schemes: Scandi chic.
To elevate this space even more, use pattern and muted versions of bright colors in your soft furnishings. We particularly like the idea of using the same polka dot pattern on your seating and cushion covers, as shown here. Let's no forget the baby blue roman blinds and coordinating throw too!
19. Fake a herringbone tile idea with LVT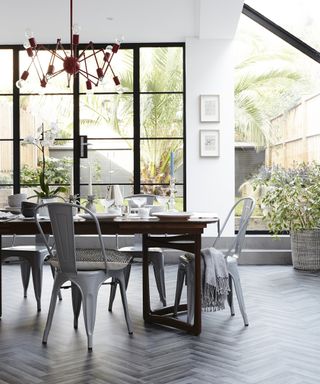 If you want to create a flooring idea that emulates the look of herringbone wood for less, look to LVT.
Using a luxury vinyl tile design in a conservatory idea can save you dollars in raw materials and resource. This grey oak effect can be continued throughout an adjoining kitchen idea to give the illusion of a seamless space.
Easy to clean, these types of flooring materials can be wiped down should there be muddy footprints or food debris that needs to be cleaned up quickly.
20. Make it cosy with warm terracotta tones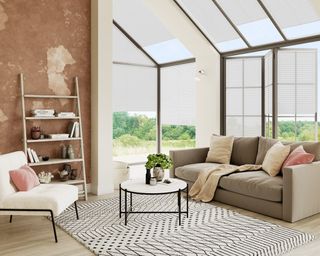 'This eclectic look celebrates earthen colors and textures found in natural materials like plaster, clay and putty, contrasting them against lux, comfortable fabrics.', says Matt Thomas, director at Apollo Blinds.
'Cozy furniture, chalky neutrals, and blush pink velvet accessories are juxtaposed against the rough, rendered plaster feature wall. Linen-look window blinds are perfect to accompany this look.'
21. Introduce color into a neutral conservatory idea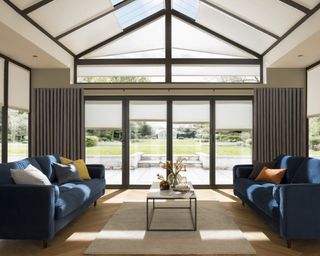 In a bright and airy room where lots of light pours in, it's no wonder many of us decide to decorate our conservatory idea in neutral colors such as white, cream or beige. But if you want to liven up this second living area, shopping for the best sofas may be where you're willing to compromise. In this scheme, they are used to create symmetry in the room.
The gorgeous jewel-like blue couches add luxury to this lounging space. To style them, use bright contrasting cushions in yellow and orange.
Mink curtains also provide a mirror-image uniformity and help to frame the room too. Save yourself some money by knowing how to measure up for curtains.
22. Make an informed decision with glazing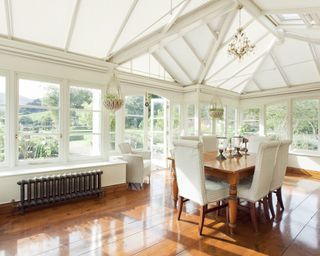 The main component of any successful conservatory is the glazing, which must perform an almost impossible task, blocking excess solar gain, while retaining heat on colder days. There are many options when it comes to glass extension ideas, and choosing well – particularly for the roof – will ensure the temperature of your space is comfortable year round.
Low-e glass with an argon-filled cavity is a good option – it has a thin low-emissivity coating to reflect heat, while the gas in the cavity greatly reduces the transfer of heat. Other types of glass have coatings to reduce the sun's rays.
Bear in mind that when glass is treated it can lose some of its clarity and take on a slight tint, so take a close look at the options available and choose one that's as clear as possible. For the greatest clarity and maximum light, look at low-iron glass.
23. And be sure to keep your conservatory clean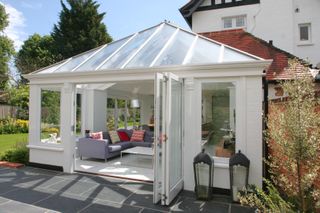 'You will need to clean your conservatory regularly to prevent moss and algae build up.' says Matthew Currington, technical director at The Lighting Superstore.
'It's always best to clean little and often as a large-scale cleaning operation can be time-consuming.'
'Most conservatories can be wiped down with warm soapy water, steering clear of abrasive chemicals. Make sure to keep gutters free-running as clogged gutters are more easily damaged - which can lead to leaks - and cleaning windows.'
'It might be worth looking into surface modified glass such as self-cleaning glass. This can reduce the need for cleaning the external hard-to-reach areas.'
24. Be mindful of potential home security issues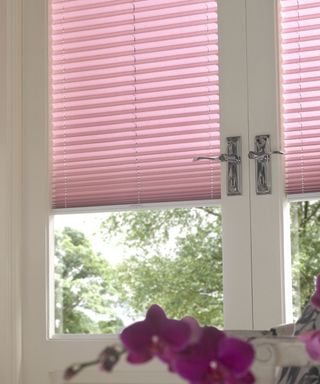 With so much glazing, security could be an issue, but glass in conservatories must be toughened up to a height of 800mm, or up to 1,500mm for glass doors.
Any quality glass roof should also feature toughened glass as standard. Be sure to put aside budget for this to deter burglars.
It's also worth investing in additional home security technology and fixtures for this quarter of your home. You may want to consider a shoot lock system with force-resistant hinges.
Ultimately, common sense pays too. So keep valuables out of sight - especially if you have a space that people can look into.
25. Use timber in your conservatory idea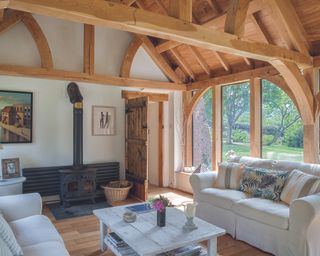 Timber frame is the alternative desirable option for a period home. Oak sun rooms look stunning and if unpainted the wood will weather beautifully. Other popular timbers include Douglas fir, sapele and Accoya, which is modified to be incredibly durable and resistant to fungal attacks.
Ensure that wood is factory painted or treated, which will make it rot resistant and mean it should last around ten years before requiring any maintenance.
And, if a timber frame is painted a color that isn't to your taste, knowing how to strip paint from wood is a good place to start.
26. For an affordable conservatory idea, use PVCu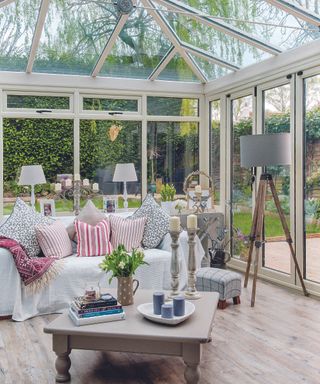 By far the most commonly used material for conservatories and house exterior design, PVCu is more affordable than the alternatives, widely available and maintenance free.
However, steer clear of it when looking at the best extension ideas for period homes as this material results in bulkier, inauthentic sections and details.
But if you have a modern home and want to add color to your conservatory idea, you needn't spend hours painting it yourself.
'PVCu or timber is now widely available in an array of colors and finishes and can even be made with wood grain details.', says Ryan Schofield, managing director of Thames Valley Windows.
'With the option of choosing a dual color combination, homeowners are allowed to add color into their conservatory in a variety of ways,'
27. Create a play room idea in your conservatory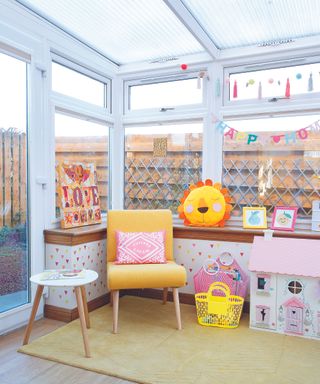 With lots of space to store (and hide away) an ever-growing toy collection, creating a kids playroom idea in your conservatory is a smart decision.
But it doesn't mean that this space will look like a yard sale. With clever toy storage ideas and cute decor you can create a dedicated corner for your little darling.
Use bunting and adhesive decals to introduce personality into this area of the room.
28. Create a tropical paradise in the back of your home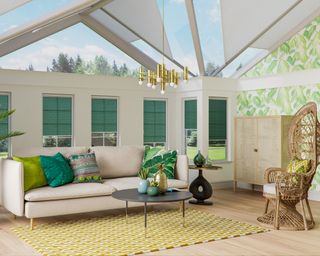 'What better place to incorporate the botanical trend than in the conservatory!', says Matt Thomas, director of Apollo Blinds.
'Create a lush, indoor paradise with vibrant teal, turquoise and lime green colorways, and warm highlights of gold or turmeric.'
'Indoor greenery, both real houseplants and printed on fabrics/wallpaper, are a must for this look, which also incorporates a contemporary take on traditional rattan 'conservatory' furniture.'
'Textured turquoise blinds are an invigorating finishing-touch to bring the scheme together.'
29. Add modular shelving to your conservatory idea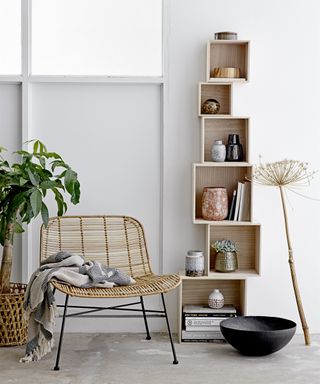 If you're lucky to have a fully functional conservatory which isn't used as a dumping ground for laundry, DIY materials and miscellaneous bits and bobs - well done!
Keeping an organized space can help your conservatory idea to look big, bright and beautiful. But as interior enthusiasts who can't keep our hands off the latest unmissable sales, these products have gotta be stored somewhere. And this is where the magic happens.

Modular shelving ideas can be built to your bespoke needs. In this execution by Bloomingville, six cubes of different sizes are displayed vertically to create a tall and trendy organizer.

But as an alternate idea, they could also be affixed to a wall in a horizontal fashion, to create a pigeon hole style aesthetic.
30. Use natural materials to create a holiday home feel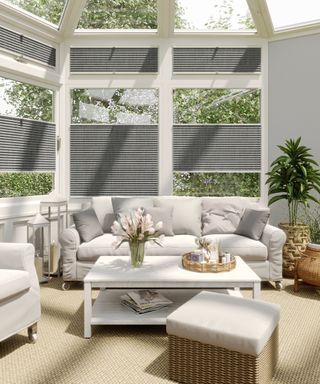 If you're looking to go on a staycation this holiday season, you needn't leave your home. Instead, look to incorporating natural materials such as rattan, bamboo and other woven textiles into your conservatory idea.
These can come in the form of planters, poofs and decorative trays to store drinks, flowers or candles. Value vacation vibes? Voila.
How can I decorate my conservatory?
'Just like with the rest of your home, you want to ensure your conservatory is nicely decorated and doesn't stick out like a sore thumb.' says Matthew Currington, technical director at The Lighting Superstore
'Whether you're looking to use it as a dining room or an additional living space, the space should be relaxing while surrounded by colors and objects you love.'
'Treat it like any other part of your home by adorning it with artwork, throws, cushions and lighting.'
'Although conservatory's let in a huge amount of natural light, to ensure it's suitable for both night and day, conservatory lighting needs to be functional, beautiful and supportive to its surroundings.'
How can I heat my conservatory in the winter?
For heating the space in colder months, underfloor heating is usually the best option as it's the least obtrusive.
Underfloor heating can be warm water as part of a larger ground-floor system or, for an instant response - electric. A stone or tiled floor is most thermally conductive.
Alternatively, trench heating is a warm-water system sunk into the ground with a grille on top. Running around the perimeter of the room, it can make an attractive feature.
Can I build my own conservatory?
In short yes. But there are some things you'll need to consider.
Firstly, glazed extensions to older homes must be sympathetic to the house's period and architecture, meaning a bespoke design is always going to be the preferred option.
Edwardian, Victorian and Georgian homes all have different proportions so there is not a one size fits all rule; use the existing house as a template for the design.
The design must be in proportion with the existing property and pay close attention to details, such as the roof pitch, bargeboards, finials, windows and colors. Where possible source similar materials such as timber, brickwork, flint facings and rendering.
On smaller terraced houses and cottages, a lean-to design often works best.
Do beware that authentic-looking period design can be difficult to recreate, so local authorities increasingly support unobtrusive, minimalist glazed additions to old homes.
How much does a conservatory cost?
'During the past 12 months, average conservatory costs, which are fully constructed by an approved installer, have sat between £11,500 and £13,500.' says Rob Smith, general manager at ConservatoryLand.
'This number can fluctuate significantly depending on the size and specification.'
What is the maximum size of a conservatory without planning permission?
'Planning permission for conservatories are all in relation to the size and height of your property.', says Rob Smith, general manager at ConservatoryLand.
'The larger and wider your home, the bigger your conservatory can be. In order to be exempt from planning permission, you must follow these guidelines'
A single-storey rear extension cannot exceed four metres in height
A single-storey rear extension cannot exceed six metres in depth for an attached house, and eight metres in depth for a detached house
A single-storey side extension cannot exceed four metres in height, or a width of more than half of the 'original house'.
In many cases, the addition of a conservatory or sun room falls within permitted development rights, meaning you don't need to apply for planning permission.
The same limits apply as with extensions, affecting factors such as size and height – see planningportal.co.uk for the rules.
Local authorities can remove some permitted development rights with Article 4 directions, and if your home is located within a designated area, such as a Conservation Area, extra restrictions apply, so check first. If your home is listed, you will need to apply for listed building consent.
If planning permission is needed, it is more likely to be granted on structures at the rear of a house. Many planners are now particularly receptive to contemporary frameless additions that offer a distinct separation between old and new.
As with all additions, success relies on a sympathetic reflection of the main property, in terms of scale, architecture and proportion.
Does a conservatory add value to your house?
While another large room in the home 'should' add value to the selling price, you shouldn't assume this is the case. Oak frame extensions, for example are particularly sought after and can significantly increase a home's value.
However, a bolt-on model is unlikely to add to the house's appeal or value, and on listed homes will be unacceptable.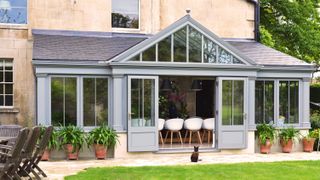 What are conservatory frames made of?
Traditional glass houses had metal frames, and today aluminium is a popular choice for its classic looks and slim sightlines. It can also be used to cast more ornate designs, similar to the conservatories of the Georgian and Victorian eras.
Modern aluminium frames include thermal breaks to avoid heat loss, and can be powder-coated in any color to produce a maintenance-free addition.
For the best of both worlds, some manufacturers offer composite conservatory frames, which have an aluminium exterior, great for low maintenance, and a timber interior, for warmth.
Does a conservatory need building regulation approval?
A conservatory is part of the existing home or building if it is open plan to the rest of the house, and will have to comply with full building regulations, particularly with regard to glazing and heat loss.
A separate conservatory that has exterior-quality doors separating it from the main part of the house may not need to apply, as long as it is less than 30m2 and it meets the safety regulations for the glazing and electrical installation.
A good designer can advise and liaise with conservation and planning officers to ensure the new structure makes the best use of the available space within the parameters of legislation.
How do I find the right conservatory manufacturer?
Look for a company who have the reputation and years of experience in designing for period properties.
Be guided by their recommendations and where possible visit their workshops and design studios to see first hand the quality of the conservatories and this will help you understand what detail is being proposed.
Try to invest in the best quality you can afford as bespoke conservatories will be individually tailored to your needs and add value to your property.