Side return extensions offer a great solution to dark and uninviting back rooms. And by working with the poorly used space at the rear, or with the small alley to the side of your house – a feature in many a terraced or semi-detached house – you can build an extension that is beyond all proportion to its size.
Unlike a rear extension, side returns help conserve garden space. While if you choose a wrap around extension, this will inevitably eat into your garden space. However, combine this with a single storey extension and it will not only create a spacious and light-filled area for a generous kitchen, dining room and living room, but it could also add value to your property. Then, there's more cash to treat yourself to your dream sofa, or a brand new mattress...
As one of the more cost effective extension types, although some garden space may be sacrificed, a good side return extension can improve the indoor-outdoor connection and enhance your living space no end.
18 ideas for side return extensions
Use this guide to planning and designing a side return extension to get yours right – then hop over to our ultimate guide for how to extend a house for all the practical advice and inspiration you'll need.
1. What type of side return extension can you build?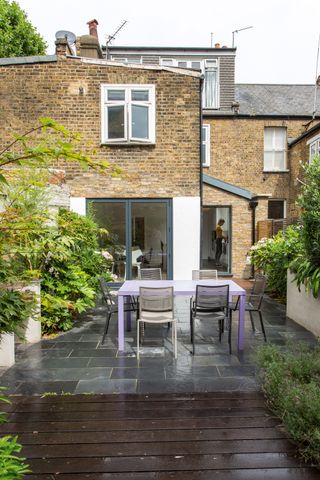 Building a single storey extension is the cheapest and often most viable option. Frequently built as a kitchen extension to turn a small kitchen into a generous, open-plan kitchen-diner, such an addition can help provide garden-facing dining and seating, or the extra width could even contribute to a reconsidered, more open-plan layout throughout the ground floor.
Two storey extensions can be possible, too, and although one of these will cost you more to build than a single storey one, it will be more cost-effective to build – in other words, you get more square footage for your money.
2. How much does a side return extension cost?
You can expect to pay around £1,500 to £1,900 per square metre for a single storey side extension of basic quality; around £1,900 to £2,200 per square metre for a finish of good quality; and, between £2,200 to £2,400 per square metre for a finish of excellent quality.
If you're planning a side return extension, the best place to start with costing is our free extension cost calculator, which will give you a good idea for budgeting.
3. Do you need planning permission for a side return extension?
You probably won't need planning permission for a side return extension. The permitted development rules allows single-storey side extensions up to a maximum of 4m high and a width no more than half that of the original house. If the extension is within 2m of the boundary, eaves height should not exceed 3m.
However, if you live in a Conservation Area, national park, AONB or there's an Article 4 direction on your property, you may need to get planning permission, so check with your local authority. Find out more with our guide to planning permission and to permitted development for extensions in our guides.
4. How can I reflect light into the depths of the extension?
Clever colour scheming can help compensate for the loss of the side window and increased depth to the room when you create side return extensions. Painting kitchen cabinets in pale colours, reflective materials, glass or high gloss tiled kitchen splashback ideas and pale stone flooring, will all help bounce light around. Introduce warmth with wood finishes, or taps and pendant lights in copper or brass.
If you'd like white kitchen ideas, be sure to look at our gallery.
5. Letting in light (and views) with glazing is a must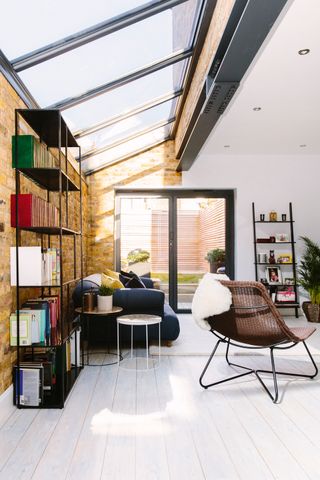 House extensions are often added to maximise light. Rooflights link a side return extension to the outside, especially when tall trees are visible in the surroundings – and a view of open sky can also help the interior feel bigger. A window with minimal framing and no glazing bars across it will maximise sightlines, particularly if it's floor to ceiling, as will sliding doors or large bi-folds with the same barely-there style of frame.
6. Plan the room layout as you design the extension
Your side return extension design goes hand-in-hand with kitchen design and planning – if you will in fact be adding space to your kitchen. The extra width of the new room is often used to add a dining table, creating an eat-in kitchen. The former side return can be a good location for the table, with a long run of units on the opposite wall. With sufficient width, kitchen island ideas can separate kitchen and dining space, introducing an extra preparation surface and perhaps a breakfast bar.
Alternatively, an L-shaped kitchen at the back of the new space could allow the dining table to be placed centrally in the room and further towards doors to the garden.
7. Choose roof windows that don't need to open – which will save £££s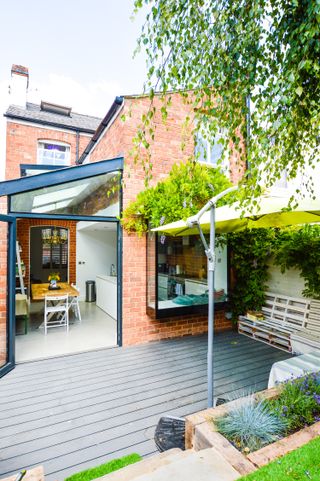 Should rooflights in side return extensions be openable? If your bi-fold, sliding or other patio doors are likely to be opened frequently, you may not need to be able to open the roof windows to ventilate the room – fixed designs are usually a more budget-friendly extension idea. But on cold days when you don't want a draught whistling through, openable rooflights are an advantage, and they'll help regulate the temperature in summer too. To make life easy, opt for electronic operation by means of a remote control and a rain sensor to close them automatically when the sky clouds over and droplets start to fall.
The extension above, to Ruth Heslop's Edwardian townhouse in Cheltenham, has replaced the former cramped galley kitchen with a more open and adaptable design. To bring in more light, it has a new box window and three custom-size Luxlite™ pitched triple-glazed anti-glare rooflights from Roof Maker, which open electronically and include a handy rain sensor.
8. Put the dark end of the room to good use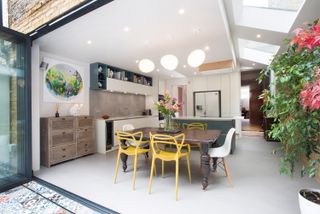 Extending to the side can make the middle of the house dark. Use rooflights to bring daylight in. Bi-fold or sliding doors to the garden could be fitted across the back of the room you are extending, or combine slimmer versions with large windows. Consider placing a room that doesn't need daylight, like a utility, cloakroom or storage, at the centre of the house.
9. Keeping neighbours on-side can save you £££s
If you're working on the existing party wall, building a new one at or on the boundary line with next door, or excavating near an adjoining building, you'll need a written party wall agreement from next door before work begins. Start by serving a party wall notice on the neighbours, or pay a party wall surveyor to do this on your behalf.
Better still, keep them informed of your plans from early on and see if they'll agree to sign a party wall agreement waiver – doing so will save you at least £1,000.
10. Dealing with the openings into the new room
You may be left with two openings to the new room: the original from the hallway, and a second where a reception room window used to be when it overlooked the side return. If so, a bank of kitchen cabinetry – possibly including a great fridge-freezer – can be an effective use of the wall space in between. Alternatively, why not include open shelving or a mixture of shelves and closable units? This is where great kitchen storage ideas will come in handy.
11. Replace all the downstairs flooring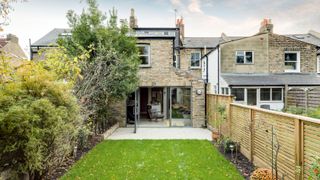 A continuous floor finish throughout will help the new side return extension feel as large as possible. You could even opt for the same flooring in the front reception rooms and hall to create a fuss-free look and expansive feel across the ground floor. If you take the latter option, bear in mind that what you choose needs to stand up to foot traffic throughout, be easy to maintain and suitable for all of the individual zones.
12. Add character without breaking the budget
Architectural details can drive up the cost of an extension, so if you're looking to extend on a budget, you may want to keep wall finishes the same in the newly extended space, while a different look for the wall of the side return can make the room look less boxy.
Exposed brickwork or brick slips can add an industrial touch. A patterned or textured wallpaper can create contrast. Easier still is to paint the side return wall a different colour from the rest of the room.
13. Plan thoroughfares to make the kitchen work
It's important that your side return extension doesn't result in the working part of the kitchen becoming a passageway. A central kitchen island can be a sensible way to divide the preparation and cooking area from the route into the new room from the front of the house. A peninsular kitchen design is also a handy way to direct foot traffic.
14. Choose doors to have a major design impact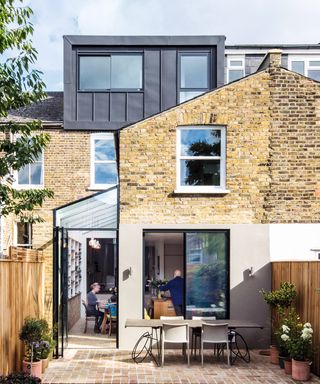 Sliding or bi-fold doors with minimal framing opening to the garden are definite winners, but using a more traditional door style can make a new side-return extension feel at one with a period property.
Or consider industrial-style steel-framed windows and doors, as above, that will provide snapshot views to the garden. A design like this can harmonise beautifully with an exposed brick wall, or industrial details in a kitchen.
15. The roof design should echo your home's architecture
A single pitch roof can make a side return feel loftier inside, and look attractive viewed from the garden. But, flat glazed roofs or one with a series of rooflights, can be equally as effective. Pitched roofs have a more traditional appearance, while a flat roof can appear sleeker. The latter is also worth considering as a good way to focus light on a dining area.
16. Consider the exterior finishes early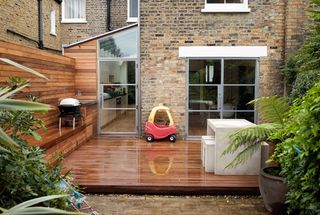 Should a side-return extension match or contrast with the original house? Both are possible – and both can be successful. Matching materials will create a harmonious feel, whereas contrasting contemporary finishes make the new addition stand out. Call on an architect to help with your plans – and check out our feature on how to improve your house exterior design for inspiration.
17. Being space efficient will make it feel roomier
Access to a house with side return extensions is typically tricky, since these homes tend to be terraced. If the new room is still of relatively modest proportions once the side return is incorporated into the interior, a single line galley kitchen can provide functional cooking and preparation areas. In this scenario, too many wall units can be oppressive, so plan in shelving or glass-fronted units to keep the feel open. Make sure there's worktop space either side of the hob as well.
18. Sort access issues early on
If you live in a terraced home with restricted access, then that may affect the options you have for your side return extensions. For example, you may not be able to use certain construction methods, or you may need to make arrangements with your neighbours to temporarily remove fence panels or use their land for short-term storage.
More on extending and renovating: