The best range cookers are a worthwhile investment for anyone who loves cooking. Cosy and comforting, these statement appliances will give you flexible, varied cooking – and create a focal point in an open-plan space or compact kitchen-diner. Period home owners might like to opt for a traditional range cooker; however, there are now plenty of retro- and contemporary-style range cookers on offer.
To find out more practicalities, check out our guide to buying the best range cooker, below. In the meantime, we invite you to browse our pick of the best range cookers, as curated by appliances expert Hayley Gilbert.
For more of the best ovens you can buy for your kitchen revamp, go to our buying guide.
What is the best range cooker?
Why you can trust Real Homes Our expert reviewers spend hours testing and comparing products and services so you can choose the best for you. Find out more about how we test.
The best range cooker is the Leisure Chefmaster CC90F531S. This impressive range cooker is spacious, delivers even and consistent cooking, and is great value for money.
The best range cookers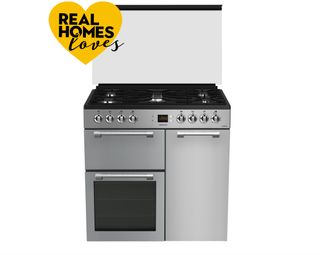 Buyers love this Leisure Chefmaster model as it's easy to use, good value for money, looks good and has excellent build quality. They also like the glass splashback that can be lowered to cover the gas hob when not in use, providing a handy extra workspace. In a stunning silver finish, it gives you three cavities to cook in – a main electric fan oven, second fan oven and a third conventional oven/grill along with a five-burner gas hob complete with wok burner for high heat stir fries and paella. Stay-clean catalytic liners help with cleaning the inside, too.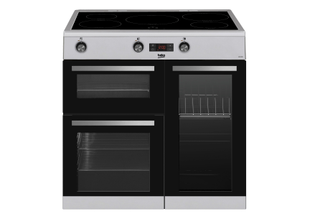 With two fan assisted ovens and an induction hob, this Beko cooker is a great choice for those looking for an energy efficient design or may not have access to a gas supply. It's also ideal for families with young children, as it's the pan that heats up and not the hob, making it a safe option when there are little ones running around. Users like its sleek modern finish as well as the fast heat up of the hob.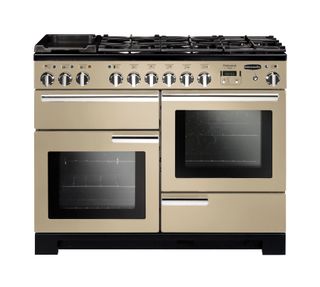 Also available in black, cranberry or stainless steel, The Rangemaster Professional+ creates instant wow factor in any kitchen. There are four cavities as it's wider than some designs so you get two gas ovens, a grill and storage compartment that you can use for baking trays or keeping food warm. It's ideal for cooking a Sunday roast or entertaining at Christmas, as there's space for the turkey, vegetables and all the trimmings, as well as pudding, too. Buyers rave about the speedy heat-up times as well as its build quality and value for money. In our opinion, this is the very best range cooker for those who frequently cook for lots of people.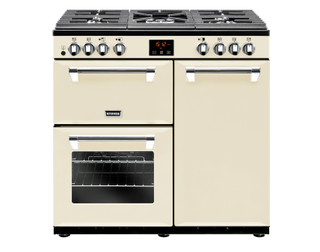 In cream or black for a classic look, this dual fuel Stoves cooker comes with two fan ovens with a handy slow cook and defrost function. Users like the tall oven, which is easier to use and is kinder on the knees, as well as the chrome handles and overall quality finish. It has a four-burner gas hob with central wok burner and heavy duty cast iron pan supports. A solid choice with the flexibility of cooking with electric and gas.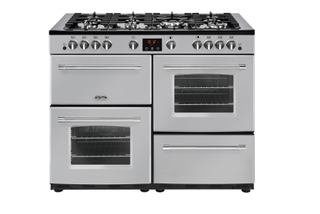 A wider 110cm all-gas model with four cooking cavities, this design by Belling is ideal for medium-sized households with its gas ovens and seven-burner gas hob with cast iron pan supports. Users love the storage compartment that can be used to keep baking trays handy as well as the interior light that lets you keep an eye on cooking progress. It's rated for being easy to use with good build quality and value for money.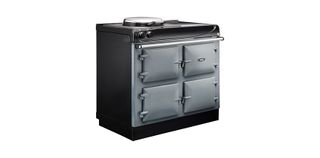 Style meets utility with this slimline range cooker from AGA. The latest addition to the well loved AGA 3 Series, this 90cm unit makes the ideal model for a slightly smaller kitchen space, without compromising functionality.
Complete with two cast-iron ovens, one for roasting or baking and one simmering over, it's never been easier to cook multiple items at one time.
As well as the standards features, the AGA eR3 promises new additions which promise to make hosting, as well as daily life, just that little bit simpler. These features include the pause button that allows you to take a break from cooking (for example to open the door) to a tall warming over perfect for warming plates or keeping food hot during dinner parties.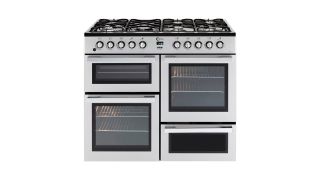 This huge Flavel oven and hob combo is great for those who have a large kitchen and often cook for the family or host dinner parties. This contemporary, industrial style range cooker has one conventional compartment and one fan compartment, allowing you to cook different foods at different temperatures and speeds. You will also benefit from seven gas burners, including one designed for woks. The best range cooker for large families in our list.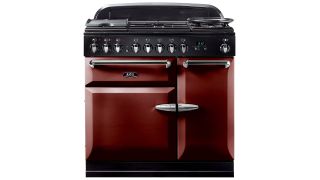 The classic AGA range cooker has been around for decades and has stood the test of time for a reason. If it's beautiful design you're after, look no further – this Aga range cooker looks super sleek and professional. This oven is expensive, but it is one of the fastest, most energy-efficient ovens on the market, and it can also be used for powering your central heating. The downside? It doesn't have any windows on the doors, so if you like to keep an eye on your food you'll have to keep opening the doors to check on it. Otherwise, the perfect range cooker for country kitchens and contemporary kitchens alike.
How to buy the best range cooker
The look
Think about whether you want a classic or contemporary style. Along with the professional look of stainless steel, there is also a raft of coloured finishes to pick from such as cream, black, slate, cranberry, orange, aubergine, yellow and blue. Do you want chunky dials or sleek touch controls?
Fuel type?
Dual fuel offers a combination of electric ovens with gas hob or you can go all-gas or all-electric with some models offering induction surfaces for energy efficient, safer hob top cooking.
Size
As well as 90cm and 100cm designs, there are 110cm models and even bigger if you go down the bespoke route. You can also find smaller 60cm slot-in styles if space is really tight. These can offer similar functions and features to a standard sized range but in a smaller footprint. Measure up the space allotted for the new cooker carefully and check dimensions of any product you have your eye on before you buy.
Here's a round up of the best buys in all fuel types with something for every size and style of kitchen.
What's the difference between an Aga and a range cooker?
Range cookers come in two categories: the first is the cast-iron, heat-storage model that cooks using radiant heat – this category includes traditional Agas and Rayburns that will also produce hot water for the home. They can be powered by electricity, gas, LPG, oil or solid fuels.
The other type, the pro-style cooker, has its roots in professional kitchens. These usually include one or more ovens and expansive hob tops, and most come as dual-fuel models or electric only.
Traditionally, gas or electric range cookers are a similar size when compared to an Aga and have a similar look, plus both types create a focal point to a kitchen. However, there are many distinct differences:
An Aga is designed to cook food using radiant heat, heating up cast iron and cooking food within at high temperatures.
An Aga is designed be on all the time as a heating source for the home, as well as a cooking appliance. These days the heat level is more controllable compared to designs of the past, but the appeal of an Aga for a lot of people is the traditional feel and using it as a heating source.
A range cooker is more suited to people used to cooking on a dual fuel or gas cooker because both work in the same way.
Range cookers work on conventional modern cooking methods, such as electric, gas or induction, or dual fuel, rather than radiant heat, which can take some getting used to.
What are the main benefits of a range cooker?
Radiant heat cooker devotees love them for their ambient warmth, the way they cook to leave food moist and tender, and that they add value to the home. If you're thinking of changing to a heat-storage cooker, cooking on it will be slightly different, so it's a good idea to go to the demonstrations or one-to-ones offered by Aga.
There's flexibility in that you can cook in the main oven and auxiliary oven at the same time at different temperatures, plus use the grill and warming drawers simultaneously.
Capacity is a big win for professional-style range cookers. They come in many sizes, from 60cm to 150cm in width, but most measure between 90cm and 110cm. Look for models to suit your needs – most come with at least two multifunctional ovens and a variety of options for your hob: mix and match with hotplates, griddles and French tops (which give graduated heat across the surface). Other great features include telescopic shelves to help you remove dishes from the ovens, rotisseries and storage drawers.
Design wise, there are a range of styles, colours and bespoke options available so you can tailor the cooker to suit your needs. Plus, you'll often have a wide choice of colours – great for a fabulous focal point.
What are the downsides to range cookers?
A pyrolytic cleaning function (burning off grease and residue at high temperatures) is less common on ranges, although catalytic liners and enamel coatings should make cleaning straightforward. Also, heat storage is often not needed in the summer – so you may wish to consider an on/off model.
While the main oven on many pro-style range cookers now has an A rating for energy or above (which rivals the efficiency of in-built ovens), its second oven sometimes has a B rating, so check before you buy.
How much does a range cooker cost?
Cast-iron ranges are made to last and the price often reflects that: the Aga Total Control (with an on/off switch) and the Aga iTotal Control model (that can be switched on and off remotely), for example, cost from around £10,395.
Professional-inspired range cookers start from £600 through to versatile American-style models that cost up to £20,000, with bespoke islands constructed in the same style as the range.
More kitchen buyer's guides