We are all about cheap and easy bathroom ideas. Who isn't!? Of course, we all want quick, affordable ways we can revamp our current bathrooms, making them nicer and more functional spaces. So we have teamed up with the bathroom experts over at Victorian Plumbing who have come up with 10 really fab hacks that will make your bathroom feel fresher, more stylish and just nicer to use.
There is a really great mix of both practical tips and style hacks here – the combination of both will help you with your bathroom makeover, so get reading!
Make sure you check out our bathroom ideas page, and go and have a browse over on Victorian Plumbing for more lovely bathroom inspo.
1. Reseal your bath
Over time, the sealant around your bath will get old and turn brown. Replacing sealant is a small solution that'll make your bathroom feel brand new. Plus, it's cheap to do! All you'll need is a cartridge gun with new sealant and a Stanley knife - all of which you can get for under £20.

Use a Stanley knife to remove the old sealant, slicing through the top and bottom edges at one end before gently pulling it from the wall. Fill your bath so that the gap between it and the tile are at their widest and use the cartridge gun in one consistent motion to reseal. Leave to dry overnight.
2. Revamp your bathroom storage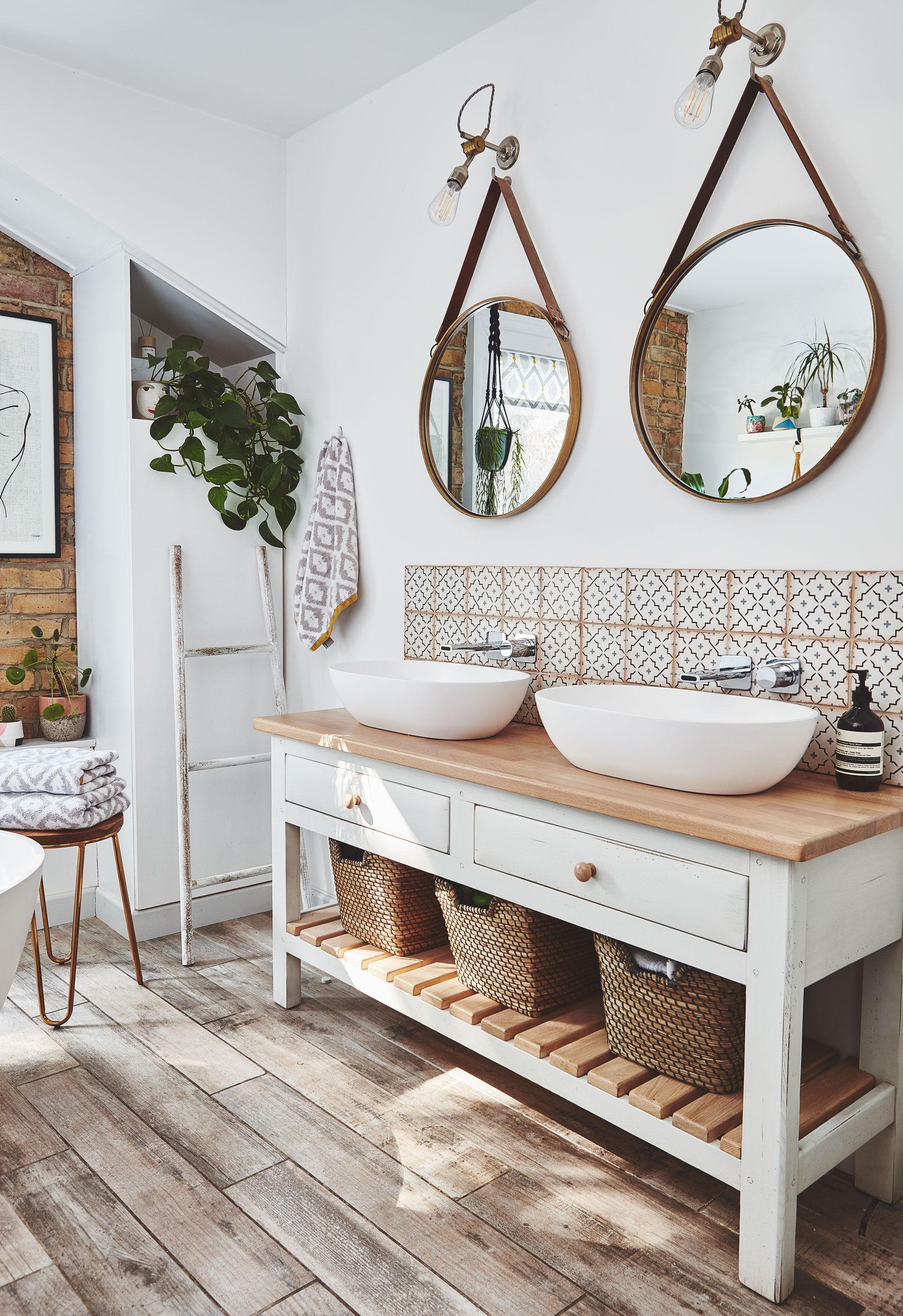 To quickly revamp a small bathroom space, change your storage. Storage is sadly a bit of an afterthought for many bathrooms, but adding ladder shelves, or open shelves in general, is a great way to make a room feel new. Open shelving will make the bathroom feel spacious and less boxy.
Argos and Dunelm offer stylish storage solutions for under £40, but shop around to find a cheaper set of shelves to suit your needs.
For more bathroom storage ideas, head over to feature.
3. Refresh bathroom walls
Paint provides a lot of quick renovation solutions on a budget, and painting your bathroom a new shade is a great way to make the space feel new. Let's face it, most bathrooms are fairly neutral, which can make them a little bit boring. Add some colour to make your space pop.

Taupe is a great choice for those who want to remain neutral whilst adding warmth. Go darker for an earthy feel. Charcoal will feel moody and sophisticated. Green feels natural and is calming, great for small spaces, whilst pistachio is a great way to add bold colour without going over the top. Contrast pistachio with natural wood fixtures.
For more bathroom paint ideas, head over to our feature and for the best paint for bathrooms we have a buying guide for you to look through.
4. Decorate your bathroom door
Doors are often overlooked when it comes to redecorating, but making some changes here can have a huge impact on your bathroom.

You won't need to make major changes either. A new paint job will make a door feel new. Why not go one step further and replace the handle and lock too? You can get decent door handles for under £30, and refitting a lock is a pretty useful DIY skill to learn too.
5. Add personality with bathroom accessories
If it's hard to make any major changes with your limited budget, then a quick and inexpensive solution is to accessorise! Look for small, cheap additions you can pad out your space with. So think soap dispensers, picture frames, cute ornamental features, air fresheners, mini-makeup mirrors, toothbrush holders, candles and brushes. This is a great way to add quirky personality to your bathroom without spending a lot of money.
6. Fake your bathroom floor tiles
Instead of splashing out on expensive stone tiles or wooden flooring, use vinyl instead. This gives you the same kind of aesthetic for a fraction of the price, creating an at-a-glance high-cost look for next to nothing.

Big vinyl tiles can be found online for under £10 per square metre – so depending on the size of your space, this is a fantastic way to cheat the room into feeling more expensive than it is!
If you want any more tips on how to choose and lay vinyl flooring check out our guide.
7. Bring in plenty of house plants
Bathroom plants are a great way to bring the outdoors inside, and an easy way to make a bathroom feel fresh and new. Plants add a rustic, natural quality to any space, and can go a long way to softening the harsh light and angles found in many bathrooms. You can get plenty of small plants for under £50.
Find plants that thrive in humid, damp conditions - bamboo, aloe vera, Boston ferns and orchids make for great green bathroom buddies. Air plants - which take moisture from the air - are perfect for the bathroom.
If you are worried about looking after house plants, fear not our guide has everything you need to know to keep them healthy.
8. Make a mini gallery in your bathroom
Bathrooms tend to have a lot of forgotten wallspace. So take advantage of this by creating a mini gallery! You can get pretty much all you need - picture frames and nails - from somewhere like Wilko for very cheap. The more numerous the frames the better.

Pick a unified theme. Animals, plants, and flowers are all good, but find something that suits you. For more tips on how to create a gallery wall head over to our guide.
9. Refresh bathroom cabinets
Buying and installing new bathroom cabinets is expensive. So work with what you've already got instead. Replacing the handles on tired bathroom cabinets is a really quick, and really cheap, way to make your bathroom feel a bit fresher. You'll be surprised how effective this is.

Budget friendly high-street home stores offer a range of small handles and fixtures so shop around for one that suits you – and, of course, there's paint.
Pro Tip: when you buy new handles, make sure the screw alignments match up with the holes on your existing cabinets, saving you from having to drill new holes.
10. Make a statement wall in the bathroom
Instead of trying to renovate the entire space, focus on improving one wall in such a way that it steals focus from the rest of the room. You can do this simply and cheaply with wallpaper. This is a great solution for a quick revamp if you don't want to paint the whole room or don't have a lot of money for changes. If you only cover one small bathroom wall, you won't need much. You can get what you need for about £20.

Striking wallpaper – think dramatic florals – will create a focus point for the eye, taking attention away from the rest of the space.
Read more: