We're revealing the bathroom trends that'll dominate the interiors sphere this year, so if you're considering a refresh, just keep reading. We've scoured all the lookbooks and, spoken to some key bathroom designers in the world of interiors, to share with you a succinct roundup of the key trends of 2022.
If you love your home decor trends as much as we do, you'll be excited to hear about all the latest designs, colors and ideas that we'll be seeing throughout the year. From chunky furniture to colorful statement stone walls, keep on scrolling to get in the know.
1. Chunky sanitaryware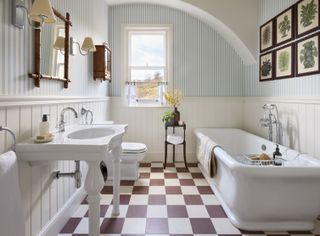 We're seeing a surge in solid, sturdy and oh so chunky baths, basins and toilets. After several years of delicate and dainty, slimline designs, the tides are turning and we must say, we're loving it. While, yes, these curvy designs are better suited to larger bathrooms, used as a statement, one-off feature, they can work in smaller spaces too. This furniture from BC Designs is curvacious, classic and fun.
2. Grace and grandeur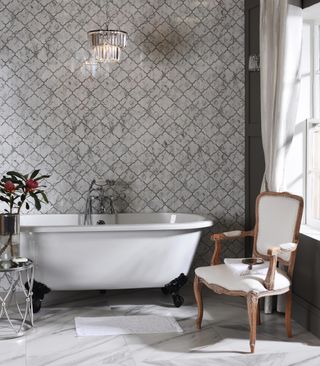 Very much in line with 2021's Royalcore trend, we're upping the luxe factor with bathrooms that scream grandeur, poise and elegance. These Arabo tiles from Original Style are inspired by grand palatial buildings in Italy, and the ornate, trellis like pattern adds a regal edge to this classic space.
3. Biophillic beauty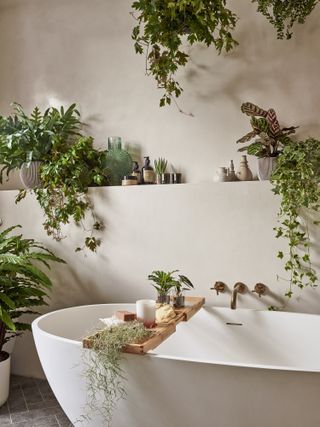 Our obsession with houseplants knows no bounds, and it's no surprise that this is set to continue into 2022. Position them on any available surface in your bathroom and even the most clinical of spaces will feel like a tranquil oasis. This is also one of the biggest living room trends of 2022.
4. Warming terracotta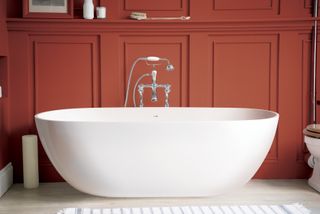 'One of the stand out colours of 2022 will be earthy shades of burnt sienna and terracotta. Grounding and vibrant at the same time, these red clay tones are going to add warm richness and sophistication to bathrooms in 2022,' Barrie Cutchie, Design Director at BC Designs .
Combine with fresh whites and raw woods, for a bathroom color scheme that's calming and cocooning, the perfect antidote to a cold winter's day.
5. Wallpaper wonder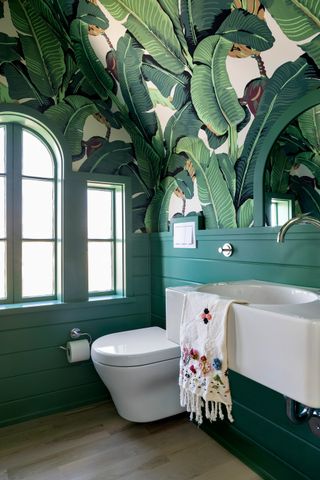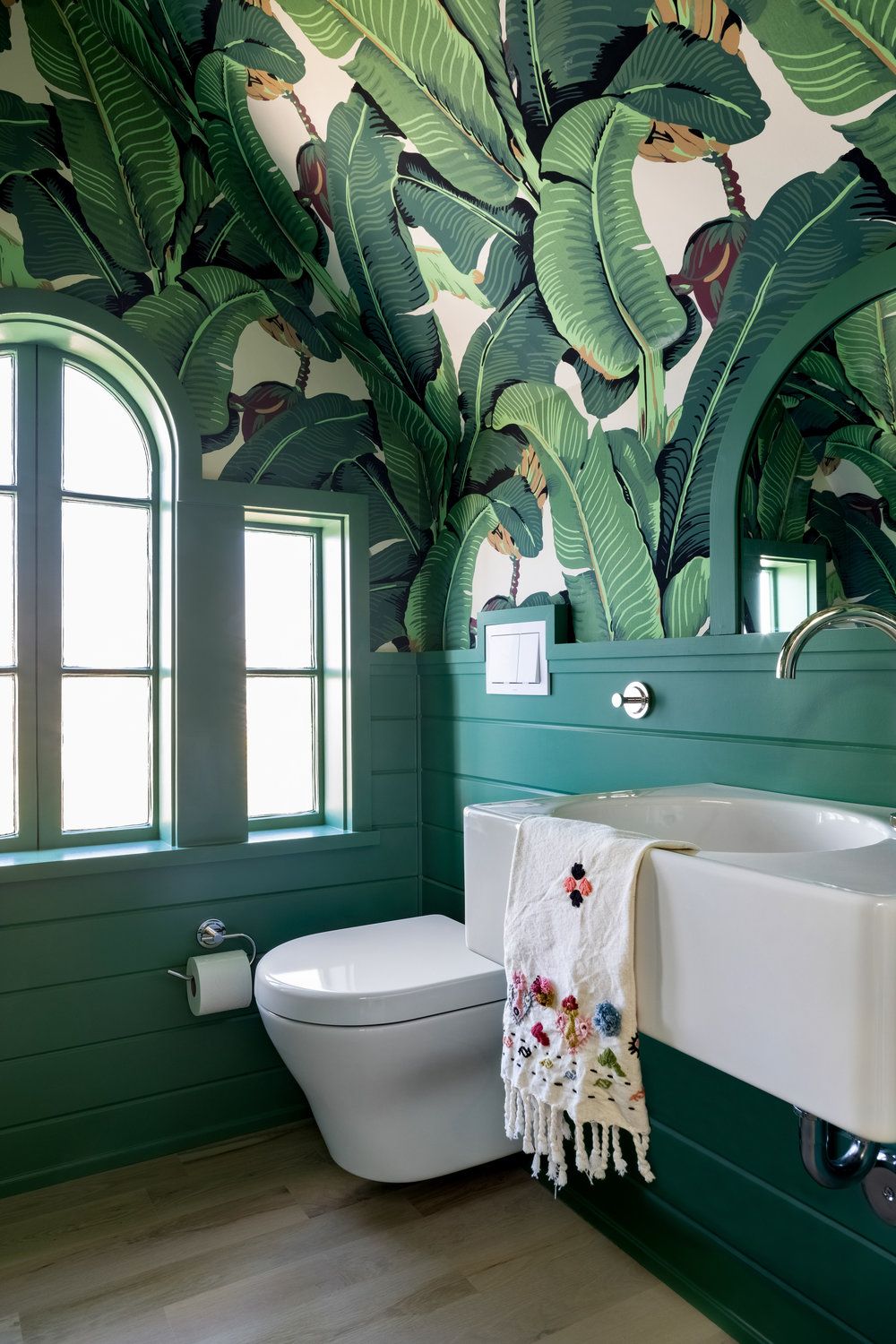 With a new found recognition of the wellness benefits a long soak in the bath or a peaceful shower can bring, we're upping the anti with our decor. We're decorating our bathrooms with as much love, care, attention and thought as we would our living room or bedroom. And with that, comes the boom in bathroom wallpaper.
While you may have always thought it a no go as splashes will make it peel, there are many specialist bathroom wallpaper ideas, and paint-on sealants, that'll keep you print looking good as new, no matter how humid the space gets.
6. Statement stone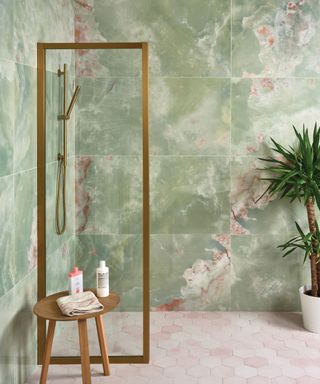 We're loving everything organic and natural, but after the past two years, we also want some extra color and fun in our lives. And so, our two desires are combined to create striking, statement stone tiles. Available in a range of colors from deep wavy blue to pink and this gorgeous green, we're loving this fun take on classic stone. This California Porcelain Jade stone from Ca'Pietra emulates the luxe of real onyx. We're loving the brushed brass hardware too.
'Brushed brass features are emerging in high end bathrooms. Their power to add warmth to most colour palettes is what makes it a versatile, on trend finish. Use brushed brass features to ooze luxury and create a mesmerising effect,' says Antonia Clayson, design expert at Victorian Plumbing.
7. Recessed shelving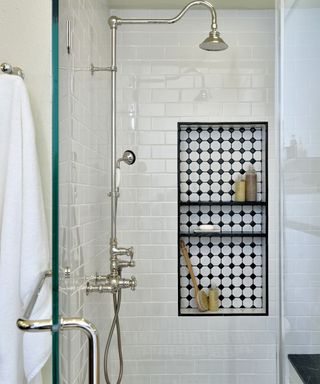 In a bid for a clean lines and sleek hygienic spaces, recessed shelving like this is on the rise. They're made by building a stood wall slightly in front of your existing wall, allowing shelves to be embedded into them. With many benefits such as hiding away pipework, they create an interesting architectural feature, and we love how this design highlights that with patterned tiles. Be warned though, this does mean you will loose some of the footprint of your space, so consider it carefully if your bathroom is on the smaller side.
8. Pretty in pink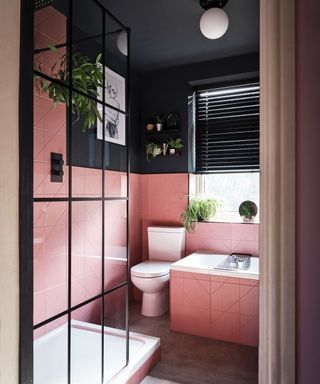 Love it or hate, soft shades of pink will be big news this year – from organic and earthy plaster pink to a more sorbet, pastel shade. We love how the black walls and ceiling create a dynamic contrast in this pink bathroom, giving a powerful, striking twist, to the pretty shade.
'Pink is surprisingly versatile, able to be mixed with almost any other colour, opening up the hue to the widest range of accessories, such as brushed brass or matt black cabinet handles, taps, showers and other extras,' says Julie Lockwood, project manager at Bathrooms to Love.
'Looking forward, I predict we will continue to embrace pink and it will become a much sought-after colour theme, and one that will quite rightly establish itself in every bathroom manufacturer's portfolio,' says Julie.
9. Spa style sanctuary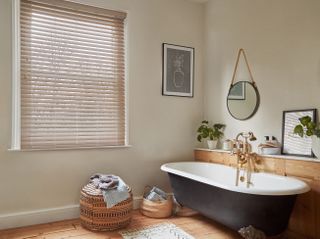 Neutral shades simply never go out of style when it comes to bathrooms. We love how this bathroom takes its wooden floor up the wall to form wall paneling, creating a cozy log cabin-come-sauna feel, which is just what you want as you're bathing in your roll top. This wooden blind from Hillarys, along with rattan baskets, a cosy rug and leather mirror detailing provide ample texture and depth to the space, preventing the simple room from appearing cold or clinical.
'Wood is an iconic material that instantly brings a homely feel to any space. Whether it's flooring, shelving, or accessories, wood is a versatile material that can act as a statement piece or sit back quietly,' says Antonia Clayson, design expert at Victorian Plumbing.
10. Organic shapes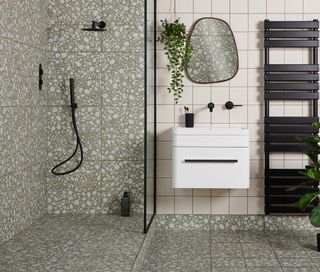 In line with our penchant for all things au naturelle, we're rejecting the sleek symmetry of classic bathroom mirrors, for shapes that are a little more organic and random. Pebble shaped mirrors are set to be big news. The soft curves and uneven nature of these shapes mimics nature's imperfections and brings a soothing, chilled out and fun feel to a space.
Are colored bathrooms making a comeback?
In a word, yes. As a nation we're getting bolder with our color choices, and that applies to our bathrooms too. While our bathroom walls were once the reserve of whites, beiges and a light grey if we're daring enough, we're now throwing that rulebook out the window and experimenting with every color of the rainbow. And do you know what – it works. From bright blues to dark greens and sunshiny yellows, bathrooms have become a space for energy and fun, not just a space for cleaning.
What is trending for bathroom walls?
Natural stone such as marble is trending for bathroom walls, particularly large format tiles which are used all over the room for a real dramatic look. Wall panelling was big news last year and that's set to stay. Whether your panels cover all the wall or just half way up, they bring a traditional, cozy feel and protect your wall from splashes too. Patterned wallpaper is also bang on trend for bathrooms, and the bolder the pattern the better for a fun and vibrant space.