Wall paneling ideas have come a long way and are no longer reserved for historic homes. Now, many of the best decorative moldings are often more budget-friendly, sustainable, and easy to DIY.
Whether you want to go classic or contemporary with shiplap or wainscoting looks, there's no better way to add more design interest to a room than with this wall covering. Plus, be it wood or MDF that you choose, wall panels can add to the natural shape of a room, enhance space and even insulate and protect walls.
Wall paneling ideas for durability and aesthetic appeal.
This historical deco feature is timeless and sure to work in the bedroom, living room or even hallway space. Installing new DIY wall paneling, be that shiplap, wainscoting, or a simple chair rail, can be a good way to return the character to a home that has been stripped back, to fill in gaps in an existing scheme, or to help a new addition to blend in.
Giovanni Scippo, director at 3D Lines, says: 'You have plenty of options and very creative ones that are available now. This ranges from traditional woodwork to easy DIY wall panels. If you are looking for something permanent and durable, go for wood or engineered wood wall paneling or wainscoting. The most popular designs are bold grids and vertical panels. You can customize the colors and sizes. For the cheaper end, vinyl wall panels are hot right now. Understandably so. These are affordable and easy to install. You can do it yourself! They come in a wide variety of patterns and colors, you need only order online and get to peeling and sticking!'
1. Create a modern rustic look with acoustic wood veneers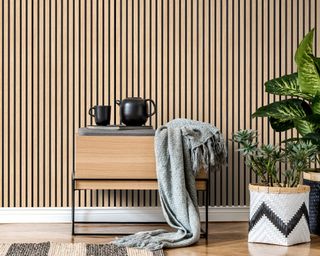 For modern styling personified in every way, choose a striking wood strip decorative panel in a light, Scandi-inspired shade, or rich and dark hue for a dramatic dance with tactility. This on-trend wall paneling style is a key look for 2022.
Jen & Mar from Interior Fox, says: 'We are cladding enthusiasts and love how it adds a point of interest to walls - it works well in all types of properties, especially new builds as it really helps to add character and interest. However, people are moving away from the simple MDF cladding and working in waved elements and smaller panels. An overall more updated and luxurious way of incorporating this technique.'
Featuring high-quality acoustic properties, The Rustic Acupanel slat wall panel range is all handcrafted and available in the latest in-trend colors.
Each slat goes through a specialized process to emboss the veneer face meaning that it not only looks and feels like solid wood but also gives you the hugely popular rustic look. Fast and simple installation allows you to quickly transform any space.
2. Nod to Regencycore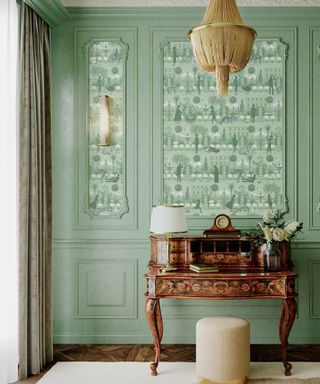 Ready for some Bridgerton inspired scandal at home? With 'The Bridgerton Effect' causing searches for Regency-inspired interiors to rocket, Ryan McDonough, design expert at MyJobQuote, comments on how wall paneling is a bang on the buck (budget-friendly) DIY update that will turn your home into a Bridgerton-inspired escape:
'To transform your living space into a regal room, you should install traditional square wall paneling, which is a common feature in Bridgertons 19th century-style homes. For DIY wall paneling, you will need some wooden panels, a pencil, a tape measure, a laser level for measuring, and a saw and miter box for cutting. You will also need to use a pipe and cable detector before you start drilling as well as some strong adhesive and sturdy nails to secure the paneling in place.'
'Once the panels are secure, you can paint them using pastel shades. For a more contemporary aesthetic, you can use dark paneling, such as navy or even black, which will pair perfectly alongside wooden flooring and gold accents.'
3. Go horizontal with wood panels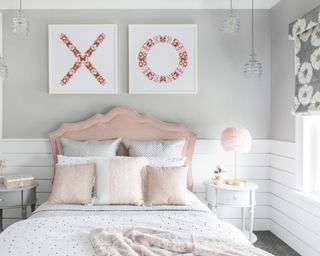 Whereas vertical paneling gives the illusion of added height, horizontal panels widen a room, making them a great choice for small spaces.
Shown here in this fun and feminine bedroom scheme, fresh white horizontal panels contrast beautifully with the pale gray upper walls, adding a chic layer of texture and depth.
4. Get artful!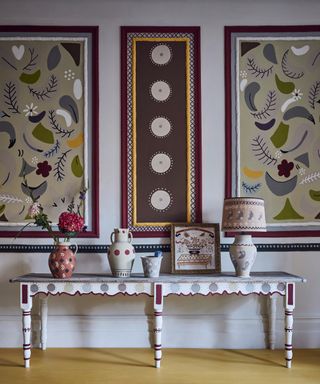 Are you ready to get creative, and inject some serious personality into your walls? 'Paint within the box' and consider panels as framed canvases in which to unleash your inner maximalist artist! This gloriously distinctive and fun DIY wall painting idea knows no bounds and makes a fun and unique decor alternative to wallpaper ideas.
Robin Antill, director at Leisure Buildings, says: 'To make your wall paneling ideas really stand out, use bright color choices. Traditional paneling is given an edgier vibe by bold and vibrant tones.'
5. Transform your look with half wall paneling for a modern heritage nod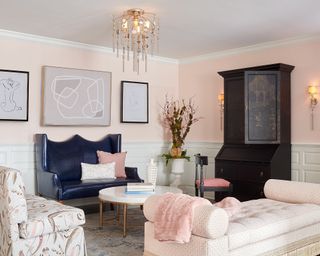 Elevate your living room design, and give it a peppering of Edwardian grandeur by implementing a half wall DIY board and batten design for an added dimension of subtle interest and texture. Both smart and stylish, opt for paneling in a fresh neutral finish and contrast with an uplifting shade on walls to mix things up with a two-tone scheme. Trees talk - well so do walls!
6. Unite an open plan space with matching styles on panels and cabinets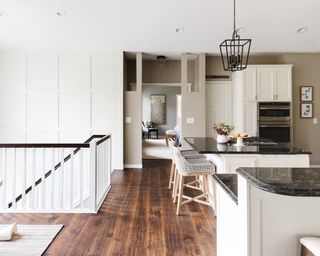 Twin it to win it! In open-plan kitchens where one space ends and another begins, provide a flowing sense of continuity and unison by coordinating DIY Shaker-style paneling with similar Shaker-style cabinets, finished in a matching hue. Your space will feel even bigger for it, and the difference in scale between the wall paneling and paneled cabinets will add a dynamic element for added impact.
7. Update trad paneling in a contemporary shade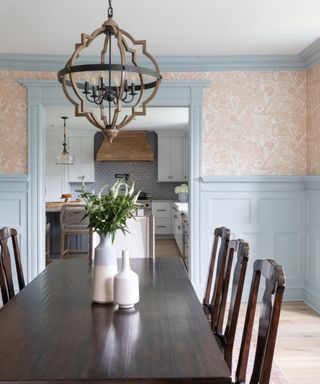 Refresh your entire scheme with wood paneling painted in a paint color trend 2022 for a modern twist. You could also paint window frames and doorframes in the same accent hue for a defined aesthetic with a color-pop difference. This painting idea is a more subtle way of introducing mood-enhancing color into a space, without overwhelming it.
8. Choose panels over tiles for a speedy update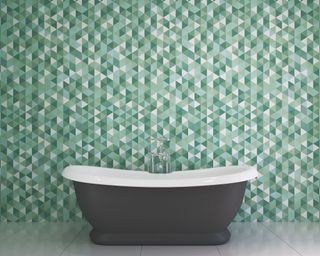 As well as offering visual appeal, panels are quick to install, and low maintenance too, making them a popular alternative to bathroom tile ideas.
Helen Dennett, UK marketing communications manager for Nuance, says: 'Using bathroom wall paneling ideas, large wall areas can be covered in a fraction of the time it takes to apply individual ceramic tiles. You can easily fit panels directly to existing surfaces, including plasterboard and tiling, which means you don't have to worry about preparing the wall beneath. Removing the need for grout also makes the surfaces easy to clean – a real benefit for those with a busy lifestyle.'
She continues: 'The new Nuance décors have been designed with the latest trends in mind and, offering the opportunity to create a statement or more pared-back interior scheme, depending on individual preference. Featuring finishes that have been inspired by natural materials, as well as options that showcase geometric shapes and tile effects, flexibility is at the core of the collection. This makes the range suitable for contemporary and traditional looks alike.'
9. Be brave with color to add personality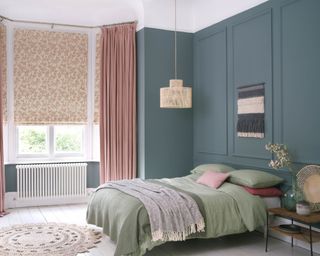 Interior experts at Hillarys say: 'Be brave with color! Paneling doesn't mean you can't experiment with textured or fun paints. Horizontal wood-paneled walls can also help balance out bolder reds, oranges, and bright blues.'
'Paneling is a simple way to bring character and dimension to boring rooms and can also add insulation and protection to walls. Use paneling to frame a piece of artwork in the center of one of the rectangles or alternatively contrasting wall panels with a luxury texture like marble will make your space look more elegant.'
10. Bring natural tactility to life on walls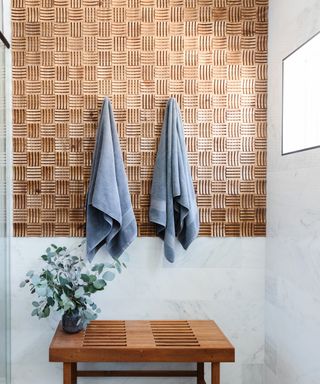 Bring nature into your urban home with raised textures on walls - adding comfort, organic pattern, and reassuring tactility.
Shoshanna Shapiro, owner and principal designer of Sho and Co. says: 'Spring decorating trends will bring more woven textures and natural materials into the mix. Clients recognize the importance of biophilic design - think muted colors, ship-lap walls, bleached woods in paneling and walls, and nature-inspired colorways for a warm and contemporary look.'
Design experts at Magnet say: 'More and more consumers are turning to the beauty of the outdoors for interior inspiration. Homeowners are also tapping into the trend for tactility this Spring, experimenting with textures in interior design alongside patterns and colors.'
'Tactility can be incorporated into a room in numerous ways and is a lot easier than you may think. From wood-paneled walls to cozy carpets, getting creative with materials can completely transform the atmosphere of any room.'
11. Raspberry board and batten bedroom wall panels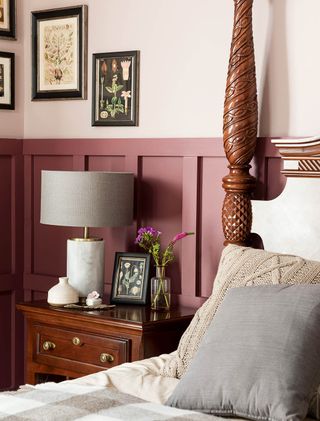 Intricate dark wood paneling is not to everyone's taste, and when used full height it can feel a little imposing. There are many more subtle options that go to chair rail height, like with board and batten paneling, and that can be painted in a softer more colorful shade to add warmth and interest. Why not learn how to DIY a wood accent wall in a weekend and get the look?
12. Half wall trad molding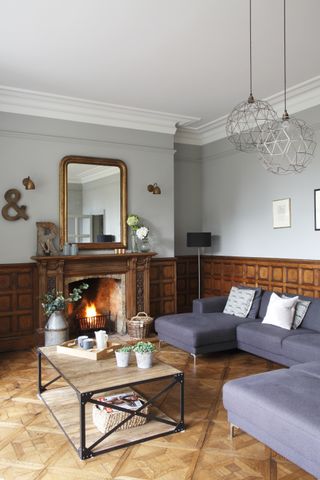 Not sure where to start when choosing paneling? How about the era of your home? Ornate, heavy wood paneling would look natural in a Victorian home but could be out of place in something built in the last few decades. Taking cues from the style and history (or lack thereof) of your house is an easy and failsafe way to ensure your paneling choice suits your space.
13. Nautical shiplap wall panelling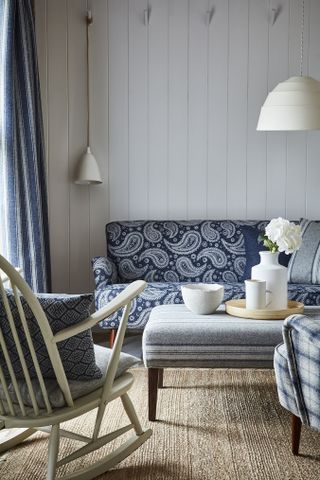 Shiplap wall paneling is a great way to add a modern stamp to a space, especially if you give yours a fresh coat of white paint.
Create a DIY shiplap wall for a budget-friendly home update that will have your scheme looking shipshape in a jiffy.
14. Dark wainscoting wall panels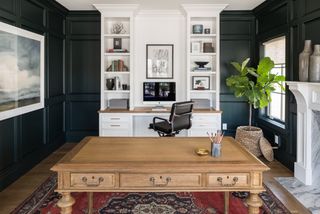 Creating a timeless look is easy and affordable with the best DIY wainscoting ideas. Shown here, molded wainscoting paneling adds depth to this home office. The contrast of dark walls with white furnishings adds a modern finish to the space.
In addition to choosing wood paneling that suits the style and history of your home, there are other aesthetic considerations, for example, whether you should use paneling on an entire wall, or just a portion of it. The degree to which you use paneling in the room will have a major impact on the visual effect.
15. Low picture-frame wall panels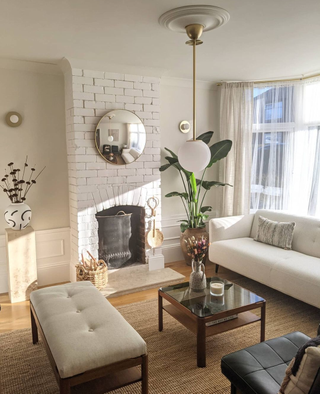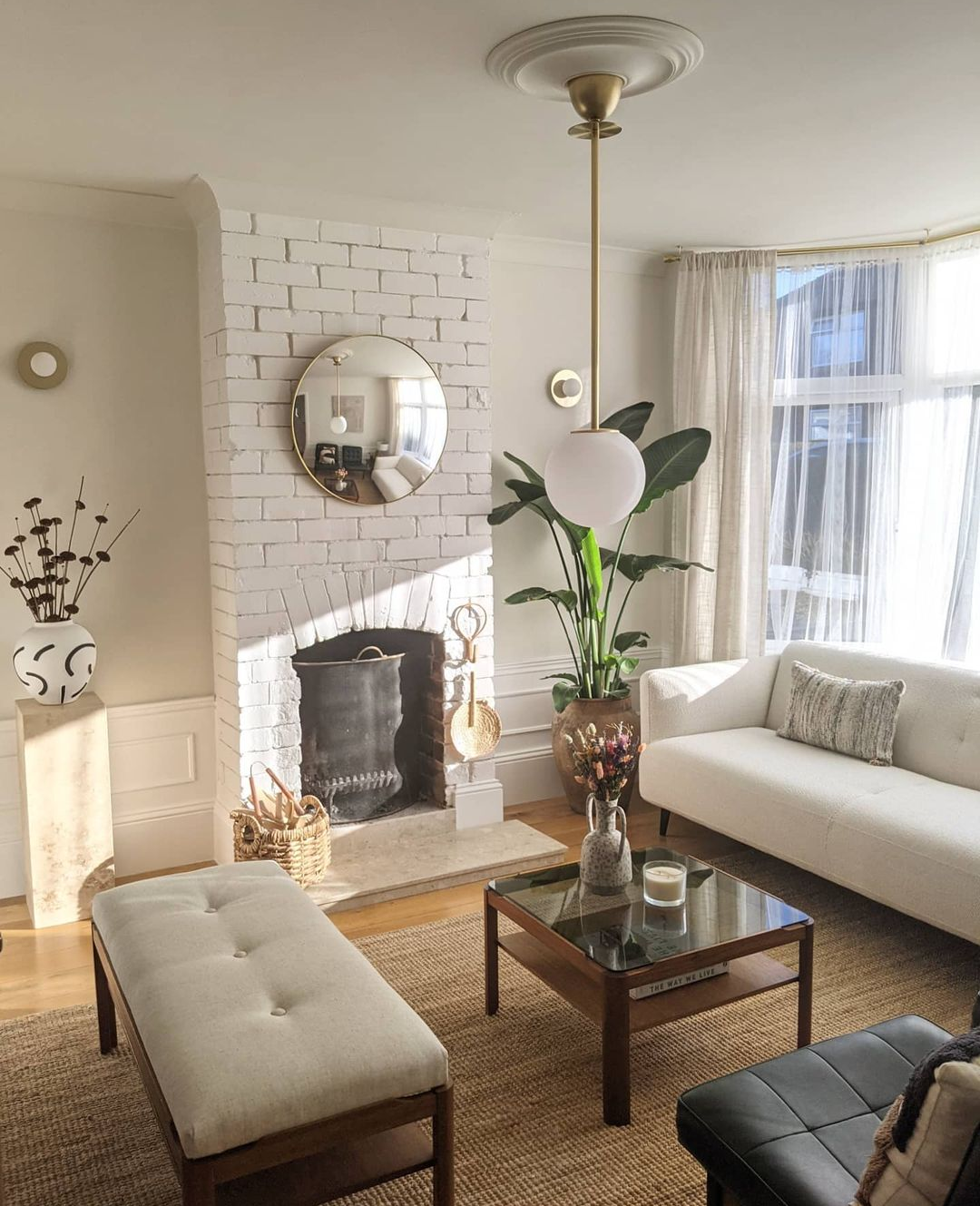 Wall paneling should mimic the style of the home you live in. DIYer and Real Homes Real Expert panelist Jo Lemos added traditional trim to the lower third of the living room in his 1930s home to suit the style of the architecture.
'Our last two homes have been a new build townhouse and a 1930s red-brick semi-detached and we have added DIY paneling to both," he explains. The type of paneling should be sympathetic to the property but you can also have some fun with it.'
Feeling inspired? Have a bash at DIY picture frame molding for a low-cost feature wall that requires minimum effort.
16. Light grey bedroom wall paneling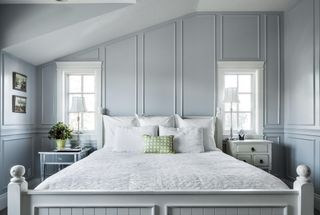 Wall paneling can create a soothing aesthetic, so works well to decorate a bedroom space also. Try choosing a light color for an even more relaxed space.
17. Sustainable wall paneling designs
With many homeowners looking to improve their existing space with sustainability in mind, color and pattern enthusiast Amy Vroom of The Residency Bureau created textured wall panels from recycled wood tiles. 'For this Seattle basement, I wanted to add depth and texture to give an otherwise long room, dimension. By using recycled wood tiles at one end of the space, it created a focal point for the room and warmed up the cozy TV and reading area.'
18. Brightly painted Shaker wall panels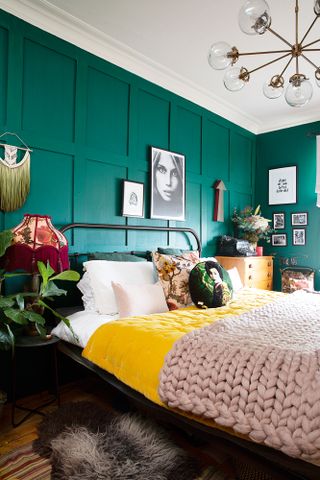 Modern wall paneling is all about bright colors. We love this hot turquoise Shaker wall paneling in the bedroom which you could totally DIY.
Points of caution with interior paneling? If yours is original and beautiful wood paneling and in good condition, don't impulse paint it. First, make sure you're certain paint will give the look you're after. Then, if you're 100 percent certain paint is the way to go, make sure to prep your surface properly. Depending on how it's finished, that may mean sanding or deglazing it (or both!), then wiping it clean with a damp towel and a dry microfiber cloth. Equally, carved or intricate panel designs can be tough to paint since paint can easily pool in crevices, so use a light hand or hire a pro.
19. Painted tongue and groove wall panels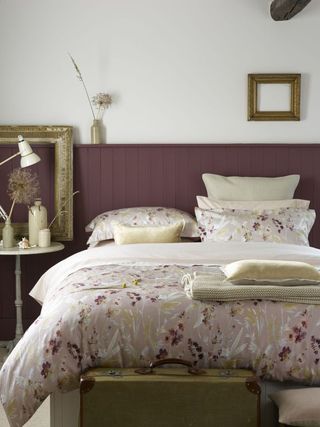 For cohesion in a bedroom or living room space, paint half wall panels in a color that is present in your soft furnishings and other decorative elements around the room. This purple tongue and groove paneling adds all the relaxed vibes to this bedroom space.
Where paneling is not used at full height, paneling tends to look best installed at either one-third or two-thirds of the room's height, although this may be influenced by features such as fireplaces or windowsills.
20. Complement white wall panelling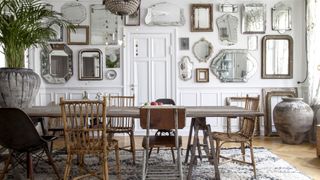 Add character to white wainscoting wall paneling using mirror ideas to create a gallery-esque finish. Not only does it look cool and clean-cut but it also enhances the space.
You should also consider the size of the individual panel frames. Larger areas look good with bigger frame sizes, while small, awkward spaces tend to suit reeded paneling or beadboard.
21. Floor to ceiling oak wall panelling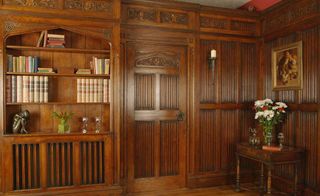 For a dramatic and almost gothic finish, consider wall paneling ideas of the past with floor-to-ceiling oak panels. This look is more expensive but will add charisma to your property, and possibly even increase your home's value.
22. Layer wall panelling with frames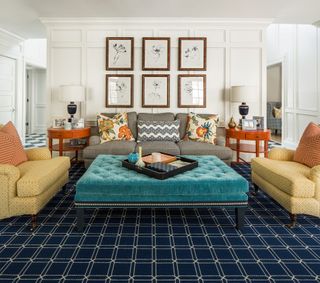 Wall paneling makes the perfect backdrop for gallery wall ideas also. Choose white or another color that best complements the rest of your interiors, and the artwork you'll have on display, for a really modern look.
23. Pair wood with wallpaper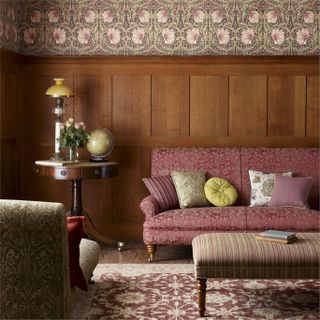 The best wallpaper ideas often ride solo but if you choose a busy or floral pattern, teaming this with classic wall panels can actually complete the look and add a little more zest to traditional rooms that need it most.
24. Wallpapered wall paneling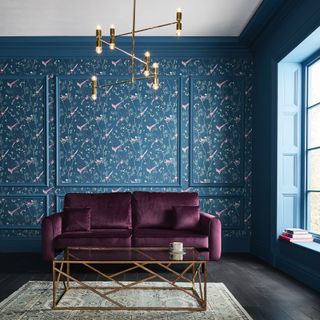 Another way to play with wallpaper and wall paneling ideas is to wallpaper over the paneling. An ideal DIY if you've inherited worn wood paneling and need a quick fix as those exposed grooves and trim will add design interest to every space.
25. Enhance space with 2D panelling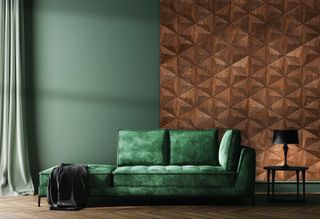 To enhance space with wall paneling, Simon Teer of Teer & Co says 'Unconventional wall paneling layouts and compositions, like those that can be achieved using our versatile 2D and 3D Wall Paneling, can also help retain a sense of space in a small room. These modern paneling systems allow creative minds to imagine and realize innovative feature wall installations that, when used in moderation, do not overwhelm but enhance small spaces and still bring the acoustic, microclimate and wellbeing benefits that we should look to integrate into our rooms.'
26. Lofty hallway wall paneling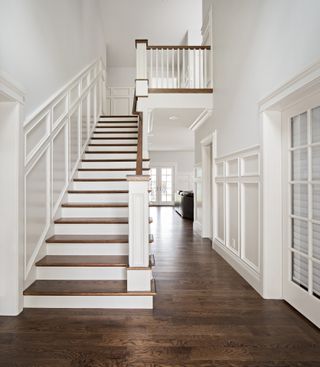 Half wall paneling up the staircase to match the rest of the hallway pulls the lofty appearance of this entryway together perfectly.
27. Add character to a new build with board and batten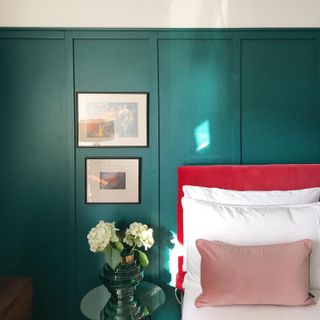 New construction homes, like Lemos's townhome, above are packed with modern amenities, but they often lack the charm of older abodes. Board and batten paneling feels modern enough for new homes, while still adding a touch of character to the space. Take a cue from Lemos, and paint the trim a bold color for extra oomph.
28. Spice up the bedroom with an earthy scheme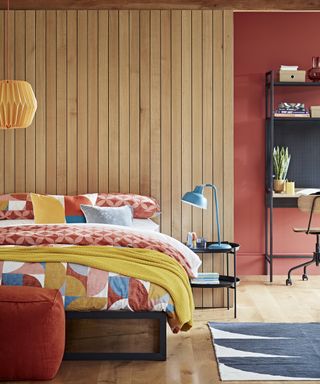 A favorite of ours on the color chart, dark yellows exude a fiery hue reminiscent of tasty saffron, cumin, and turmeric.
These are all spices that contain powerful antioxidant and mood-boosting properties. So adding color to your diet and your interiors can contribute to a happy heart and mind!
To create an even warmer master bedroom idea, incorporate wood wall panels and heavy fabrics in warm shades, or a busy pattern on an accent wall. Mustard and ocher shades in particular will radiate warmth in any room.
If feature wall ideas get a thumbs down, a statement ceiling is another ultra-modern way to update a bedroom space. Sunny yellow shades complement most other colors – especially bold ones like blues or reds.
29. Add yellow to paneling (or fake it with wallpaper)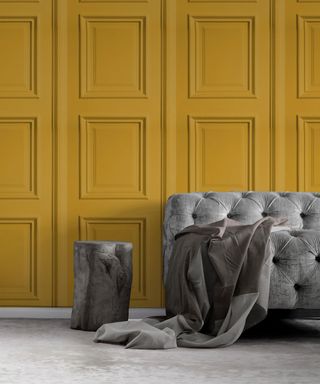 Paneling in the bedroom adds sophistication to a period bedroom design. But if your wall panels are white, it's time to consider going against tradition with an unconventional color scheme such as yellow!
But if you're not blessed with these features in your bedroom, then faux is the way to go. This wallpaper in a wood paneling effect means you can combine the flexibility of wallpaper and create an ambiance of classic Georgian elegance.
This eccentric wallpaper has beautiful fine detail and is perfect for creating a feeling of grandness reminiscent of stately homes and classic English manor houses.
So pop your pinkie up and pass the tea and scones. This is the perfect way to create a British vintage bedroom design without the need for citizenship!
30. Art deco wall paneling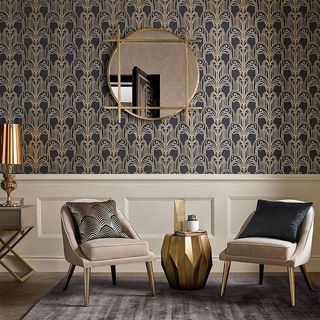 We love art deco wall panelling ideas and this look is sure to lift both a period home or a contemporary space. The gold accents add a touch of luxury which are further complemented by the fresh ivory colour of the wall panels, making this a really decorative feature.
How to choose the right wall paneling for your home
With all the types of wall paneling out there, which should you choose for your home? It all comes down to the architecture of your space.
'Choosing wall paneling is really is up to what you like but, there are a few things to consider,' says Jo Lemos, a DIY blogger and member of Real Homes' Real Experts panel.
'Will it fit in with the other features of the property? Parisian Avant-Garde style paneling is better suited to a stately building rather than a new build, and likewise, modern paneling may not work well in an old cottage. If you are looking to install paneling yourself, research paneling designs for the age of your property to get an idea of what best fits.'
For example, Lemos installed simple board-and-batten paneling in a new construction townhome, painted a dark green for a bold statement. When he and his partner moved to a 1930s home, however, they switched up their paneling approach to something more fitting of the era.
'For our 1930s living room I wanted to go a bit more formal so I used a decorative picture frame molding. I didn't want the paneling to be too ornamental, as houses from this period were stepping away from paneling and leaning more towards more widely available wallpaper,' Lemos explains.
Is real wooden panelling or MDF panelling best?
Solid oak panelling is expensive, and tends to be newly fitted only where it is the true authentic option or when matching existing elements, which makes it wise to work with a specialist.
Solid oak panelling is expensive, and tends to be newly fitted only where it is the true authentic option or when matching existing elements, which makes it wise to work with a specialist.
Most wall panelling on the market today is made from MDF, with the intention that it is painted. Once fitted and painted, it would be difficult to distinguish it from real wood wall panels.
Provided the walls are fairly level, MDF panelling is easy to fit on a DIY basis. If the walls are uneven, they can usually be battened first. Ensure the company you are buying from offers good instructions before you invest.
Is wood paneling outdated?
'Of course, we typically find traditional style darker wood wall panelling in older historic buildings that is complementary to and simply 'of its time', which may be viewed by some as outdated but should be celebrated, maintained and remain largely in the original form it was created.
And then we see more modern day, contemporary and timeless geometric forms of timber wall paneling that will help us create a lighter, warmer, customiZed and characterful natural interior aesthetic whilst improving acoustics, the microclimate and positively impacting our mental, emotional and physical wellbeing.
These modern paneling forms allow us the versatility to design and install innovative feature wall installations that enhance contemporary environments, help us define and zone areas, and allow us to bring the outdoors in, naturally.' Adds Teer.
That said, being sensitive to the era of your home is key when you're looking to make changes to the interior such as adding panelling. If you live in a listed property in the UK, you should speak to the local conservation officer to see if paneling will be an acceptable addition.
As well as ensuring the design is right for your home's period, there are other aesthetic considerations. Where it is not used full height, paneling tends to look best fitted either a third or two thirds of the room's height (below), although this may be influenced by features such as fireplaces or windowsills.
You should also consider the size of the individual panel frames. Larger areas look good with bigger frame sizes, while small, awkward spaces tend to suit reeded paneling.
Does wall panelling make a room look smaller?
'This will depend on 1) the level of natural daylight, 2) the height of wall panelling, 3) the natural wood tone or colour palette if wall panelling is painted to finish, and 4) the tone of accompanying plain walls, ceiling and flooring.
Simply put, a lighter wood wall panelling tone, like ash or oak (or light colour palette if painted), will certainly help us avoid making a room feel smaller.
If we assume an average level of daylight into a small space: Low-medium height (up to 4ft) mid-tone wall panelling combined with a lighter tone wall above and ceiling with a light flooring tone will help ensure that wall panelling works in a small room.
Floor to ceiling height wall panelling is best applied in larger rooms and to create just one feature wall.' Notes Teer.
How much does wall paneling cost?
The cost of wall paneling varies greatly depending on the type you choose. A simple picture frame molding kit can be as little as $10 per set, while solid oak shiplap can cost upwards of $30/sq.ft.
In general:
Expect to pay around $12-$30 per square food for solid oak paneling, plus installation.
Expect to pay around $2 -$15 per square foot for MDF paneling, which are best painted in water-based eggshell.
In the UK:
Expect to pay around £300 to £400 per square metre for solid oak panelling, plus installation.
Expect to pay around £25 to £50 per square metre for MDF panelling, which are best painted in water-based eggshell.
Buying reclaimed wood paneling
It is possible to purchase original wood panelling that has been salvaged from period properties. While it adds authentic aged character, quantity can be an issue. Be certain of your room's dimensions, and what proportions suit the style and period of your home.
A complete reclaimed room, including matching doors and sometimes a fireplace with overmantel, all restored and ready to install, will be a major investment. If this is the approach you want to take with panelling you could opt for more modest Victorian pine panels that require a mix and match approach.
Where there is low stock of wood wall panelling available, what you do find can sometimes still be used to replace missing panels in a larger run, but are often repurposed as something else, such as cupboard doors. If you come across a large quantity, you may find that the dealer will only sell the set, as complete suites are rarer and more valuable.
Where to buy new wall panelling
A short history of wall panelling
Wall panelling originally served a practical rather than decorative purpose: in the days before insulation was used in buildings, applying an extra layer of timber would help to warm up rooms with cold stone walls, and would also cover up damp patches.
Early examples from the 13th Century tended to be plain vertical boards, but over time wood panelling evolved to become an art form and was often carved with beautiful designs. Today, you can choose between traditional polished wood and colourful painted MDF for the perfect period home interior.
Framed panelling became popular from the 14th Century, and was usually oak, which might be left plain or be carved with decorative detail. Elaborate linenfold designs, which resembled folded linen, emerged as a trend in the late 15th Century, while in Tudor and Jacobean times the fashion was for small squares or rectangles, with the wood either left unfinished or treated with wax or varnish. The panelling was often topped off with decorative carved capping.
In the Georgian era, panelling took on a more classic appearance, with larger, simple panels of painted softwood. Over the period, panelling for walls saw a change and full-height styles began to be replaced by dado-level panelling.
The Victorians continued this trend for shorter sections, although panelling did become less popular until the Arts and Crafts movement, where simple oak designs fitted up to head height were preferred.
More from Period Living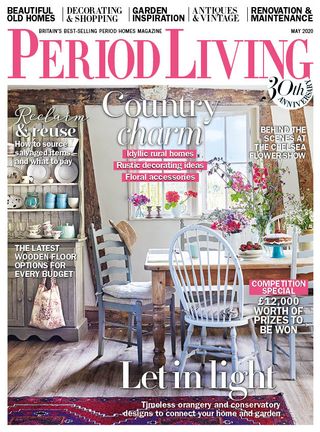 Period Living is the UK's best-selling period homes magazine. Get inspiration, ideas and advice straight to your door every month with a subscription.