It's safe to say black is having a moment in bathrooms. Stylish, sophisticated and easy to match with other shades, it's being embraced by designers and interior brands across the globe in new collections of wallpapers, furniture, textiles – and now bathroom fittings, fixtures and accessories.
Aware that homeowners are becoming increasingly more confident with colour, bathroom brands are introducing a plethora of products in black, charcoal and grey hues – perfect for those who want something a little different when designing a bathroom. Use these black bathroom design ideas to inspire your scheme.
Why choose black for a bathroom?
As the ultimate space for relaxation and winding down before bed, bathrooms benefit from dark, ambient colour schemes, with black as the ultimate antithesis to a glaringly bright, white bathroom. In a kitchen, black, charcoal and deep greys may look a little dour – but they can add a dramatic glamour to a bathroom.
With a black bathroom, it's all about deciding just how much black you want – and how much you are prepared to spend. For a quick and affordable fix, look no further than a quick lick of black paint. A black fixture or sink can also make quite a statement in an otherwise neutral bathroom. For those daring enough to splash out on a new bath, fixtures and fittings, there are black and graphite ranges on the market. Follow our guide to black bathroom ideas and relax in your own dark, luxurious cave.
And if you reeeally love dark and atmospheric interiors, check out our ideas gallery to find out how you can incorporate moody hues into every room in your home.
1. Make a statement with a black roll top
Roll top baths are a big investment, so choosing a versatile, neutral colour that will go with anything if tastes change is a great idea. But rather than traditional white, why not opt for black for a design statement which is equally flexible an amenable to being combined with other colours?
The Essex cast iron freestanding bath from Heritage Bathrooms can be paired with its co-ordinating Granley vanity unit in Graphite and Caversham mirror in Graphite, to complete the monochrome scheme.
Find more traditional rolltop bath inspiration in our design gallery.
For those that prefer a more fuss-free, sleek design to the claw foot, why not try this bateau-style bath? Resting on a brass plinth which sets off the graphite finish perfectly, the freestanding Bow bath from Frontline is certain to make a dramatic statement.
We have loads of statement freestanding baths over in our buying guide, so go and check that out if you are thinking about investing.
2. Choose STRIKING black SANITaRYWARE
Coloured suites may be a contentious issue, and it seems the avocado suite has very much been confined to the '70s never to return, but who says sanitaryware has to be white?
Black is just as easy to pair with all sorts of prints and colours and is guaranteed to add a quirky edge to what can be a bland space. This bathroom includes the Henley large Basin, from £525.60, and Henley low level pan, from £990, both from luxury bathroom brand CP Hart.
Use our guides to choosing a new bath and a bathroom sink to ensure you pick the best ones for your space.
3. Choose cool black wall TILES
Black wall tiles are a great choice for bathrooms of all sizes, although they will look their regal, glamorous best in a large family bathroom. With a variety of textures and finishes on offer, you can create either an inconspicuous background, or a feature tiled wall.
Inspired by 19th century subway tiles, these Artworks brick tiles in Jet Black from Original Style are just the ticket for creating a moody vintage look.
If you need anymore tips on choosing bathroom tiles, have a read of our guide.
4. Give walls A LICK OF black PAINT
If you're worried about committing to permanent black features and fittings, then a coat of black paint is a great choice. An easy weekend refresh, it may take a few coats to cover over again, but at least you can reverse the decision if you change your mind.
Proving that dark really can look classy in a traditional scheme, this bathroom is painted in Jack Black 119 Intelligent matt emulsion from Little Greene, £48.50 for 2.5ltrs
Check our more of our bathroom paint ideas.
5. Fit CHIC black SHUTTERS
Whether you want to keep the walls light-coloured or ramp up the black-on-black effect of dark walls and dark window treatments, water-resistant black shutters are a practical and good looking option for a bathroom.
Perfect for controlling ventilation and privacy, these plantation shutters from Shutterly Fabulous are available to buy in black for those looking to build a moody monochrome scheme, from £299 per m² for standard colours and custom finishes.
6. Go for a black sink
If you have ever wondered why on earth most bathroom sinks are white – so showing every speck of dirt – then a black sink may well be for you. Choose a beautifully crafted one to create a beautiful design accent.
A contemporary take on the traditional Belfast design, this striking Harwood sink in a black lava finish from heritage brand Thomas Crapper is a perfect fit for a traditional bathroom. Hand made by British craftsman from long-lasting fireclay, the sink boasts both quality and a beautiful textured patina.
And if you're after something better suited to a contemporary bathroom, opt for a rounded design in a stone finish.
We love the sleek Calypso Black Marble Wash Basin by Tikamoon
7. Go for monotone stone surfaces
Stone tile is a great choice for bathroom floors and walls. Durable and water resistant (if properly maintained), black stone can also add plenty of character to your bathroom. Polished finishes will be less porous, and therefore more long-lasting, but watch out - if laid as bathroom flooring, they can be slippery, so a mat or rug is appropriate.
The new Fusion tile range from Mandarin Stone is ideal for a wet room. Offering the beautiful veining and grain of real stone together with the practical benefits of porcelain, these tiles look elegant and are easy to clean and maintain, as well as being affordable.
For something really different, try Black Slate Split Face tiles by Tile Mountain. Made from natural slate, these bathroom wall tiles have lots of texture and a beguiling, slightly iridescent sheen. They are porous, however, and only suitable for bathrooms where they won't be in direct contact with water.
8. Pick ON-TREND black ACCESSORIES
Accessories are a cheap and easy way to introduce on trend colours into a room. Featuring sleek copper lids and details, the dado accessories from Made.com are guaranteed to add a glamorous touch to your bathroom.
9. Fit black feature fixtures
Give a traditional bathroom a contemporary twist with black fittings. Inspired by the new trend for colour confidence, Burlington Bathrooms have introduced a brand new range of black handle and surface options throughout its collection. The Anglesey deck mounted bath shower mixer is available now, with brassware, radiators, shower valves and WCs soon to be available in the sleek black colour.
For a more contemporary or industrial look, we love this UNION free standing bath filler & shower kit in brushed black chrome, available from Crosswater. It commands attention in a bathroom paired with an exposed white brick wall and freestanding bath with a simple silhouette.
You can also find the matching UNION three hole deck mounted basin set at Crosswater.
10. Explore different textures in black
A great advantage of a monochrome bathroom scheme is the opportunity to play with a variety of textures. From smooth tiles to matt stone and shimmering, multi-toned mosaics, you can really express your individual style by juxtaposing different types of wall tile.
This bathroom juxtaposes the textured effects of the Mosaics range by Original Tiles.
11. Create a black and white contrast
If an all-black bathroom does not appeal, you can also create plenty of impact with a contrasting black-and-white scheme. The two colours are very easy to mix and match as you please. Our tip is to go roughly half and half (think black wall and white floors or vice versa) for a striking effect.
The Series 8 Colour Range from Merlyn Showering goes one step further by accenting this black-and-white bathroom with a gold trim.
For lovers of geometric patterns, black and white tiles are a failsafe and fun way to create dimension and interest in a shower room, as shown in this tiled shower room decorating with Ador Nero Marble Tiles from Walls and Floors.
If you love the idea of patterned tiles, we have plenty more ideas in our gallery.
12. Get creative with your lighting scheme
A black bathroom offers lots of opportunities for creative use of bathroom lighting. Think of it as a blank canvas in negative. Transform your bathroom into an atmospheric, spa-like experience with cleverly positioned spotlights and/or wall lights.
This stunning bathroom showcases the Square King 2-in-1 Matte Black Shower Rail Set by Meir Australia.
13. Hang a black-toned wallpaper
It's unusual to hang a wallpaper in a bathroom, but if your room's well-ventilated and the wallpaper itself is water-resistant or at least out of reach of accidental splashes, it should last well enough. Use a wallpaper paste that's suitable for damp rooms, too. Here, the wallpaper has been highlighted by the black underside of the bath and the Roman blind. By Little Greene.
14. Pick geometric flooring for a smart finish
Keeping the darker elements of the room to the lower half, with white or neutral furnishings and decor in the upper half of the room will help it feel lighter and brighter all round. A geometric flooring is a smart choice rather than a solid black, which will show up every mark and speck of dust. We love this Sagres luxury vinyl tile-lookalike by Carpetright.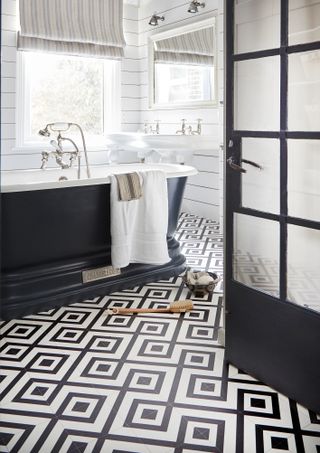 More ways to add oomph to your bathroom: