Black bathrooms are having a moment. Stylish, sophisticated and easy to match with other shades, black just could be the colour we are seeing the most in the bathrooms of Instagram. And if the Instagrammers are loving it, we want in. So here are some fabulous black bathroom ideas to inspire you to follow suit.
Designing your space from scratch? Check out our guide to designing a bathroom, too.
Why choose a black bathroom?
As the ultimate space for relaxation and winding down before bed, bathrooms benefit from dark, soothing colour schemes, rather than a surfeit of glaringly bright white. You might think of black, charcoal and deep greys as a touch forbidding, but they bring dramatic glamour to a bathroom.
With a dark bathroom, it's all about deciding just how much black you want – and how much you are prepared to spend. For a quick and affordable fix, a quick lick of black paint will do nicely. A black fixture or sink can also make quite a statement in an otherwise neutral bathroom. For those daring enough to splash out on a new bath, fixtures and fittings, take a look at the fabulous black and graphite ranges on offer. Follow our guide to dark bathroom ideas and you can relax in your own stylish sanctuary.
And if you love dark and atmospheric interiors, check out our ideas gallery to find out how you can incorporate moody hues into every room in your home.
1. Ring the changes with a black roll top bath
Roll top baths are a big investment, so choosing a versatile, neutral colour that will go with anything if tastes change is a great idea. But rather than traditional white, why not opt for black for a design that's equally flexible and amenable to being combined with other colours?
The Essex cast iron freestanding bath from Heritage Bathrooms can be paired with its co-ordinating Granley vanity unit in Graphite and Caversham mirror in Graphite to complete the monochrome scheme.
Find more traditional rolltop bath inspiration in our design gallery plus loads of statement freestanding baths over in our buying guide, so go and check that out if you are thinking about investing.
2. Choose a statement black sink
If you've ever wondered why on earth most bathroom sinks are white – showing every speck of dirt – then a black sink may well be for you. There are loads of different designs available from the more traditional to the super modern. We love the simple square design of this black sink from Pure Bathroom Collection. Oh, and we think we might steal the idea of hanging monochrome prints in a black bathroom, too.
3. Go for a bang on trend black shower
You must have seen them all over Instagram. Black showers are in. This gorgeous set up is from Meir (black tap and shower specialists) and the whole site is just so swoonworthy you must go and check it out. A bit out of your price bracket? Victoria Plumbing makes a very similar product.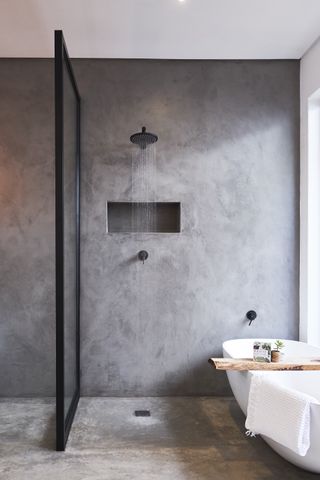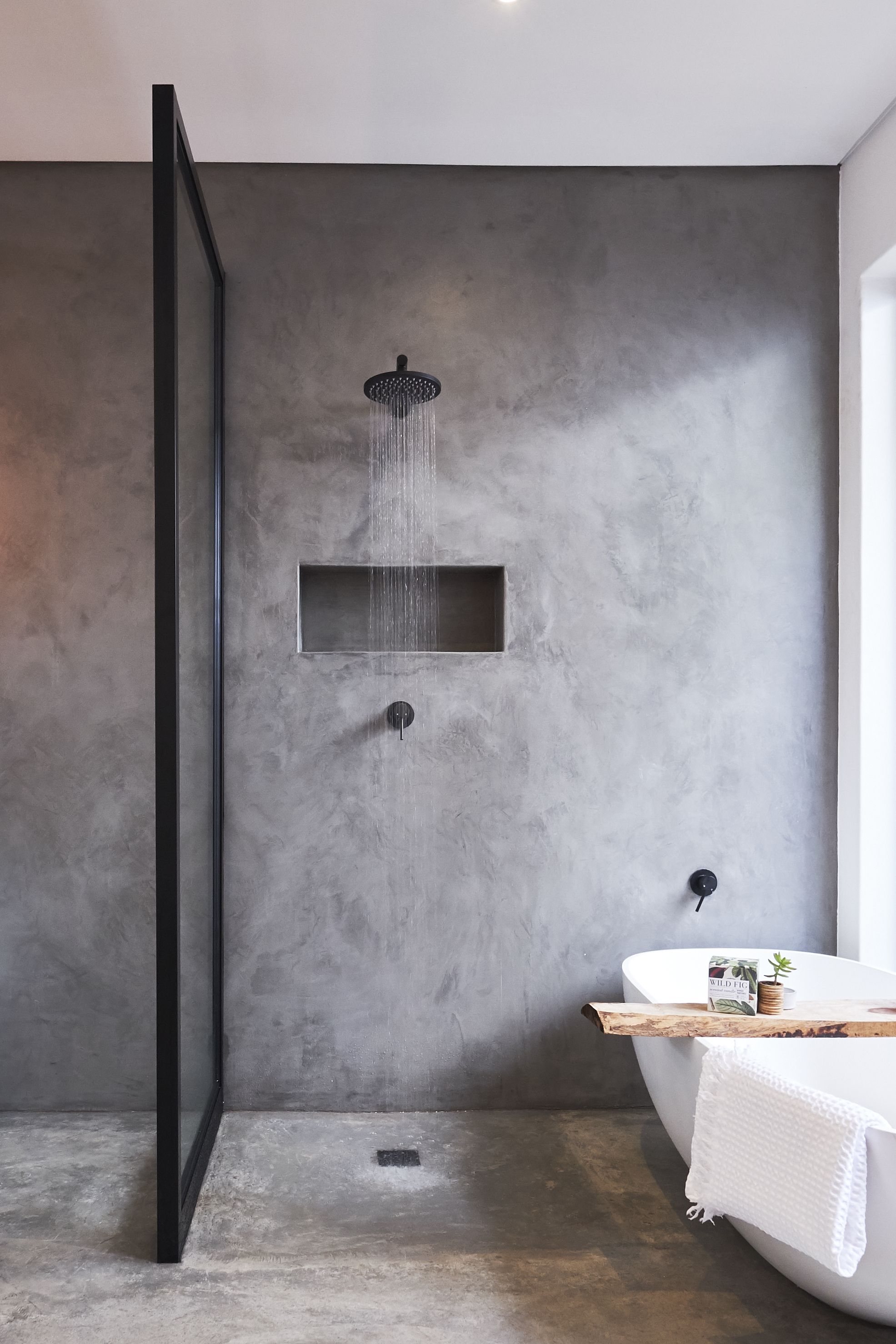 4. Choose smart black bathroom wall tiles
Black wall tiles are a great choice for bathrooms of all sizes, although they will look their glamorous best in a large family bathroom. With a variety of textures and finishes on offer, you can create either an inconspicuous background, or a feature tiled wall.
If you need any more tips on choosing bathroom tiles, go to our guide.
5. Add plenty of dark stone surfaces
Stone tiles are a great choice for bathroom floors and walls. Durable and water resistant (if properly maintained), black stone can also add plenty of character to your bathroom. Polished finishes will be less porous, and therefore more long-lasting, but watch out – if laid as bathroom flooring, they can be slippery, so a mat or rug is appropriate.
The new Fusion tile range from Mandarin Stone is ideal for a wet room. Offering the beautiful veining and grain of real stone together with the practical benefits of porcelain, these tiles look elegant and are easy to clean and maintain, as well as being affordable.
6. Or you could go for some fantastic monochrome bathroom flooring
Keeping the darker elements of the room to the lower half, with white or neutral furnishings and decor in the upper part, will help the space feel lighter and brighter all round. Geometric flooring rather than a solid black, which will show up every mark and speck of dust, is a smart choice. We love this Sagres luxury vinyl tile-lookalike by Carpetright.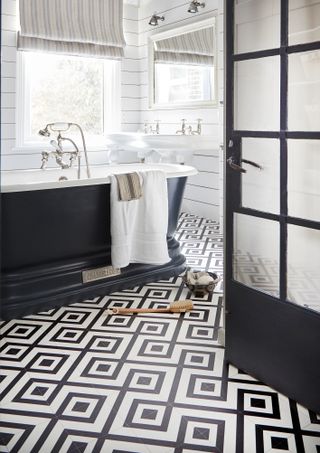 7. Paint your bathroom black
If you're worried about committing to black fixtures and fittings, a coat of black paint is a great alternative. An easy weekend refresh, it may take a few coats to cover over again, but at least you can reverse the decision when a new look is called for. Get plenty more bathroom paint ideas in our feature.
8. Or just paint your bathroom floor black
Painted floorboards are on trend, so if you're lucky enough to have floorboards in your bathroom, why not create a really dramatic effect by painting them a dark colour? It's a DIY job: just follow our guide to how to paint floorboards, and remember it's easy to update them in the future.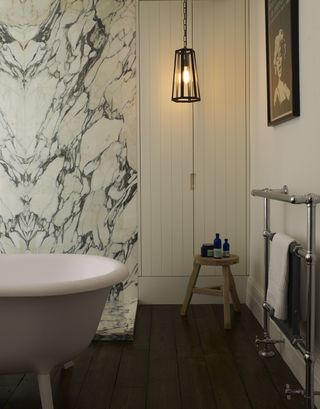 9. Or just paint your bathroom door black
Seeing a theme here? But if you aren't feeling brave enough to paint large areas of your bathroom black, painting the woodwork instead can be a safe and easy way to introduce a darker colour. You can DIY, just check out our guide to how to paint a door – you'll probably want to pick the best bathroom paint for the job, too.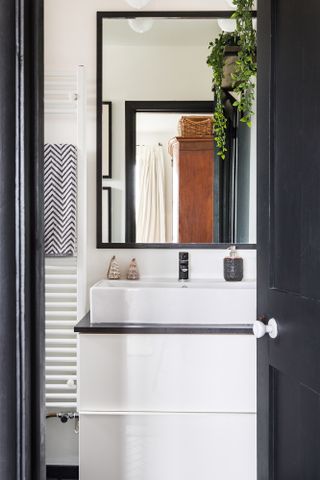 10. Hang a black wallpaper in your bathroom
It's unusual to hang wallpaper in a bathroom, but if your room's well ventilated and the wallpaper itself is water resistant, or won't be splashed, consider the strategy. Use a wallpaper paste that's suitable for damp rooms, too. Here, the wallpaper by Little Greene repeats the black of the bath and the Roman blind.
11. Fit chic shutters in a black bathroom
Whether you want to keep the walls light coloured or ramp up the black-on-black effect of dark walls and dark window treatments, water-resistant black shutters are a practical and good looking option for a bathroom.
Perfect for controlling light and privacy, these plantation shutters from Shutterly Fabulous are available in black to help build a moody monochrome scheme.
12. Explore different textures in a black bathroom
A great advantage of a monochrome bathroom scheme is the opportunity to play with a variety of textures. From smooth tiles to matt stone and shimmering, multi-toned mosaics, you can express your individual style by juxtaposing different types of wall tiles. This bathroom mixes the textured effects of the Mosaics range by Original Style.
13. Create contrast with a black and white bathroom
If an all-black bathroom doesn't float your boat, you can also create plenty of impact with a contrasting black-and-white scheme. The two colours can be mixed and matched as you please. Our tip is to go roughly half and half (think black wall and white floors or vice versa) for a striking effect.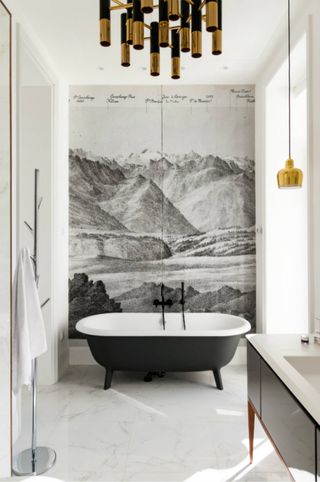 14. Want a black bathroom on a budget? Go for black accessories
Doing up your bathroom on a budget? Accessories are a cheap and easy way to introduce on-trend colours to a room. We love H&M Home for gorgeous, affordable homeware, and this marble soap dish and the matching dispenser could be all your bathroom needs for a chic update.
15. Pick out black bathroom storage
For another budget-friendly black bathroom update, opt for some black bathroom storage. We love ladder towel storage and Tikamoon makes a really similar design to the one below for just £29. Black storage baskets are also a great call – practical and pretty.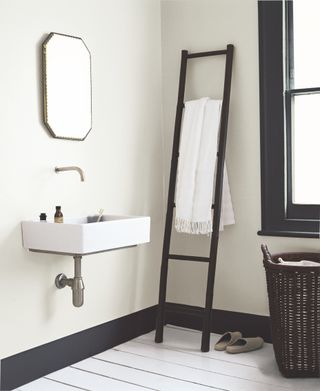 More ways to add oomph to your bathroom: