Black bathrooms are everywhere right now. Stylish, sophisticated and so easy to match with other shades, black is the trending color – albeit one that divides opinion.
But black bathroom ideas don't have to look glum, grunge-like or morbid. You'll even be surprised to hear that it is a bathroom color idea can add warmth and coziness to your washroom design.
We've found the most gorgeous black bathroom designs that take all sorts of tastes into account. From minimalist modern bathroom ideas, to pattern clashing and the ever-popular Art Deco inspo, there are plenty black bathrooms that have been beautifully executed.
Black bathroom ideas
Helen Shaw, UK Director of Benjamin Moore says, 'A monochromatic scheme can be used to create an impactful style, black and white used in tandem is the most straightforward way to make an eye catching effect.
'Black paint used in excess can dwarf a small space, but is a fantastic choice for tying together a large open space and creating a cozy look.
'If working with a small bathroom, embrace a clean white color scheme to open up a space, then use accents of black on paneling, skirting boards or as a linear divide to the room to make a real statement.'
1. Go all out with floor-to-ceiling black bathroom decor
If you want to create THE ultimate black bathroom decor, then why not go the whole nine yards with an all-over black bathroom scheme?
Rather than thinking that this'll make the space look too same-same, use this opportunity to hunt down different textures of homewares and finishings to add impact and interest to a luxury bathroom design.
For example, contrast a Matt black concrete effect wall with glossy floor tiles or luxury vinyl tile for a sleek-looking space.
But, if that's too big a commitment, pair black with grey bathroom decor for a slightly softer look. It's a look that's bang on-trend on Instagram and won't go out of style quickly. Here, we're loving this charcoal scheme which adds a smoky accents to this environment.
2. Keep it clean with a minimalist black bathroom design
When looking to bathroom paint color ideas, black and white are both inoffensive shades that lend themselves well to a minimalist and modern bathroom design.
However, do err on the side of caution when adopting this combination. This is because the squeaky clean black bathroom design can appear somewhat sterile and clinical.
The simplicity of this biophilic living wall does this job, striking a balance to ensure that you are still making a design statement, while also providing a textural focal point that brings the outside in. By adding this touch of nature, it creates the perfect backdrop for a spa bathroom design.
3. Or create a maximalist space with punchy patterns
Are you partial to a bit of pattern clashing in your everyday wardrobe looks? Or a bit of a rebel when it comes to the interiors rule book? Then take note - this one's for you.
Asides from being the dream black bathroom idea for the undecided, this maximalist bathroom idea can incorporate surplus tiles from different DIY decorating projects. By using up old kitchen tiles and mixing with contrasting wallpaper, you can create a design that's truly unique to your space.
We think this zebra print, marble and granite combo is a design-led feature that will sit will in any fashion-forward home.
4. Go Gatsby-chic with an Art Deco floor bathroom design
If you want to get the party started in your bathroom, then look no further than the 1920's for a taste of glitz and glamour.
These black and white monochromatic bathroom floor tiles are a perfect nod to the good old times. While they are the star attraction in this space, don't underestimate the cohesive look that the matching bathtub and toilet seat gives to this space.
Add a little razzle dazzle to your washroom by investing in a fan-shaped mirror reminiscent to the shapes and styles adopted by this era. Finally, complete the look with a velvet scalloped bathroom stool to add a soft seating to your black bathroom decor.
5. Add an accent with colorful wallpaper
A black bathroom wallpaper design can looks chic and stylish, but to prevent the look from becoming too cave like and claustrophobic, you'll need to add a pop of color.
Deviating from the masculine connotations of black bathroom design, why not add a punchy or pastel pink to make the boys (and girls) wink. Not only will it feminize your space, but it also add decadent French style to your salle de bains. This floral motif by The Curious Department is the perfect girly-yet-grown-up design.
6. Mix with metallic finishes for a luxury bathroom look
We're not sure about you, but we're a bunch of Magpies at Real Homes. Asides from glistening in reflective light, glam golds and brilliant brass accents add oodles of expense to your bathroom.
These wall lamps have an industrial style and feature an adjustable arm that is part of a classic mid-century American interior design style.
And the beauty of it means that you can add as much or as little as your heart desires. While metallic bathroom lighting ideas are a classic choice that won't go out of style, fancy and ornate faucets are definitely here to stay!
7. Pick out a black roll top bath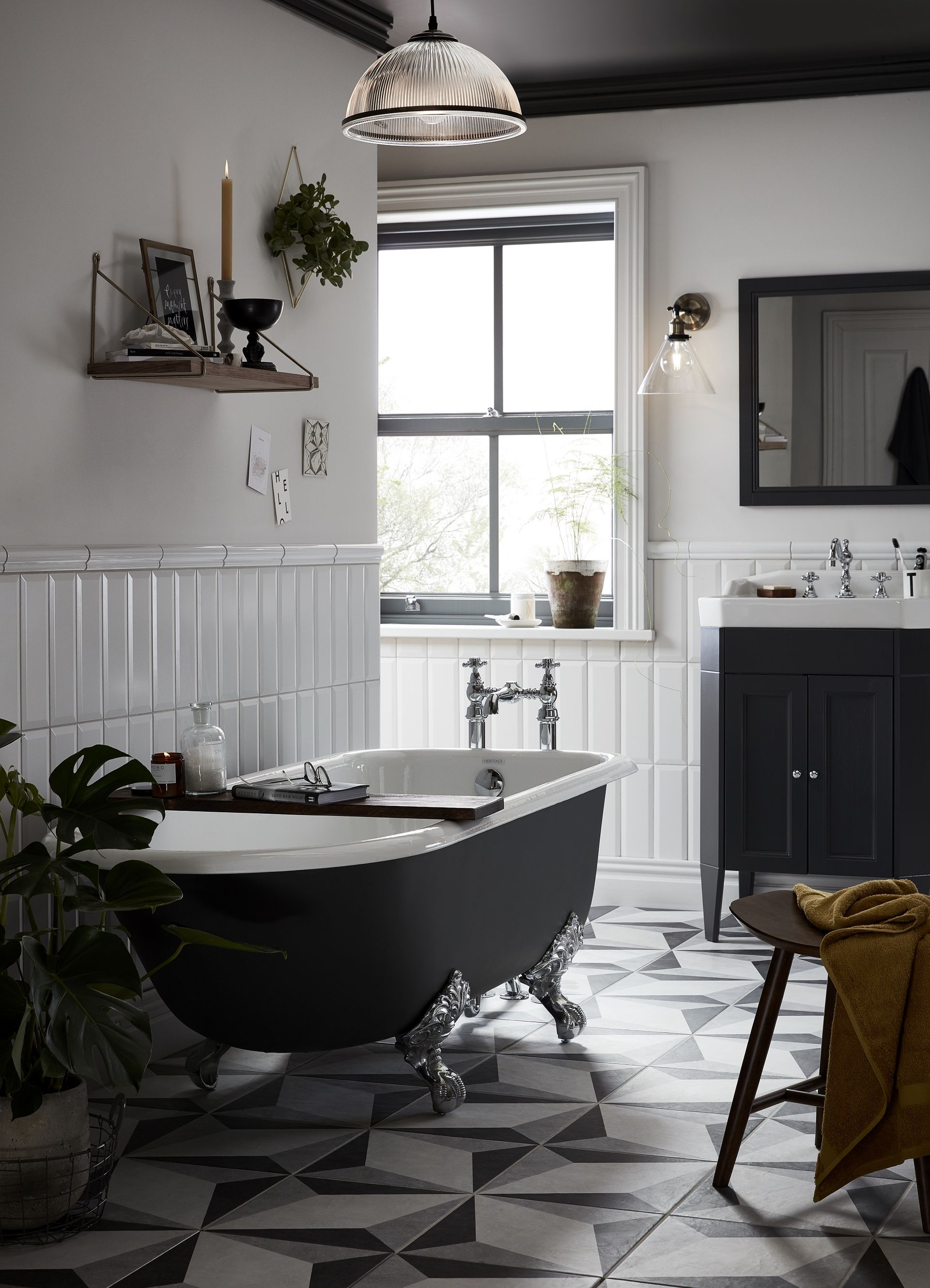 Roll top baths are a big investment, so choosing a versatile, neutral color that will go with anything if tastes change is a great idea. But rather than traditional white, why not opt for black for a design that's equally flexible and amenable to being combined with other colorful bathroom schemes?
Find more advice on freestanding baths head to our design gallery.
8. Choose a statement sink for a black bathroom
If you've ever wondered why on earth most bathroom sinks are white – showing every speck of dirt – then a black sink may well be for you. There are loads of different designs available from the more traditional to the super modern. We love the simple square design of this black sink. Oh, and we think we might steal the idea of hanging monochrome prints in a black bathroom, too.
9. Go for a bang on trend black shower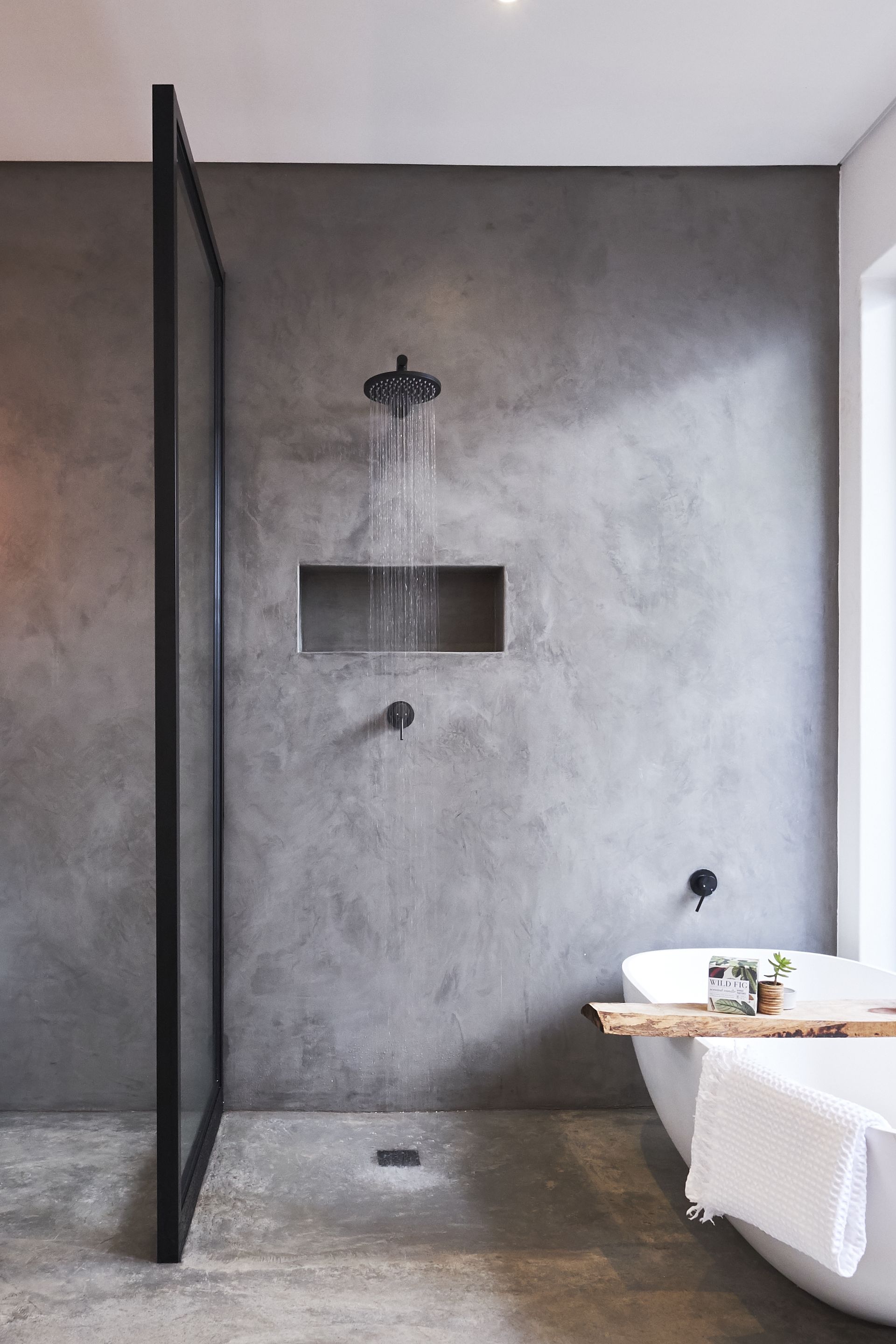 You must have seen them all over Instagram. Just like black bathrooms, black showers are in. This gorgeous set up is from Meir (black tap and shower specialists) and the whole site is just so swoonworthy you must go and check it out.
10. Choose smart black bathroom wall tiles
Black wall tiles are a great choice for black bathrooms of all sizes, although they will look their glamorous best in a large family bathroom. With a variety of textures and finishes on offer, you can create either an inconspicuous background, or a feature tiled wall.
If you need any more tips on choosing bathroom tiles, go to our guide.
11. Add plenty of stone surfaces to a black bathroom
Stone tiles are a great choice for black bathroom floors and walls. Durable and water resistant (if properly maintained), black stone can also add plenty of character to your bathroom. Polished finishes will be less porous, and therefore more long-lasting, but watch out – if laid as bathroom flooring, they can be slippery, so a mat or rug is appropriate.
12. Or you could go for some fantastic monochrome bathroom flooring
Keeping the darker elements of the room to the lower half, with white or neutral furnishings and decor in the upper part, will help the space feel lighter and brighter all round. Geometric flooring rather than a solid black, which will show up every mark and speck of dust, is a smart choice.
13. Get a black bathroom quick with paint
If you're worried about committing a black bathroom and investing in fixtures and fittings, a coat of black paint is a great alternative. An easy weekend refresh, it may take a few coats to cover over again, but at least you can reverse the decision when a new look is called for. Get plenty more bathroom paint ideas in our feature.
14. Paint your bathroom floor black
Painted floorboards are on trend, so if you're lucky enough to have floorboards in your bathroom, why not create a really dramatic effect by painting them a dark color? It's a DIY job: just follow our guide to painting floorboards, and remember it's easy to update them in the future.
15. Paint your bathroom door black
Seeing a theme here? But if you aren't feeling brave enough to paint large areas of your bathroom black, painting the woodwork instead can be a safe and easy way to introduce a darker colour. You can DIY, just check out our guide to how to paint a door – you'll probably want to pick the best bathroom paint for the job, too.
16. Create a black bathroom instantly with wallpaper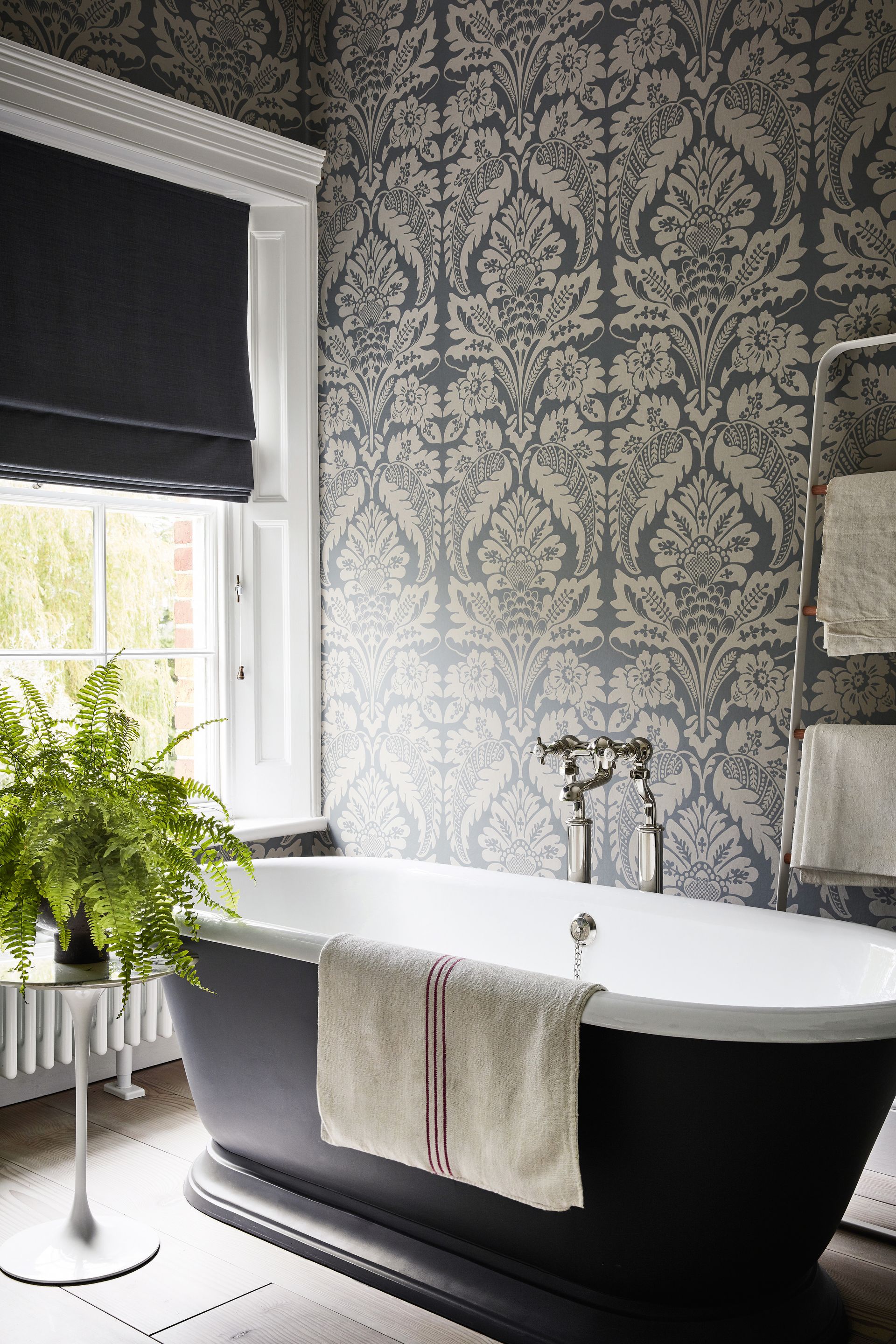 It's unusual to hang wallpaper in a bathroom, but if your room's well ventilated and the wallpaper itself is water resistant, or won't be splashed, consider the strategy. Use a wallpaper paste that's suitable for damp rooms, too. Here, the wallpaper by Little Greene repeats the charcoal colors in the bath and Roman blind creating a really cohesive black bathroom.
For more bathroom wallpaper ideas check out our feature.
17. Fit chic shutters in a black bathroom
Whether you want to keep the walls light colored or ramp up the black-on-black effect of dark walls and dark window treatments, water-resistant black shutters are a practical and good looking option for a bathroom.
18. Explore different textures in a black bathroom
A great advantage of a monochrome bathroom scheme is the opportunity to play with a variety of textures. From smooth tiles to matt stone and shimmering, multi-toned mosaics, you can express your individual style by juxtaposing different types of wall tiles.
19. Create contrast with a black and white bathroom
If an all-black bathroom doesn't float your boat, you can also create plenty of impact with a contrasting black-and-white scheme. The two colors can be mixed and matched as you please. Our tip is to go roughly half and half (think black wall and white floors or vice versa) for a striking effect.
20. Want a black bathroom on a budget? Go for black accessories
Doing up your bathroom on a budget? Accessories are a cheap and easy way to introduce on-trend colours to a room. We love H&M Home for gorgeous, affordable homeware, and this marble soap dish and the matching dispenser could be all your bathroom needs for a chic update.
21. Pick out black bathroom storage
For another budget-friendly black bathroom update, opt for some black bathroom storage. We love ladder towel storage and Tikamoon makes a really similar design to the one below for just £29. Black storage baskets are also a great call – practical and pretty.
For more bathroom storage ideas, check out our feature.
22. Add greenery to a black bathroom
Houseplants are a really easy way to break up all the black and bring a bit of softness and texture into your room. If your bathroom lack natural light, we would say go with fake plants – Amazon have loads of great options at really affordable prices.
23. Add larger mirrors to black bathrooms
To keep your black bathroom from becoming too dark, make sure you incorporate plenty of mirrors and reflective surfaces too. A large mirror above the sink will work but add in metallic lighting too and bathroom accessories to bounce even more light around.
24. Create a gothic look in a black bathroom
How delicious are these glossy black metro tiles? More dramatic than paint or wallpaper, bold, dark tiles add heaps of glamour but are still in keeping with that moodier vibe. If this look is a bit too Tim Burton for you, try using black bathroom tiles over a smaller surface area like a splashback, the walls of a shower or around a fireplace.
25. Channel 1920's glamour with Art-Deco inspired tiles
'While many homeowners would choose to avoid using dark colors in small rooms, it is possible to give the illusion of a larger living space with a dark gloss tile,' says Jayne Adamson, marketing manager at Verona.
'The new Grande Radon Black tile is perfect for channeling the Art Deco vibe within any interior scheme. Use in a small en-suite, or a compact cloakroom; the key is in the styling. Team with opulent gold and brass accessories for a vintage look with a modern twist.'
'A striking marble effect tile with dramatic white veining, this supersized tile debunks the unwritten rules about how and where large, dark tiles should be used. At 600x1200mm, the reduced grout lines mean there are less surface breaks, creating a larger, seamless space and with its high gloss finish, light is bounced around to open up the room.'
Is a black bathroom a good idea?
David Snazel, Hard Flooring Buyer at Carpetright says: 'We have seen a recent trend for embracing the lack of space rather than trying to cheat the lack of light and floor space.
'Choosing rich deep, dark shades to create a dramatic, snug space conjures a sense of elegance and sophistication that you might find in a boutique hotel bathroom.
'If you are going to try this do remember that scale is important if you choose patterned flooring. Too large a scale will cause the repeat to be lost and if it's too small the flooring can look a little too busy.
It's a fantastic look but one that requires confidence and an overall vision – the results, however, can look fabulous. Using the same tones for the walls and floor create harmony and trick the eye into making the space feel bigger.'