Looking to update your interior and bring some leafy magic into your space? We've rounded up the top 10 houseplant trends for 2022 to help you pick.
This year's biggest houseplant trends will boost both your greenery game and your style one. (Not forgetting the many benefits of houseplants, like their ability to reduce background noise, and even improve productivity.)
Over the last few years, the most popular and trending houseplants have been the Cheese Plant (Monstera deliciosa) and the ultimate design favorite, the Fiddle Leaf Fig. These are still some of the very best indoor plants around, but there are some unusual newcomers you'll see on you home office, desk or windowsill in 2022.
To give us an insight on which houseplant trends are on the rise, we spoke with Beth Chapman, founder of Leaf Envy for some expert tips on the plants he thinks will steal the show in 2022. Then, we turned to the green-thumbed team at Primrose and Daniel Nichol, the managing director at plant retailer House of Kojo.
So, which plant trends will just keep growing faster than your Monstera? Read on for the ten biggest house plant trend predictions for 2022, and some useful styling tips from our experts.
1. Alocasia Silver Dragon
Plant brand Leaf Envy says they saw a huge increase in demand for its rare plant varieties last year. Drawing on the trend for more unusual plants, the company's founder Beth Chapman predicts the houseplant of 2022 will be the Alocasia Silver Dragon.
This unique beauty has silver-green leaves and dark green veins and is sure to add visual interest. Perfect if you're looking for something a little different to add to your collection.
2. Kalanchoe
The team at Primrose predict that the Kalanchoe will be making waves in 2022, after seeing a gigantic 454% increase in searches for it on their website. The common desk plant has small colorful flowers that last several weeks and attractive, shiny foliage.
It's often given as a gift and is gloriously low-maintenance. The Kalanchoe Pinnata is particularly eye-catching, with lots of cute baby plants on the edge of its leaves.
3. Fishbone Cactus
Also known as the zigzag cactus, the Fishbone cactus is native to Mexico. It was one of the most trending houseplants of 2021, and we think this fun and easy-to-care-for plant sticking around in 2022.
If you take good care of it, you may enjoy a reward of fragrant flowers – invite this ornamental houseplant into your plant family and you won't regret it.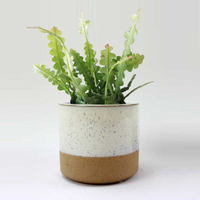 4. Kentia Palm
The Kentia palm (Howea forsteriana) has been having a moment later, with lots of customers at Primrose keen to get their hands on it. The plant retailer says online searches for this plant on its website was up 253% this year, and thinks it'll be popular in 2022.
Originating from the South Pacific, this plant brings laid-back and beachy vibes to your interior and can grow big, make a striking focal point. It's also pretty easy to care for – just remember to dust its leaves when needed.
5. Chinese Money Plant
Not only is this lucky plant is not only said to bring good fortune, it's also just really cute. Its circular leaves bring texture and life to sad-looking shelves and windowsills, so it's no surprise this particular plant is all over the 'gram this year.
6. Mistletoe Cactus
This jazzy cactus proved to be incredibly popular last year, and we don't see it going anywhere. It's loud, carefree, and makes the perfect display. We love it.
7. Philodendron Pink Princess
This pretty-in-pink plant with heart-shaped leaves is a super striking and unusual variety, although as a mand-made hybrid, it comes with a hefty price tag. Daniel Nichol, Managing Director at houseplant retailer House of Kojo says that the Philodendron Pink Princess is one of the most sought-after houseplants.
'People go crazy for them,' he comments – and we can see why. Their bubblegum pink streaks are caused by a lack of chlorophyll. These pink crescent-shaped marks don't appear naturally, they're actually caused by a genetic mutation.
8. The Boston Fern
Walshe predicts ferns, like this leafy Boston variety, will be big in 2022. Great to keep in a humid room like a bathroom, as long as there is a window, Bostons are easy to care for and their ruffled leaves are sure to add texture to your space.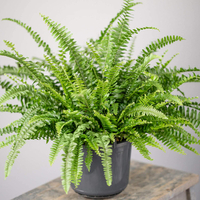 9. Devil's Ivy
Much like the name implies, this catch of a houseplant doesn't need much light so will still thrive in dim rooms (we all have em'). The light leaf pattern is what will make this one a beaut addition to your home in 2022.
Display it on bookshelves and watch it slowly crawl over your books and home decor as it pops out new leaves.
10. Snake plant
The snake plant, if you haven't already got one, is a fab houseplant to pick up this year. Generally considered very very hard to kill, it's great if you're a beginner.
Expert houseplant styling tips
'As a design element, plants are incredibly versatile,' says Larry Walshe, founder of Bloom. 'Whether your home is minimal and clean, or eclectic and busy, plants do so much to soften and add texture.
'Think about them as you would a piece of art or an ornament, and style them accordingly, lifting and adding an extra dimension to the space.'
'Go bold with pots too when it comes to styling; either with one substantial large plant, adding colour and texture to a darkened corner, or clustering lots together to create an impact,' Walshe says.
'Using pots in varying sizes and finishes creates a more eclectic and relaxed overall look, whereas a set of matching pots displayed at regular intervals on a long side table for example, will create a chic and striking effect.
'If you prefer a uniform, ordered interior, use the same style pot in varying sizes. If you lust after a more eclectic interior look, vary your pots and plants for added personality and depth.'
And last but not least: There's no such thing as too many houseplants...