Tiles are having their moment. Thanks to ever-evolving designs, these highly functional and decorative materials have stepped out from fading into the background of a bathroom or kitchen space, and into the spotlight both inside the home and out.
The latest tile ideas and trends go above and beyond backsplashes (though still an important consideration and a gorgeous look) to make modern homes pop and to add that final decorative touch to every kind of space. We caught up with Fireclay Tile to see which tile trends are the ones to watch right now and we have to admit, it's a truly exciting edit. Keep scrolling for our roundup of top tile trends and expert tips for incorporating them at home.
What is the best tile layout for a small space?
'Good question! I think this is all about personal style/preference. If you want to get a solid dose of pattern within a small area, Mosaics are perfect. You can also make a statement with a swatch of bold color with any of our tile, glass, brick, or handpainted tiles. If your style is more neutral, stick with a classic layout like offset or straight set. If you're working to create the illusion of height--a vertical stack is the way to go.' Say the experts at Fireclay Tile.
1. Nod to Cottagecore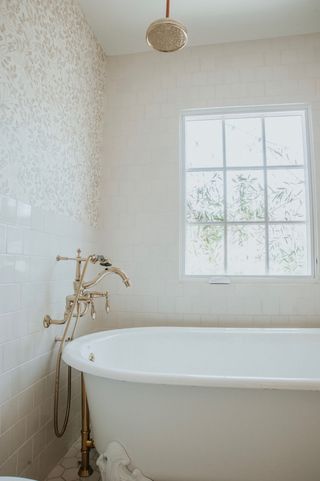 Cottagecore is also here to stay so make that a part of your tile choice by keeping the design pared back and neutral, letting the rest of your interior decor speak for itself. After all, all eyes are on that tub and those opulent faucets right?
2. Tile your fireplace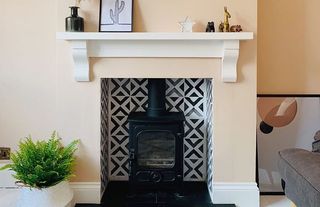 Make a small statement with patterned tiles behind a wood burning stove. Proof that you can add a touch of modernity even with a super cozy feature in your home.
3. Cozy and inviting colors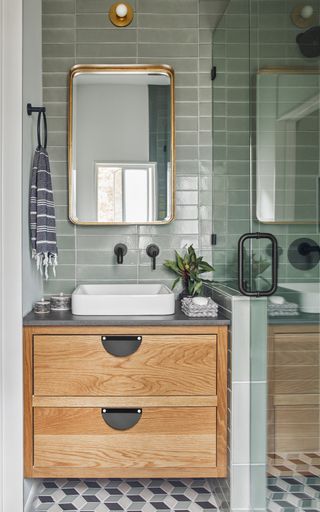 According to Fireclay Tiles tile trends report 2021, you should look to 'Make your space more inviting (and cozy) with a more warm-toned, earth-inspired palette. The handmade variation of our tile lends earthy beauty to a warm neutral color scheme.' Rosemary green tiles bring swathes of chilled vibes to this modern space and leave a beautifully polished finish also.
4. Bright green and wild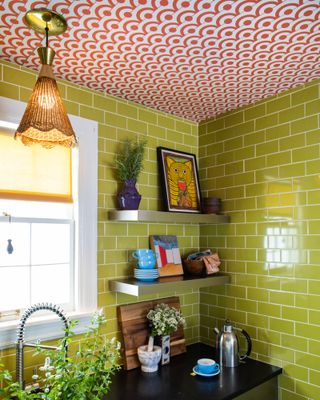 Complementing a wallpapered ceiling with a contrasting color on the wall surrounds via lime green tiles is a righteous move that will take your home decor up a notch, or ten. Max it out with shelving, more greenery and equally as eclectic accessories for effect.
5. Match up, even just half way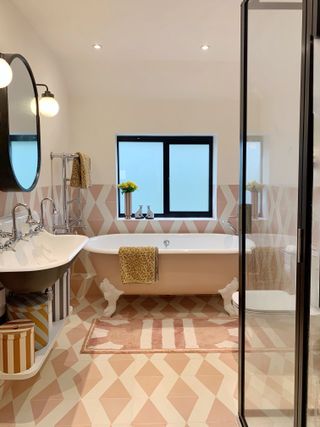 Expand your space by running your choice of tile part way up the ceiling too. We love the modern, soft yet geometric tile chosen by Amanda Cotton of @houselust for her divine and peppy bathroom space, complete with black-framed shower doors and a Beverly Hills bath runner.
6. Tile brightly across open plan layouts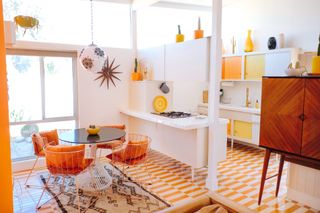 For the added element of fun and to connect your open plan space even more coherently, choose a bright tile and stick with it across all areas.
7. Pale marble variation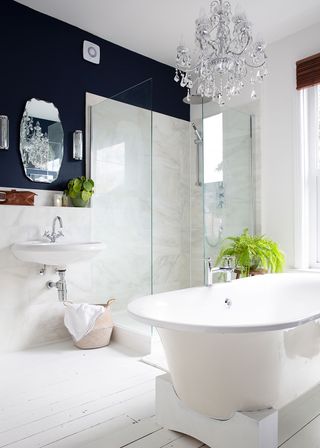 Peter Grech chose marble with a smaller variation in it for a classic finish in his gorgeous bathroom space. A more subtle shade of stone means that you can go bigger in design also – without the finish being overbearing. Grech achieved this look even on a budget as he saved in other areas of his award-winning bathroom makeover.
8. Warm it up with earthy tones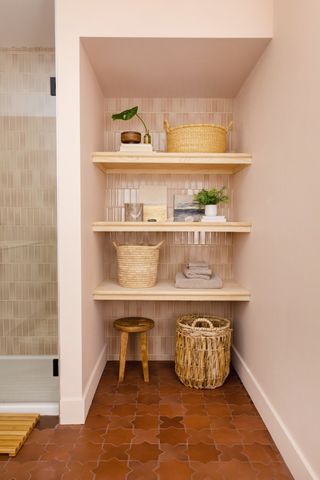 Warm tones and textured tile finishes bring fresh coziness to this basement bathroom as created by Megan Gilger of The Fresh Exchange.
9. Nature-inspired pattern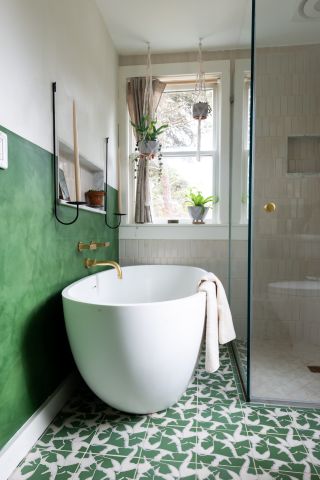 Connect your inside space with the outside furthermore by choosing earthy and/or green colors in addition to nature-inspired motifs.
10. Orange and terrazzo duo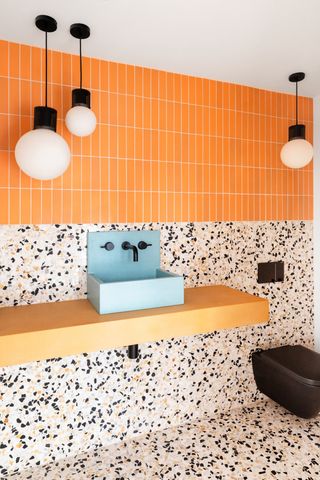 Tiling the entire wall is often so worth it. This vibrant look brought to life by interior designer Sara Simon of @handsome.salt with photographer @jenny_siegwartr shows how maximalism can be achieved without lots of fussy additions. Mix and match small metro tiles with terrazzo, ensuring there is one binding color present within both surfaces like the bright orange here, and keep the rest of your space bold but simple. The upper tiling is by Fireclay Tile and the Terrazzo by Concrete Collaborative.
About this look, Sara adds 'My motto in my designs is bringing hospitality home, so I always strive for that hence why many of my designs have that pop to them. I never want people to feel like they are just in another bathroom, kitchen, etc. I want my designs to transport people to a place they never want to leave.'
11. Hexagonal is in style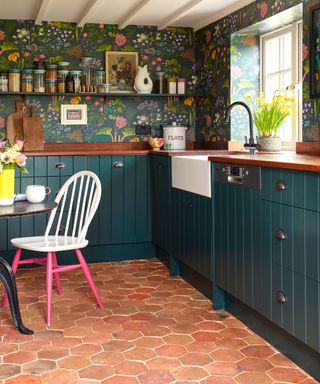 Choose unexpected shapes to create interest, everywhere. Hexagonal tiles in a warm terracotta color work perfectly for the floor in a period home and will add a little timeless personality to a modern home when paired with the right color scheme also. Keep other surfaces dark if you want but mix it up with bright accessories in the rest of the room, like in this fun home makeover.
12. Complementary grout colors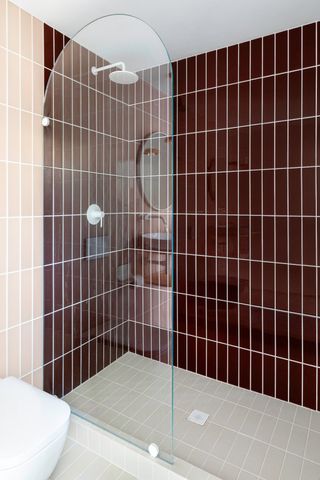 Sara has taken care to ensure the grouting color enhances both color of tiles. Helping the mauve pop and the light beige tile to have a clean, classic finish for an uber-sophisticated tiled shower space. Space created by Sara of @handsome.salt x photographer @jenny_siegwart.
13. Mix and match tile designs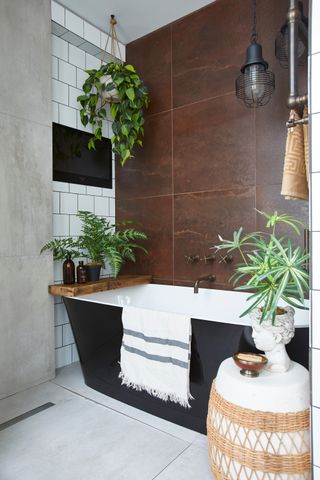 Why just choose one cool tile design when you could have four? The combination of light marble floor tiles, natural stone wall tiles and white metro tiling helps the copper effect tiles around the tub stand out furthermore. This bathroom isn't enormous, but it has layers and the results are fairly sublime.
14. A subtle mosaic tile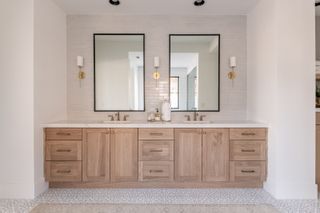 A little mosaic tiling will add an exotic touch to all types of interior design schemes. Tile even just a section of the floor to pop out against more classic tile ideas on the walls of a couples bathroom for an elegant feel to your space.
15. Trick the eye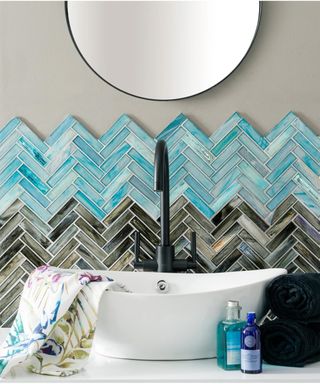 Stretch your space by tiling walls horizontally using vibrant color combinations. Note how the adjacent walls are slightly more spaced out making for a design that is cool and clever rather than a little mind boggling.
16. Tiles in every tone of pink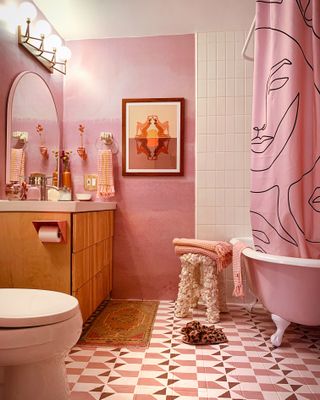 Pink bathrooms are a big deal and as far as tile trends go it's one to copy. Choose all the hues of pink to pop against a little white in vertical straight tiling as Katie Mack of @candycoloredhome has done in her space and match it to more contemporary pink decorative features for a showstopping look.
17. Sunny faux tiled backsplashes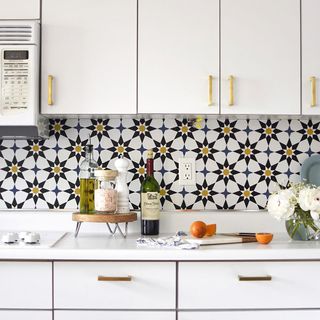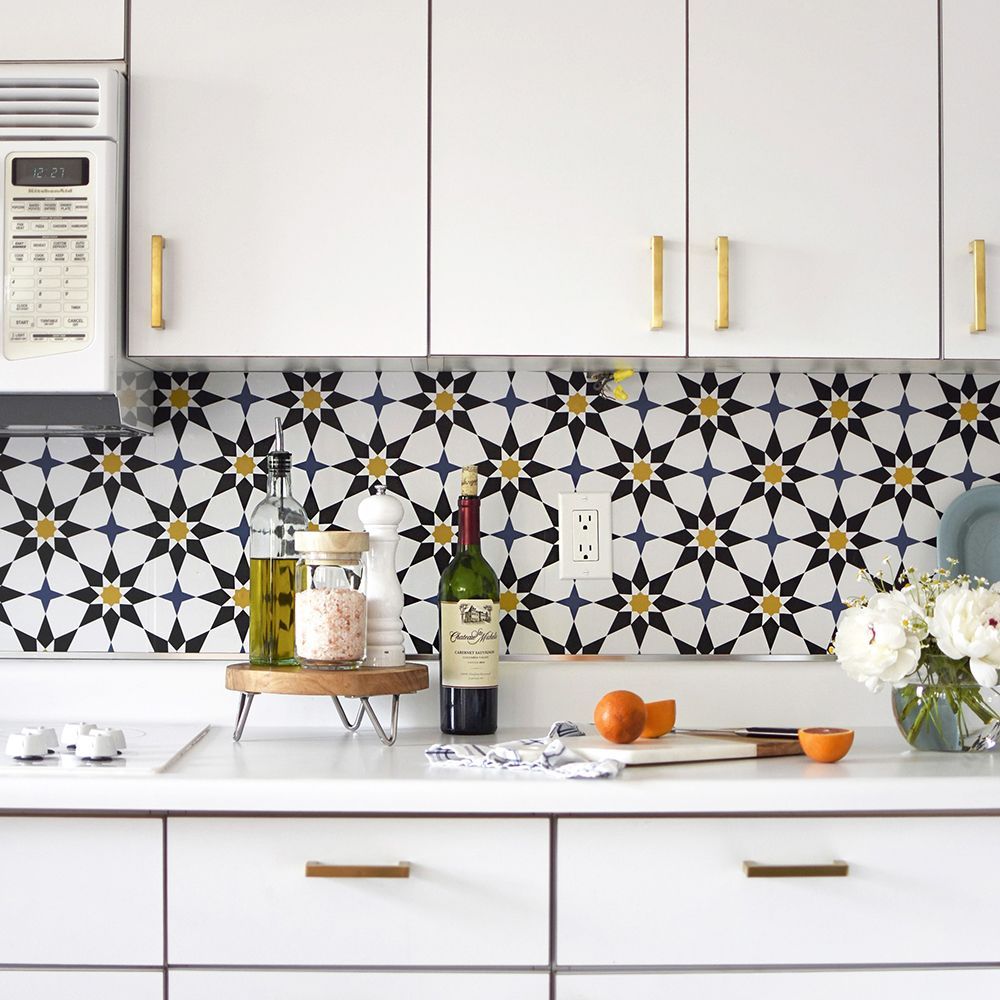 Create the illusion of a gorgeously tiled backsplash with wallpaper like this starburst Moroccan-inspired motif from Tempaper. Exotic and charming plus, it's removable and easy on your bank balance.
18. Have fun with tile trends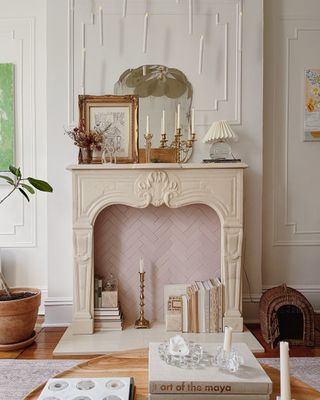 Think outside the box and don't be afraid to bend the rules, not just with tile trends. 'This soft pink faux fireplace makes a unique statement without stealing the show. Pinks of all shades can give the perfect accent to what your design is trying to say.' Says Fireclay Tiles.
We're going to town with tiles 👌