While Barbie may be taking over the world (as she should), I've been a pastel disciple long before Margot Robbie treated us to those iconic doll-inspired looks. Rented apartment after rented apartment, I've painted walls baby blue, thrifted vintage pink armchairs, added lilac bedding, and haggled at markets for the cutest home accessories to make my pastel dreams come true.
Whether you're a chic Scandi gal most likely to add a muted-pink Murano wine glass to your shelf, or a more-is-more maximalist with a horde of rainbow-colored cushions covering every bed, sofa, and armchair, we think you'll find inspiration from these amazing creators who have nailed the aesthetic in their homes.
Pastel decor ideas to nail this style at home
Let's drool over these dreamy pastel bedrooms, living rooms, accessories, and nooks together. Even if you're a minimalist or color doesn't make an appearance in your neutral rental — these inspiring ideas will convince you otherwise.
1. Accessorize with matching cushions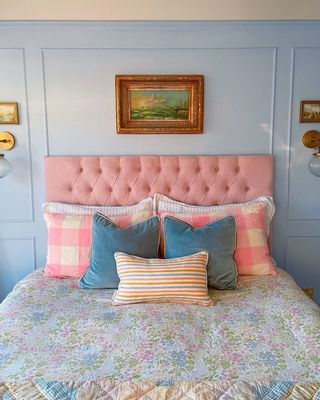 Giving your space a spruce up? Two matching cushions, positioned side-by-side are a surefire way to make the place look cute as hell. Don't worry about layering loads of patterns, fabrics, and colors together for the perfect cushion curation. This simple tip is super easy to do and looks gorgeous every time. I love pink gingham because it not only plays right into my cottagecore obsession, but it never goes out of style. If there's a print you prefer, though, you go for it, girl!
2. Paint your own scalloped border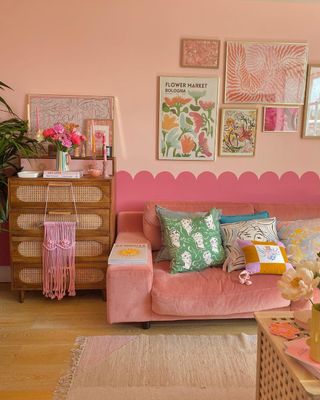 Paint is one of the easiest and most budget-friendly ways to update your space and while dragging the stepladder out to redecorate all four walls might be OTT, adding a cute scalloped border still makes a huge difference.
Whether you're painting the whole half of the wall or just a strip, use a spirit level to mark a straight line to paint down from. You could also measure out two lines about a hand's length apart for just the border. Then, tape it up and use a small roller to get painting. Once the border is done, use a rounded object like a bowl to draw your scallops on with a pencil and carefully free-hand paint them on with a small brush. Be careful not to load too much paint on, though, or it's hard to paint over later.
3. Try a mini locker as a bedside table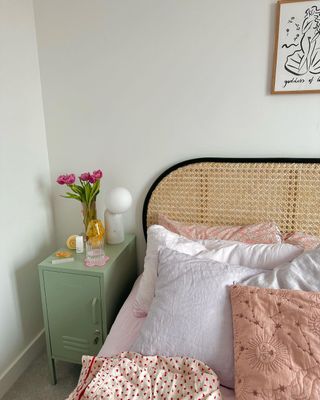 I love that lockers have become such a cool way to tackle the storage issue I know we're all feelin' right now. I mean, as our living spaces get smaller — and don't get me onto sharing a dorm room! — those trusty storage solutions are getting more and more needed. From IKEA to Urban Outfitters, everyone's selling these school-style lockers but with a pastel aesthetic twist. This mini locker looks adorable positioned as a bedside table, and it gives you a few extra shelves to keep your odds and ends tidy, too.
4. Bring in pastels with a footstool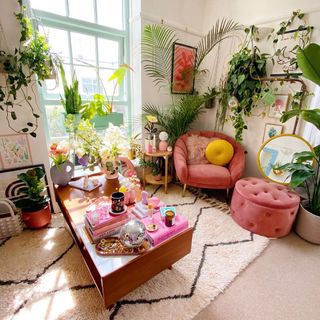 Footstools are an underrated tool in bringing color and pattern into a space. As a moveable piece, they require minimal commitment because you can switch up their position, put them in a different room, and take them to your next home. As functional as they are chic, having a little footstool to pull up to a mirror and do your make-up or to use as a chair when you have an extra friend around for drinks is a must. Plus, they look so damn cute. I like this pink velvet one because, for me, that combo never gets old, but if you're super adventurous you could opt for a '70s pattern or busy floral print to really funk up the space.
5. Stack those crates up, girl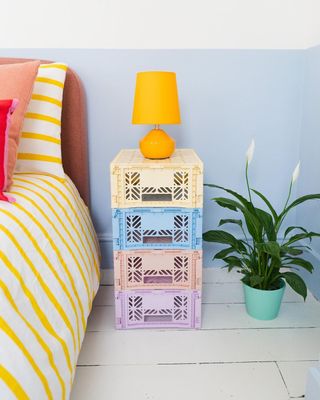 Sorry, but can we have a little commotion for this GENIUS interior design hack? Yes, I know that pastel crates are a seriously lust-worthy trend, but stacking a rainbow of colors together and topping it off with a contrasting, bright orange lamp is just *clap hands emoji*. The reason I'm so buzzed about this is that it not only looks cool, but it's also going to give your bank balance the break it so desperately needs — or, is that just me? While you can get a bedside table for a relatively low price, getting your hands on one as colorful and cute as this, for the price of a few crates, just wouldn't happen. This is the PSA we all needed today.
6. Get crafty with your mirror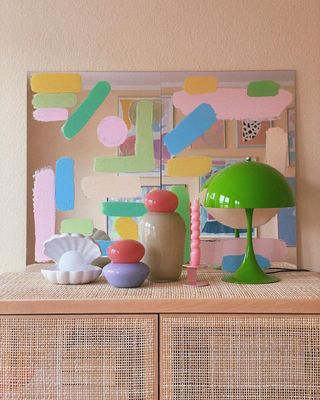 There's interior design skills, and then there's painting over your mirror and making it look like a piece of art. Now that's a serious flex. Karoline Herr is such a good source of pastel inspiration and one of her gifts is making everything she touches look so damn pretty. I love how she's updated a plain, normal-looking mirror with a few stripes of pastel paint and I pray to the interior design gods that when I try out this trend, it looks half as good.
7. Try the wavy door trend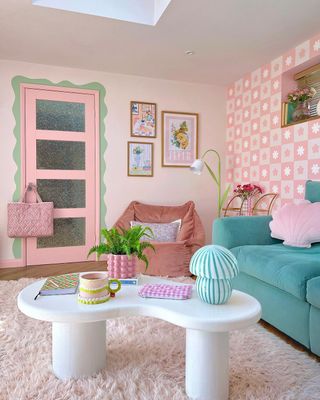 The wavy decor trend is one that can't be ignored, and it's seeping onto our walls, too. While landlords might not be wild about you painting around their door frame, it's also pretty low risk as it's so easy to paint back. As one way of getting that Instagram aesthetic for your home, I think this one ticks a lot of boxes and isn't too hard to pull off. For me, this color combo is everything but lilac and yellow would also look fire. Make sure you tape up any parts of the door you're not painting, and again, don't layer the paint on too thick over the waved shapes otherwise you'll get lumps that'll be hard to smooth out.
8. Upcycle mismatched chairs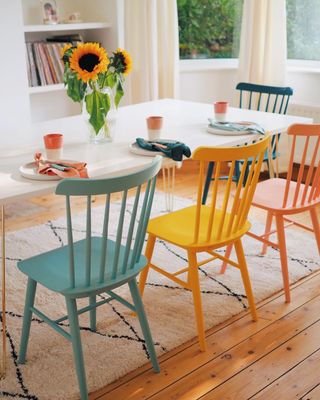 I've always been a fan of the vintage aesthetic and over the years have been known to favor a mismatched dining chair approach like this one. Mid-century modern school chairs and Parisian bistro seats all sit side by side in my home and the trick is that it's cheaper than buying a full set brand new. A thrift store here, a furniture market there, and you've got yourself an interesting, unique seating situation. A great way to make the look cohesive, though, is painting them up in an ombré of pastel hues. This way, wood type, shape, and era don't matter, as they'll all look united within the same color scheme. Of course, check online for tutorials on how to paint vintage wooden furniture.
9. Bring in some sparkle with a metallic curtain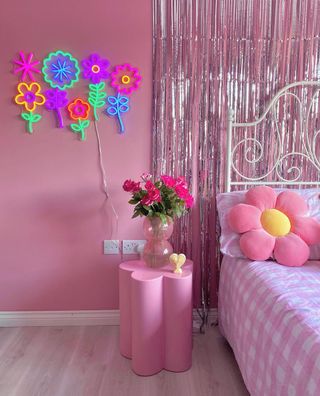 If you don't already follow Kate Rose Morgan for her maximalist, Barbiecore home, then you really should because she has committed to these trends like no one else. While her home is super curated, one decor hack you can easily try in your shared apartment or dorm room is this metallic fringe curtain. Pinned up behind the bed and sitting a little wider than the headboard so that you can see it clearly, this rose pink fringed decoration is so fun and super easy to remove if you change your mind. You can order one from Amazon or even just pick one up from your local party store.
10. Use a stool as a budget-friendly table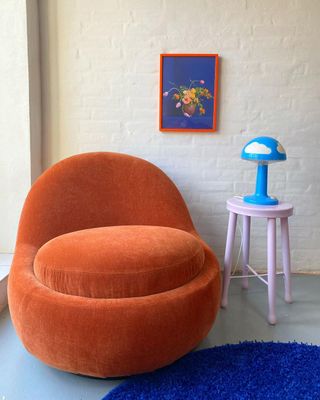 If, yeah, you do love pastels but you're more into an understated vibe, then don't worry bestie, we got you. This example from super chic Danish influencer Alberte Gregersen (because, seriously, there IS no chicer nation) shows how bringing together pastels and brights can be done in a laidback aesthetic. Pick up a wooden stool from a thrift store or Amazon, grab a pale lilac, and after you've given it a lick of paint, top it off with a quirky lamp for a side table with a difference.
11. Jump on the tiled plinth hype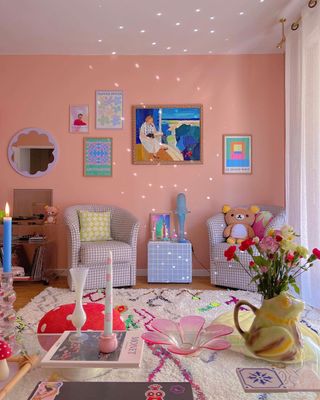 Tiled plinths, side tables, and benches have taken over Instagram, and who are we to stop them? I love this look. It's both playful and minimalist, contemporary and nostalgic, and it looks never better than when done in pastel colors. Personally, I think a simple plinth or table is a great addition to any space and it's so versatile and can be styled with pretty much anything. Coffee table book? Yup. Colorful lamp? Definitely. Vase stuffed with peonies? No brainer. My advice is either go for ice cream shades of white and lilac, or something contrasting like red and pink. Position your plinth in the corner of a room for show or next to your sofa like a side table.
12. Decorate with a fake cake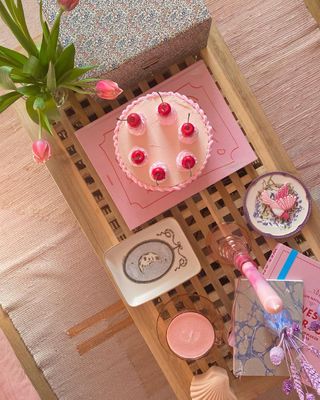 I know this is pretty *out there* but I'm a fake cake convert. Yup, you heard that right — fake cake, as in non-edible but super pretty. You can find them on Etsy, either for decoration like mine, or as trinket boxes. Put simply, it brings a bit of joy to any scene whether balanced on top of a chest of drawers, positioned on a coffee table, set on a bookshelf, or as the centerpiece of your table. Sugary sweet and the cutest thing you'll see today, these pastel fake cakes are the home accessory you didn't know you needed.
13. DIY your own wavy mirror
Wavy mirrors are absolutely everywhere and as a pastel fan, I think they look best in candy shades. Even better? Pick your own color palette after getting your DIY on like creator Luena in her tutorial. Yes, cutting out your own wooden frame sounds intimidating, but watching this video I felt weirdly empowered — maybe I am the kind of chick who could handle a jigsaw? I hope you feel inspired by this DIY and then you can paint it whatever color you like!
14. Thrift some '70s furniture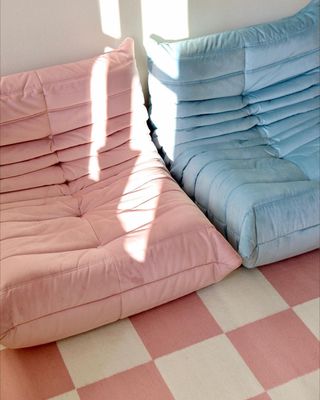 It's no secret that '70s-style furniture is having a moment. Think swooping shapes, futuristic forms, and groovy patterns in fabrics from corduroy to bouclé. The great thing about a statement furniture piece like this is that it looks even cooler when juxtaposed with its surroundings. Don't have your digs perfectly decorated? No problem. These chairs are so on-trend that they make everything look good around them. Look online, at local auction houses, and at furniture markets to snag yourself something similar.
15. Use coffee table books as decor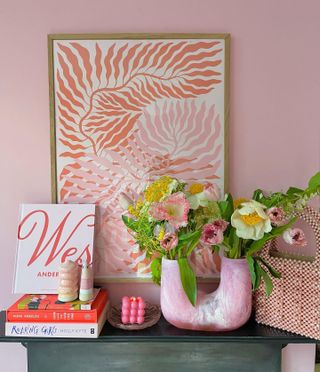 If you're short on cash, one way to bring pastel shades into your set-up is with a pretty book. Coffee table books are a great tool because they can be super inexpensive and are easy to get hold of. Position one on your coffee table (obviously), add it to a bedside table, or pile a few up like a mini plinth.
16. Add a cute tray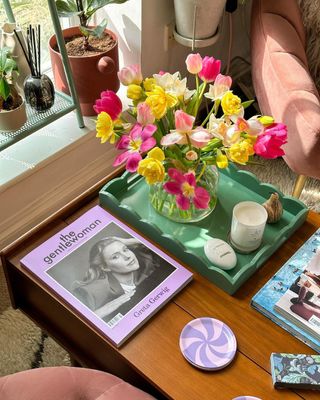 I used to think trays were on the uncool side of retro, but more and more I'm seeing them used as a simple way to liven up a space. There are lots available online for budget-friendly prices and they help give a kitchen or coffee table a focus. I like the idea of decorating it with trinkets, cute ceramics, and candles, or keeping things paired back with just a vase of flowers. Either way, it's a fabulous pop of color.