If you're looking for small bathroom storage ideas, you're in the right place. We totally understand that in small bathrooms, finding the space to squeeze in storage can be tricky. But it's also one of the most important parts to think about as clutter is only going to make the space feel smaller.
Lucky for all of us small space dwellers, there are plenty of storage options out there designed specifically for small bathrooms. So, whether you are after a space-saving built-in solution or just some small, inexpensive accessories, even small bathrooms can be made serene and clutter-free with just a few inventive ideas.
Small bathroom storage ideas for style and function
Your bathroom is the space where you want to feel both energized and alert at the start of the day, and relaxed and calm at night, and a key way to achieve these things is with a clean, streamlined and clutter free space.
You should consider your storage from the start of your bathroom planning process. What will you keep in there? Do you want to hide it away, or put it out on show? From towels to shampoo and loo roll to toothpaste, our bathroom needs to work hard to house everything we need, so that we can feel zen when we're inside.
As a general rule of thumb, ensure there's enough closed storage so that the less pretty items we use every day (hello toothbrush) can be hidden away while still within easy reach, such as in a mirrored cabinet. This reserves open shelves for plants, candles and decorative glass jars – to boost your room's tranquility, rather than take away from it.
We've rounded up great small bathroom storage options, and even a few very small bathroom storage ideas to help those of you with the smallest bathrooms ever...
1. Go for vertical storage with a classic tallboy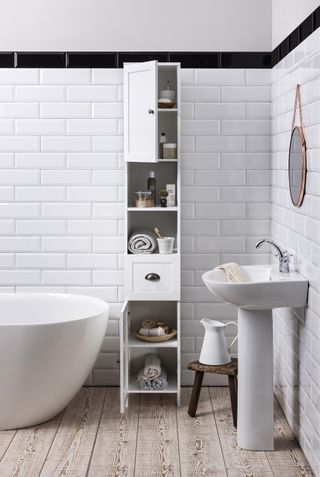 If you want to add in a lot of extra storage to your small bathroom, tallboys are a great bathroom organizer option as they give you ample shelving and cabinet space, whilst taking up minimal floor space. This Stow tallboy bathroom cabinet from Noa & Nani includes open and closed shelving so you can both display and stow away your bathroom bits and bobs.
2. Elevate your basin to squeeze in extra storage beneath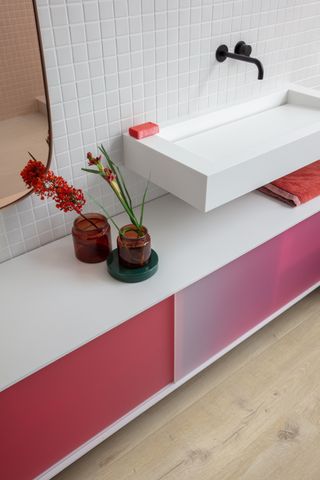 A wall hung basin is always a great idea in a smaller bathroom, as it inevitably frees up space. Positioning your basin slightly above a low hung cabinet like this is a clever trick for adding in extra storage – you could even maximize the space further by using baskets to act like drawers.
3. Organize your drawers with clever dividers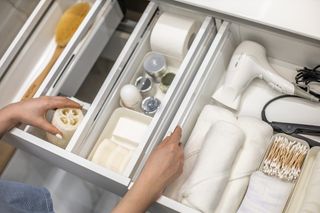 If you've got a vanity unit with drawers, make the most of all the space. Plan what exactly you will put in the drawers – from make up to hair dryers, and slot in the right size dividers to meet your needs. This design from Essential Living ensures every inch of the drawer is used.
4. Choose locker style storage to hide everything away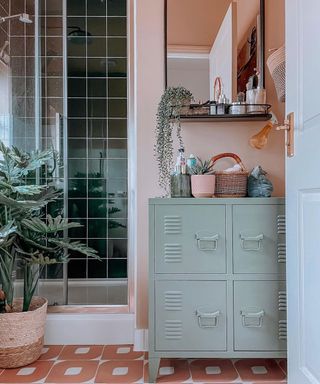 Don't be afraid to branch out into storage that isn't traditionally bathroom-y. This locker style cabinet is perfect for stowing away everything from towels to loo roll, and gives the space and cool and industrial edge too. Always ensure that it's protected from splashes and humidity.
5. Maximize every inch of space with built-in cabinets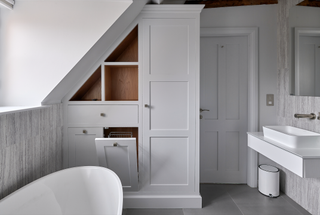 One of the best ways to increase the amount of storage in your bathroom is with built-in cabinets.
'Opting for bespoke storage means you can maximise every inch of space,' says Will Lyne Lead designer and owner of Christopher Peters Kitchens and Interiors. This is especially useful in awkward areas, like the space beneath the eaves in this bathroom. 'It would have been near impossible to find a ready-made unit to fit this space,' says Will.
'Bear in mind when considering bespoke cabinetry is the extended lead time. As units are being designed, hand-built and installed, this can often take a matter of weeks or, in some cases, months from enquiry to install,' he adds.
6. Choose slimline open shelving for an airy feel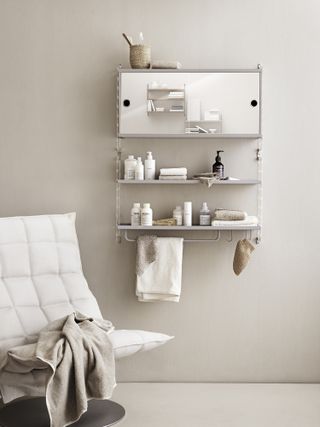 Just like in any other room, big, bulky or dark furniture can work to make your space feel smaller than it is – and in a small bathroom, that's the last thing you want. Minimal, fuss-free, barely-there shelving such as this shelving design from String Furniture is a great way to up your storage without taking up any floor space. The two in one design features a mirror cabinet too - bonus!
7. Double-up small bathroom storage baskets as decorative features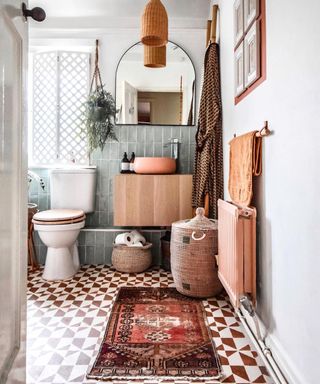 When it comes to small bathroom storage, you need to look to every surface because it all has potential. So, choose a laundry basket to store clean towels and act as a boho design feature in its own right. We love the shape of this fun and quirky design.
8. Go slimline to make the most of unused areas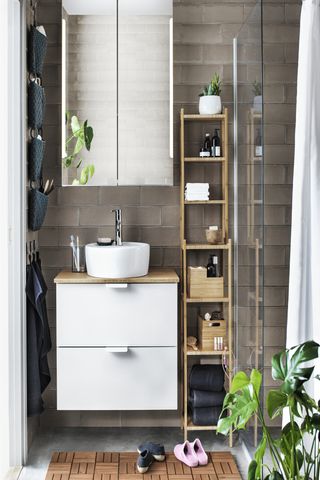 If your room lacks floor space, a tall, narrow unit will pack a punch in the small bathroom storage department, without taking up much room. In fact, you'll be surprised by just how much you can fit in it. The Ragrund shelving unit from Ikea (shown here, on the right) is just 33cm wide and will fit even the narrowest of gaps.
Top tip: in a small bathroom, positioning open shelving next to the shower screen like this is a clever way to ensure your baskets and towels don't get splashed.
9. Use shower walls for small bathroom storage too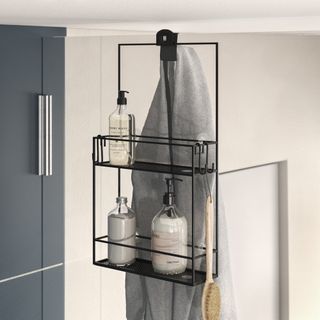 Whether you are renting (which makes drilling into tiles out of the question) or just don't want to make holes in your bathroom wall, there is an ingenious small bathroom storage idea: shower caddies.
This stylish Umbra Cubico black caddy from Wayfair hangs over the top of your shower, looks chic and is great for storing toiletries.
10. Hide toothbrushes behind a mirrored cabinet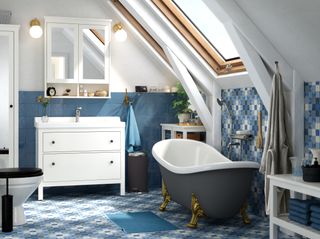 Revamping the room from scratch and looking for some small bathroom storage ideas? Anything that has a dual purpose is great for space saving and this three-in-one mirror, cabinet, and open shelf ticks all our boxes.
Love this bathroom? Make sure you check out our gallery of traditional bathrooms.
11. Build small bathroom storage into an empty space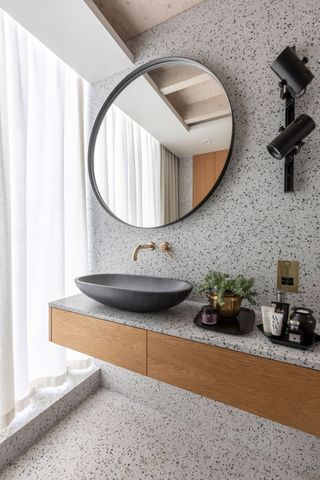 One of the best ways to maximize the potential of small bathroom storage is to use the otherwise ignored space beneath existing bathroom fittings for storage. A storage unit beneath a basin, however compact, is the perfect spot. Wall-hung furniture will always make small spaces look bigger.
Top tip: use trays on your countertop like this to order your decorative lotions and potions and make them into a design feature.
12. Opt for slimline storage baskets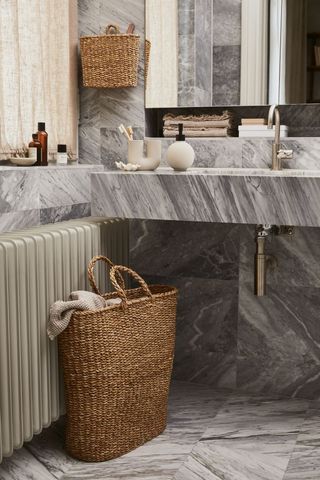 Doing up a small bathroom on a budget? One of the least expensive storage options is a plastic or canvas storage tub. Choose tall, narrow ones to save floor space, or shallow ones to tuck beneath a roll top bath. We love all the baskets over on H&M Home but this wicker basket from H&M Home is particularly cute.
13. Use a ladder rack for more than towels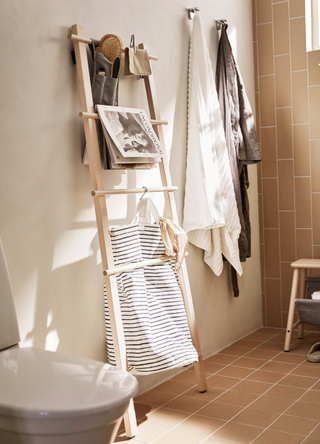 A ladder rack can - and, we think, should - double up as a shelving unit. That way, you can store all your toiletries in the same place as your hand and face towels, the perfect small bathroom storage idea. We love this affordable ladder shelf from Ikea.
14. Fit something small as a very small bathroom idea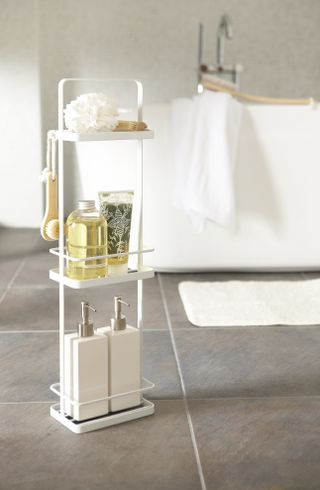 For some bathrooms, even the smallest drawer unit will still be too bulky. For a really minimalist approach, downsize. This Slimline Bathroom Storage Unit from A Place for Everything – at just 18cm wide – is the ideal small bathroom idea, it will hardly take up any room at all, but will still cope with all your bathroom basics.
15. Declutter with freestanding bathroom storage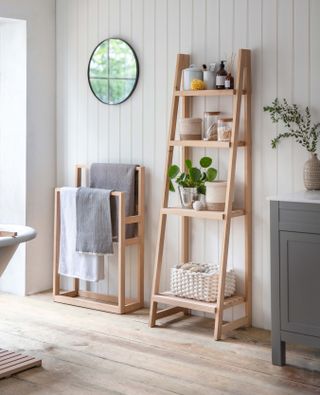 Ladder shelves like this are a great solution for displaying lots of useful or pretty things, without taking up too much room. A floor standing towel rail is especially useful in rented homes - giving your towels a place to dry without risking your deposit. Match up the shade of your wood like this for a spa like feel.
Top tip: when styling open shelves, use baskets on the lower half to hide away bulkier items and display decorative items up top, closer to your eye line
16. Pick a colorful laundry basket to double up as storage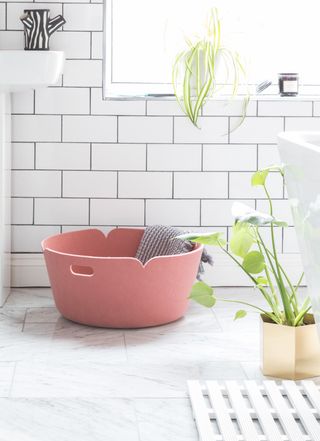 If you want a laundry basket that looks just as good in the bathroom as it does by the washing machine, choose one designed for both its looks and practicality.
The very cute Muuto Restore Round Basket is a neat, easy-to-lug option that can also be used for storing toiletries or clean towels. The eco-conscious will love that it's made from recycled plastic bottles, too. In a variety of colors from Nest.
17. Create a chic display with glass jars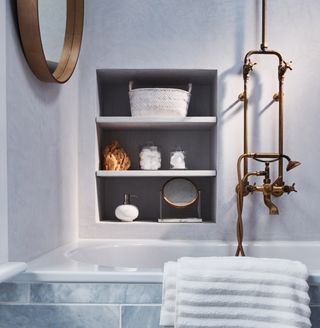 Jars make for great small bathroom storage ideas. Even in a small space, it's the small bits and pieces, like cotton pads and buds, that can create the most mess. Keeping tiny items in storage jars like these from Amazon makes them easy to reach for – and the jars look very handsome on a shelf.
18. Add slimline shelving above a sink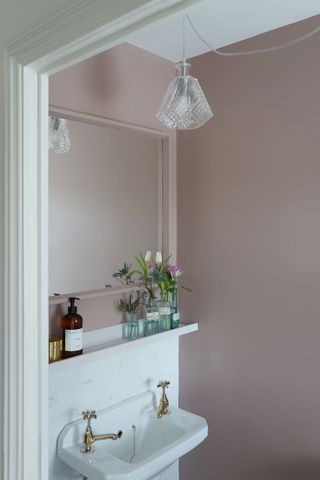 When space is really tight and you don't have room to wall mount any bathroom storage, look to the area above the sink, like in this pink bathroom. It's usually a dead space anyway and you can afford to wall mount storage that would stick out too far elsewhere in the room.
Opt for open shelves if you want to add some personality and decoration to the space, or choose a slimline cabinet if you need somewhere to hide potential clutter. fancy doing a spot of DIY? Our step-by-step guide to how to put up a shelf will show you the ropes.
19. Use a trolley for handy portable storage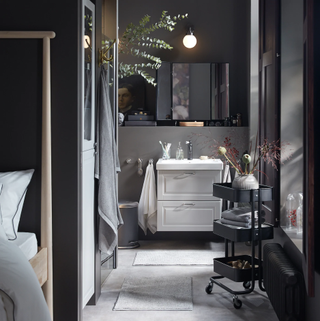 You know how we feel about the Ikea Raskog trolley. It's just so versatile. It's perfect for small bathroom storage, organizing your toiletries and hair styling tools. Plus you can obviously move it around the room so won't feel like a bulky permanent piece of storage furniture.
20. Choose stylish bathroom accessories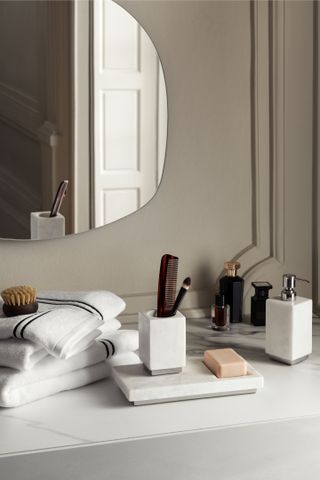 Just because your bathroom is small doesn't mean all your storage has to be super practical! It's important to have some stylish pieces in there too (that double up as handy storage obviously). H&M have some gorgeous small bathroom storage accessories for all the odd bits that float around your bathroom, so check those out for a quick stylish update.
21. Add shelving along a picture rail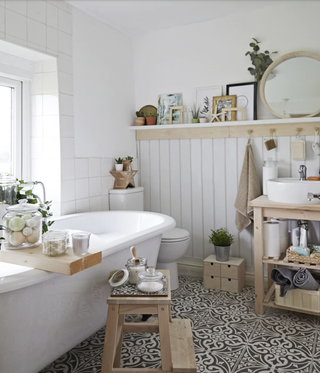 Another lovely small bathroom storage idea that isn't all about practicality. Shelving ideas that are a bit higher up in the room won't clutter the room as open shelving might. Use them to store essentials in nice glass jars and mix in prints, houseplants and your prettiest knick-knacks.
22. Use a stool for some cute rustic small bathroom storage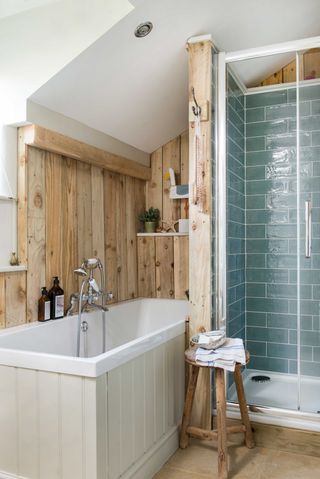 There's a lot of great small bathroom storage ideas going on in this space. Note the shelf in the alcove the hook on the dividing wall, even though there is so little room for any storage, some has been squeezed in.
What we love most in this bathroom is the stool – stools look great, but they also are a great place to store towels or toiletries and can be moved around the room too.
23. Maximize the space under the sink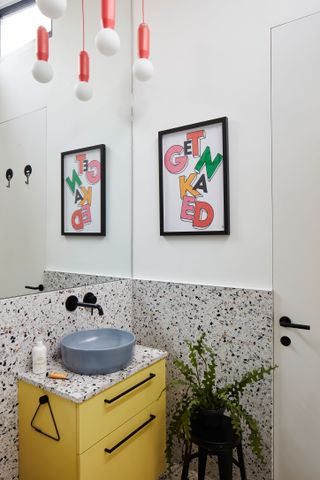 In the smallest of bathroom, say en-suites and powder rooms, you can't afford to waste the space under the sink. Be sure to pick out a unit that's compact but has as much storage as you can cram in – that means drawers or shelves.
Within drawers, you can use organizers to make the most of the space and if you have picked shelves, add in shelf inserts like these from Ikea to double up on the space. Add a towel ring to one side for handy towel storage too.
24. Add a basket instead of under sink storage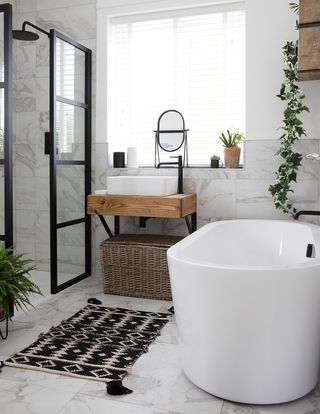 And if you just can't part with the chic look of a floating sink (we get you) then a simple basket with a lid can do a similar job. Pick a basket that's as big as your space can handle – they are perfect for storing towels and extra toiletries, plus they bring in some nice natural textures which is bang on trend at the moment.
25. Use vintage finds to store make up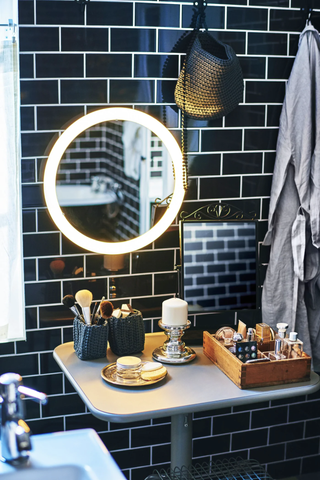 Loving this small bathroom storage hack – repurpose your cute vintage finds to store makeup and toiletries. Crates, retro milk bottle holders, antique printer drawers and even quirky old tins can all work as storage in a small space plus bring in some personality.
26. Repurpose second hand furniture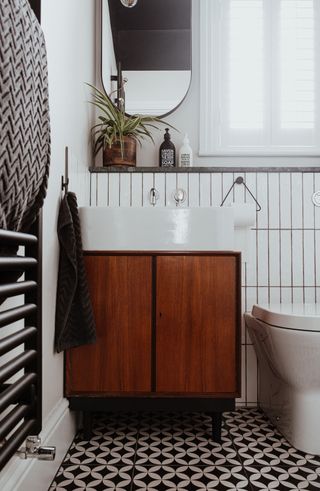 Another tip if you are wanting to bring some of your own style into a smaller bathroom is to create a vanity using vintage furniture. Hunt on eBay for a unit that fits into your space and then ask your plumber to sit your sink on top.
You could actually DIY it by cutting a section out of the top and back but only try this if you know exactly what you are doing. Here's how to upcycle furniture for a vintage look.
27. Pick a mirror that also has storage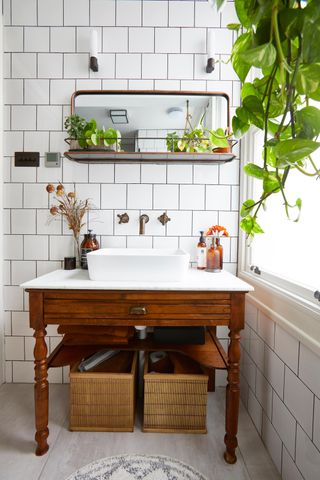 These two in one mirror/shelves are everywhere at the moment (check out Wayfair for affordable options). We love them because they look gorgeous, bringing that industrial vibe into the room, but they are also really practical for a small bathroom.
Use this shelf to keep your most-used toiletries, and if you can afford to give up the space add a hanging houseplant too for a touch of greenery.
28. For quick storage hang wall shelves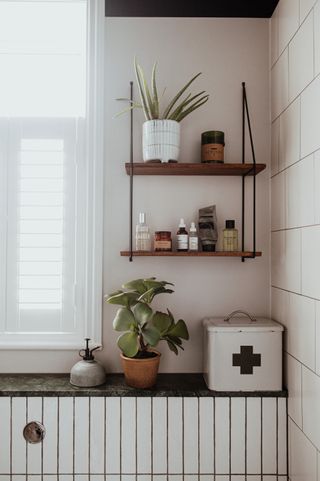 Shelves... The perfect small bathroom storage, especially if you are renting so can't do much else than put a few holes in the wall.
Wall shelves are ideal for small spaces because they take up zero square footage. They are also great for adding a bit of color and style into your bathroom because you can style them up with plants, prints and just the prettiest toiletries.
How do I add storage to a small bathroom?
If you aren't redesigning your small bathroom and just look for some quick fixes, freestanding units like ladder shelves and small sets of drawers are ideal. Look at any gaps there might be in your bathroom, maybe between units, under the sink, and fit a simple unit in there. Baskets are also going to be your friend for storing away any clutter you just can't find a home for.
If you are doing a bit more of a revamp and have more of a budget make sure you pick pieces that maximize storage. So make sure your sink unit has plenty of storage, if you are wall mounting a cabinet above the sink, be sure to choose something that's slimline but has plenty of shelving within.
How can I make a small bathroom more functional?
Alongside getting your storage spot on, have a declutter. Yes, that means going through everything you currently have in your bathroom and getting rid or moving out anything you don't need in there.
When thinking about bathroom organization, consider the best place to store everything. Towels on the back of a door, shower gels and shampoos in a caddy in the shower, spare toiletries in drawers or cabinets. Make sure everything has a place that works for you and stick to it.
Where can you store makeup in a small bathroom?
Trolleys are great for makeup storage because you can take your loot from bedroom to bathroom as needed. You can also add hair tools in there too – think of it as an all in one getting ready station.
Everything is at hand and accessible so no more smashed eye palettes, abandoned at the bottom of the drawer, or leaky foundations. Plus, a trolley can be a stylish addition to your bathroom.