Looking for small bathroom storage ideas? We get that in small bathrooms, effective storage is one of the hardest things to squeeze in, but you just have to be really clever about it. And there are plenty of storage options out there designed for small bathrooms. So, whether a space-saving built-in solution or a handy portable accessory is perfect for your space, even the smallest bathroom can be made serene and clutter-free with just a few inventive ideas.
For loads more tips and inspiration, from designing your bathroom from scratch to quick, budget friendly updates, head over to our bathroom hub page.
1. Double-up bathroom storage baskets as furniture
In a small bathroom, every surface has the potential to be used as storage. So, choose a laundry basket to store clean towels and, if the lid is flat and sturdy enough, it can double up as a table top for your hand soap and towels, too.
We like The Voyager Laundry Basket from Dunelm.
2. Choose slimline bathroom storage to save floor space
If your bathroom lacks floor space, a tall, narrow unit will pack a punch in the storage department, without taking up much room. In fact, you'll be surprised by just how much you can fit in it. The Ragrund shelving unit from Ikea (shown below, on the right) is just 33cm wide and will fit even the narrowest of gaps.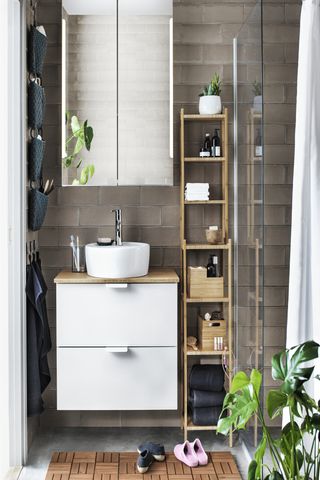 3. Use shower walls for storage too
Whether you are renting (which makes drilling into tiles out of the question) or just don't want to make holes in your bathroom wall, there is an ingenious small bathroom storage idea: stick on caddies.
This No Drill Plastic Caddy from House of Bath will stick to your tiles with a clever adhesive without damaging your tiles, and is great for storing toiletries.
4. Hide bathroom storage behind a mirrored wall cabinet
Revamping the room from scratch? If your bathroom has a cavity wall, you could create a pocket within it into which you can sink a storage cabinet. Better still, if the cabinet has a mirrored front, its bulk will be further reduced and disguised.
This compact Jarrow Wall Cabinet is doubly functional: not only does it contain multiple, customisable shelves, but it also has a mirrored front (that really does look like a smartly framed mirror. Available at Neptune.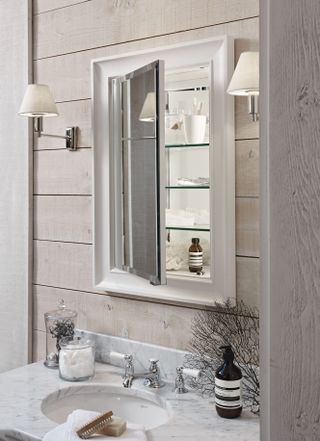 5. Build bathroom storage into unused space
One of the best ways to maximise the storage potential of a small bathroom is to use the otherwise ignored space beneath existing bathroom fittings for storage. A console unit beneath a basin, however compact, is the perfect spot. Want an extra space-enhancing tip for free? Wall-hung furniture makes small spaces look bigger.
Catalano's New Light Basin (pictured below) is a smart option; for similar products, try Victorian Plumbing and Ikea.
6. Accessorise with smart storage tubs
Doing up a small bathroom on a budget? One of the least expensive storage options is a plastic or canvas storage tub. Choose tall, narrow ones to save floor space, or shallow ones to tuck beneath a roll top bath.
We love these Nautical Storage Tubs by Gisela Graham; both functional and stylish, they will complement any bathroom style.
7. Ladder racks aren't just for towels
A ladder rack can - and, we think, should - double up as a a shelving unit. That way, you can store all your toiletries in the same place as your hand and face towels, perfect storage for a small bathroom.
We have our eyes on the compact and affordable Two Tier Ladder Rack from Sainsbury's.
8. Declutter with freestanding bathroom storage
If you would rather have all of your toiletries out of sight for a streamlined look, you can't go wrong with drawer units. Units in dark wood tend to look bulky, so choose whitewashed finishes for a space-stretching effect; wicker looks light and dainty, too.
This neat, four drawer unit by Water Hyacinth is the perfect find for a country style bathroom.
9. Hide cleaning products away
Cleaning products can be a distracting eyesore in a small bathroom, so storing them away in their own dedicated lidded box makes sense. We especially like the Shaker Style Cleaning Products Box from A Place for Everything; its slim proportions mean you can neatly tuck it between the loo and the wall.
10. Smallest bathroom ever? Still space for this...
For some bathrooms, even the smallest drawer unit will still be too bulky. For a really minimalist approach, downsize. This Slimline Bathroom Storage Unit – at just 18cm wide – will hardly take up any room at all, but will still cope with all your bathroom basics.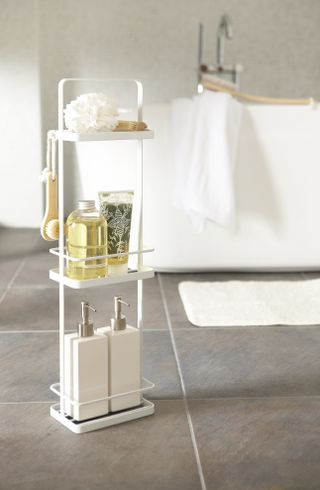 11. Find fun toothbrush storage for kids
If you are raising kids in a house with a small bathroom, organising toothbrushes can be a nightmare. Avoid the mess and confusion that ensue from using tubs or glasses – and add a decorative element to the room – with fun toothbrush holders (that might actually encourage to put them away rather than discard them by the basin).
These cute toothbrush holders are from A Place for Everything.
12. Makeup bags for those on the go
If you never know whether you'll have time to do your makeup before leaving the house, attractive makeup bags may well double up as a small bathroom storage idea. These canvas makeup bags from Sophie Allport are sturdy and smart enough to be used as storage at home, but are easily portable when you dash out.
Makeup all over the place? Don't miss our 10 nifty makeup storage ideas.
13. Move from bathroom to laundry day – stylishly
If you want a laundry basket that looks just as good in the bathroom as it does by the washing machine, choose one designed for both its looks and practicality.
The very cute Muuto Restore Round Basket is a neat, easy-to-lug option that can also be used for storing toiletries or clean towels. The eco-conscious will love that it's made from recycled plastic bottles, too. In a variety of colours from Nest.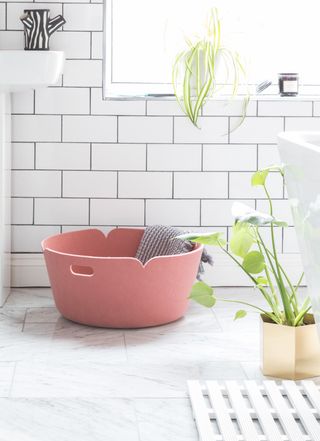 14. Create a chic display with glass jars
Even in a small space, it's the small bits and pieces, like cotton pads and buds, that can create the most mess. Keeping tiny items in storage jars makes them easy to reach for – and the jars look very handsome on a shelf.
We like these storage jars from Sainsbury's.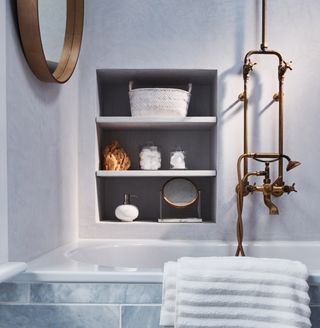 15. Invest in all-in-one small bathroom storage cabinets
If you choose to have just one piece of bathroom storage, what should it be? If you ask us, nothing beats a narrow shelving unit with a cabinet at the bottom to hide away your less desirable bathroom products.
Store all of your towels, toiletries and cleaning products in one place with the very good-looking Oliver Tallboy or Oliver Storage Unit from JD Williams.
16. Look for clever small bathroom towel storage ideas
Brilliant for saving space on the wall of a small bathroom, this three arm Brogrund towel holder by Ikea can be swivelled left or right to suit your space, and the arms are extendable to be able to hold bath towels as well as hand towels. Clever.
17. Add slimline shelving above a sink
When space is really tight and you don't have room to wall mount any storage, look to the area above the sink. It's usually a dead space anyway and you can afford to wall mount storage that would stick out too far elsewhere in the room. Opt for open shelves if you want to add some personality and decoration to the space, or choose a slimline cabinet if you need somewhere to hide potential clutter.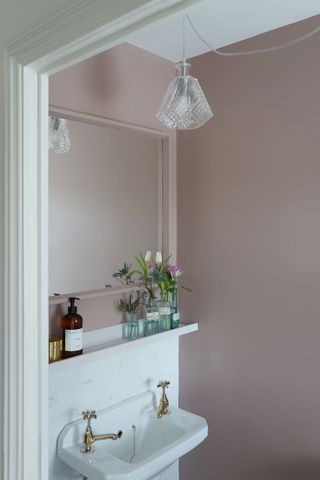 Read more: