If you're looking for bathroom tile ideas then you're in the right place. Whether you're renovating your bathroom and starting from scratch or simply looking to change the look of your space without completely overhauling it, bathroom tiles can be a great place to start.
Tiles are versatile and can enhance all types of bathroom space, big or small, so whether you're looking to brighten up yours, create the illusion of space or just add more charm to a family bathroom, you'll be able to find a design and style of tile that works for you, your project and your budget.
Keep scrolling and feast your eyes on the latest look for this year, and from two-tone walls to glossy finishes, you'll be able to bring your favourite look to life. Then for more bathroom ideas you can count on our exceptionally beautiful feature for spaces big and small.
1. Choose wood effect bathroom tiles for a warm feel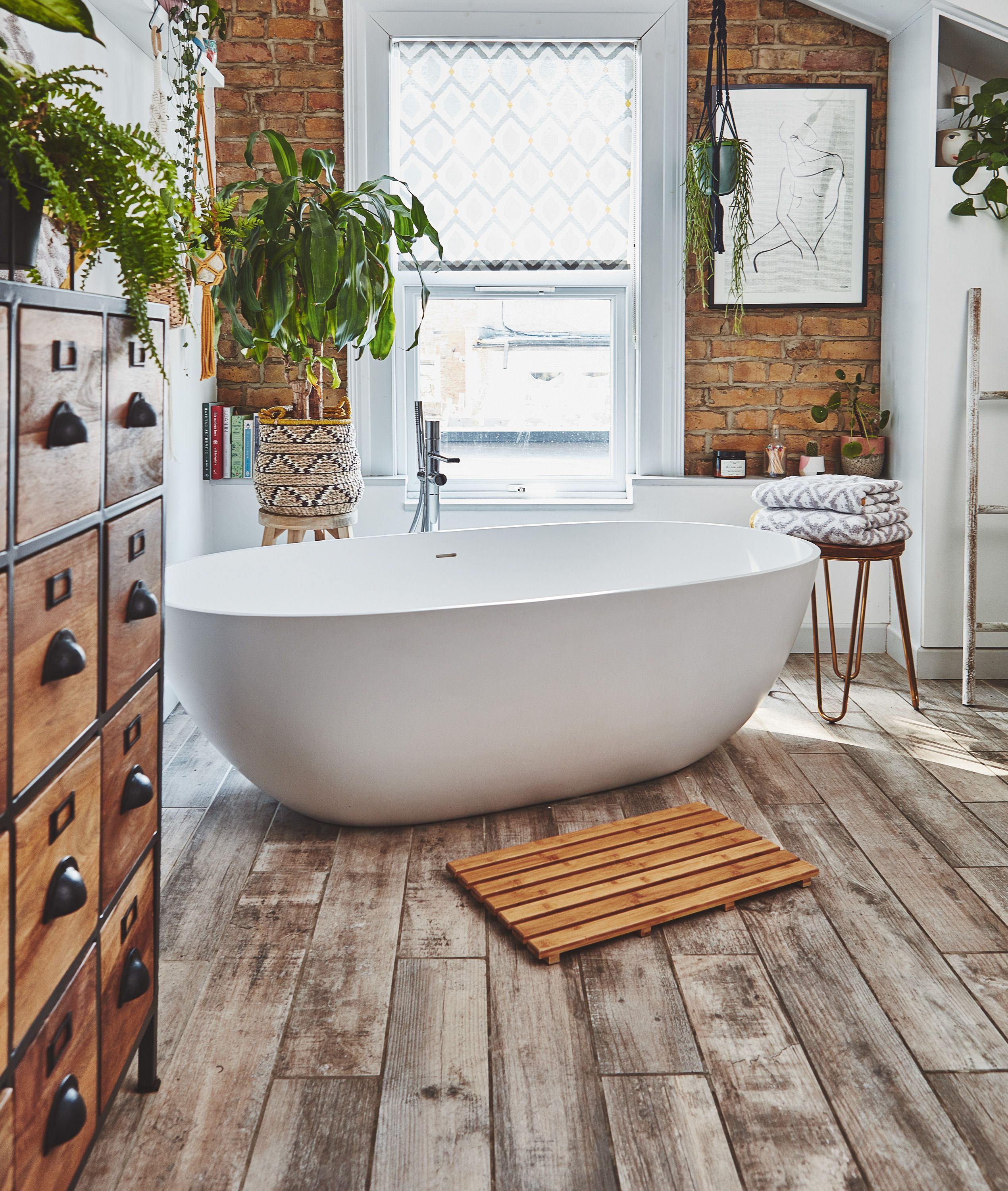 We love the look of bare floorboards in a bathroom, but they aren't always the most practical choice. You can however get a very similar look using tiles – easier to clean, wear better but still add that warmth and rustic vibe to your space. 
2. Create a rustic design with a subtle floral
Oooh, loving the muted grey greens going on here, and all the wood too, so natural and rustic. Bathroom tiles didn't always be sleek and contemporary looking, you can create a more traditional, farmhouse look in your bathroom too – these gorgeous tiles are from Fired Earth. 
For more traditional bathroom ideas check out our full feature. 
3. Go glossy with a glazed bathroom tile design
We never thought we'd be rooting for glossed bathrooms, but we love the look of this tiled sink area, brought to life by the Zellica collection from Topps Tiles . Inspired by majolica pottery, the rustic-feel tiles have a glazed finish for the ultimate combination of modern and traditional. With a range of colours, including this gorgeous earthy bronze, we're sold.
If you do want a hand with bathroom design then we can help you start from scratch too.
4. Nod to opulence with green and gold
As much as we love the spa-like natural stone and traditional monochrome that's inspired bathroom design for years, we are all up for having gorgeous jewel tones in this space. If you're into luxury bathrooms, then these forest green beauties from Topps Tiles are for you. They're super classy and will add a sense of grandeur to your bathroom space. If you're more of a minimalist, this will work beautifully with white and natural wood for a clean finish that's still super luxe.
 5. Use reflective bathroom tile ideas to bounce the light
Using bathroom tiles with a shimmering, multi-tonal effect is a super retro way to add texture, depth and dimension to a space. Plus, they will reflect light more than tiles with a flat finish. Picking small mosaic tiles can make a bathroom feel busier, so try these on one or two walls for smaller bathrooms, while bigger spaces can use them a little more liberally. 
6. Create interest with pattern
Patterned tiles can do so much for a bathroom space. Go for a graphic design – like this horizontal(ish) stripe – that you can stretch across a couple of walls in a smaller bathroom to trick the eye, while in a large space, this level of detail will add heaps of charm and character to make this room a little more inviting too. It's a win win situation. 
For more small bathroom tile ideas we can help. 
7. Go for two tone bathroom tile ideas
You've done the whole two-tone thing with paint, but how about using the same concept in your bathroom with tiles? This design from Walls & Floors uses their unique Pickett bevelled tiles – a cross between brick and hexagon-shaped tiles – to create the effect, and a patterned floor stops the room from feeling too clean cut.
8. Try a new take on a classic blue bathroom
There was a time when if you'd say bathroom, you'd think blue. We are not dismissing blue as a bathroom colour, but we are suggesting the clever use of tiles to introduce blue in a more subtle and interesting way. The large and stretched blue patterned tiles here help elevate the space, and having a different painted shade of blue on the joining wall, makes this bathroom anything but blue.
Psst... we have loads more ways to improve your bathroom, to help a small bathroom to look bigger. Go take a look!
9. Go for a statement wall behind the bath
Using bathroom tile ideas is a simple way to create a statement wall. Inexpensive – ideal if you need bathrooms on a budget – yet sure to deliver maximum effect,,aim to create a feature wall that frames the bath, and keep the other walls simple to really make yours stand out.
10. Go for a classic grey bathroom tile design
Grey is (still) everyone's favourite colour these days; we have grey bedrooms, grey living rooms, and, yes, many of us have grey bathrooms too. To counteract the potential for a cold looking room, combine grey tiles with a warm oat or rusty shade, and be a little bolder with how you lay your tiles. 
A vertical column of tiles is a great way to enhance a beautiful sink, while you could even take grey to the floor too by introducing large format, fuss-free tiles. If you need some advice on choosing bathroom floor tiles, be sure to go and check out our guide. 
11. Or go for a dark and moody colour scheme
A black bathroom can look very chic and tiles can be just the way to introduce this trend into your space. Plus, keeping to just one colour means that you can really go to town with different textures and patterns. Pick colourful or warm metallic contrasts for bathroom furniture, towels and accessories to lift the scheme, while good bathroom lighting, large mirrors and more to warm the space up will help bring the whole look together, too.
For plenty of bathroom lighting ideas and advice we can help.
12. Team pattern with coloured bathroom tiles
Want to introduce colour and pattern to your bathroom walls? Picking a bathroom tile design with a warm colour scheme – like this dusty rose – will make the space feel welcoming; sticking to very plain finishes (whether towels, bathroom window treatments or flooring) and sleek lines elsewhere in the room will help it feel as big as possible, too.
13. Make metro tiles work harder
Metro tiles are forever fashionable, but you need to try a little harder with them to ensure that your bathroom isn't just another metro tiled bathroom. How? Choose a coloured tile and play around with grout colours too, while you could enhance the area furthermore by lining it with another bolder colour. The strong horizontal lines here against the gorgeous, borderline avocado green metro tile create a really interesting take, on a classic look. 
If you love these classic tiles as much as we do, go and check out these beautiful metro tile patterns and ways to use them. 
14. Choose a unique bathroom tile shape
The pointed edges add a subtle twist and create a smooth finish on this bathroom wall, and we love the deep blue colour. We reckon it'd look even better with a contrasting tile thrown in here and there – a simple white or paler blue, maybe. You can shop these ceramic Concorde tiles at Porcelain Superstore. 
15. Create a wall to floor contrast
Want to introduce dark tiles while keeping the bathroom as light, bright and spacious-feeling as possible? This is the perfect tile combo: dark bathroom floor tiles and pale-coloured bathroom wall tiles. 
16. Pick an all-over tile in a shower room
Got a shower room or wet room? Using the same tile throughout will give you a smart, contemporary look that makes for super-easy cleaning too. Choose an off-white tile with a marble effect for warmth, texture and interest. 
Find more wet room design ideas in our gallery.
17. Make your shower stand out with scalloped tiles 
As we have mentioned, you don't need to tile a whole load of space in a bathroom for it to have an impact. Try instead using a bold tile, in a brave shade or interesting shape, for the inside of your shower. Scalloped tiles are such a big trend right now (in fact they even made it into out round up of the top interior design ideas), and these Syren tiles from Topps Tiles come in five glorious sea-inspired hues. 
18. Say yes to sunset bathroom tiles
This very cool bathroom has been created by a very clever choice of sunny floor tiles. The fading colours draw the eye to the end of the room, giving the illusion that the room is longer than it is, and running the tiles up the side of the bath lengthens the room further. We love the sunset colours used here but if you are more into a monochrome bathroom this would work really well fading black into white.