Whether you live on your own or with your family, good storage is key in the bathroom – especially for those mad moments when everyone is trying to get ready for school and work.
Clever storage ideas and storage units are the answer whether you like freestanding or fitted. And remember to consider using your walls for hanging things from too. If your bathroom is small then floor space should be kept clutter free and if you don't want to 'see' your bathroom essentials then opt for built-in units that can be made to suit your needs. Or, if you're on a budget then stylish baskets, hanging rails and slimline caddy will work wonders.
1. Laundry basket
We all have clothes waiting to be washed, so until laundry day hide them away in this smart Inya rattan laundry bin from Kalinko. It's elegant with characterful charm and will keep your bathroom looking stylish and tidy at the same time.
2. Ladder shelf
Ladders are a really useful item to have in a bathroom, whether as a purpose-built shelf, or an actual ladder for flinging towels over. You can get different widths to suit your space. The grey leaning shelf from Sue Ryder is perfect if space is of a premium and also comes a three tier design. It has flat-shelf slats to keep your towels, lotions and plants on. It will need to be attached to the wall for safety.
3. Bathroom storage chest
This pretty little storage chest is the ideal bathroom storage solution. The deep drawer will hold a generous amount of bathroom paraphernalia and the bottom shelf could be used for storing fresh towels. Angelique wide chest, £439, Willis & Gambier.
4. Clothes dryer
Multipurpose pieces are always a great find. This extending clothes dryer in chalk from Garden Trading is practical and stylish. It has a pull out section of 10 zinc rails for drying your clothes on, a shelf for bits and bobs, and six knobs for hanging up towels and bath accessories. It also comes in charcoal, £145.
5. In-shower storage
Instead of treading on your shampoo and trying to find the shower gel with soap in your eyes, treat yourself to the Simplehuman Tension shower caddy from Lakeland. There's a reinforced aluminium pole with rubber feet and a high compression spring so it's sturdy and can be extended to fit all ceiling heights up to nine feet. The shelves can be tailored to suit you and there are extra hooks for flannels.
6. Hanging baskets
This ingenious idea from Ikea ensures you keep your bathroom essentials up and out of the way. All you need is their SVARTSJON hook rack, £4, and the NORDRANA set of baskets, £6 – each one is handmade and you have a stylish storage system that you can keep hair and makeup tools in.
7. Bathroom caddy
Clutter free is the key! Caddies are a great idea for saving space and this smart three-tier design from The White Company will fit a modern scheme perfectly. It has a high gloss finish in a wipe-clean, water-resistant white finish. The three shelves are a good size and the handle means you can move it around easily, £145.
8. Tall bathroom cabinet
Another great space-saving idea is to buy a slimline tall boy. We're not all lucky enough to have large bathrooms so this design is a fantastic solution. It will fit into the smallest space and the six shelves and single drawer will hold a lot of bathroom bits and bobs.
Stow white bathroom cabinet tallboy, £79, Noa & Nani, other matching pieces available.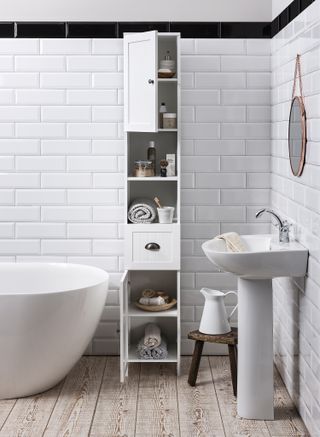 9. Wall shelves
Anything that keeps things off the floor is a good bathroom storage solution. The industrial style of this Farringdon double wall shelf in steel, £60, by Grace & Grey is perfect if you follow trends. It's inspired by old school railway carriage shelving so it has a great retro feel to it.
10. Freestanding washstand
The advantage of freestanding is that you can move it around to suit you, obviously that depends on plumbing points but they're a good option for a more open plan style bathroom. The Edinburgh undermount open washstand, £1,400, from Neptune is topped with marble and comes in three other sizes to suit any bathroom.
11. Under sink drawers
The downside to sink units can be that the actual sink takes up too much room leaving you with hardly any space underneath. This Green Up 120 basin unit from the iNova range is cleverly designed with its shallow sink to allow you plenty of storage space in the two drawers below. It has a smart, matt white finish and it's from Catalano.
12. Bathroom towel storage cabinet
Rustic style cabinets make for great towel storage solutions! Good places to source them include reclamation yards and antique autions, but if you fancy a newer option then try Scumble Goosie and The French Bedroom Company. Seen here are luxury deep pile towels from Christy, prices start from £5.
13. Toothbrush storage
Don't forget about the smaller items – for a neat and tidy bathroom it's a good idea to give absolutely everything a place. This smart Japanese designed toothbrush and toothpaste holder, £7, in mist has deep slots for six toothbrushes and one tube of toothpaste. It comes from Store, which has some really great storage solutions.
14. Wall unit with mirrors
It's always a bonus finding a storage solution that has a double use. Bathroom Takeaway's Smooth Ivory 700mm wall hung mirror cabinet will fit into a classic style bathroom and features two shelves with mirrored doors. Place it high up, away from small hands, and you can keep first aid bits in it as well as bathroom essentials.
15. Heated towel rail
This clever washstand also doubles up as a heated towel rail and acts as a mini radiator. The streamlined shape ensures it's the ideal solution for a small bathroom where space is an issue. It can hold small hand towels on the sides or a couple of medium sized ones on the front two rails. Holborn heated washstand with basin, £295, Frontline Bathrooms.
16. Towel holder
Whether you're looking for ideas for a cloakroom or normal sized bathroom, towel holders are a good option. Simple yet effective, this square towel ring has a modern style and finish and can be mounted right next to the sink for easy use. It's priced at £45 from The Pure Bathroom Collection.
17. Simple stool
The humble stool is a great addition to a bathroom. It's a fantastic little seat if you're watching the little ones in the bath, or you can use it for keeping freshly washed towels in easy reach. This dipped teak stool in black, £145, is handmade from bleached teak and has feet dipped in black paint for a unique look, Out There Interiors.
18. Wirework shelf
Wirework storage designs are very popular right now, their rustic appeal works in most rooms including bathrooms. This unit has four good sized shelves and can be used for storing flannels, spare soap and perfume bottles. Large industrial wirework shelf, £59.95, Live Laugh Love.
19. Floating storage unit
The Easy Oak column 35 from Tikamoon, will give the illusion of space as it's off the floor and gives the impression of 'floating'. The minimalist design will give your bathroom a modern look and the natural colour and textured feel of the oak creates a warm feel. The column features five generous shelves making it ideal for storing towels and your bathroom favourites on.
20. Designer loo roll holder
Look out for fabulous ideas that give mundane every day items a new lease of life! Designed by Bertrand Jayr, this concrete, sand and fibreglass mix shelf will keep your loo rolls out and on display with a sense of fun too. It comes in two sizes and prices start from £125. Cloud toilet paper shelf, Limelace.
21. Built-in storage
Choosing purpose-built units is a great way to maximise the space you have. Bespoke options can be fitted floor-to-ceiling and they also help to hide pipework under sleek looking units. They create a more streamlined look that's easy to keep clean and tidy.
Shown here; 600mm Semi-recessed basin unit, light grey, £279, 600mm back to wall WC unit light grey, £349, 300mm tall unit, light grey, £379, 600mm wall cabinet with mirrors, light grey £329, 600mm wall cabinet with mirrors, light grey, £329, Sphere rimless wall hung WC excluding seat, white, £250, Sphere WC seat white, £79, dual flush plate chrome, £129, Crystal basin mono chrome, £169, 1200mm Quattrocast basin left hand white, £299, Britton Bathrooms.
22. Beautiful bathroom storage baskets
If your bathroom is large enough you can keep pretty baskets on the floor and use them to store towels, haircare, cotton wool, skincare and general bits and bobs.
They'll add colour and texture to the scheme and you can use them as a decorative element as well as practical. These charming rope designs are by Soak & Sleep and they are soft and flexible enough to be folded up when not needed.
23. Bathroom wall storage
Make sure you maximise the space on your walls, especially if your bathroom is space compromised.
John Lewis's House range have a great collection for bathrooms, we love these contemporary style wall-mounted storage boxes and shelves that come in blue grey and navy. They are uncluttered and will suit modern schemes.
24. Traditional bathroom vanity unit
Opt for storage collections that match for a cohesive look. Renowned bathroom company, Thomas Crapper, have great storage solutions with integrated sanitaryware like this classic Regent 635mm washbasin unit which is part of a matching range that also comprises a tall unit, framed wall mirror and mirrored wall cabinet.
25. Over the toilet storage
Make the most of all the space you have – even utilise the area behind the loo by using fitted furniture to hide the cistern and create extra storage at the same time.
The Aruba Alpine Elm range is inspired by Scandi design and has a light and airy feel. Seen here is 800mm wall mounted basin unit with ceramic basin, £905.50, Aim basin mixer, £115, Accent back to wall WC with seat, £407.20, 600mm standard back to wall WC unit, £414, and two 200mm standard depth floor cupboards, £230.80, Roper Rhodes.