If you aspire to a relaxing bathroom that's free from clutter, these bathroom storage ideas could be exactly what you are looking for. It may seem like there is a lot of stuff that needs stowing away in a bathroom – the towels, hair products, medicines and the rest – so you might be pleased by how you can make storage a practical and attractive part of your scheme.
First, take time to purge your bathroom of unused products, before you decide what kind of simple storage and practical bathroom furniture you need. Whether you're designing a bathroom from scratch and are looking for ways to maximise space, or need stylish, but affordable options to suit a budget-friendly bathroom, there's a storage solution to suit all.
1. Choose a stylish laundry basket
A pretty laundry basket can be used to not only store clothes that are waiting to be washed, but also bring colour to a bathroom. Alternatively, if you keep your laundry elsewhere, you could use a large lidded laundry basket for extra towel storage.
We love this Inya rattan laundry bin from Kalinko. Adding a texture like this is a great way to break up the hard, shiny surfaces of a bathroom.
2. Maximise vertical space with a ladder shelf
Ladders, with their vertical proportions, are a stylish but functional bathroom storage idea – particularly if space is at a premium. Whether as a purpose-built shelf perfect for storing bathroom essentials or an actual ladder that's ideal for storing towels, there are different widths designed to suit every bathroom.
With its slimline design, this wood finish ladder shelf from Dunelm is a practical option for storing towels when propped against a wall.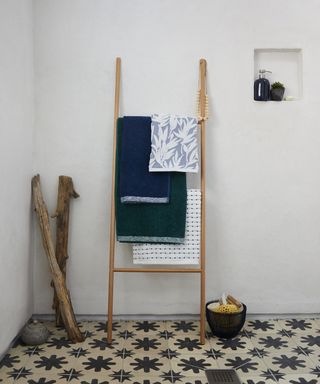 3. Choose a bathroom storage chest for a relaxed, unfitted look
Looking for an unfitted bathroom storage solution? Pretty chests with simple silhouettes are a stylish choice for larger bathrooms. Opt for a unit with deep drawers if you're looking to store generous quantities of bathroom essentials, or fresh towels.
We love this Angelique wide chest from Willis & Gambier. The open shelf is perfect for towels or baskets of your favourite toiletries, while the drawer can be used to hide anything that isn't as easy on the eye.
4. Find multifunctional bathroom storage options
Multipurpose pieces are a must if your bathroom is small or used as a laundry/utility space as well. For example, the bathroom may be the only available space in the house suited to storing cleaning goods and drying washed clothes.
This extending clothes dryer, available at Garden Trading, has a pull-out section of 10 zinc rails for drying clothes on, in addition to a shelf suitable for bathroom essentials and space to hang towels or bath accessories.
Check out more storage solutions for small bathrooms.
5. Fit in-shower storage
Looking for a simple and inexpensive way of tidying up your shower? Versatile and easy to install, shower caddies are designed to help you get organised quickly. They also mean everything you need for your morning wash is in easy reach.
We love this chrome plated Three Tier Wire Caddy from Next. Hang in the shower, or hook over a cupboard door for additional storage space.
6. Hide clutter in hanging baskets
If you do not have room for fitted cupboards, make use of any wall space by fitting a hook rack. This versatile bathroom storage idea can be used for holding baskets full of your products, or for hanging jewellery from. Understated and stylish, they're an easy addition to any bathroom and make the perfect hair tools and make-up storage.
Want to replicate this look? All you'll need tare the SVARTSJON hook rack and NORDRANA baskets, both from Ikea. You can use it for hand towels too!
7. Keep a bathroom caddy to hand
The ultimate tidying aid, caddies are a great bathroom storage idea for saving space. Slide one down the side of the toilet for spare loo roll, or keep it stocked with your bathing essentials and hide in a cupboard, only to be brought out at bath time.
For ease, make sure to choose one that's wipe-clean and water resistant, before stocking up with bathroom bits and bobs. Find this three tier Bathroom Caddy at The White Company.
8. Choose slimline solutions for small spaces
Designed with narrow spaces in mind, slimline shelving is a must for small bathrooms. A combination of open shelving and closable cupboards is the ideal, allowing you to display prettier pieces and hide away the more unsightly bathroom necessities.
If you like the look of this Stow tallboy bathroom cabinet, find it at Noa & Nani.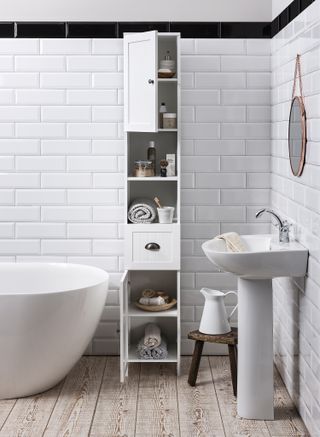 9. Clear the floor with wall shelves
Keeping clutter off the floor will take you one step closer to a neater and more spacious bathroom. Arranged with a combination of lovely looking bathroom essentials and more decorative pieces, a shelving unit is a simple yet effective bathroom storage solution.
Inspired by old-school railway carriage shelving, we love the industrial style of this Farringdon Double Wall Shelf from Grace & Grey. Put your poshest toiletries on display with a plant or two for the perfect shelfie.
10. Choose a classic washstand
If you need the storage space offered by a fitted vanity unit but want to maintain the more relaxed appeal of unfitted furniture, there are compromises that can be made. Choose an under-mount washstand with an open shelving unit. This can be dressed with wicker baskets and folded fresh towels for a boutique hotel feel.
Available in three sizes, we love this Edinburgh Undermount Open Washstandfrom Neptune.
Love this look? Go and check out the best vanity units for more inspiration.
11. Use large under-sink drawers for space efficiency
The downside to built-in sink units can be the sink taking up too much room, leaving minimal storage space underneath. When choosing a unit, it's important to opt for something with deep drawers and ample storage potential. Drawers like the one below from Crosswater are ideal for bottles of bathroom cleaner and taller items.
The City Furniture Range, available at The Pure Bathroom Collection, is cleverly designed with its shallow sink to allow you plenty of storage space in the two drawers below. Its stylish wood finish is perfect if you are designing a contemporary bathroom, too.
12. Upcycle a towel storage cabinet
If your bathroom is large enough to allow it, rustic style cabinets make for great towel storage solutions and can be acquired for relatively little at reclamation yards and antique auctions. Don't be put off if the finish or colour isn't your style, you can always paint it – just go and have a read of our guide to painting furniture.
If you're looking for a newer alternative, try Scumble Goosie or The French Bedroom Company. You can also use it for storing baskets full of makeup.
13. Decorate a space with small bathroom storage solutions
For a neat and tidy bathroom it's important to give everything a place, not forgetting the smaller items. Hair accessories, razors and tootbrushes of course don't need much space, but they do need to be conveniently placed for use – so whatever you put them in needs to look the part.
This smart Japanese designed toothbrush and toothpaste holder, £7, has deep slots for six toothbrushes and one tube of toothpaste. It comes from Store, which has really great bathroom storage solutions (as you'd expect from the name).
14. Get a two-in-one wall unit
It's always a bonus if you can find a bathroom storage idea that serves more than one purpose. Mirrored cabinets do just that, storing bathroom essentials while hosting a practical mirror that not only helps you put your face on, but will also make a space seem larger and lighter.
If you have a classic style bathroom, the Hemnes Mirror Cabinet from Ikea is a great option. The handy shelves underneath can be styled with your prettiest accessories.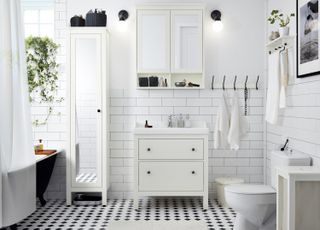 15. Free up wall space with a heated washstand
We all know a heated towel rail heats the room and holds your towels, but this clever washstand holds a sink and a shelving unit too, making it a four-in-one solution suited to small bathrooms.
With its sleek and stylish design, the Large Basin Wash Stand from The Pure Bathroom Collection would be equally suited to a traditional-style bathroom as it would to something more contemporary.
16. Position a towel ring within arms reach
Simple, yet practical, a towel holder is a must for an organised and functional bathroom, but all too often overlooked when thinking of bathroom storage ideas. Choose something with a simple silhouette and mount within arms reach (literally) of your sink.
Find this modern Balugen towel ring at Ikea. Don't forget to put one next to the shower too to if your towel rail is not nearby.
17. Search for a simple stool
The humble stool is a great addition to a bathroom. It's a fantastic little seat if you're watching over your youngsters at bath time, or can be used for keeping freshly washed towels within easy reach.
This dipped teak stool is handmade and available at Out There Interiors. Used alongside a freestanding bath, it provides a temporary place to hold your shampoo or showergel while you bathe.
18. Choose a wire storage unit for an industrial feel
With an industrial feel, wire storage units are on-trend and make a great addition to more minimalist bathrooms. They're easily attached to the wall and provide ample storage for more attractive bathroom essentials. The open wire design is also the perfect bathroom storage idea for holding anything slightly damp that needs to dry.
This unit has three good sized compartments that can be used for storing flannels, spare soap and perfume bottles. Find it at Not on the Highstreet.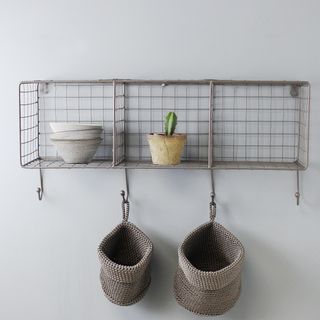 19. Free-up floor space with a floating storage unit
Floating storage units are an effective option for creating the illusion of space and work particularly well in more minimalist spaces. Opt for a model with plenty of shelves for storing folded towels and bathroom bits and bobs.
We love this Easy Oak option from Tikamoom, with its modern oak finish and generous shelving. It both displays and screens the things it stores.
20. Find an alternative for storing toilet roll
Toilet roll is a bathroom essential that requires an effective storage solution. If you can't stow them away in a cupboard, why not make them a design feature?
Looking for a solution that makes a statement? How about this Cloud toilet paper shelf from Limelace. Pop it above the loo so nobody ever forgets to change to roll again!
21. Invest in built-in storage to maximise space
Purpose-built units are a great way of maximising space you have, no matter the size or shape of your bathroom. Bespoke options can be fitted floor-to-ceiling, with their sleek finish helping to hide pipework. This is the best way to add storage to every inch of your bathroom without overwhelming the space.
For a similarly sleek finish, try Britton Bathrooms. the mirrored and gloss doors reflect light, lowering the impact of having walls covered in cabinets.
22. Beautiful bathroom storage baskets
If your bathroom is large enough, consider grouping pretty rattan or wicker baskets together – they make the perfect home for towels as well as hair and skincare products, while adding colour and texture to your scheme.
We love these charming baskets from Soak & Sleep, which can be easily stowed away when they're not needed. Top tip: they are the perfect place to fling all of the kids' bath toys next time you fancy a relaxing soak.
23. Make the most of bathroom wall storage
It's important to make sure you're maximising wall-space, especially if your bathroom is small. If you are renting, easily attachable shelving might be worth a thought as it effectively declutters a space without causing any structural damage.
John Lewis' House range has a great collection for bathrooms; we love these contemporary style wall-mounted storage boxes and shelves that come in blue, grey and navy.
24. Traditional bathroom? Match your vanity unit
Opt for storage solutions that match for a cohesive look that will make your bathroom seem more considered and less cluttered.
Bespoke designers Scrumble Goosie are a great starting point.
25. Don't forget over the toilet storage
Fitted furniture is a great bathroom storage idea if you want to make the most of the space you have, particularly around the toilet where the cistern can be hidden and extra storage space created.
Inspired by Scandi-style design, the Aruba Alpine Elm range has a light and airy feel.
26. Build an under-sink storage shelf
Designed a minimalist bathroom and wondering where to put all your bathroom bits and pieces? You can retrofit a smart shelf like this easily – it's the perfect spot for everything from towels to bottles. Towels and accessories, George Home.
27. Get organised with peg board
It's no secret that we are big fans of peg board. It's super versatile, looks great and doesn't take up much space – perfect if you are working with a smaller bathroom. This pegboard is from Kreisdesign, and it comes in natural birch plywood, white, green, grey or blue. It comes with a shelf and six pegs included, but you can add on more accessories to suit your bathroom storage needs.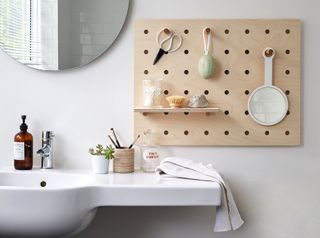 See more great ways to keep clutter at bay: