If you are searching for bathroom lighting ideas, then we have you covered. Getting your bathroom lights right is key to creating a space that's most importantly practical but also looks great too.
You should start planning your bathroom lighting by look at how you use your bathroom. Think of the times of day when you will be there, and whether you have high levels of natural light to play with. Then consider the ambiance you want to create, and when. Are you looking for a lively and energizing space, or for a more relaxing and therapeutic bathroom? The choice is yours. And with the many bathroom lighting options around, including smart lighting and the likes, you will be able to bring your dream bathroom space to life.
'As with most areas within a house, good bathroom lighting will transform the look and feel of a bathroom. Planning your lighting scheme is important – think about what times you generally use your bathroom and whether natural light is available.' explains Chris Jordon, Managing Director at Christopher Wray.
'Task lighting needs to be considered around mirrors so that you have plenty of light around when shaving, cleaning or applying makeup. You should always choose lights that will illuminate without causing shadows. LED strips or directional lights work well to highlight a feature whereas wall lights are great for ambient lighting.'
Remember too, that any electrical fittings will need the correct IP rating and you'll want to illuminate key fixtures like your basin, inside of shower and around the bath, plus any alcoves and vanity areas to get the best use out of your space. We've considered all you need to know and combined the practical side of lighting with the most sought-after bathroom looks below so just keep on scrolling to get inspired...
1. Look to bathroom mirror lighting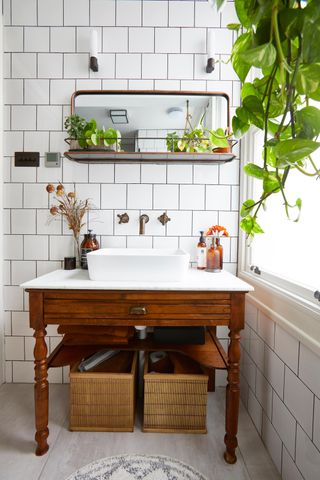 Want to actually be able to see your face in the bathroom mirror when you're washing it/putting on makeup? Grouping bathroom lighting over – and to the side of – a mirror will ensure that they're working where they're most needed. Bouncing the light off the mirrored glass will help a narrow or small bathroom feel bigger, too. Win win.
2. Consider layering your bathroom light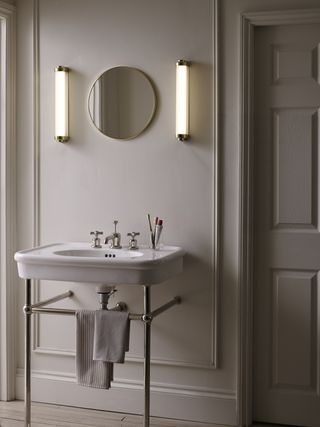 No matter the size of your bathroom, multiple light sources will always enhance the design. A combination of downlights, task lighting, accent spotlights and recessed lighting will create a scheme to suit all needs, providing practical lighting for day-to-day tasks, low-level ambient light and illumination at night.
Look to have bathroom lighting over a mirror (task lighting), the main bathroom light to illuminate the whole room (downlight/ambient lighting), and lighting that shows off a feature in the room (accent lighting) for a balanced space.
Aim to include two circuits on dimmers and one circuit to control a presence detector for automatic night lights, and consider linking your extractor fan to one of the circuits, too.
Consider the size of your space of course as this may prove too much for a small bathroom, but in a larger bathroom like the one below, the layered lighting works perfectly.
3. Use bathroom wall lights to create a focal point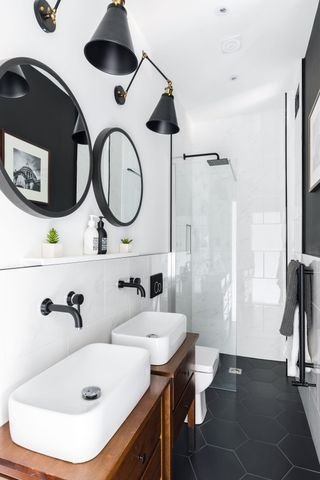 Using bathroom wall lights strategically to highlight a particular zone in the bathroom is a neat design trick that will help your room feel well-designed. Here, it's the vanity unit that's being drawn attention to with bathroom wall lights that make for a practical lighting solution too.
Want a bang-on-trend, minimalist bathroom? A monochromatic scheme is your best bet, and graphic box wall lights will look especially good with a matching black bathtub.
See more black bathroom ideas in our gallery.
4. Add color with bathroom lighting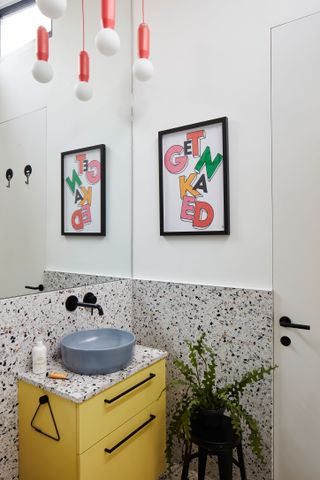 We love the color scheme going on in this bathroom. It's fun it's quirky and really brings to life the small space. The cute coral lighting really completes the look, drawing together the colors in the wall art and the sink.
Also note how the lights hand down right in front of the mirror, not only does this double the color it also means even more light is going to be reflected around the room.
5. Go for simple exposed bulbs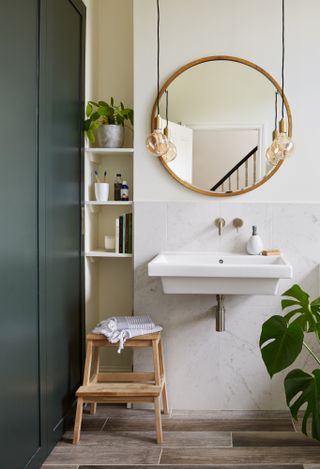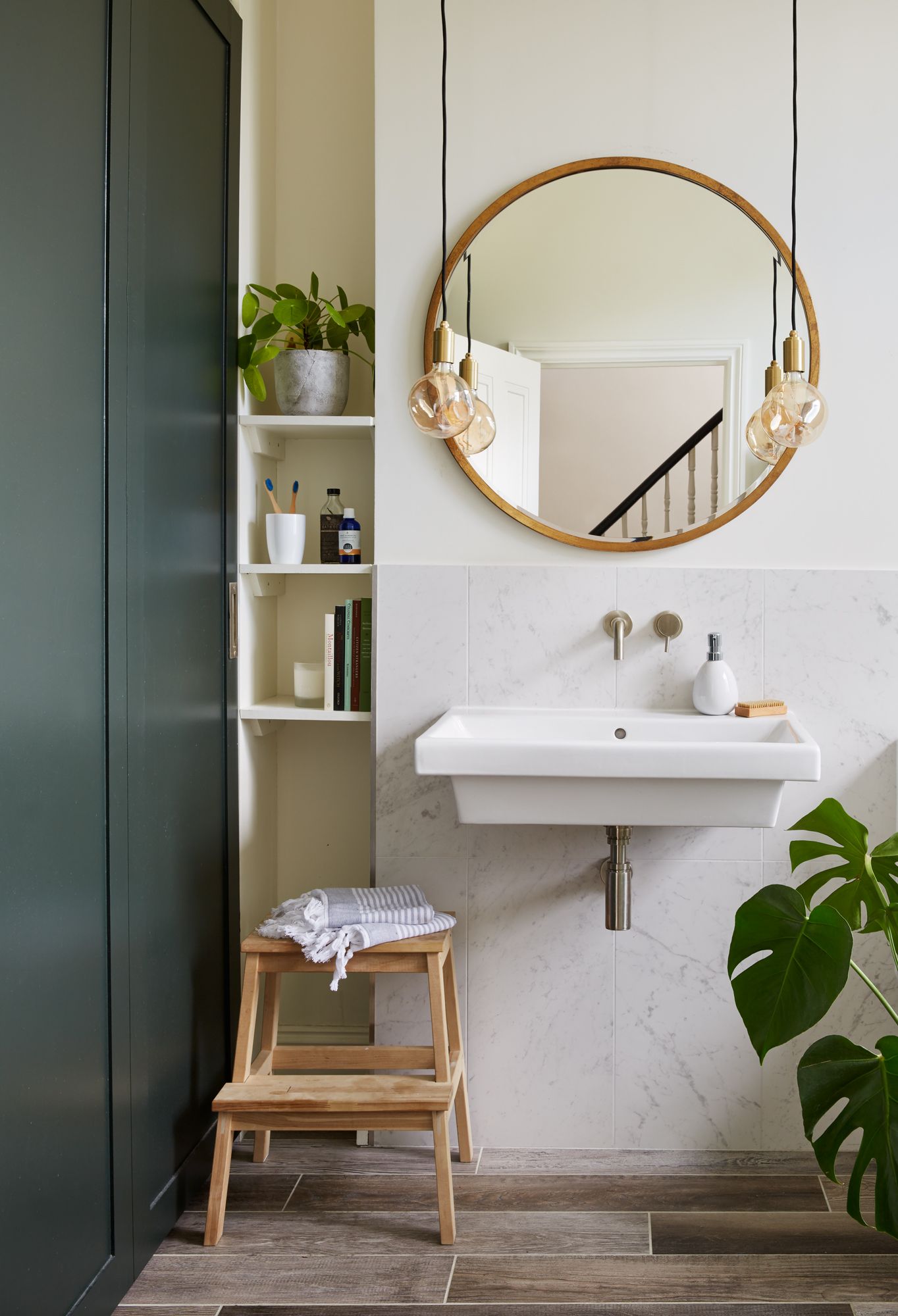 For a bathroom lighting idea that's classic and timeless, choose glass pendant lights. They're an excellent alternative to built-in wall lights for a more contemporary twist on the traditional bathroom decor.
These hanging exposed bulbs are simple and yet really stylish and are placed perfectly for lighting up the mirror and creating a really visually satisfying focal point.
6. Go for a simple pared back look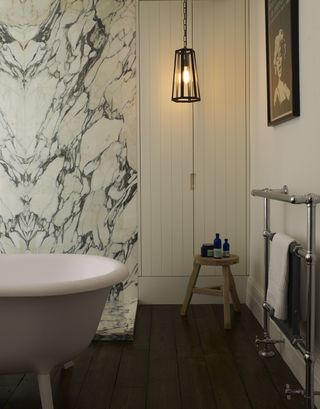 Love a minimalist, unfussy bathroom design that looks timeless and elegant? You need a really nice pendant light – and no other lighting will be necessary. Choose frosted glass or ceramic for a soft and understated look, or a brass pendant for a bolder, more graphic look. Again, talk to an electrician before you buy.
7. Choose industrial style lighting for a modern look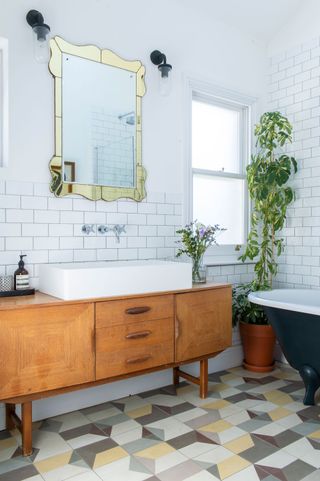 Love the indoor-outdoor space blending trend? It's not just about making the outdoors look like indoors; it can work the other way around too. If you want to bring a bit of industrial, outdoorsy chic into your bathroom, try fitting wall lights designed for the exterior.
8. Create a feature in a small bathroom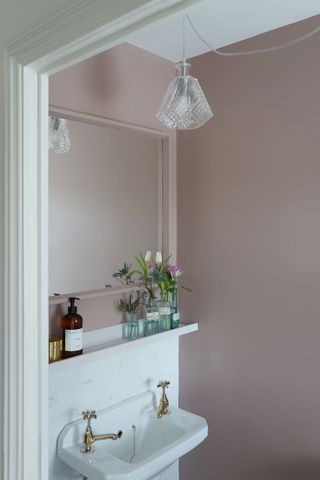 If you're working will a small bathroom, your task is to add dimension and mimic the illusion of space. A glass pendant is the perfect bathroom lighting, plus is a nice way to add subtle drama and the diffused light effect will visually enhance the space, drawing attention to the interesting shapes rather than to the size of the room.
See more small bathroom ideas in our gallery.
9. Hand pendant lighting in groups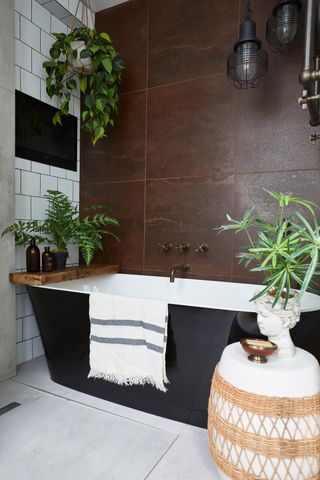 Loving the whole vibe of this bathroom! Also loving how the cluster of pendant lights are a super practical solution for softly lighting above the bath, but work perfectly with the style of the room. They bring a touch of that industrial drama but don't draw too much focus in this already quite busy bathroom.
10. Go bold with your bathroom lighting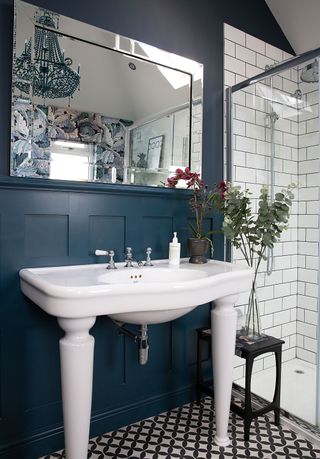 When we say bold, we mean chandelier. And if you're blessed with a large bathroom, the world is your oyster when it comes to bathroom lighting, so to really make the most of the big space, get a statement chandelier. It will work, and traditional bathrooms do especially well with a vintage-style glass chandelier like the one below.
11. Use glass wall lights for a retro chic look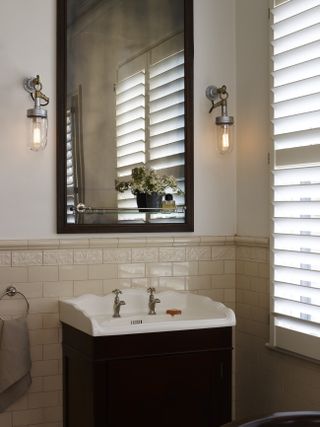 Want to create a vintage-inspired bathroom without actually using vintage fixtures and fittings? Subtly rounded glass lights with metal fixtures will give you the right look. Pick traditional incandescent lightbulbs to complete the vintage effect.
12. Add New England chic with a brass pendant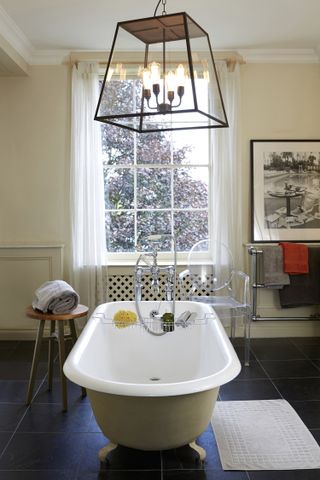 Love the simplicity of New England decorating style? To add that East Coast charm to a traditional bathroom, go for a large, brass pendant.
We really like the way that the Quad Pendant Light by Davey Lighting combines vintage-industrial and nautical influences, but still looks delicate enough to complement a neutrally decorated bathroom.
13. Match bathroom lighting fixtures to existing fittings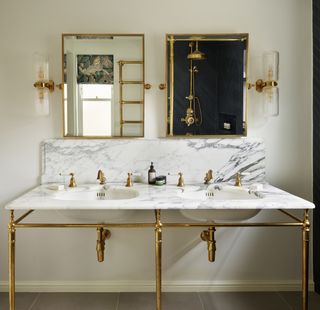 To pull together your bathroom decor, think about how the different materials will interact. Marble looks great when contrasted with a brass or gold finish, while tile will look great with a cool-toned metal or chrome. For a really defined, smart look, match the lighting fixtures to the finish of all the other fittings.
14. Bathroom mirrors with lights create a spa look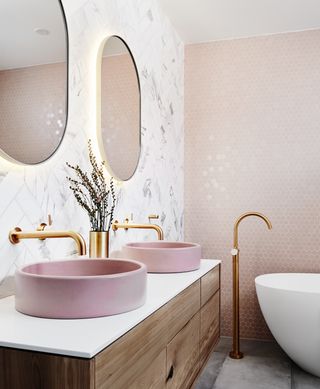 Backlit bathroom mirrors are the ultimate streamlined bathroom lighting solution. No fixtures to fit, no pendants you might walk into. Plus, they're very useful for when you're applying makeup.
We have more colorful bathroom ideas in our gallery.
15. Pick affordable light up mirrors to add a soft light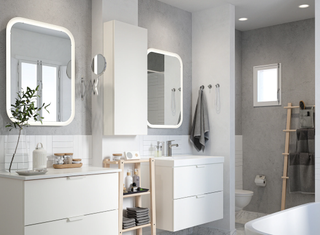 We love these Ikea mirrors, and if you are looking for some bargain bathroom lighting the Storjorm would be our top pick. It's practical for things like shaving and doing makeup but also just add a lovely softness to a room. Oh, and they are a really great price too.