Bathroom lighting ideas are about more than ceiling spotlights. In fact, carefully chosen lighting can instantly elevate bathroom decor – or, add the finishing touch to a specific bathroom decorating scheme that you've been looking for. But bathroom lighting has to be practical and conform to building regulations, too.
How to get the balance of looks and functionality right? Use our gallery of bathroom lighting ideas: from industrial-style wall lights to contemporary glass pendants, they are both on trend and versatile.
For more lighting ideas, go to our hub page. Giving your bathroom a complete makeover, or fitting one out from scratch? Read our guide on how to design a bathroom.
1. Look for Bathroom lighting ideas over a mirror
Want to actually be able to see your face in the bathroom mirror when you're washing it/putting on makeup? Grouping bathroom lights over – and to the side of – a mirror will ensure that they're working where they're most needed. Bouncing the light off the mirrored glass will help a narrow or small bathroom feel bigger, too. Win win.
This cosy bathroom features the Ostana wall lamp from Ikea.
2. Think: bathroom lighting zones
Just as you'd light any other room for practicality and decorative purposes, so you should look for bathroom lighting ideas that cover every zone in a bathroom. So, you need bathroom lighting for over a mirror (that's task lighting), a main bathroom light to illuminate the whole room (that's ambient lighting), and lighting that shows off a feature in the room (that's accent lighting).
This might be overkill in a tiny bathroom, but in a larger room, like this one where the exposed brick is highlighted, it's a must-have design feature? Here, choosing lighting carefully has ensured that the effect isn't too severe: spotlights lighting the walls from top to bottom create a bright and smart look.
This bathroom look is from The Pure Bathroom Collection.
Read more on creating a feature with exposed brick walls.
3. Bathroom wall lights can create a focal point
Using bathroom wall lights strategically to highlight a particular zone in the bathroom is a neat design trick that will help your room feel well-designed. Here, it's the vanity unit that's being drawn attention too with bathroom wall lights that make for a practical lighting solution too.
Want a bang on trend, minimalist bathroom? A monochromatic scheme is your best bet, and graphic box wall lights will look especially good with a matching black bathtub.This bathroom (below) features Narrow Box Wall Lights (below) by Davey Lighting.
See more black bathroom ideas in our gallery.
4. Choose Ikea lighting for a classic look that's affordable, too
Don't fancy spending a load of money on bathroom wall lights, but want something with a bit of oomph to it? Ikea to the rescue: the Lillholmen wall lamp, featured below, has a subtle vintage look with a brass finish that won't be out of place in the most elegant of bathrooms. And it's only £12. Also comes in silver.
5. Bathroom pendant lighting will give the room a stylish finish
For a bathroom lighting idea that's classic and timeless, choose glass pendant lights. They're an excellent alternative to built-in wall lights for a more contemporary twist on the traditional bathroom decor. Choose frosted designs for a more diffused light. Check the building reg rules on the position of these with your electrician before you buy.
Curved bathroom unit from Frontline Bathrooms. For similar glass pendants, try John Lewis.
6. Use a cluster pendant to warm up a dark bathroom
Dark bathrooms can look as warm and inviting as light ones, and lighting plays a major part in making sure that your dark bathroom looks relaxing and luxurious, not dingy. Choose warm lights suspended in a cluster for a glamorous effect.
The Bow Black Bath with Brass Plinth is from Frontline Bathrooms. For a similar cluster pendant, see John Lewis.
8. Pick Bathroom pendant lighting for a pared back look
Love a minimalist, unfussy bathroom design that looks timeless and elegant? You need a really nice pendant light – and no other lighting will be necessary. Choose frosted glass or ceramic for a soft and understated look, or a brass pendant for a bolder, more graphic look. Again, talk to an electrician before you buy.
The Hex Pendant in weathered brass is from Davey Lighting.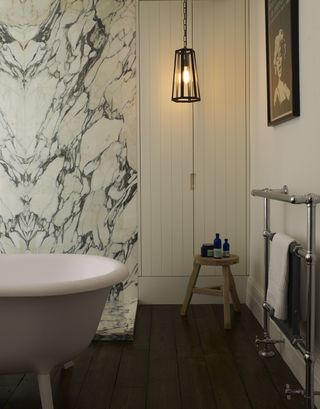 This traditional bathroom (below) has been accented with an Upton Pendant Light by Fritz Fryer Lighting.
See more traditional bathroom ideas in our gallery.
9. Modern bathroom lighting ideas? Choose outdoor style lights
Love the indoor-outdoor space blending trend? It's not just about making the outdoors look like indoors; it can work the other way around too. If you want to bring a bit of industrial, outdoorsy chic into your bathroom, try fitting wall lights designed for the exterior.
The Southbank Outdoor Wall Light are from Garden Trading.
10. Bathroom lighting ideas for small bathrooms should make an impact
Tiny bathroom? Designing a cloakroom? Add dimension to the small space with a textured glass pendant. The diffused light effect will visually enhance the space, as well as drawing attention to the interesting shapes rather than the small size of the room.
See more small bathroom ideas in our gallery.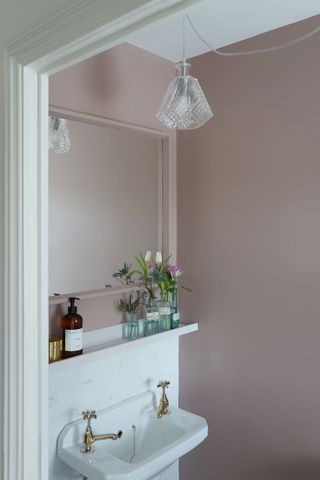 11. Juxtapose black walls with a brilliant wall light
Think of black or dark bathroom walls as the perfect canvas for brilliant light effects. The brighter and more interesting the wall light you use, the better.
In this dark and dramatic bathroom, the tubular light really comes into its own, making the space around the sink extra bright. The bathroom is by Maison Valentina. Find more black bathroom ideas in our gallery.
12. Bathroom ceiling lights: pick a chandelier for a large bathroom
Blessed with a large bathroom? The world's your oyster when it comes to lighting, but to really make the most of the big space, get a statement chandelier – the room will be able to take it. Traditional bathrooms will do especially well with a vintage-style glass chandelier.
For a similar chandelier, try Laura Ashley.
13. Use glass wall lights for a subtly vintage look
Want to create a vintage-inspired bathroom without actually using vintage fixtures and fittings? Subtly rounded glass lights with metal fixtures will give you the right look. Pick traditional incandescent lightbulbs to complete the vintage effect.
In this vintage-inspired bathroom, the Well Glass Wall Lights are by Davey Lighting.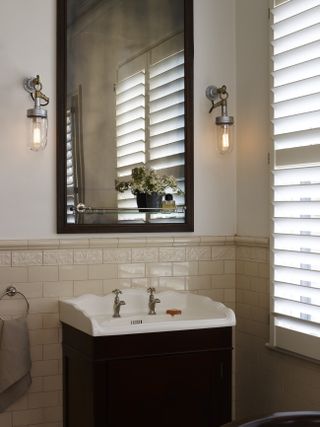 14. Enjoy a spa-like atmosphere with LED candle lights
Love candles, hate the waxy mess they can leave behind? If you want to not be scrubbing your bath after every spa at home session, invest in some LED candle lookalikes. Same soft light, no wax.
The TruGlow Realistic Flame Battery LED Candles are from Lights4fun.
15. Add New England chic with a brass pendant
Love the simplicity of New England decorating style? To add that East Coast charm to a traditional bathroom, go for a large, brass pendant.
We really like the way that the Quad Pendant Light by Davey Lighting combines vintage-industrial and nautical influences, but still looks delicate enough to complement a neutrally decorated bathroom.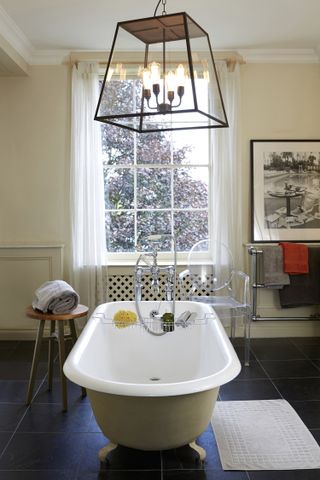 16. Choose bathroom lighting fixtures that match your bathroom fittings
To pull together your bathroom decor, think about how the different materials will interact. Marble looks great when contrasted with a brass or gold finish, while tile will look great with a cool-toned metal or chrome. For a really defined, smart look, match the lighting fixtures to the finish of all the other fittings.
This luxurious bathroom features the The Double Derwent Light With Fluted Shade by Drummonds. The finish can be customised. From £654.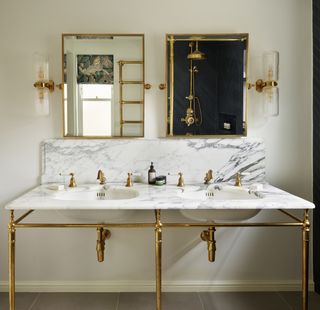 17. Bathroom ceiling lighting ideas with a difference? Multiple lightbulbs
Want to add a bit of playfulness to a contemporary bathroom decor? Use mutiple single-bulb pendants, suspended at slightly different heights. Great for breaking up a neutral bathroom scheme.
Hanging bulb pendants can be found at Amazon. If the colourful bath panelling has caught your eye, read our guide on how to DIY a bath panel.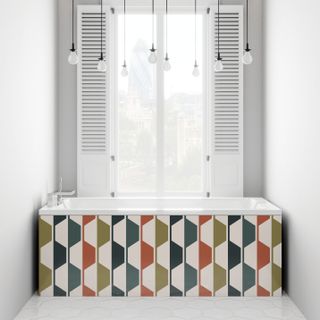 18. Bathroom mirrors with lights create a spa look
Backlit bathroom mirrors are the ultimate streamlined bathroom lighting solution. No fixtures to fit, no pendants you might walk into. Plus, they're very useful for when you're applying makeup.
This stylish and colourful bathroom is by Norsu Interiors. For an LED mirror, head to John Lewis.
We have more colourful bathroom ideas in our gallery.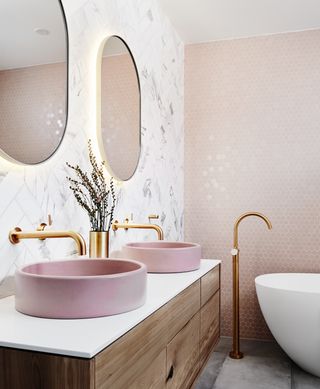 19. More modern bathroom lighting ideas? We love cage pendants
Cage lamp shades have an edgy, contemporary look that is a bit lighter than graphic brass pendants. Great for a modern look that hasn't quite gone industrial.
For a good selection of cage pendant lights, head to Wayfair.
More bathroom inspiration: