Spa bathrooms conjure up thoughts of total luxury – huge tubs, beautiful fixtures, fittings and fabulous tiles. Visiting a spa is seen as the ultimate in relaxation - a luxury setting with high end accessories and of course the fluffiest of towels! We all need to look after ourselves more, and knowing you can jump in your uber stylish bath or shower after work will do wonders for lifting your mood. Don't be put off by thinking these bathroom ideas are unachievable, you can create a spa bathroom whatever its size and whatever your budget...
1. Add a touch of nature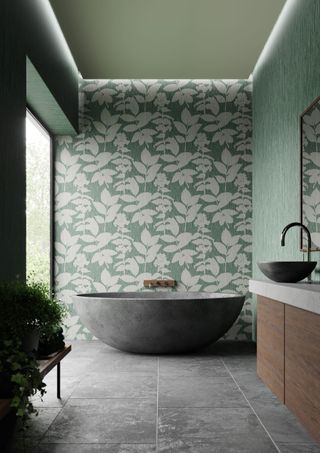 A spa-inspired space can have a decorative aspect like this stunning bathroom wallpaper. It also adds a focal point that anchors the space visually. The beautiful granite bath takes pride of place in the window and we love how the floor tiles line up with the bath - attention to detail is key if you want to recreate a luxury spa feel. The basin mimics the tub which keeps the look cohesive.
2. Invest in your fixtures and fittings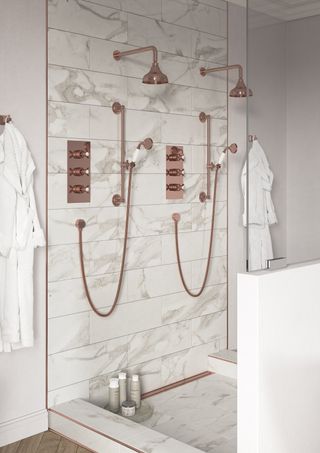 Metals are key to increasing your luxury levels and they can create an exciting design feature like these stunning double showers on a marble tiled wall. So which metal do you choose? Gold and brass (as shown) have a warmer feel whereas chrome and nickel will create a cooler, more edgy look. You can mix metals too which will give you a more eclectic look.
3. Turn a small bathroom into a spa bathroom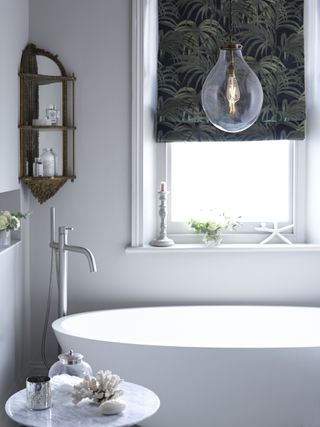 Can I still have a spa like feel in a small bathroom? Oh yes! You simply need to be clever with your design. Look out for wall storage - corner units are a fab idea, recessed shelves are another bonus and maximise your space by getting your tub into the corners, or at least the tap. You don't need to have a full sized bath – look out for models that are smaller in depth and width, they can still have that luxurious feel. Lighting is also key – if the room is dark then look for a bathroom approved pendant or recessed ceiling lights.
4. Add the most luxurious shower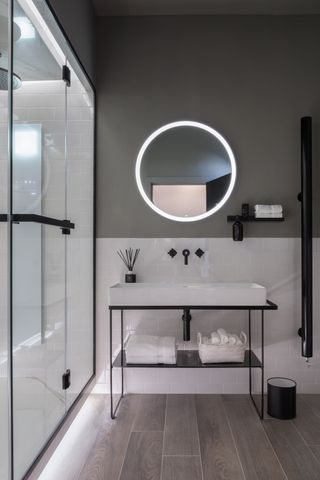 For a truly fabulous spa experience you can have a bathroom that features a rain panel, a vertical shower with steam option, massage jets and automated shower sequence. Add in an illuminated mirror, a shelf with a lotion dispenser and underfloor heating and that's your self-care boxes ticked for decades!
5. Match your wall and floor tiles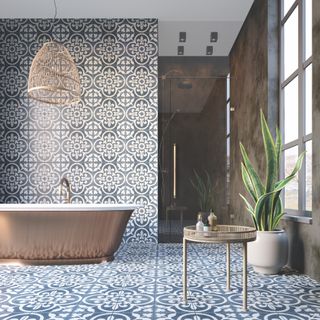 This gorgeous bathroom shows how to create a decorative aspect whilst retaining a modern feel. There's no clutter, which is key for a spa bathroom and the metallic element creates a warmth. Its tiled area also zones the bath space and the shower unit discreetly sits to the side and ties in with the textured wall on the right. The textured taupe shade works really well with the copper accents.
Check out more bathroom tile ideas in our gorgeous gallery.
6. Go for a statement black bathroom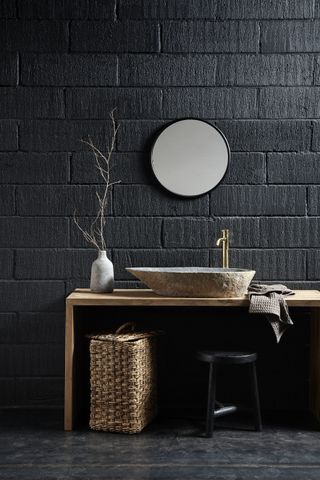 Generally speaking, spa bathrooms have a neutral palette of off whites, grey, taupe and mocha with textures like marble and wood – because the aim is to keep you serene. But you can push the boundaries if you want to be more dramatic and go for a black bathroom. This black stone wall is so stylish and we love how it works with the beautiful natural stone sink. Add in more textures like a wicker laundry basket and waffle towels.
7. Keep it simple in a spa bathroom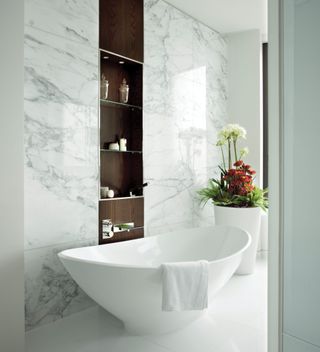 You really only need a few key ingredients to make your bathroom feel spa-like. A big curvy tub is number one – this gorgeous design looks so comfy right? Add in a marble wall that will add style, visual texture and a high level of sophistication, and to finish pop in a recessed wall that's encased in walnut.
8. Play with light and dark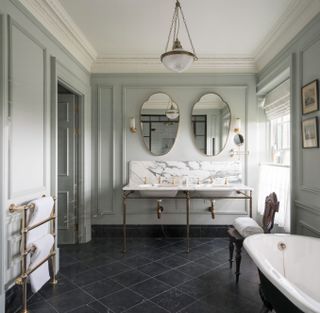 To create a spa bathroom that's interesting visually it's good to play around with light and dark colours. It creates contrast and aids the style appeal! This pretty shade of grey works well in this traditional bathroom and it contrasts well against the dark floor tiles. The brass fixtures and fittings pull the look together and the marble splashback and worktop on the double basin unit adds the most perfect texture.
9. Go for a moody glamorous vibe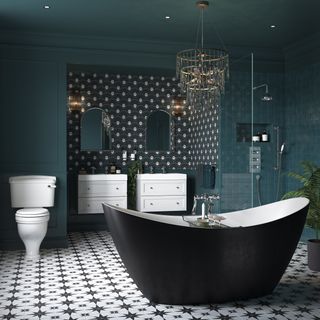 Often when we consider the design of spa bathrooms we think clean lines and contemporary all the way. However, you can create the same luxurious feeling without the modern element. Take this bathroom for example – it's glamorous and oozes luxury yet it has curvy lines, two key patterns and not forgetting the fabulous chandelier! As long as it makes you happy and you feel calm and relaxed that's all that matters.
10. Introduce organic shapes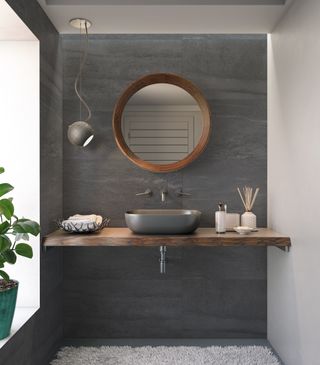 Spa bathrooms can feel a little clinical with their angular lines and cool colour palettes. To combat this, opt for earthy shades to ground you – they will help you feel calm, and look for organic shapes like this basin, mirror and light. They help your eye flow around the room easier and therefore it's more pleasing to you visually. Add in textures like the fluffy throw and choose tactile dispensers to follow the theme through. Plants also help with this kind of look.