Our grey bathroom ideas prove just what a staple color choice grey is for homeowners and renters alike. Its power is providing a neutral color palette which can be easily built upon.
When looking at bathroom color ideas, grey a classic shade, which means it's a good investment for a harder to change space like a bathroom. From charcoal to greige, the versatility of this shade allows you to go as dark and daring or light as you want.
Whether you already have a grey fixtures in your bathroom, or are about to commit to a renovation or remodel, we've put together some easy decorating ideas to add an extra splash of personality to your washroom space.
'Often the smallest room in the home, the modern bathroom has for too long become the victim of the 'all white makes it look bigger' design philosophy. Thankfully, recent trends embrace a more creative and stylish approach to what can be one of the most exciting spaces in the home,' Judy Smith, a Crown Colour Consultant, explains.
'Neutral tones tend to be the main color choices for the bathroom, grey in particular,' Smith continues. 'If you think white looks too sterile and you're not a fan of bolder shades, going for a light neutral tone is a safe choice to add interest while opening up the space and making it look brighter.'
'A cool steel grey, for example, gives the room more texture than a white and is bright enough to reflect the light available and create the illusion of a bigger room.'
Instagrammable grey bathroom ideas
'Bathrooms tend to be a room in the home that are not regularly updated,' adds Helen Dennett, UK Marketing Communications Manager, Mermaid Panels. 'So it's important to create a space that is timeless.
'Opt for a neutral palette and décor such as tones of grey, that you will love for years to come. Shades of grey are adaptable and neutral so can easily be updated with pops of color or new accessories to refresh the space without completely overhauling the bathroom.'
'Grey doesn't need to feel like a safe choice, by opting for a bolder pattern, such as a traditional Victorian tile design, you can add character and depth.'
'Alternatively, create a boutique hotel feel through layering tones of grey with marble wall panels within a shower enclosure or behind a basin.'
'Marble beautifully adds interest to a grey bathroom scheme, whilst being a classic choice and oozing a sense of calm and sophistication.'
1. Switch your sanitaryware for cool coordinated look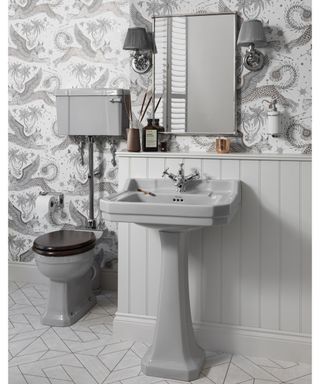 When looking to grey bathroom ideas, a new toilet or basin might not be top of your shopping list but can be a worthwhile investment.
A chic alternative to an all-white suite, this modern bathroom idea can be a practical solution for one of the grubbier rooms in your home.
As a neutral color, it can be paired with a number of 'conventional' decorative features. We love this leopard printed bathroom wallpaper with flecks of copper. Paired with paneling and a geometric floor tile design, you'll be one cool cat!
2. Pair grey with navy wall panels for period perfection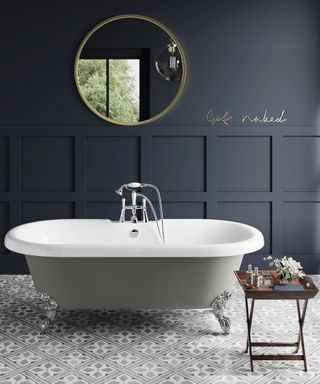 A smooth but rich shade, navy is a blue bathroom idea that has the power to smarten up a grey scheme
And just like a tailored suit, navy wall paneling can polish up an older period home. Used in conjunction with this simple but effective freestanding bath, you can truly be the lady of the manor in a classy bathroom suite.
The mosaic print floor tiles also add an elegant touch to this navy, white and grey bathroom idea. Not forgetting the wooden pop-up table for one's bathroom essentials.
Finally, the look is modernized with a cheeky slogan and a gold-framed mirror design.
3. Add a statement grey bathtub design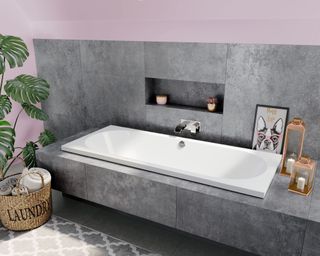 If there was ever a grey bathroom design to prove that this color isn't boring, it's certainly this bathtub idea!
Combining pastel pink with a light grey deck, this elevates bath time to another level. Paired with a cute cubby design, this bathroom storage idea means your bubble bath and candles are in close reach to pour and light.
Pair with fun framed artwork and a cheesecloth plant, you can recreate a feminine Love Island look!
4. Incorporate a grey printed wallpaper design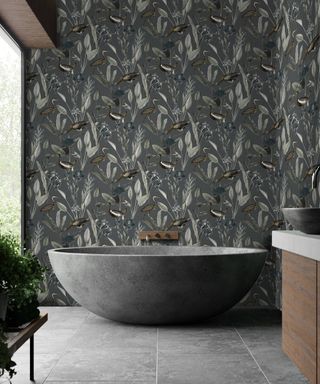 A bathroom wallpaper design is a relatively quick and easy DIY job that can be undertaken by homeowners and renters alike.
While you may think that wallpapering this room in a grey color may cause it to look gloomy and claustrophobic, placement should be a key part of your consideration.In this design, the wall art decor has been used to add a backdrop to the freestanding bath.
Although not a green bathroom idea, the motif is bang on the biophillic trend as it incorporates a charming combination of unique birds, large leaves and an extra large scale print to add drama.
Paula Taylor, Senior Stylist and Trend Specialist at Graham & Brown says, 'We have always shied away from heavily patterned wallpapers in small rooms however by using the paper on all walls (and even the ceiling if you're brave enough), the edges of the room appear to blur and you can create a wonderful cozy feel that almost appears limitless.
'Wallpapers that have a slight shimmer to them are also ideal for use in the bathroom as they really enhance skin tone and add radiance to the room.'
5. Add waterproof wall art in high moisture areas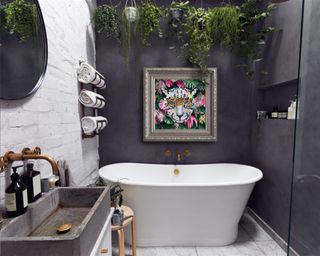 Whether your wanting a sanctuary to retreat to or the ultimate fantasy bathroom, a bit of wall art can do wonders for a grey bathroom idea.
Full of color and creativity, it'll help take your mind off your work worries or familial stress, if albeit only while you soak in the tub.
But finding art for shower spaces and bathrooms which have high moisture content has always been problematic. The chance that it will spoil and ruin? You don't want to run the risk!
So waterproof art is the solution. Repelling steam and water, YardArt's fade proof prints allow your artistic tastes to come fully into the bathroom. Shop the range at John Lewis & Partners.
6. Pick out statement grey tiles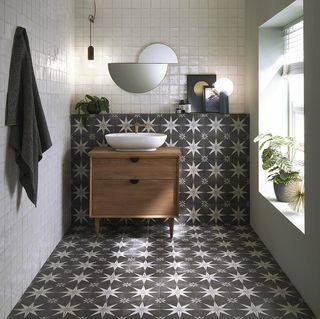 An easy way to bring stylish patterns and grey tones in your bathroom is with tiles. A great thing about going for a grey color scheme is you can be bold in your tile choices without completely overwhelming your space with pattern.
Star print tiles like the Stello from Topps Tiles, are everywhere at the moment, no doubt you have seen them all over Pinterest, but they are popular for a reason! They are bold and statement, without being overly so, and they are also super versatile – you can imagine them in a very rustic, boho style space but equally so in an elegant more traditional bathroom.
7. Choose a cool-toned grey for a traditional feel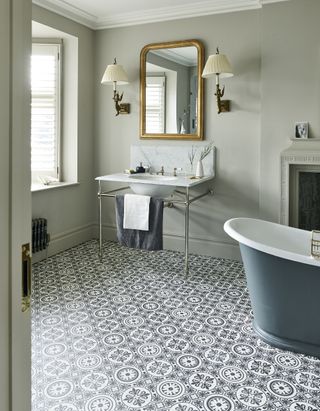 If your bathroom is on the larger side and gets lots of natural light, you can pick a cooler, more green-toned grey as it won't look too cold in your space. These kinds of lighter, cold greys have something so elegant about them – they are classic colors that work so well in traditional homes with lofty ceilings and large windows.
Our go to for this kind of, we'll call it a grown up grey, is of course Farrow & Ball. Their dusty, traditional shades are perfect for creating this sophisticated vibe. Check out Drop Cloth for a very similar shade.
8. Hang a grey mural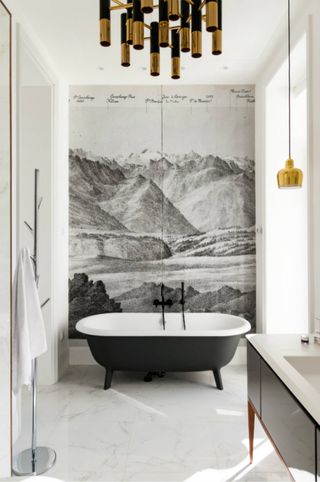 Wallpaper in a bathroom? Is that really a good idea? YES! We are all for adorning your walls with a gorgeous print or mural, you just have to do your prep work to make sure it stays put. This could be as simple and adding a layer of decorator's varnish once you have hung your wallpaper.
9. Pick a warmer grey for a softer look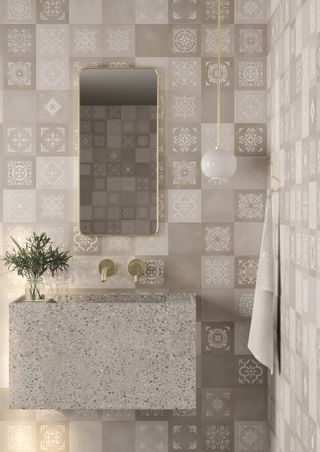 Grey has many shades and these wall tiles have a lightly taupe tone which makes them warmer visually. Their linear quality gives them a decorative feel and we adore the stone sink.
The base colour ties in with the wall tiles perfectly and creates a cohesive look. Add in warm brass fixtures and fittings and you have a stunning bathroom to relax in!
10. Add interest with a textured grey tile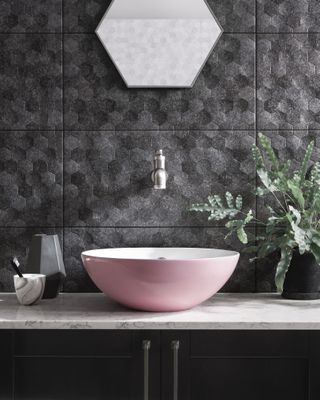 How gorgeous are these mottled grey tiles? The hexagonal pattern is understated yet creates a dramatic contrast to the smooth pink sink. Reminiscent of natural stone, they will create interest with their texture and various shades of grey, keep the rest of the scheme simple so they become the focal point of your bathroom.
11. Be bang on trend with terrazzo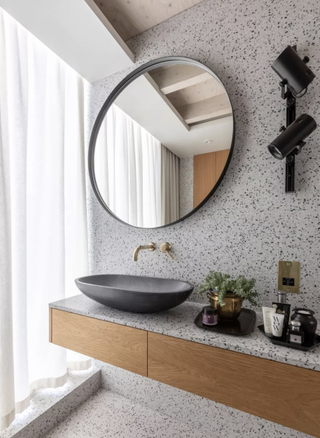 Terrazzo has made a comeback and shed its 70s hospital floor skin and become a bang-on-trend material that's perfect for use in bathrooms. You could go all out like in this bathroom and have every surface covered in grey terrazzo, but you'll also find plenty of cute accessories if you are looking for ways to get the look on a budget.
Target and Wayfair have loads of pieces from shower curtains to soap dishes so check out them.
12. Inject fun into a grey scheme with neon yellow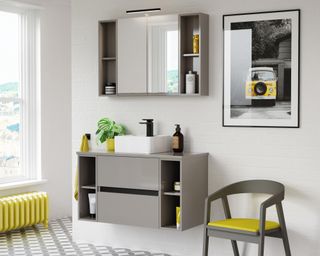 Bold and energetic, yellow can lift up even the most glum of grey bathroom ideas.
So if you've bought an off-the-shelf suite and want to add your own lively personality to the scheme, a canary yellow hue can brighten up your bathroom.
In this scheme, a yellow radiator has been incorporated into the space. But don't feel the need to part with your cash for a new rad. Simply head to your local hardware store and pick up a pot of radiator paint.
Knackered wooden chairs can also be given a 5-star treatment with a lick of grey paint and a bit of DIY upholstery to change the seat cover. Framed prints like this camper van design complete a retro bathroom idea.
13. Mix grey and blush pink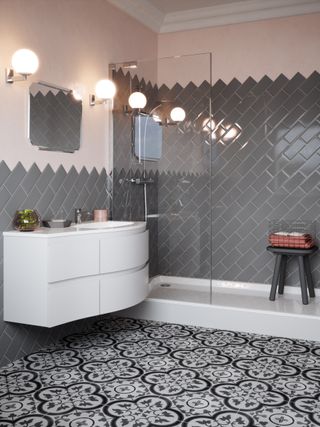 Bubblegum pink when used in silo can be a little sickly. Yes, even with our sweet tooth. Grey bathroom ideas with a touch of pink thrown in? Now that's a different kettle of fish! This rosewater bathroom color idea mixed with grey metro tiles provides for the perfect balance of pretty and practical.
This scheme can tolerate different textures and patterns, so don't be afraid to combine metro tiles with a mosaic floor design, as beautifully demonstrated here.
'There's a common misconception that grey is boring, but when done right it is the most sleek finish to any bathroom,' says Mike Head, Managing Director of Atlas Ceramics.
'If you're looking for a timeless bathroom design, then grey ceramic, porcelain or natural stone tiles are the best way to achieve this look. Matt finish tiles are especially chic and have become increasingly popular as they bring a cool and contemporary feel to any room.'
'Opt for light grey colors if you want an elegant and bright finish to a bathroom, which is also ideal if there's limited or no natural light in this room.'
14. Add a faux wood window treatment for country vibes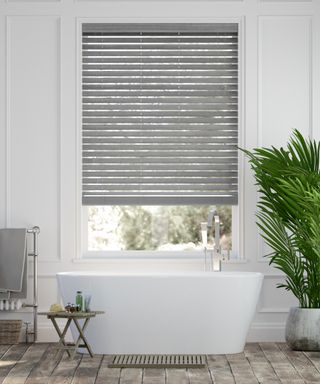 Effortlessly cool and incredibly chic, a rustic bathroom idea prides itself on undone style and an 'imperfectly perfect' aesthetic.
But with that said, there are a few non-negotiables when looking for a good grey bathroom idea. Privacy being one of them. So it's important to find a suitable bathroom window ideas that suits this interior style.
While curtains can be too heavy, and a roller blind too one-dimensional, faux wooden blinds can offer a country bathroom look to protect your dignity so you can bathe and use the toilet discreetly.
Pair with wooden flooring (or fake the look with LVT). Wicker baskets and wooden fold-out stools make great bathroom storage ideas to complete the look.
15. Fake a seamless tiled scheme with wall panels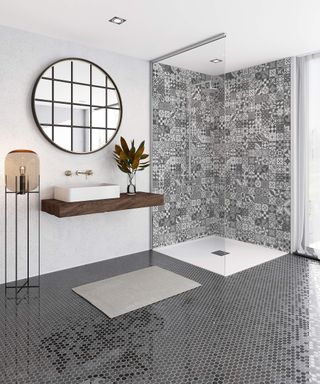 Listen up! We've got a little confession to make. Sometimes, we think wall tiles can be a bit of a faff.
First you've got to pick your tiles. Then you've got to cut them. Prep the walls. Lay them with absolute precision. The cleaning bears not even thinking about. And did we mention the constant upkeep of the grouting?

But if you want to add pattern to your grey bathroom idea, what's a girl or guy to do? The answer lies in wall paneling.
These completely waterproof decorative laminate panels allow you to achieve a completely seamless, premium look and finish without the premium price tag.
16. Mix grey and wood for a Scandi chic scheme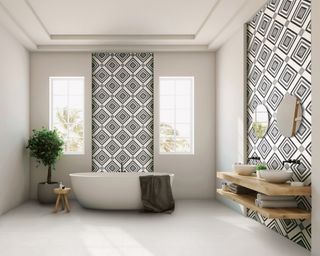 Grey and white bathroom ideas are a classic scheme that can be found in many washrooms around the country. So what is the big deal and why have they become more popular recently?
It's all down to the Scandi chic interior trend. By mixing light shades of grey with white and wood, you can create a design that focuses on clean lines and functionality and can therefore de-clutter and relax the mind.
This simple yet stand-out geometric bathroom tile idea also adds interest to an otherwise minimalist scheme. Used near the bathtub and basin, it provides an engaging pattern to focus on whilst undergoing your self-care regime.
17. Go for a quick grey update with paint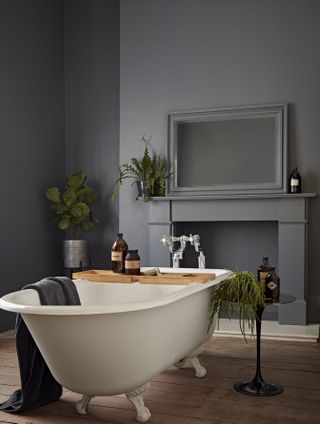 If you adore grey then paint your walls, skirtings and woodwork in the same colour. It's fresh, modern and it works beautifully in this bathroom.
Hey, even paint the ceiling if your space is big enough to handle it. Going all over grey is a timeless look and gives a very chic vibe to a room. Just be sure to pick the best bathroom paint. Top choices can handle moisture and the odd splash.
Pick a tone that's right for the size of your room, and for how much natural light it gets. In a big light-filled room you can pretty much take your pick of the greys, but in a smaller space opt for something paler that will reflect light. If you do want to go dark, don't be deterred, just pick a warmer, deep grey, something like Benjamin Moore's Chelsea Gray.
Keep your bath light in colour – we love this white tub complete with matching painted feet, and note that the floor is bare boards. This adds warmth and texture to the room. Plants give the space life and source vintage bottles for a touch of character.
18. Add depth with charcoal greys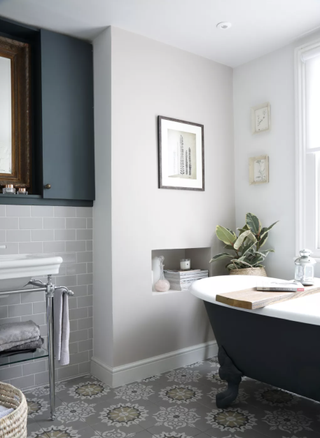 When we were talking about grey being versatile, this is exactly what we meant. You've got those whimsical, pale, light-enhancing, barely-there greys at one end of the spectrum, and then the very dramatic deep charcoals at the other, so you can choose to go as bold as you like.
We love how in this bathroom the greys are layered, so the room looks very moody but not too dark. Note how the wall that the natural light hits is kept pale and then the alcove the deeper hue. It's just enhancing where the light and dark would be in the room so the darker colors don't shrink the room – very clever.
19. Give your walls texture for an industrial vibe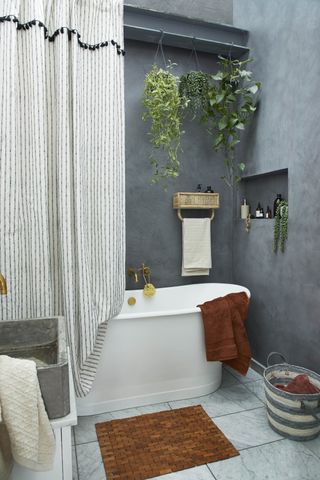 Concrete and stone walls have been a huge trend in bathrooms recently. They give the space a hip, boutique hotel-like feel that we all want in our homes. But concrete and polished stone can be a tricky material to work with and can get expensive, so why not try and recreate the look with paint?
Remember when 'rag paint' was a thing a few decades ago? Well, it's back and perfect for creating this kind of textured wall. It's really easy to achieve too because you can't really go wrong – creating a distressed paint effect is meant to look imperfect.
20. Combine grey with warmer colors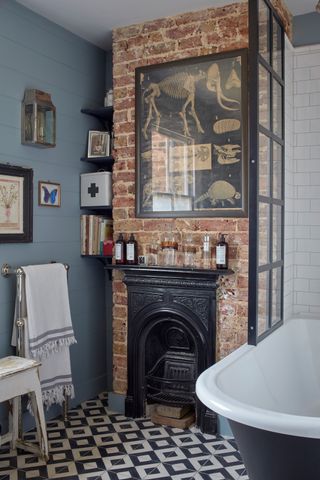 There is a risk with grey, in any room, of it looking a bit flat, but you can counteract this by adding plenty of texture to your bathroom. If you are blessed with the potential to add an exposed-brick wall, then perfect. However, you can add texture in the form of a cute jute rug, some seagrass baskets or (our go-to) prints.
21. Split up your walls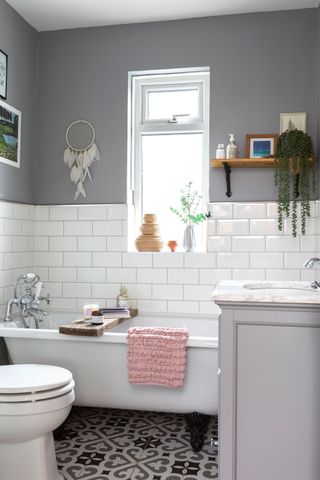 Tiling your wall halfway up not only looks lovely, but is a really practical idea. You can wipe tiles down or let them get wet, basically, you never have to worry about them staining or peeling as you would with paint or wallpaper.
Plus the half-and-half look is great for small bathrooms as it can make your room feel taller. You could copy this grey bathroom and go lighter on the bottom with a simple grey wall up top, or if you want to add pattern, pick a grey patterned tile for the lower half and choose a matching paint for the upper half of the walls.
22. Get creative with floorboards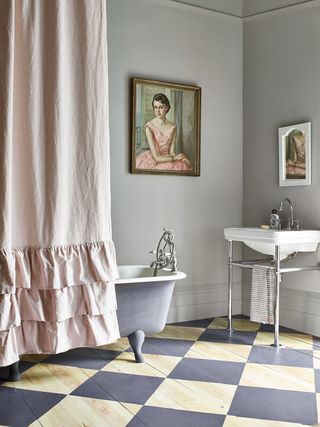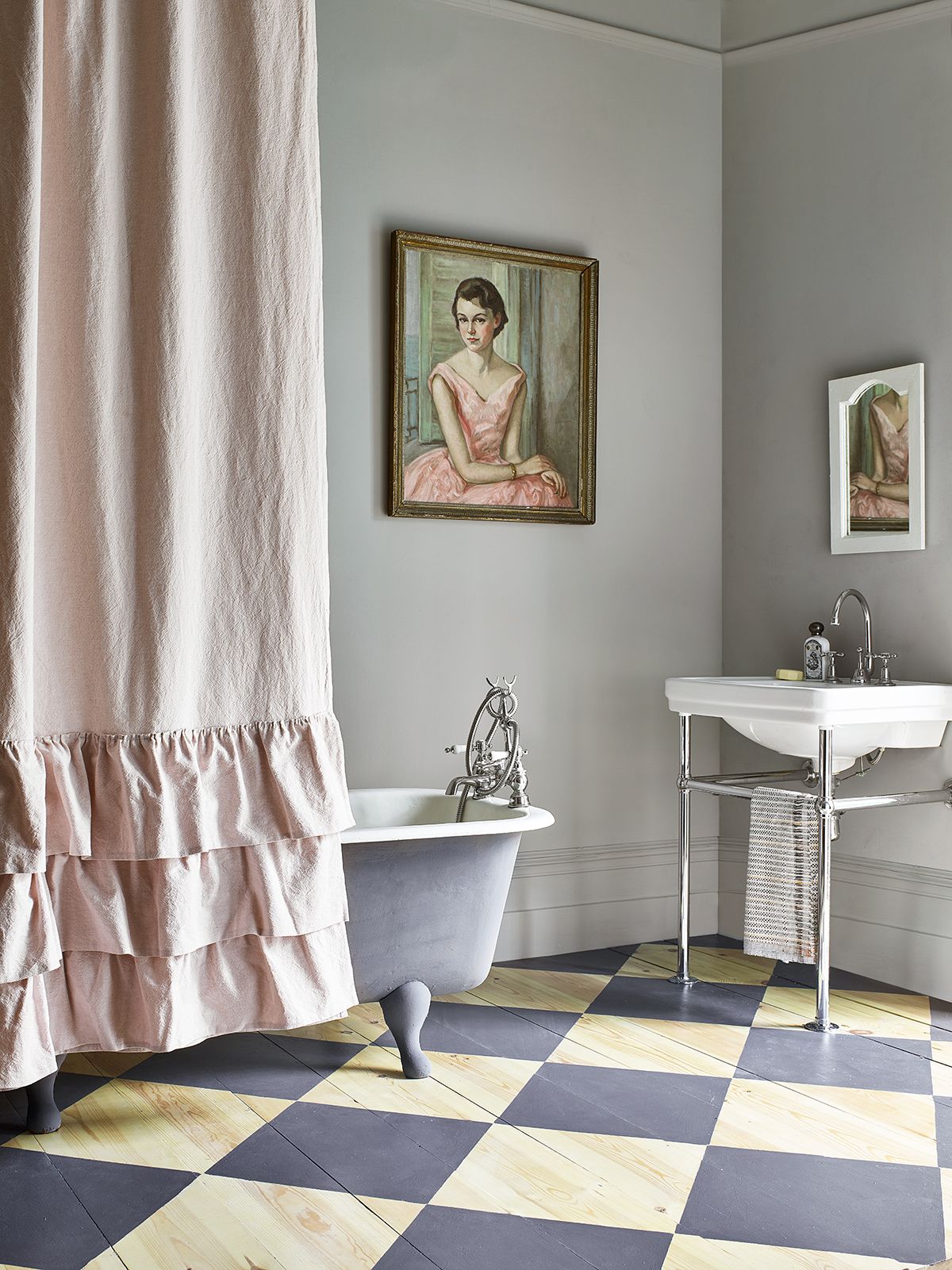 So you've stripped up the linoleum, or god forbid, the carpet, that the past owners of your home kindly left in your bathroom and have discovered floorboards. Now, before you go tiling over them, why not keep them bare and create a very stylish rustic look by painting your floorboards?
All you need to recreate this look is some masking tape and some grey paint. You might need to sand down your floorboards first, and it's especially important to make sure you seal it and fill in any larger gaps.
23. Create a traditional feel with paneling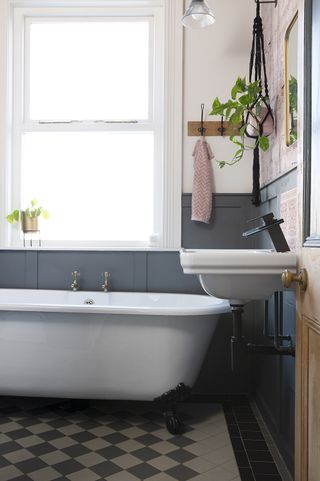 Wall paneling looks gorgeous in bathrooms even in more modern homes. There are plenty of styles to choose from too – a more contemporary look with shiplap paneling or the traditional square panels you see here.
If you are after a budget-friendly update for your current bathroom with DIY wall paneling. It's really easy to do using wooden beading you just have to be patient to get the measurements right.
24. Be dramatic with dark greys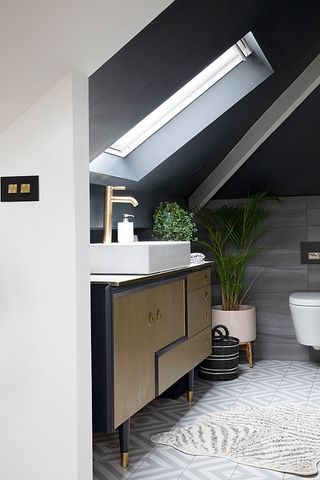 Well if this gorgeous ensuite bathroom doesn't prove that you can still use darker greys in a small space than, we don't know what does.
While we ourselves often say a smaller space needs lighter colors, dark colors can often work just as well. By keeping all the walls, and the ceiling dark, the edges of the room become less obvious and can allude to the space being bigger.
For a dark color like this is a smaller space, choose a paint that has a very slight sheen, something like eggshell, just to prevent the room looking flat.
25. Mix grey tiles with wooden walls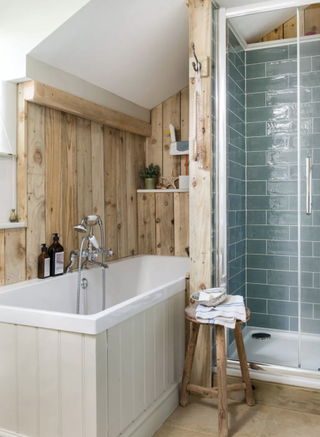 And of course, a grey bathroom doesn't have to mean all over grey. The simple grey tiles in this lovely bathroom bring in the perfect amount of color to the wooden-clad room.
Using natural textures and plenty of wood is bang on trend for 2021 – but since a wooden shower probably isn't the most practical, and blueish grey tile for your shower enclosure will compliment that calming, serene, rustic vibe.
26. Add glamor to a grey bathroom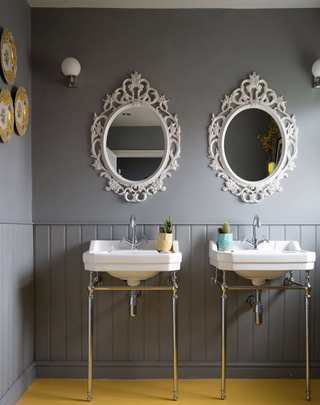 It goes without saying that grey is a glamorous color and the perfect backdrop for a more luxurious bathroom. A double sink, matching statement mirrors and a pop of color to bring in some of your own personality – a stylish look that needn't cost a ton either.
Also, check out the wall-mounted plates in this bathroom! Something we would never think to do until now, very cute and a nice alternative to prints.
How do you style a grey bathroom?
Obviously, this comes down to personal style, but we do have a few rules of thumb we generally tend to follow when styling a grey bathroom. It starts by making a mood board – and we mean a physical one, very old school we know. While grey is a very versatile color there are so many different shades and not every one will work with certain combinations and look a little different depending on the light.
Have the main grey shade you have chosen to hand, whether that be in the form of a tile or a paint sample and test it out against other colors on your mood board to check they don't clash or that the tones of the colors aren't totally off.
In terms of decor, pick a main style or a few pieces and build on from there. Say you have found a jute laundry basket you love, that would lead to potentially a more boho look with plenty of texture and house plants. Maybe it's a vintage mirror that will be the starting point for your decor. Grey is a neutral backdrop that's adaptable to any style.
What colors go with grey in a bathroom?
A really easy way to work out what colors will go with your choice of grey is to check the undertones. If your paint has warmer, pinkish undertones then stick with warmer colors – coppers and rosy hues will work too.
If you have gone for something with a more blueish or green tone then you will need to look at decorating with cooler colors, like blues, greens and for these, you may want to try silver hardware.
Again, just always check what colors work by actually laying them next to each other in your bathroom since the light situation could totally change the colors and how they look together.
'Understanding how the light works in your bathroom will help to ensure you opt for the right shade of grey, it's important to remember that pale greys can feel cold in north-facing bathrooms.' advises Helen Shaw, Benjamin Moore UK Director.
'Also, consider the right lighting for a grey bathroom, these cool tones can make everything and everyone look a little pale, so the right lighting, especially round a mirror, is key to avoid reaching for more bronzer!'
Katie Thomas, Founder of interior design company KTM Design, South West Regional Director of the Society of British & International Design (SBID) and Lecturer at Arts University Bournemouth (AUB) says:
'To create a serene, relaxing atmosphere which echoes a spa-like setting, opt for a neutral palette. Cool or warm greys mixed with other neutrals such as off-white and taupe can help create this.
'Black can be used sparingly for details such as a window frame or shelf. A neutral palette is perfect for accentuating different textures, such as stone with grey marble veins, or light wood grain.
'You can also mix with chrome or black taps, monochromatic patterned tiles, terrazzo or trendy fluted tiles to create visual interest.
'Moody tones are also great for experimenting with bold basins and console designs, particularly in a WC. Use a deeper shade of grey as a base for flooring and walls.
'You can then add vibrant yellows, pinks, blues and greens through wallpaper or vintage pattern style tiles to infuse the space with color. Metallic details also work well as an accompaniment.
'You can also use grey to create a modern and vintage mix in bathrooms. Combine a dominating mid-tone and light grey with muted olive greens, yellows, blues and reds.
'For your accessories, add mid-century pieces together with vintage pieces, such as a Victorian basin with a modern mirror that has a sleek metallic trim.
'Gold and brass accessories also work nicely. The modern and vintage mix style can also be showcased through opting for a mix of tile types for wall paneling.'
What colors go with grey tiles?
For tiles, it might be more tricky because it's likely you won't have an in-depth description of your color as you would do with paint. But you can use the same rules; cooler greys = cooler color combos, warmer greys = warmer colors.
If it's paint you are looking for to match your tiles, always order a sample pot – paint it onto a piece of paper, or the wall if you are set on redecorating and place the tile next to it to ensure the colors work in your space.
Are grey bathrooms out of style?
Thankfully not! Paying homage to the romantic blockbuster, Helen Clark, Head of Marketing at Utopia Bathrooms, comments:
'There are many more than 50 shades of grey and there's certainly nothing dull about any of them.
'Grey is a cool, sophisticated choice and one that's currently very on trend for stylish, contemporary bathrooms.
'Go for a Matt or textured effect to add depth and dimension or team with contrasting colors for a unique effect.'
Barrie Cutchie, Design Director at BC Designs, says: 'Grey, like any neutral, can wash out a room, but by using it on just a focal point or in small doses as undertones alongside other colors, it can be the soothing shade you are after.
'Our best advice is to use it as the base color in your tiling, or go for full impact with the use colored ceramic bath or basin."