If you are searching for luxury bathroom ideas, then we have you covered. In a time where we are tapping into self-care and making our homes healthier, creating a master bathroom that is both indulgent and relaxing can do wonders for our physical and mental well-being.
However, luxury doesn't just mean minimalist bathroom ideas or the latest state-of-the-art technology installed in your master bathroom suite.
Instead, we've found the most gorgeous luxury bathroom designs that are easy to emulate. From quick and cheap modern bathroom ideas, to longer projects will pay dividends over time, there are plenty decor and designs approaches you can take.
Luxury bathroom ideas
Don't assume every luxury bathroom idea involves spending big. You can get a luxe look with careful vintage buys and smart planning. But of course, splurging big on materials like marble or opulent brassware, is a fast route to a glam space.
1. Accent your master bathroom with printed wallpaper
You might not think bathroom wallpaper is something you can incorporate into a luxury scheme, but provided you do it correctly, it can make a fantastic, long-lasting impact.
So whether you choose to wallpaper the entire bathroom in your maximalist home, or zone one area of a minimalist master bathroom with a colorful accent wall, be bold and escape to a printed paradise.
'Just be sure to avoid high-moisture or humid areas where the wallpaper is likely to come in contact with water,' says Real Homes Editor in Chief Kaitlin Madden. 'These will include areas next to the bathtub, washbasin, faucets, shower fixtures and any sanitaryware.'
Rest assured however, that the odd splash here or there is unlikely to ruin your handiwork. This is because most luxury bathroom wallpapers are vinyl-coated and are marked specifically for use.
2. Create a spa-like space with mood lighting and plants
One reason we like to book in a spa retreat is to create a sense of escapism and to immerse ourselves in a sensory experience. As well as calming music and tactile touches such as a soft robe and slippers, soft lighting and indoor plants can create a relaxing master bathroom that will provide a sense of sanctuary and offer respite.
Strategic placement of luxury bathroom lighting next to a vanity mirror will make for a tranquil and inviting scheme. Look out for fixtures with dimmable settings as these will allow you also to adjust the brightness to suit your mood and requirements.
3. Transport yourself to the beach with wall art
A 'shorefire' way (pardon the pun!) to add tropical vibes into your master bathroom, themed wall art is fast track way to whisk you to a tropical destination and exude a boutique hotel feel into your home.
From palm trees to white sand beaches, aerial sea shots and sun faded fabrics, style with wooden elements for an on-trend holiday hub in the home.
4. Treat your space to a statement heated towel rail
A commonplace feature in many a luxury bathroom, heated towel radiators not only offer warmth but a place to hang your towels tastefully.
But rather than opting for a conventional towel warmer in a standard white or chrome scheme, why not add Art Deco opulence to your master bathroom with a metallic gold or brass finish?
Alternatively, choose a high-end style that deviates away from the traditional ladder style. This might look like a set of towel rings or a curvier s-shaped design.
5. Always feel cozy with underfloor heating
'Nobody likes the sensation of going from a warm bath to placing their feet on a cold hard floor,' says Richard Roberts, Director of Sanctuary Bathrooms. Instead, invest in underfloor heating to create warmth that comforts your toes as you get out.'
It's well worth including in a from-scratch bathroom remodel. But you can also retrofit underfloor heating if needs be.
6. Create a space for luxury bathroom essentials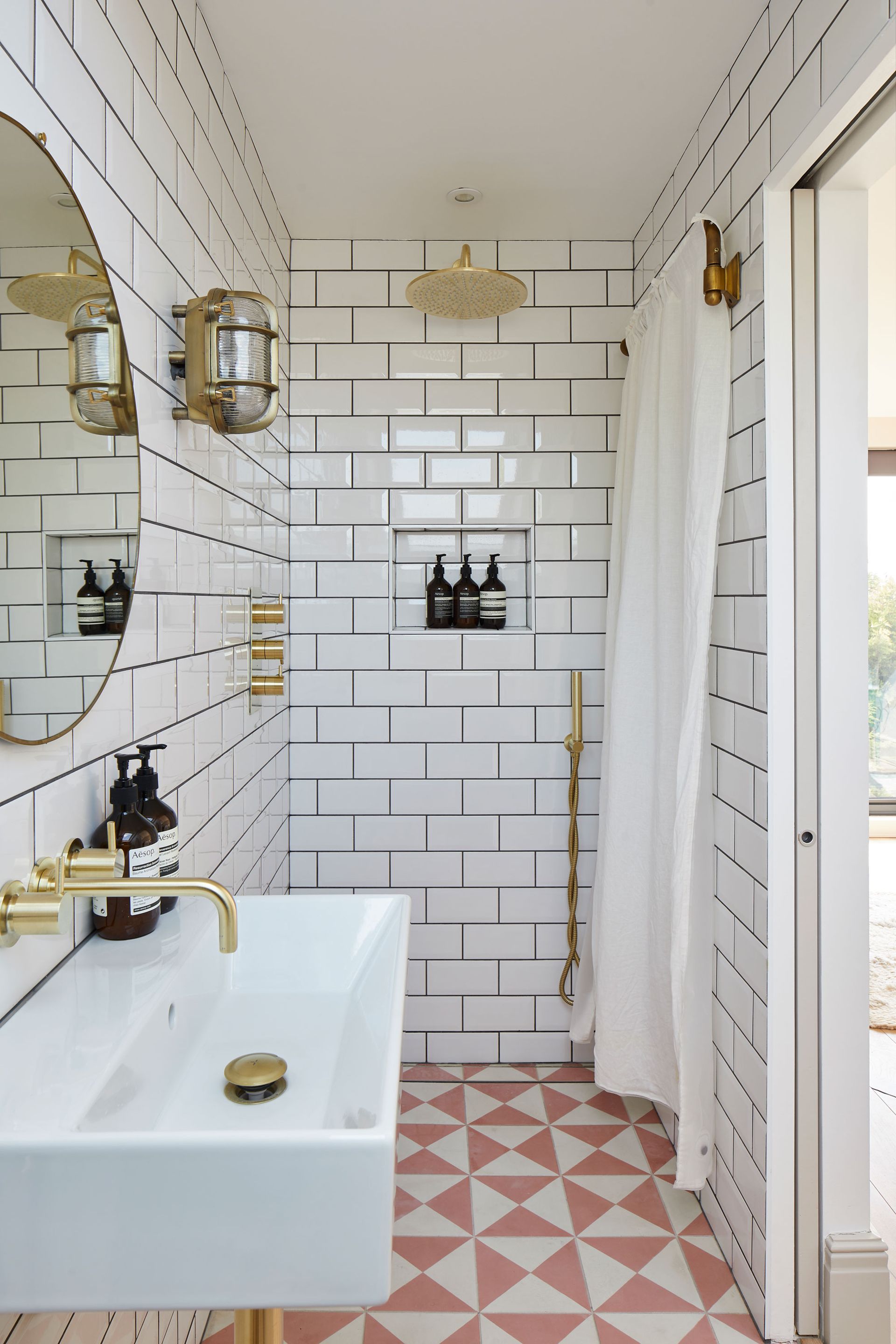 Decluttering your master bathroom can create an expensive-looking room and create the illusion of a bigger space. But what about those everyday essentials and purposely-on-display products that you don't want to tidy away?
Incorporate a niche or cubby as a walk-in shower idea, and create a purpose-built pocket for your luxe buys. Just like a coffee table styled with hardback designer books, this space should be reserved for your most prized beauty products and bathing accessories.
7. Go on trend with terrazzo
Providing texture and color, terrazzo is a fun way to update your master bathroom scheme, especially if you don't want to commit to a single material. Think of it as you would layering different fabric patterns in a living room or bedroom.
Instead, this Italian-inspired finish uses chips of marble, quartz, granite and glass which glisten to create THE perfect luxury bathroom glow-up. Bellissimo!
8. Consider a classic chrome finish
For a luxury bathroom with a timeless feel, think about opting for chrome fixtures and fittings. A great accompaniment to a marble scheme, chrome makes an understated addition to a bathroom that's guaranteed to stand the test of time.
We love this Double Crake Vanity Basin Suite from Drummonds and can't imagine not feeling (at least a little bit) glam getting ready in front of it every morning.
9. Opt for a minimalistic luxury bathroom
If you like the idea of a luxury bathroom without the extravagant opulence, it's possible to get a more minimalist version.
Simple silhouettes and well chosen materials – think hardwoods and concrete finishes – can create a soothing and luxurious feel when combined. Complete the look with industrial-style light fittings and a statement freestanding bath.
Find a similar light at Original BTC.
10. Choose marble for a space that oozes opulence
Marble is the go-to material if you're looking to design a bathroom that says sophistication, opulence and luxury. A light coloured finish will make a bathroom seem large and light, particularly in a space with high ceilings and large windows. Team with white sanitaryware for a classic feel.
11. Embrace pattern for a unique finish
Combining stylish patterned floor tiles with classically luxe features – like the mirrored wall and freestanding bath here – is a great way to create a luxurious bathroom that is unique and full of character.
We love this combination of statement wall and floor tiles with this lacquered finish Tay Bath and Dalby Shower, both from Drummonds, for a modern twist on a luxurious bathroom.
12. Embrace colour in a luxury bathroom too
Luxury bathrooms don't have to be all about the monochrome – the right colours can give just as much of a luxury vibe. Obviously, we love pink. The right pink, that is.
Pick something that's slightly more grown-up, a blush pink rather than a saccharine bright pink. Then combine it with natural materials like wood and marble to stop your bathroom looking too Barbie's Malibu Dream House.
13. Design a space with a stylish double sink
Practical and luxurious, double sinks are reminiscent of high-end hotel suites and are a worthy addition to a bathroom shared by busy couples.
We love the way dark fixtures complement the marble and wood to create a more industrial feel in this bathroom. Find out more about choosing a bathroom sink in our guide.
14. Add a statement double shower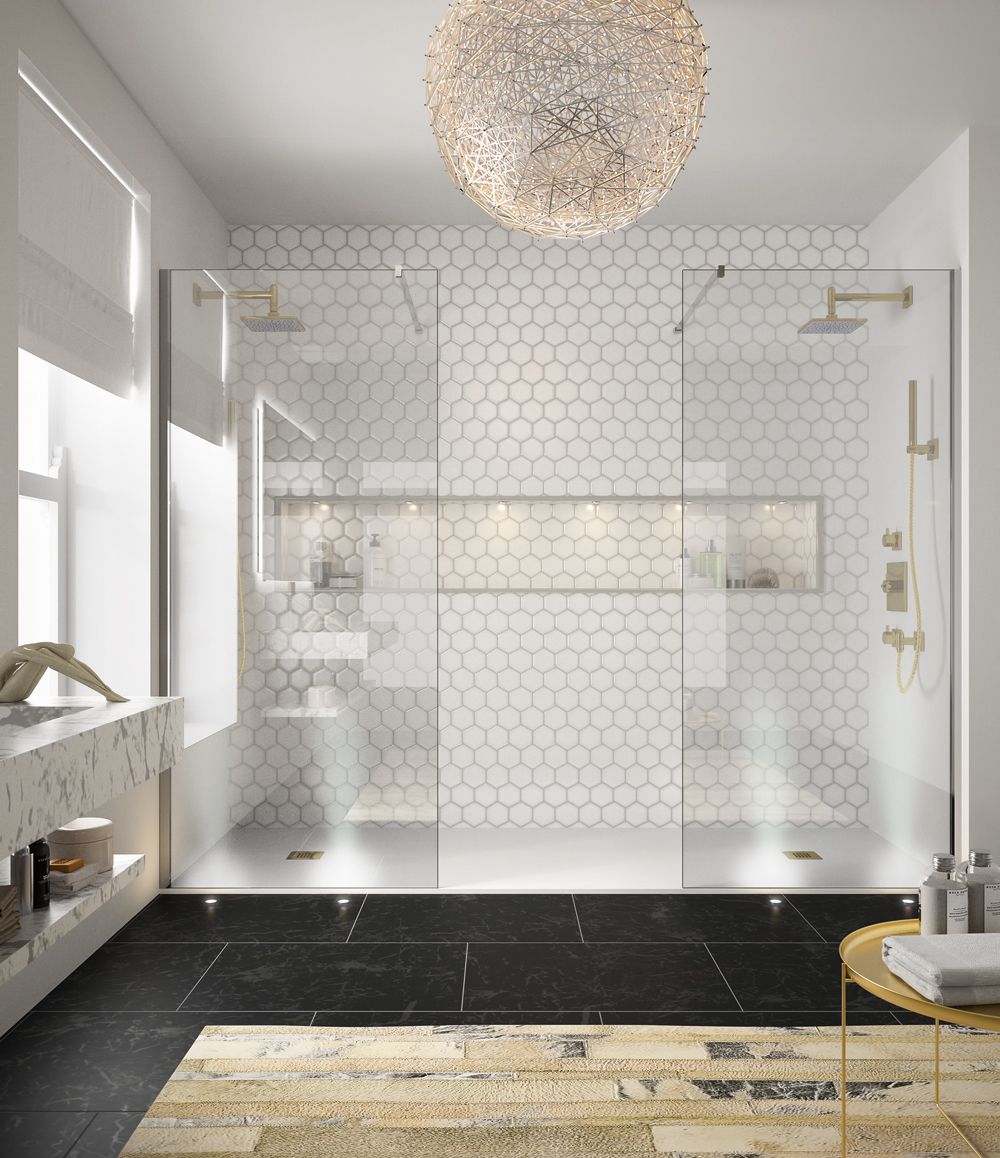 Another example of bathroom indulgence, a double shower makes for a truly luxe addition. By keeping the shower fittings relatively simple, there's ample opportunity to make a statement with the tiling.
We love this use of white hexagonal tiles and the addition of a recessed shelf unit. Re-create the look with Merlyn Showering.
If you want any more advice on how to choose the best shower, just check out our guide.
15. Create the illusion of space (and add a touch more luxury) with a scaled-up mirror
In addition to creating the illusion of a larger space and making the room lighter, a super-sized mirror enhances the luxurious feel of a bathroom. This is particularly effective if it's positioned so that statement lighting or a freestanding bath are reflected.
16. Emphasise original features in a luxury bathroom
If your bathroom is blessed with original features, it's worth ensuring you're making the most of them, adding to the five-star feel of your space. Simply positioning a statement, freestanding bath in front of a beautiful original window will draw attention to it, creating a focal point.
17. Opt for elegance in a country bathroom
A classic pale neutral scheme is an elegant option for a country luxury bathroom design. Treasure original features and ensure that new additions are in keeping with the traditional style for a luxurious look that suits a period property. A reclaimed fireplace and timeless freestanding bath make luxurious additions to this country cottage.
If you love this bathroom, you are definitely going to want to check out more of our traditional bathroom ideas.
18. Design a stand-out hand basin
If you want to create a luxury feel in your bathroom but are limited by budget, investing in one statement piece can be an effective solution. We'd recommend tackling the area around the hand basin, which can function as a focal point and make a dramatic difference to the feel of a space.
We love the striking combination of this nickel finish, freestanding Hebdern Vanity Basin (available at Drummonds) with a stylish mirror and industrial-style wall lights. Add in delicate house plants and good quality hand soap to enhance the luxurious bathroom feel.
19. Invest in luxury window treatments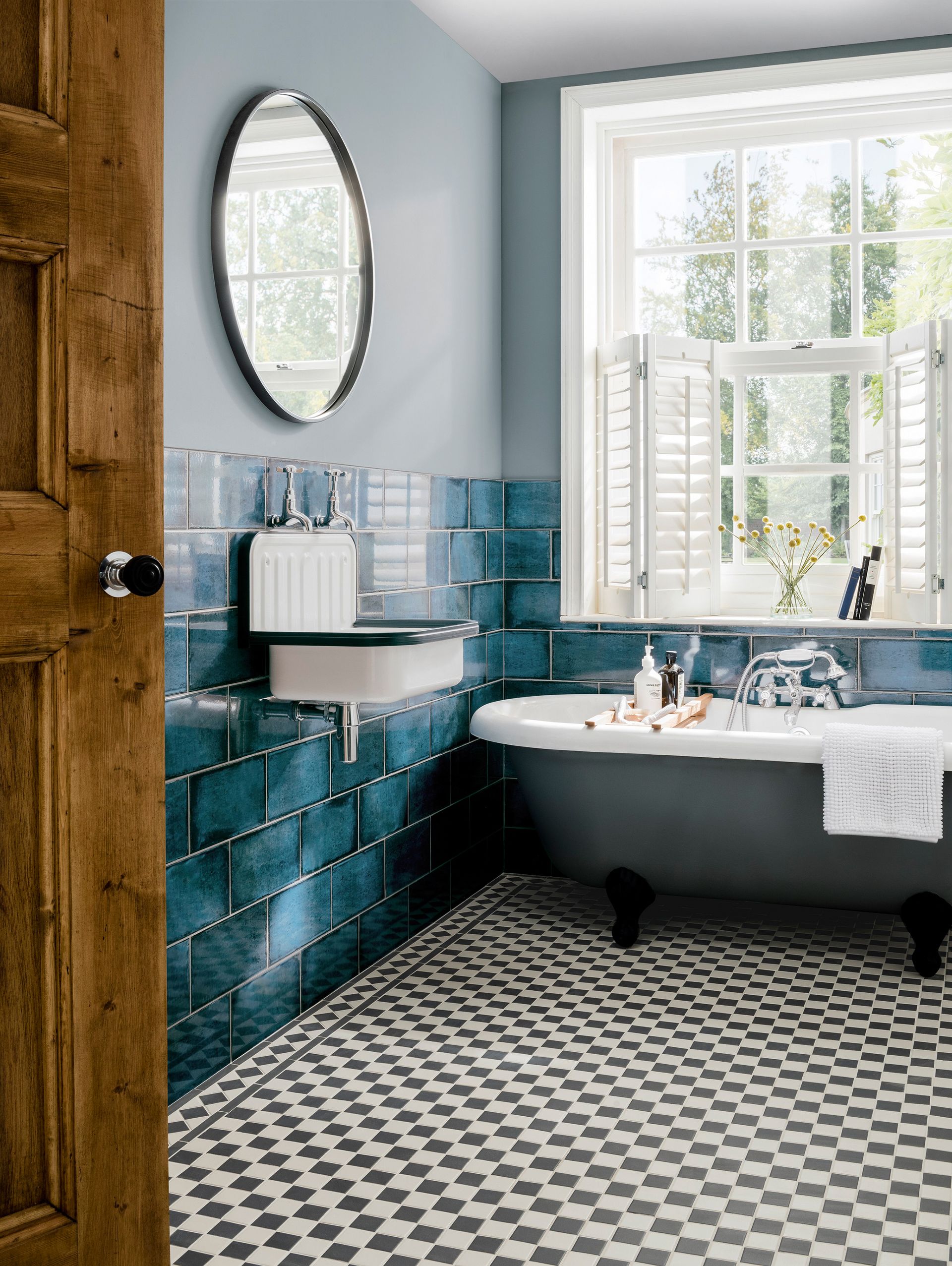 For ultimate privacy – and to make a design statement – invest in luxurious window treatments. Nothing wrong with blinds, of course, but shutters, in our opinion, add elegance to any bathroom.
Want more options before you decide? Browse through our bathroom window treatment ideas.
20. Create a formal, elegant look with fitted storage
House your towels and toiletries in finely crafted fitted cabinets for ultimate elegance. This monochrome luxurious bathroom with fitted furniture is by Scavolini.
21. Make your bathroom look like a French boudoir
To make your bathroom feel like a space you always want to spend time in, add in upholstered seating and decorate as you would a bedroom. Think boho painted furniture and wall art. Explore more brilliantly boho ideas to get inspired.
This country farmhouse bathroom in Devon is by Drummonds.
22. Make the most of a loft conversion bathroom
A loft conversion can provide an excellent space for a luxury bathroom. Not only does a loft offer extra privacy, but also plenty of opportunities for a clever, bespoke layout.
We like the way in this loft bathroom, the corner is utilised for a shower, while the bathtub rightly occupies the sunny spot by the window where headroom is less generous..
23. Create luxurious textures with an all-tiled bathroom
There's nothing like a beautiful bathroom tile idea for adding texture and visual interest to a luxury bathroom.
Use both floor tiles and wall tiles for a really stunning effect, picking glossy finishes for the walls to reflect light and a slip-proof matt finish for the floor for contrast.
24. Create a luxury bathroom with a grey scheme
To create a serene, elegant space, consider bathroom paint ideas carefully. If your bathroom is on the small side, pick a deep, mid-tone colour that won't make it feel too small, and ensure your bathroom lighting is well-planned so that the space is bright in the evenings and on dark mornings.
This dove grey bathroom looks calm and inviting, and features shutters by Apollo Blinds.
25. Add a mural for a bespoke look
Introduce a playful element with a wall mural. To keep the design scheme smart, try matching the colours of the mural to the colour scheme of the bathroom furniture.
This luxury bathroom with a mountain mural is by Delightfull.
Find more mural design inspiration in our guide.
26. Make the bathtub the star of a luxury bathroom
If you already have a beautiful space that doesn't require too much design-wise, you can concentrate on investing in the perfect tub. You could do worse than a shiny metallic number, made from tin, nickel, or copper.
27. Be Scandi-inspired for a simple and serene design
For some of us, the height of luxury is simplicity. If your dream bathroom is unfussy and serene, look to Scandinavia for inspiration. Think blond wood flooring, and a cosy accessory such as a sheepskin.
This Scandi-inspired bathroom is by Catchpole & Rye.
28. Go contemporary with a cement wet room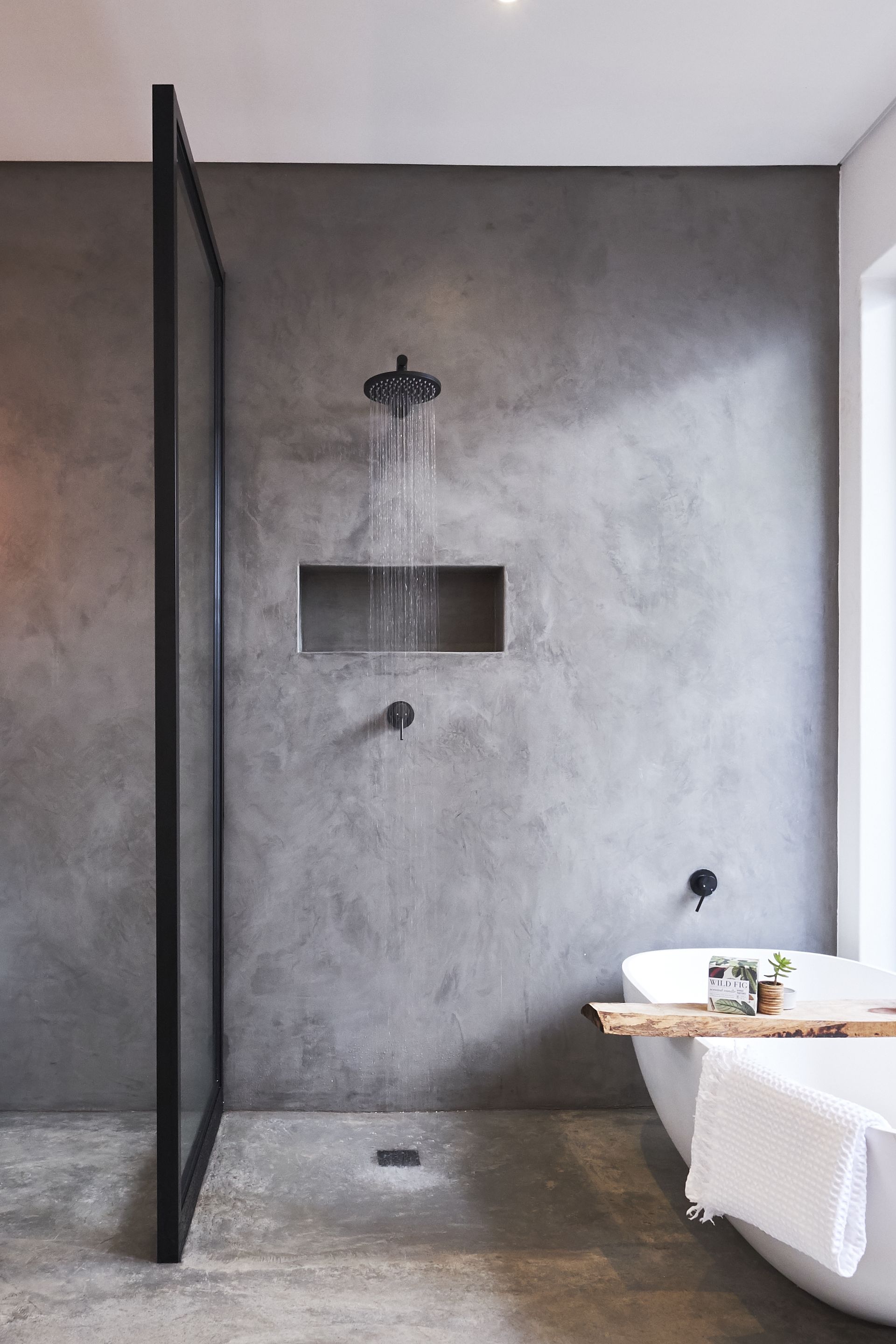 If contemporary minimalism is your definition of luxury, consider how to create a wet room that's as streamlined and fuss-free a bathroom option as they come. You can also experiment with more contemporary materials; this wet room, for example, has been fitted with micro-cement walls and floors.
29. Create the ultimate luxury bathroom with a monochrome scheme
It doesn't get more sophisticated than an all black and white scheme in a luxury bathroom. Re-create this look by picking out striking black tiles (we love these honeycomb ones from Tiles Direct ) and black bathroom storage. Add some personality with monochrome prints and bathroom accessories.
Can we also just take a moment to appreciate that polished concrete-effect floor? It adds a fashion-forward edge of industrial style to a luxury bathroom.
30. Combine a minimalist and rustic style
Luxurious bathroom designs don't always have to be stripped of texture, in fact we are seeing a big trend for very minimalist spaces that have a slight rustic boho feel to them. It's like a modern Mediterranean look – think fancy Ibiza hotel – and we love it.
To get the look, when designing your bathroom keep everything very simple but add in natural materials like wood and stone, then accessories with rattan accessories and statement plants.
How can I make my bathroom more luxurious?
'A freestanding bathtub automatically upgrades your bathroom to give it a hotel feel,' says Big Bathroom Shop's head buyer Susie Hilton. 'If a freestanding tub won't fit or is impractical, build a tub into the space and surround it with it marble or quartz for an equally elegant look.'
Susie also suggests thinking hard about how you dress your windows. 'Add plantation shutters for a boutique-hotel feel, frosted glass for privacy, or long drapes for opulence.'
Bathscaping is Instagram's latest interiors trend, involving the art of transforming your bathroom into a relaxing and luxury sanctuary. Katie Thomas, founder of KTM Design explains how to create a soothing bathroom space. She says: 'To create a serene, relaxing atmosphere in your bathroom which echoes a spa-like setting, opt for a neutral palette. Cool or warm greys mixed with other neutrals such as off-white and taupe can help create this,'
'Black can be used sparingly for details such as a window frame or shelf. A neutral palette is perfect for accentuating different textures, such as stone with grey marble veins, or light wood grain. You can also mix with chrome or black taps, monochromatic patterned tiles, terrazzo or trendy fluted tiles to create visual interest.'
'Tiled floors and walls give a luxurious atmosphere, however, you should avoid trendy patterns and colors which will go out of style and age the space. Instead, aim for classic finishes, stone or marble basin countertops and splashback if your budget allows. Porcelain tiles work best in bathrooms as they are long-lasting, less porous than concrete, and aren't prone to staining.'