They say say good things come in small packages, so why do your downstairs toilet ideas get dropped to the bottom of your interiors to-do list?
Small bathroom ideas – including cloakrooms and powder rooms – can still pack a punch. Yes, they're a much more in-and-out affair, but when nature calls, they're a necessity.
Located on the ground floor of your home, they're a great portal for potty training or a desperate restroom dash after a long car journey home.
When hosting guests, it's a room that comes in handy when they need to be excused to use the toilet and/or wash their hands. It also allows them to feel more comfortable in your home knowing that they don't need to navigated, or feel as though they're being intrusive.
Downstairs toilet ideas that are big on style
1. Create an under the stairs idea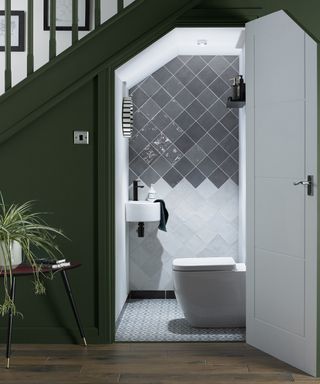 If you aren't lucky enough to have a dedicated downstairs toilet idea that's a separate room - don't despair. Turning your under the stairs cupboard into a cloakroom idea is a worthwhile investment if you're a homeowner. If and when it comes to selling up your property, it's an amenity that can add a few thousand pounds to the value.
This grey and white bathroom idea uses tiling to create a contemporary design. Starting with the darker grey and cascading to a lighter ceramic, the white floor adds a level of continuity for a seamless scheme.
As well as small bathroom storage ideas, a corner sink is another way to economize on space.
2. Decorate your downstairs loo with printed wallpaper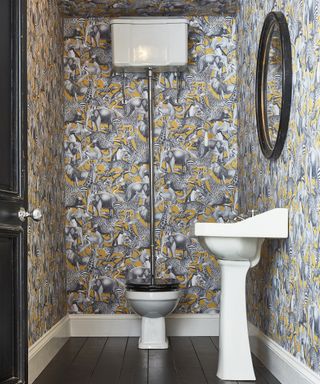 A bathroom wallpaper design will keep children entertained during potty training with its random montage of digital images of engravings.
See if they can spot all ten animals including camel, elephant, gecko, giraffe, lion, ocelot, penguin, porcupine, tiger and zebra! And don't forget to use the wallpaper on the ceiling too for an all-encompassing enclosure.
In this yellow and grey bathroom idea, the black framed mirror idea not only makes the room look bigger, but will reflect the animal motif for a cheaper alternative to the zoo.
Senior stylist and trend specialist at Graham & Brown, Paula Taylor says:
'Bathroom wallpaper has been specially formulated to withstand humidity and moisture whilst maintaining its quality appearance. It's both durable and washable, making it perfect for use in an area where the risk of spillages is high.
'The bathroom is a great room to have a bit of fun with your décor, you can be as colorful, quirky and over the top as you like.
'We have always shied away from heavily patterned wallpapers in small rooms however by using the paper on all walls (and even the ceiling if you're brave enough), the edges of the room appear to blur and you can create a wonderful cozy feel that almost appears limitless.
'Wallpapers that have a slight shimmer to them are also ideal for use in the bathroom as they really enhance skin tone and add radiance to the room.'
3. Color match your sanitaryware for a coordinated look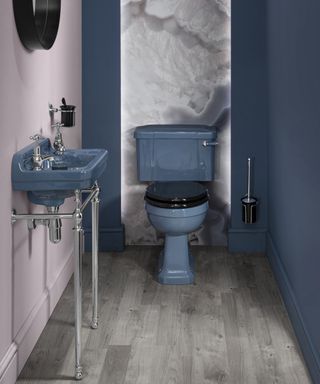 Despite their universal appeal for most homeowners, white bathroom ideas can be a little clinical and a nightmare to keep clean. A dirty bathroom isn't ideal for when unexpected guests pop over or a tradesman undertaking work in your home needs the loo.
While blue bathroom ideas can offer a calm and inviting scheme, we tend to think of decorating with paint or wallpaper. However, choosing a colored enamel for your toilet and basin can instantly add a wow-factor to your downstairs bathroom idea.
Yes, they're most costly than a set of new towels or some bathroom tiles, but these hard-wearing and durable fixtures will be used for years to come.
4. Add boutique hotel glam with a statement basin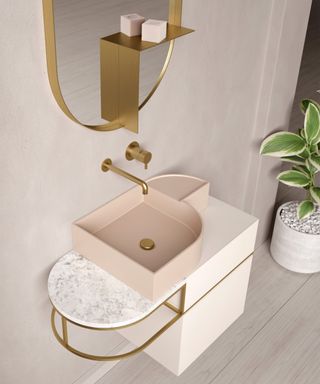 While there's no place like home, we do love the perks of staying in a boutique hotel on vacation. First there's the no cooking and washing up. Then not having to make our bed. But what we most enjoy is the power shower and statement basin that comes as part of our washroom amenities. Oh and the travel-size samples to take home too.
Recreating the look in your downstairs bathroom idea is a lot simpler than you think. This pastel pink Nouveau washbasin from West One Bathrooms, is one way to achieve the look and emulate the luxury bathroom ideas you see in hotels. Like that John Legend lyric, we love its curves and all its edges.
Paired with a gold faucet and framed mirror design, and a hint of marble, this makes for one cute cloakroom.
5. Smarten up your bathroom with navy wall panels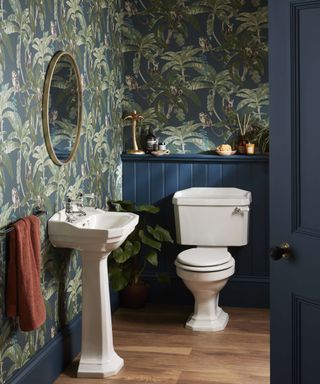 Want to experiment with a busy printed wallpaper in your downstairs bathroom idea but think it'll look 'messy'? Just add a wall paneling idea.
Going half and half with your cloakroom design might sound a bit indecisive but adding structure with wood panels mean you can have the best of both worlds.
So, figuratively speaking have your cake and eat it in this 2-in-1 small bathroom idea. Further develop this concept by painting your skirting boards and door the same color for interior designer levels of coordination.
6. Utilize a cloakroom effectively with built-in shelving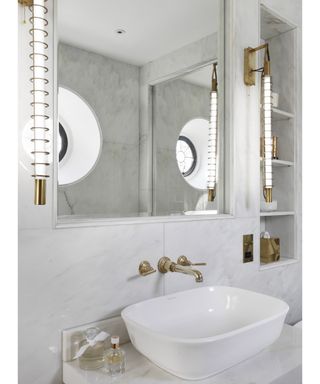 Comforting and calming, white bathroom ideas create a clean feeling of luxury.
Organization is everything when it comes to making the most of your cloakroom. So a built-in bathroom storage idea can help to hide or de-clutter bathroom items and give the illusion of more room. Adding a large mirror to this downstairs bathroom idea doubles up to trick the eye.
Emma Joyce, brand manager EMEAA at Victoria + Albert Baths says:
'Traditional, white bathrooms are a timeless and stylish trend in the bathroom.'
'Varying tones of white, ivory and cream help to maintain a muted and neutral balance in a space to ensure it feels calm and serene.'
'We have noticed increasingly how consumers and retailers are being largely influenced by boutique hotel designs, and opulent bathrooms with accents of marble and bright, light colors are a classic look which people are quick to adopt.'
7. Personalize your flooring with a positive message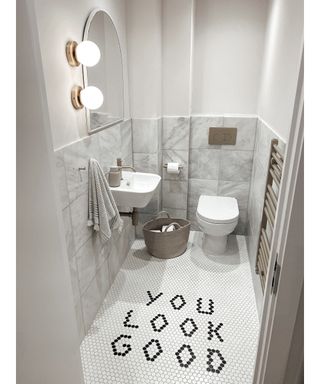 OK, so a downstairs bathroom toilet isn't somewhere we'd expect you'd look your best, but a compliment is always nice to receive.
Using hexagonal mosaic tiles, this decorative bathroom tiling idea by Instagram home renovator Nina Bragg (@nina_moves_in) definitely makes a statement.
Paired with marble wall tiles, it's a modern bathroom idea that is beautifully minimalist.
Add a taupe basket to store your toilet rolls and a matching towel rail to create a simple bathroom idea looks chic and expensive. And, of course, a large mirror to be sure you do look good before you step out of this wee WC.
8. Add a rainbow of color to a grey downstairs toilet
Grey is a popular bathroom color idea for master bathrooms and en suites, so it's no surprise that it's a defining hue for downstairs toilet ideas too.
Its versatility means that it can be used as part of a wider interior design trend, be it a rustic bathroom idea or simply accompanied by another hue. But if you can't choose one color to complement grey, then why not have them all?
Describing her multi color wall decor idea, home renovator, Hilary Crawford says: 'You can't have a rainbow without any rain!'
'After the past few days this seems appropriate so I thought I would post a photo of the rainbow mural in the downstairs toilet while we continue to search for our rainbow.'
9. Create a dramatic downstairs bathroom using black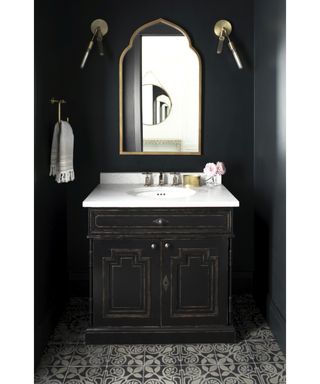 While dark green bathrooms are a popular choice for many, a black bathroom idea takes some stern thinking and consideration. But rest assured that the end results are rewarding. So are you ready to take the leap of faith and be seduced by a bold and brave loo?
Laced in licorice black paint and styled with a gold framed mirror, this cloakroom is deliciously dark. Combined with a wooden vanity and decorative floor tiles, it is a room that revels in standing out from the crowd and sparking debate.
Tread with caution however, as this downstairs bathroom idea isn't advised for those with young children who are afraid of the dark. If you still want to commit to this design, then it's worth investing in good small bathroom lighting fixtures.
We promise the only scary thing about this design is that you didn't do it sooner.
10. Paint your downstairs lavatory in luscious purple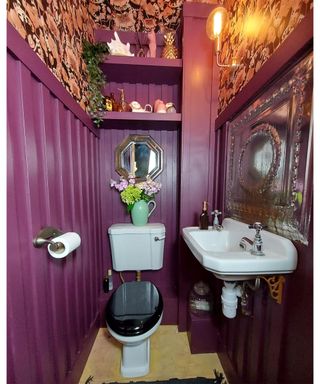 Elegant and mysterious, berry, aubergine and burgundy are shades that exudes luxury when used in a purple bedroom idea. But don't underestimate the power it has in your loo too.
Paired with Opium Blush wallpaper from The Curious Department, gold pineapple decor and a tin tile splashback, this downstairs bathroom idea is the thing of Art Deco dreams.
Claire Bannatyne, who documents the renovation of her Victorian home by the coast on her Instagram account, @harvey_home_eclectic says: 'After over a year of it being created I finally got the smallest room in the house finished.
'Without any natural lighting it's tricky to show off the rich burgundy paint, another special mix from Victory Colours.
'I saved the original Victorian tiles from the old lean-to and the plan is to use them on the floor in here eventually.'
11. Tap into tradition with Regencycore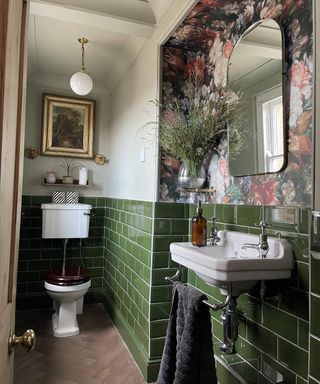 If you want a fresh downstairs loo that is bang on trend, then a green bathroom idea is a great place to start. Fresh and floral, using foliage isn't just restricted to bohemian schemes or rustic bathroom idea.
Hannah Young, a homeowner who is renovating her whimsical 17th Century Victorian home in Somerset says: 'I did a very Instagrammy thing and went about my garden snipping grasses and made this arrangement in my downstairs toilet.
'They're probably weeds as I have no clue about gardening. Thankfully, I think the wallpaper is creating the illusion of some flowers which aren't actually there!'
Fancy this floral look? Shop Graham & Brown's bouquet wallpaper.
12. Create a biophilic theme with printed wallpaper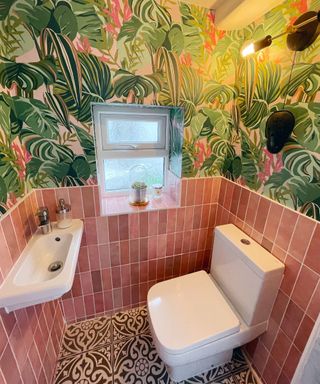 Unfortunately, there's a small school of thought that still thinks pattern can't be used considered when looking for downstairs toilet ideas.
Thankfully, many interiors myths have been rubbished when considering cloakroom bathroom decorating. We say: Go hard or go home!
Rebecca and Ollie of Instagram renovation account @newtothenorth2020 show us what's what with their maximalist and modern bathroom idea.
Combining pastel pink tiling with a global printed wallpaper design, this quirky downstairs bathroom idea makes the most of its square meterage.
The couple made the smart decision keep their sanitaryware white for a sleek suite, allowing for their black and white flooring to make more of an impact.
13. Pick a bold wallpaper for a downstairs toilet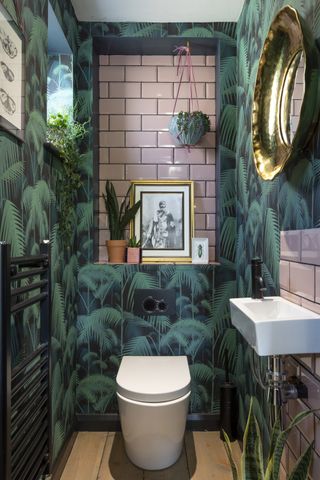 What we love about decorating cloakrooms or downstairs toilets is that you can really get creative in these spaces. Unlike your other rooms which kind of have to match in style if you want your home to have a flow, you can go to town with the decor in a downstairs loo without interrupting the overall vibe of the rest of your home.
Wallpaper is a great way to bring in these bold patterns and can actually 'expand' the space because you can clearly see the corners of the room – very clever.
14. Pick ladder storage for a downstairs toilet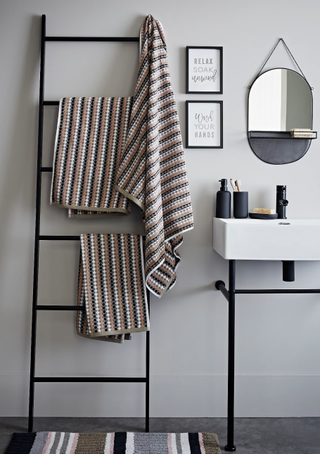 Floor space is usually at a premium in a downstairs bathroom. To practice your favorite small bathroom storage ideas, save on space with ladder storage.
Ladders look stylish, take up barely any room but are perfect for storing towels – you can get versions with shelving if you have the room, but if not you can hang string bags or baskets of the rungs for extra storage.
15. Use paneling for a traditional feel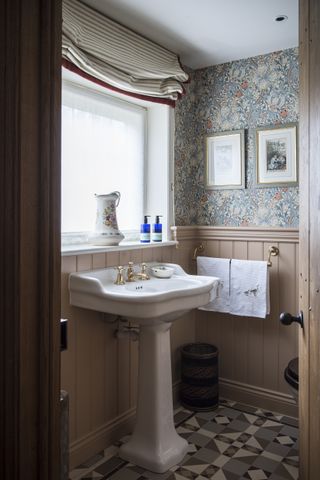 Making your bathroom ceiling feel taller can create the illusion that the room is bigger – you create the feeling that there is a larger distance between the half way point and the ceiling.
A really easy way to do this is with wall paneling, or if it isn't an option, you can try painting your wall half way up. We love the traditional, elegant look it brings to even the smallest of spaces too.
16. Allude to more space with a large mirror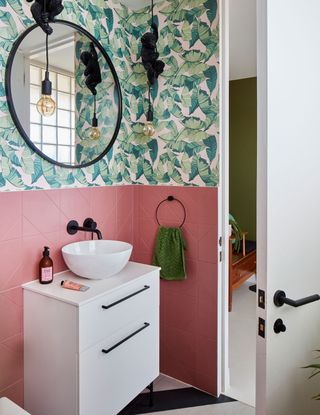 Here's one very easy downstairs bathroom idea to give the illusion of space. Simply hanging a large mirror in the space will help it feel more spacious, especially if you've chosen a dramatic color scheme like this fab pink and green one.
Picking a round mirror will create a softer feel than a square or rectangular one, and choosing one that's got a slime frame will add a more luxurious element to the room also.
Also note the tiles half way up the wall? That trick we just told you about to make the room feel taller is working its magic here too.
17. Add greenery to blur the edges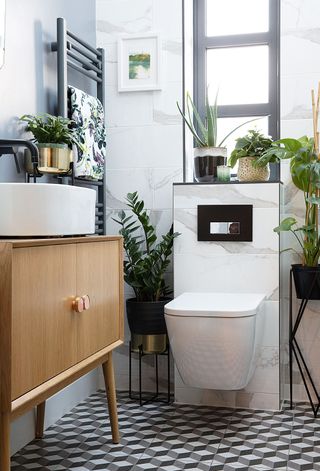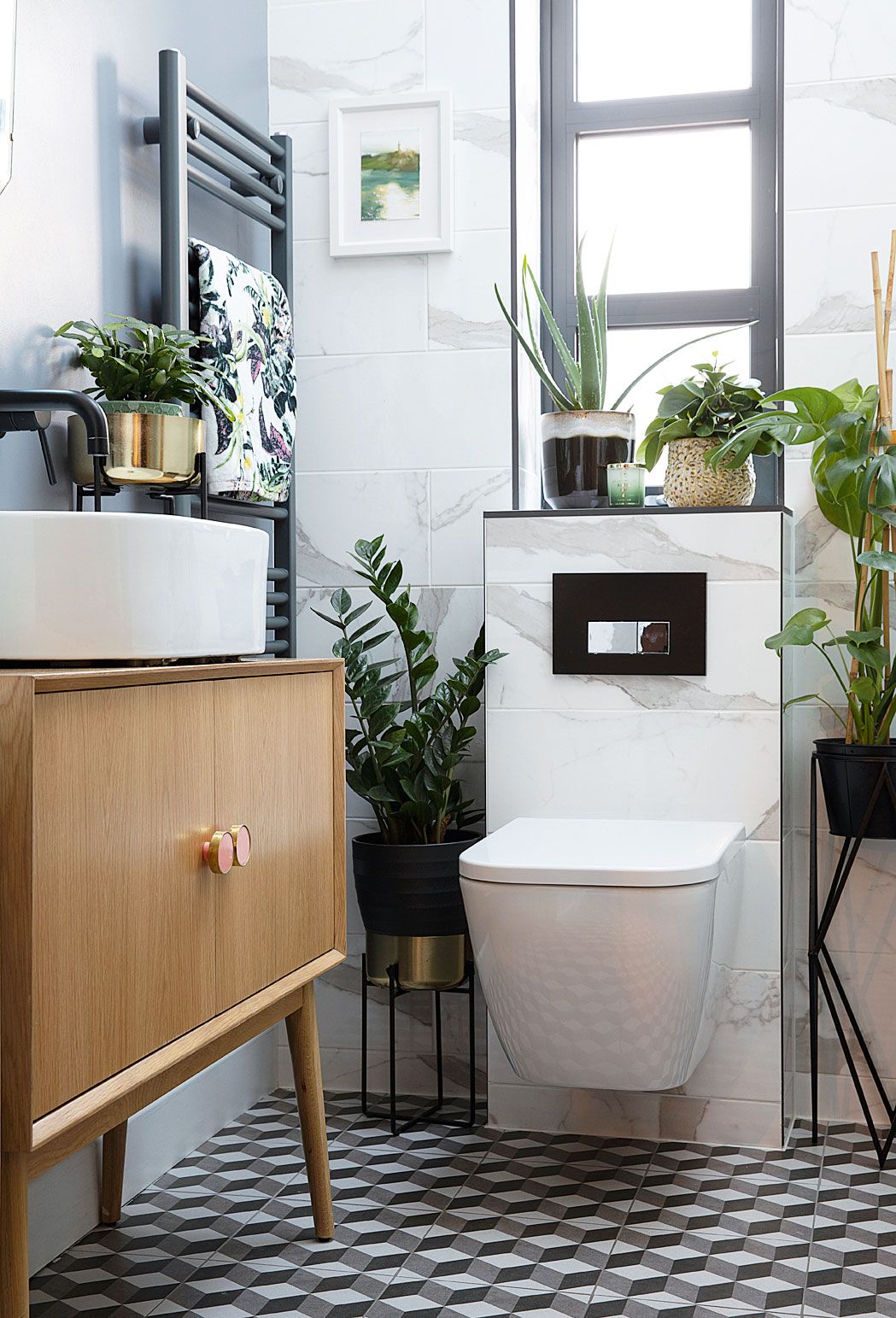 Houseplants don't only make a small room more stylish, the can actually help make a room feel like there is more space.
Having all that greenery blurs the edges of the rooms so you can't quite tell the size of the room. When choosing plants, go for a couple of statement larger and dot smaller ones at different heights.
If your downstairs bathroom doesn't have a window, we would recommend going for fake since real houseplants obviously need some natural light.
18. Go for a simple monochrome color scheme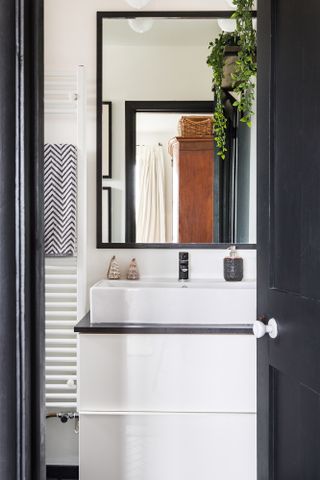 It's design 101 that lighter spaces feel bigger, so going for a simple monochrome scheme in your downstairs bathroom makes sense.
This space is a perfect example of how it's done – white walls, white fixtures and just hints of black in the frame of the mirror, the pattern of the towel and the painted door.
19. Build in shelves to prevent a box feeling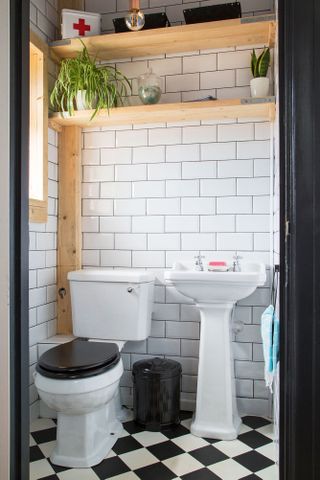 Open shelving is a much better option than a built in shelving unit in a downstairs bathroom.
With a relaxed, unfitted feel, they not only offers ample storage, but makes for a stylish design feature too – just style them up with home plants and accessories.
Note how these shelves are built close to the ceiling too so as not to stick out too much into the room – a nifty trick we will definitely be trying.
20. Make a downstairs toilet a seamless addition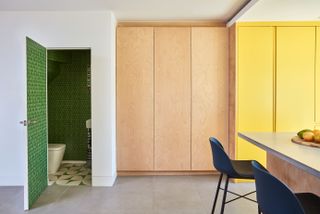 We love how the style of this downstairs bathroom is so cohesive with the rest of the room.
This needn't be so much of a consideration if your loo is say, under the stairs, but if it's in a room like this one, decorating it to match is will mean the rooms have a clear visual connection.
So be sure to consider the rooms that your bathroom leads on from to give it a similar vibe.
How do you decorate a small downstairs toilet?
Helen Shaw, UK Director at Benjamin Moore says: 'Often, homeowners automatically opt for pure white bathrooms to give the illusion of spaciousness. However, pint sized spaces can lend themselves well to a strong color.
'If your bathroom doesn't benefit from natural light, rich colors can play with artificial lighting sources to make a strong style statement.
'Painting bathroom furniture in the same tone can add to the dramatic effect of a dark bathroom, add accents of interest with your choice of brass ware and accessories.'
What can I put in a small downstairs bathroom?
'Petite tubs, corner toilets, and console or wall-mount sinks, for example, have minimal footprints in these types of spaces, leaving you with plenty of room to move around.' says Adriel Harris, brand content manager at Signature Hardware.
'Take advantage of the wall space, as well.'
'Wall-mount everything you can: toilet paper holders instead of freestanding styles, storage containers using shelf brackets and shelves, and any other thing that would normally take up floor space.'
Amber Dunford, associate art director at Overstock.com adds: 'Since these bathrooms tend to get less use, you may just want to keep some basic essentials in bulk.
'This may include a basket of toilet paper rolls, hand towel stacks and perhaps a scented candle or aromatic reeds to keep it smelling fresh.'
How much value does a downstairs toilet add?
Industry research suggests a downstairs toilet is thought to add 5% in value, that's £12,731 ($17,726), while costing just £3,000 ($4,177) on average - a profit of £9,731 ($13,549)!
Colby Short, founder and CEO of GetAgent.co.uk adds: 'All too often we plow money into our homes without considering whether it will add real value in the eyes of a buyer, as well as the cost of the job in relation to the potential return.'
'The best plan of attack is to focus on what appeals to a buyer and this is always going to be more space, particularly in the post-pandemic property market.
'An additional toilet will all help increase the appeal of your home and potentially the price you will achieve when selling.
'Of course, it's important to have a clear plan and budget when carrying out renovations to your home.
'The value added will differ from one property to the next and so there's no guarantee you will see a return on your investment just because you've plowed a sizable amount of money into renovations.'