Looking to makeover your bathroom but out of ideas? You'd be forgiven for thinking a bathroom switch-up requires a lot of time, effort and money, but thanks to a new wave of inexpensive DIY ideas, it's easier than ever to update your space on a budget – as one Instagram DIYer has shown.
Pip of @sisters_homestyles has made her neutral bathroom bang on trend by employing a few easy hacks, including using terrazzo stencils to jazz up her floor tiles – and the result is seriously impressive.
The before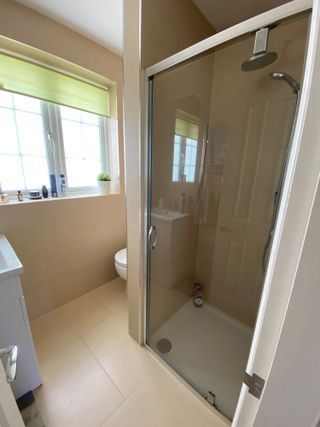 The existing bathroom had good bones, but Pip wanted to brighten up the space and add interest to the large-format beige tiles.
The process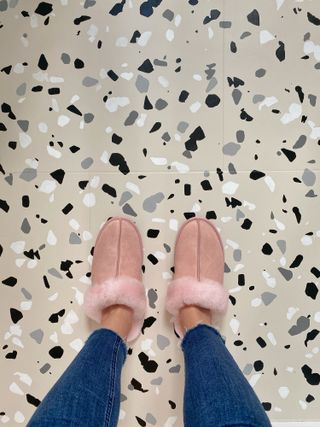 'I started by painting the wall tiles white and then created a Crittall look door on the shower by painting the frame black and adding electrical tape,' says Pip. 'I then painted the floor a base colour and used four colours (white, black and two shades of grey) to do the terrazzo stencil.'
The stencil from Dizzy Duck Designs cost just under £38. Once the pattern was in place, Pip topped with a sealant to protect the finish from cleaning products, splashes and general wear-and-tear.
The after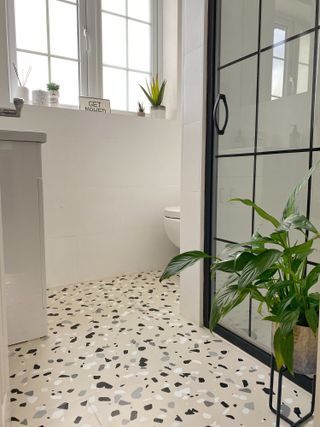 The made-over bathroom is almost unrecognisable now. As well as the floor, and the ingenius shower screen hack, Pip has freshened up the decor by painting the wall tiles white and accessorising with some new plants.
'I did this as a project in the first lockdown, and I still absolutely love it!' she says.
Inexpensive, easy and highly effective? Like painting tiles, we're loving this idea as a spring weekend project.