Browsing freestanding baths for your bathroom revamp? We have you covered, as picking the perfect freestanding traditional bath – or roll top – bath is important in both modern and traditional bathrooms. Not only does it need to look stunning as it will be the main feature of your room, but it must be functional too. So to get you inspired we have pulled together some lovely freestanding baths and ideas on how to style them into your home decor. From traditional roll tops to chic modern shapes, we have covered all styles.
For more bathroom ideas head over to our design feature and for tips on how to choose a bath check out our advice feature.
1. Choose an elegant cast iron freestanding bath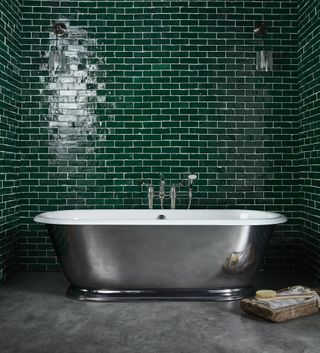 With a striking polished finish, a double-ended, cast iron bath makes an elegant addition to a modern bathroom. We love the roll top design of this Tamar bath from Drummonds – it looks like one of the best freestanding baths to help you unwind after a long day.
2. Position a freestanding bath to create an illusion of space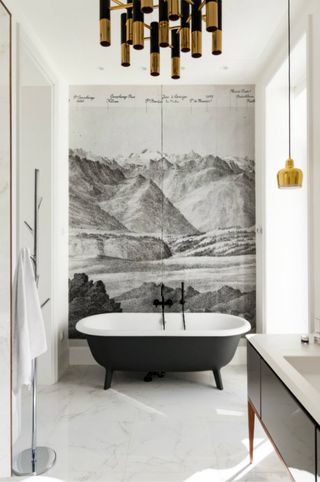 If your style is sleek and minimalist with an industrial inspired feel, a freestanding bath with a matt black finish makes a wonderful addition.
We love the unique feel of this space; with a monochrome wall mural and freestanding bath creating a striking focal point that draws the eye and makes the small bathroom feel longer and more spacious.
For more tips on designing a small bathroom, have a read through our guide.
3. Use a freestanding bath to add a pop of colour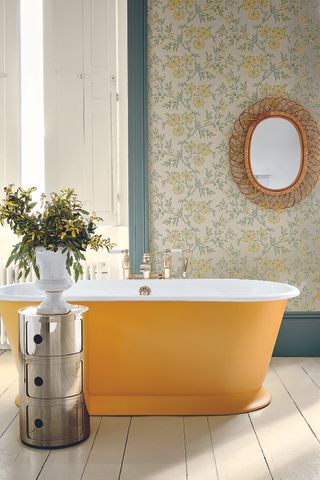 This happiness-inducing freestanding bath is effective in drawing out the cheery yellow tones of the floral wallpaper. If you're worried about the longevity of investing in a brightly coloured bath, remember that specialist bathroom paint will allow you to change the scheme when it suits.
Find a similar bath at Drummonds.
4. Consider a modern paint effect that complements your freestanding bath
Using an on-trend bathroom paint colour is a stylish idea for updating a contemporary bathroom, with colour blocking proving a great option for a space with a freestanding bath. Simply paint up to the height of a bath rim in one shade and choose another for the space up to the ceiling. Keep shades neutral for an industrial inspired feel.
Add depth to the space with the addition of a mounted wall light – we love this Box Wall Light from Original BTC.
For more bathroom paint ideas check out our inspiring gallery.
5. Opt for a simple silhouette if your style is ultra-modern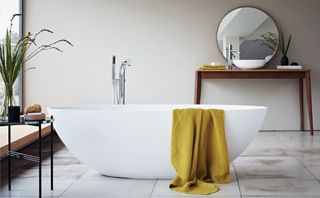 If you are after a more modern freestanding bath, a wonderful alternative to more classic-shaped models is a simple silhouette that will make sleek additions to your space. Positioned in the centre of a room (if space allows), they are effective in creating a striking focal point.
6. Pick a freestanding bath in miniature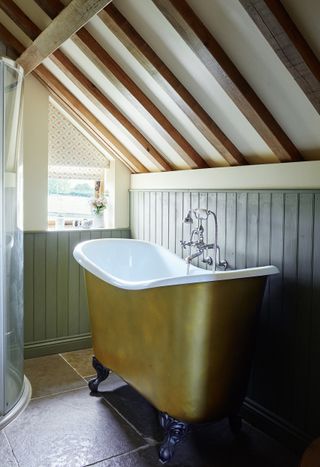 If you're designing a small bathroom the Tubby Too bath from Albion Bath Company is the perfect freestanding bath idea. It is 147cm in length rather than the standard 170cm, ideal for this thatched cottage. Made from Albion's Iso-enamel material, it is pictured in a burnished gold finish, but is also available in bronze, silver and painted in any Dulux or Farrow & Ball shade.
7. Pop a teeny freestanding bath in your bedroom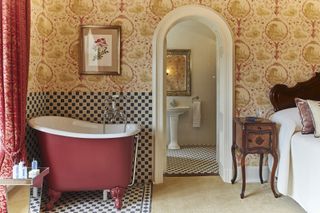 Whether you're adding an en suite bathroom, squeezing a tub into a master suite or tucking a neat and compact bath into the corner of a bedroom for a touch of boutique hotel luxury, look no further than Albion Bath Company's Tubby Tub. Here, it has been painted in Dulux's Firecracker 2 shade to complement a traditional period scheme.
8. Go for a quirky colour to start a scheme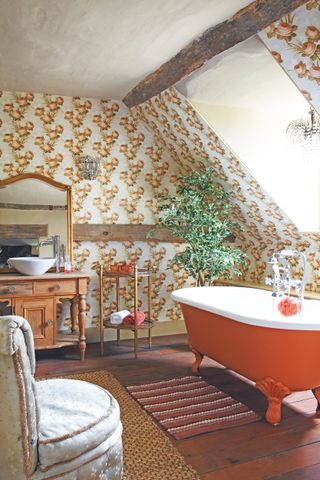 Custom painting your tub, as has been done in this bold bathroom scheme, is a great way to achieve a unique look. This cast iron roll top from Aston Matthews was painted in Dulux's Tangerine shade to complement the vintage floral wallpaper. Find the best bathroom paints in our buyer's guide.
9. Go for a French inspired freestanding bath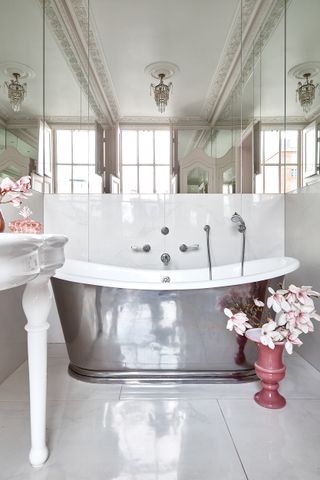 Freestanding baths don't come much more luxurious than this Bateau roll-top from The Water Monopoly. A reproduction of a late 19th-century French double ended bath with a plinth base, it is perfect for creating a feel of period grandeur, especially with this polished finish.
When buying a cast iron bath always check your floor first, often floors in old homes will need to be specially reinforced to support the weight.
10. Add a touch of style with a slipper bath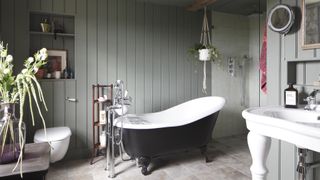 If you have the space, a freestanding bath with floor mounted taps makes a great focal point in a bathroom. With one high end ideal for sitting back and relaxing in after a long day, this Astonian Slipper bath from Aston Matthews has an indulgent, elegant feel.
11. Add pattern with floral detailing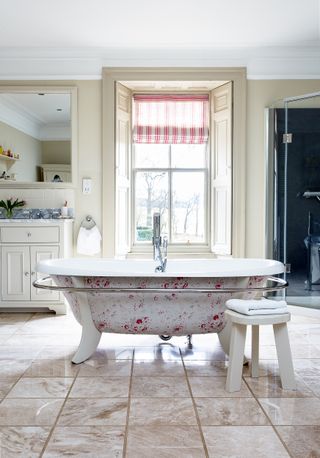 To complement their country-style interiors and give their freestanding roll top a unique twist, the owners of this bathroom cleverly decoupaged the outside of their tub in pieces of Peony & Sage's Fleur fabric.
12. Add glamour with burnished metallics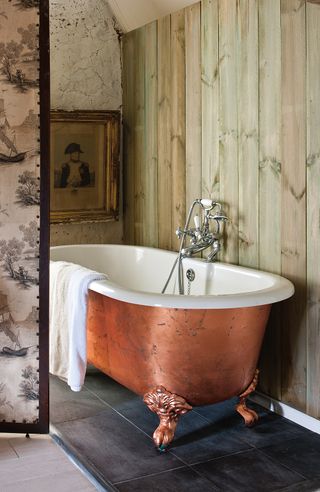 To create a show-stopping focal point in your bathroom, why not copy this idea a give your freestanding tub a bespoke finish like this burnished, weathered patina? For a similar look, paint the outside of the bath with Annie Sloan Chalk Paint in Florence and then apply copper leaf over the top. To finish, seal the exterior with Annie Sloan Clear Chalk Paint Wax.
13. Looking for freestanding baths on a budget? Go acrylic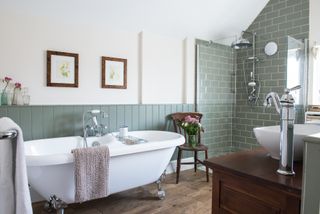 Made from acrylic rather than the classic cast iron, but with the same timeless style, this Dulwich roll top from Victoria Plum is a great budget option for the owners – both first time buyers – of this Nottinghamshire cottage.
14. Choose a simple freestanding bath design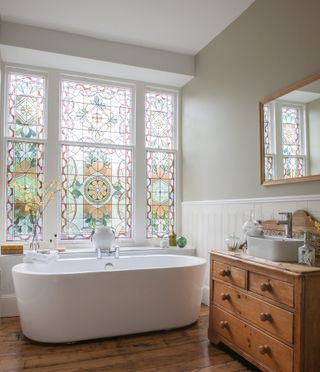 When you have a home awash with beautiful features, sometimes a more subtle freestanding bath is the way forward. With a simple, understated silhouette, this Orchard Warfe freestanding bath from Victoria Plum allows the striking stained glass window to take centre stage.
More bathroom inspiration: