Gone are the negative connotations that used to come even with the best vinyl flooring out there. Now the market is flooded with sophisticated, stylish and durable designs that are mostly easy on the pocket too.
As well as being highly insulating for both heat and sound, vinyl is one of the most affordable types of flooring materials available, alongside laminate. The wide range of design variations in vinyl tile and vinyl plank mean that you're sure to find a style that suits your space.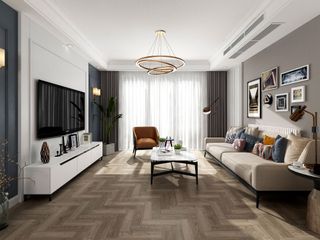 What are the different types of vinyl
The different terms used for vinyl flooring – luxury vinyl plank, luxe vinyl tile, LifeProof vinyl plank and so on – can leave us a little perplexed when actually there isn't much in it and they still all refer to one product that is popular due to its long lasting durability, scratch resistance and easiness to clean. It's simply different manufacturers highlighting the best aspects of their vinyl product's design.
It might vary in design, thickness and quality, but vinyl plank is basically made from PVC (polyvinyl chloride) and consists of three layers: a flexible/rigid core layer (the latter usually made from a wood-plastic composite (WPC) or stone-plastic composite (SPC) to mimic types of hardwood flooring, without actually containing any stone or wood), the design layer to mimic stone/hardwood/other flooring material and a wear coating which protects the vinyl from scratches, fading from UV, dents and general wear and tear. A fourth layer is often added for additional benefits.
Vinyl plank vs. vinyl sheet
Sheet vinyl flooring is different however. It's the oldest form of vinyl and it's still pretty popular. As the name implies, it comes as a sheet in rolls and is a seamless, affordable option – ideal for rooms that will see a lot of moisture like kitchens and bathrooms.
What is the best type of vinyl flooring?
Paul Hambidge, founder of Factory Direct Flooring says, 'The popularity of Luxury Vinyl Tile (LVT) has soared in recent years – and it's easy to understand why. It is waterproof, making it ideal for any room in the home but specially kitchens and bathrooms. LVT is usually made up of a protective wear layer which is textured to give an authentic look, a realistic wood or tile effect digital print lies beneath, and an insulation backing completes the composition – with the whole solution being warm underfoot and low acoustics.
LVT is easy to care for by vacuuming or brushing and damp mopping, and with designs ranging from slim, short, long and wide plank – and the increasingly popular and on trend herringbone effect – it's hard not to find the desired look.'
Which is better LVT or LVP flooring?
As mentioned, it is the same product it simply depends on where and how you'd like to install the product, this will determine whether luxury vinyl tile or plank is best for your home. 'Luxury Vinyl Tile (LVT) and Luxury Vinyl Plank (LVP) are actually the same product. In LVT the T stands for tile and in LVP the P stands for plank. The name difference refers to the format of the product rather than denoting a different product.'
Luxury vinyl tile often comes in more finishes to mimic types of stone flooring (although you'll find oak replicas also) whereas plank is usually used to imitate solid wood. So it depends on the look and feel you want to create in your space also.
The best vinyl flooring brands
Home depot's LifeProof Plank Flooring range: Exclusive to Home Depot, this offers 7mm thick luxury vinyl flooring with easy floating/interlocking installation. The underlayment is attached, complete with antimicrobial, waterproof, scratch resistance properties plus, costs start at around $63.79 /case and you can easily calculate how much you'll need online.
Mohawk vinyl flooring at Wayfair: Mohawk equals excellence in the American floor covering industry and you'll find a ton of variety of LVP with flexible/rigid core at Wayfair. Some are glue-down or installed with Uniclic™ joint locking system but you're sure to find scratch resistant, durable and stylish options to suit your budget.
What thickness of vinyl flooring is best?
You'll find vinyl plank/tile with a thickness ranging from 7 mm up to 18mm. There's no best thickness to look for, it depends more on the product, as some even have a fourth layer for better acoustics and feel underfoot.
'When it comes to choosing LVT/P flooring, it's advisable to choose the product based on the area is it being installed in. LVT/P is usually made up of a protective wear layer which is textured to give an authentic look, a realistic wood or tile effect digital print lies beneath, and an insulation backing completes the composition. A high traffic area will benefit from a product with a thicker wear layer, whereas in a bedroom or lower traffic reception room, a thinner wear layer can suffice.' Adds Hambidge.
How much does vinyl flooring cost?
On average, vinyl plank/tile flooring costs start around £5 per m²/$1.59/sq. ft. for budget buys, going up to as much as £36.99 m2/ $319.99/sq. ft. for quite high-end, bespoke options. The latter will depend on your own specifications, the quality of the material and the detail you require.
Vinyl sheet flooring is the even more budget-friendly option with costs starting at as little as 53¢ /sq. ft./ £5 per m2 going up to around $3.96/£7.50 per m2.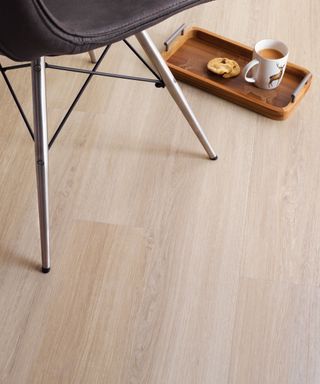 Is Luxury Vinyl flooring better than laminate?
'LVT and laminate are both great, practical flooring options – it's just a question of what suits the area better in terms of use – and also the design, which tends to be a deciding factor for many people.' Notes Hambidge.
Luxury Vinyl Plank/Tile is hugely popular as many can be waterproof or water-resistant, comfortable, durable and available in tons of styles. Plus, the click lock installation systems make it easy to DIY.
'Laminate offers a durable option, so remains a great option for those wanting wood or tile effect flooring, DIY or professional installation, for high traffic or low moisture areas. Laminate flooring offers easy maintenance through brushing, vacuuming and damp mopping, and can be found in a great number of plank sizes, thickness, texture and installation options, including click. The designs and textures are realistic, it's incredibly UV resistant and the composition thicker – which can be forgiving on variations in sub-flooring. The wide range of DIY options means it can suit various budgets.' It's a matter of preference.
How much vinyl flooring do you need?
How much vinyl you need depends on the size of the room you are flooring, and the format of the tiles you are choosing. Measure the length and width of the room and then multiply them. For example:
If your room measures 5m by 5m, the area of your room is 25m² and you will need 25m² of vinyl flooring. Most flooring suppliers will display how many metres squared a pack of their flooring will cover. Always allow for an extra 10 per cent, just in case tiles are damaged, and so that you can replace worn tiles if you ever need to. And, if you're ordering online you'll be able to use their calculator.
Installing vinyl flooring
Due to vinyl's durability and water resistance, it can be laid in virtually any room of the house, including kitchens and bathrooms, although it is not suitable for wet rooms. In its sheet form, vinyl is particularly good for busy family bathrooms as it can be fitted seamlessly, but make sure that the design you choose is slip resistant.
Vinyl can be fitted on any surface as long as it is smooth and flat, but it might be necessary to have the subfloor levelled so the vinyl doesn't show up any undulations. If your floor is concrete, you could have a layer of screed put down first.
'While historically installation methods have been glue down or loose lay, and preferably by a professional installer, the rise of DIY plank options makes this option accessible to everyone, and at a wide range of price points. With the core of the latest DIY plank options being made of Stone Polymer Composite (SPC), a lot of the issues DIYers have historically had with installation of previous generations of this product are now negated, as the SPC is not affected by heat and less likely to move as a result once installed.' Adds Hambidge.
Fitting vinyl flooring depends on the type of vinyl and the skill required: if you are laying a single sheet in a large room, then one wrong cut can be an expensive mistake. Some products require adhesives for installation, while others come with a peel-off sticky backing or click together like laminate boards.
As with most flooring, you will get a better finish if it is professionally laid, but if you are competent at DIY then you might want to have a go. Do bear in mind, though, that tiles or vinyl plank will be a lot easier to work with than a rolled out sheet of flooring.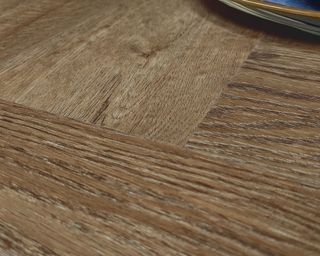 Using vinyl flooring with underfloor heating
Most vinyls are suitable for use with underfloor heating, but check the manufacturer's recommended maximum floor surface temperature to ensure it is compatible. Vinyl will heat up and cool down more quickly than stone and wood.
Vinyl is subject to a top floor temperature restriction of 27°C which is controlled by a thermostat. So when considering installing underfloor heating with vinyl flooring, you must get a heat loss calculation to ensure the underfloor heating system meets the heat requirement of the room.
When installing electric underfloor heating systems, a certified electrician must fit the thermostat and make any electrical connections. For water based systems, you will need a plumber and electrician to provide the final connection.
When it comes to electric systems, vinyl flooring can be installed either as a floating floor or as a glued floor finish. If the vinyl is going to be floating, it is installed with insulated underlay and dual overlay with the exception of a wet room or bathroom where dual overlay boards must not be used as these are not suitable for wet areas.
In the case of installation onto wet areas, the vinyl needs to be used with an under tile heater instead of a foil heater. The under tile heater must be covered with a minimum of 10mm latex screed or self-levelling compound over the top. The vinyl flooring is then adhered to this base.
A thing to note is that any adhesive used in the installation must be suitable for use with underfloor heating so check this before purchasing any adhesive. You should also always check with the flooring manufacturer that the flooring is suitable for use with a floor heating system.
How to care for different types of vinyl flooring?
The advantage of vinyl is that it's so easy to look after, but even though it is scratch-resistant, dirt and debris can cause scratching if allowed to build up. It should be swept regularly with a soft broom in addition to using one of the best mops with warm soapy water or a recommended floor cleaner. Never use anything abrasive.
Where to find a vinyl floor reputable fitter?
In the UK, the National Institute of Carpet & Floorlayers can give you a list of its members in your area. Many retailers will either offer a fitting service or can recommend local installers. You can post a job, get quotes and hire a tradesperson on websites such as mybuilder.com and ratedpeople.com.
If you're buying from Home Depot and the like, you can opt in to get in-home expert installation.