If you are designing a new bathroom you might want to consider a wetroom set-up. In short, a wetroom is a bathroom or shower room where the whole space is waterproofed, with drainage built into the floor therefore doing away with the need for a shower tray.
This can be the perfect solution for a small bathroom as it is not dependent on finding a bath or shower cubicle to fit an awkward space. It is also an option where accessibility is a concern – perhaps for older people or those who rely on a wheelchair.
A wetroom can also be more practical than a traditional en suite, as they are easier to clean and maintain. They create a sense of luxury in your home, can potentially add value to a property and could even change the way that you use your bathroom space.
Follow these simple steps to creating the perfect wetroom, covering costs, waterproofing the space and selecting the right type of flooring and finishes for the room.
Main image: Impey Aqua Screen Pure, from £406.22; Aqua Screen Pure Pivot Panel, from £491.53; AquaDec EasyFit Floor Former, from £475.26; WaterGuard tanking kit, from £407.16
How much will a wetroom cost?
Wetrooms tend to be around 20 to 30 per cent more expensive than an equivalent non-wetroom bathroom, assuming that there are no major structural alterations needed to boost the floor strength and reroute drainage points. Depending on specifications chosen and the size of your space, budget around £7,000 for a basic design and up to £40,000 or more for a large or luxurious wetroom.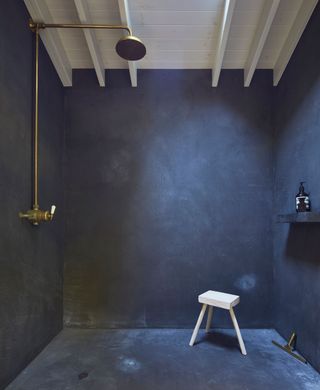 Start by checking your floor
In building terms, the absolute fundamental issues when planning a new wetroom bathroom revolve around floor construction, floor and ceiling heights and falls – the slopes needed to drain water away. Since a wetroom needs to have drainage to the floor, keeping a streamlined look, you must be able to include a slope to a plug hole, trap and drain below the lowest point in the space.
Plan from the bottom up
Like any bathroom, access to water, drainage points and power are essential, but there are planning points to remember specific to wetrooms, too. Most are to do with ensuring water tightness. Ask: how is the drained wastewater going to get to the nearest drainage point? Working up from there, ensure that the floor finish is stable, which involves stiffening the floor sub-structure to ensure no leakage.
Click here for our step-by-step guide to plumbing your own bathroom
Then, think about the slopes to drain to a particular point and invest in a floor covering that will ensure no water permeates. Manufactured board systems, such as those supplied by Wedi, which come with specialist waterproof membranes, and pre-sloped panels that sit below the floor finish, such as Impey Aqua-Dec, are ideal.
Ensure good drainage
A drainpipe, usually 10cm in diameter, needs a slope on it to ensure proper drainage, so if the joists run in the same direction as where you want to run your drain, the pipe can be fitted between joists within the existing depth of the floor.
However, if you need to run your pipes across the direction of the joists, they will go beneath them, which would mean below the ceiling of the floor underneath and may require a new lowered false ceiling, or above the joists, requiring raising the floor.
Waste pipes need to be beneath the floor, so as long as the issues of floor structure and construction are sorted, pipes will be concealed as a matter of course. Speak to a structural engineer and an architect or designer regarding the building's foundations and best arrangement of the space.
Think about safety
Clearly in a wetroom, the floor will get wet, so choosing a finish that will not be too slippery is vital to ensure safety. Many tile manufacturers will specify certain styles as being suitable for wet areas. There are a large number of choices of resin and ceramic types, many of which are treated to handle water.
A good idea is to choose a floor tile covering that has a gentle texture, giving some grip under foot. If you're using glass screens in your design, make sure there is something, such as a motif, border, or frosting, on the glass, to ensure it is visible.
Don't forget adjoining rooms
If the floor level of the wetroom cannot match the room it is entered from, consider what sort of a join will be used and how this works practically. If a step up or down is required, it is best to have one 10cm step, or higher, instead of multiple steps measuring between 3 and 4cm, which could pose a trip hazard.
The water-tightness of where the floor meets the walls of the room needs to be carefully thought through, too, as if the junction of wall and floor moves, you could have disastrous leaks. A good solution is to carry the floor covering style up the walls, particularly in shower areas.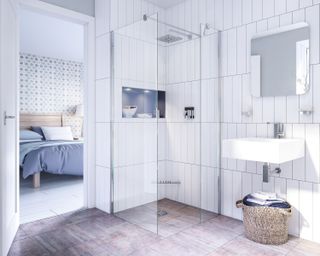 Think about WC placement
Always plan its location with the aim of keeping the WC dry. Even a wetroom needs careful screening to ensure key areas remain practical. A sheet of glass to separate a shower area from a WC tends to work best, and you should always aim to create space between wet and dry areas.
Ensure there is adequate ventilation
Ventilation is very important, and a statutory requirement in a bathroom without an window that can open. Aim to site an extraction system in a location that is both inconspicuous and requires the shortest route for a duct to the outside, otherwise you might end
About the author
Hugo Tugman is the founder of Architect Your Home – Interior Your Home and the managing director of Tugman Architecture + Design. Having run his practice with wife Jude since 1992, he has built up a wealth of knowledge in home design. A regular contributor to national newspapers and the author of the book Architect Your Home, he is also a speaker at the Homebuilding & Renovating Show.
F: facebook.com/ArchitectYourHome
T: @hugotugman