The most sought after wet room ideas go hand in hand with beautiful and functional design also. Sure to add an element of luxury to a space and even increase your home's value, there are many benefits to including one.
The perfect solution to small bathroom spaces that seem to lack potential, wet rooms are also a more accessible option for family members who need a space that better meets their mobility needs. Getting the design features right from the onset, such as waterproofing, lighting and layout, is crucial for success.
What is the difference between a wet room and a walk in shower?
Wet rooms are completely open plan spaces. You might see a glass shower screen or two but the layout will be configured so that water can flow freely towards the drain rather than within a shower tray as you'll see in walk in showers.
People are often torn between lovely walk in shower ideas and wet rooms, but both come with different pros and cons. Colleen Shaut, director of project development at Case Architects & Remodelers says that the pros of wet room designs are 'You get the luxury of a freestanding tub and a separate shower; Water is isolated to one area so that you don't have to worry about water all over the bathroom; Wet rooms help a space look and feel bigger; They are easy to clean.' And, the main con is 'Everything gets wet.' Plus, if you have children slippery tiles may be a little dangerous.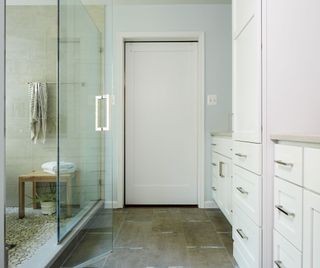 Larry Greene, President of Case Design/Remodeling Indy adds 'While one of the wet room's primary purposes is to be utilitarian, that shouldn't come at the expense of a great design. Wet rooms have been gaining traction in recent years because of their versatility. Equally suitable for smaller (wet rooms generally take up less space than traditional bathrooms) and larger spaces, a wet room can be a great option for most homes. The open floor plan of a wet room makes it a preferred choice for all inclusive designs. Both small children and people with limited mobility will find a wet room easier to use than a traditional bathroom.'
'The open floor plan of a wet room makes it a preferred choice for all inclusive designs.'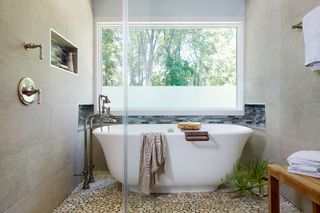 Wet rooms will still give you the opportunity to bring your favorite bathroom ideas to life also. Greene adds 'A popular design idea is to include a tub and a shower in the same space. While this is a personal preference, one thing to keep in mind is the somewhat challenging plumbing that comes with such designs. Another consideration is the waterproofing of the entire wet room. Using good quality materials and choosing the right type of furniture both come at a higher cost. When it comes to wet rooms, it's important to use the professional help of interior designers or architects in order to avoid mistakes.'
Are wet rooms a good idea?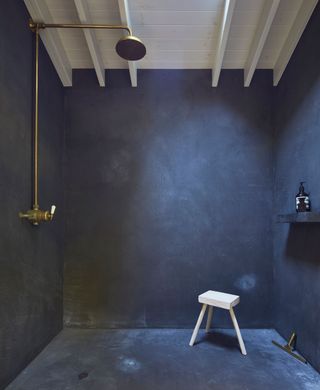 Shaut says 'Yes. And particularly in tight spaces where you want the look and feel of a luxurious spa, but don't have the space to have separate tub and shower. Wet rooms are popular in Europe where space is at a premium.'
Are wet room rooms expensive?
Good wet room ideas tend to be around 20 to 30 per cent more expensive than an equivalent non-wet room bathroom remodel cost, assuming that there are no major structural alterations needed to boost the floor strength and reroute drainage points. Saying that, a wet room can add 20% more value to your home compared to a regular bathroom reno. Depending on specifications chosen and the size of your space, budget around £7,000 for a basic design and up to £40,000 or more for a large or luxurious wet room in the UK. U.S. costs start at about $20,000.
The fundamentals of wet room flooring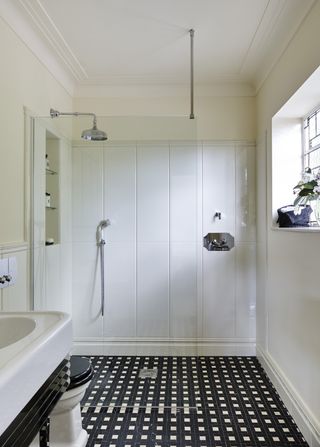 In building terms, the absolute fundamental issues when planning bathroom remodel ideas like wet rooms revolve around floor construction, floor and ceiling heights and falls – the slopes needed to drain water away. Since a wet room needs to have drainage to the floor, keeping a streamlined look, you must be able to include a slope to a plug hole, trap and drain below the lowest point in the space.
Like any bathroom, access to water, drainage points and power are essential, but there are planning points to remember specific to wet rooms, too. Most are to do with ensuring water tightness. Ask yourself how is the drained waste water going to get to the nearest drainage point in a wet room? Working up from there, ensure that the floor finish is stable, which involves stiffening the floor sub-structure to ensure no leakage.
Then, think about the slopes to drain to a particular point and invest in a floor covering that will ensure no water permeates. Manufactured board systems, such as those supplied by Wedi, which come with specialist waterproof membranes, and pre-sloped panels that sit below the floor finish, such as Impey Aqua-Dec, are ideal.
Ensure good drainage in a wet room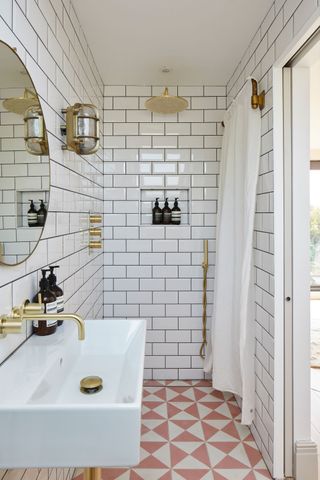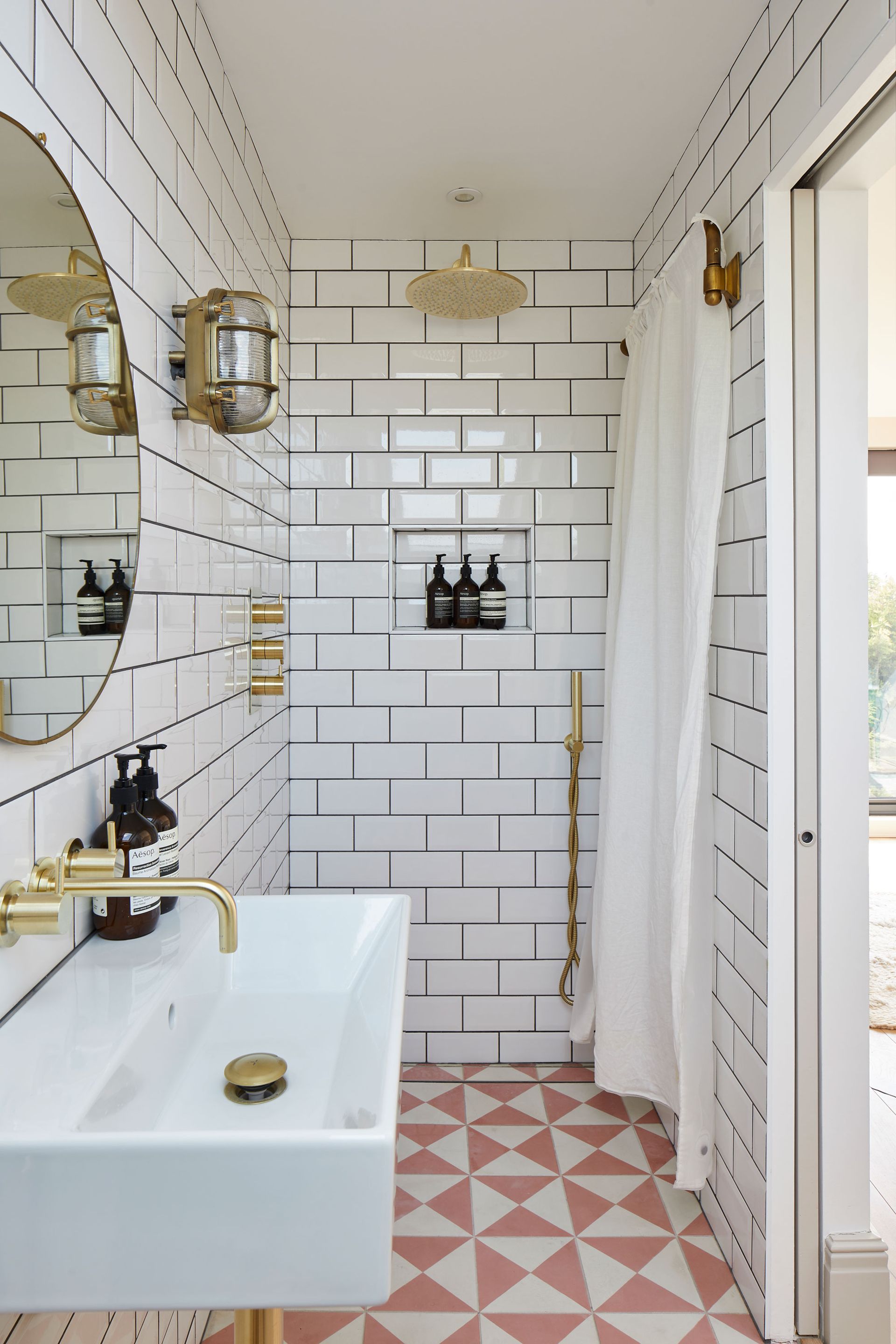 A drainpipe, usually 10cm in diameter, needs a slope on it to ensure proper drainage in a wet room, so if the joists run in the same direction as where you want to run your drain, the pipe can be fitted between joists within the existing depth of the floor.
However, if you need to run your pipes across the direction of the joists, they will go beneath them, which would mean below the ceiling of the floor underneath and may require a new lowered false ceiling, or above the joists, requiring raising the floor.
Waste pipes need to be beneath the floor, so as long as the issues of floor structure and construction are sorted, pipes will be concealed as a matter of course. Speak to a structural engineer and an architect or designer regarding the building's structure and best arrangement of the space.
Choosing sanitaryware for a wet room
Look for sanitaryware with smaller dimensions in your wet room, but don't go so small that the item is hard to use. You can get very small sinks which take up barely any space and work well for a quick hand-wash in a downstairs loo, but will not be easy to wash your face at.
For the shower area, go no smaller than 80cm x 80cm – less than that leads to a claustrophobic showering experience. If you're using glass screens in your design for a luxury bathroom look, make sure there is something, such as a motif, border, or frosting, on the glass, to ensure it is visible.
When thinking of the best type of toilet, consider that a compact wall-hung loo with a concealed cistern removes visual clutter and helps to ensure as much of the floor as possible is visible.
Wet room layouts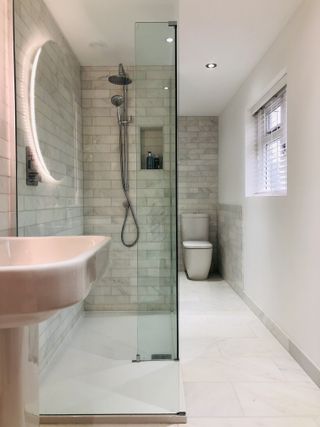 The best wet room ideas are complete with a seamless layout. Always plan your toilet's location with the aim of keeping it dry. Even a wet room needs careful screening to ensure key areas remain practical. A sheet of glass to separate a shower area from a loo tends to work best, and you should always aim to create space between wet and dry areas.
This brings us onto bathroom storage ideas suitable for the space, either keep yours protected by a glass door or create built-in storage for items that can get wet.
Wet room tile ideas that pop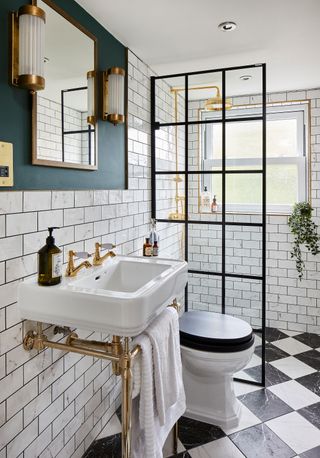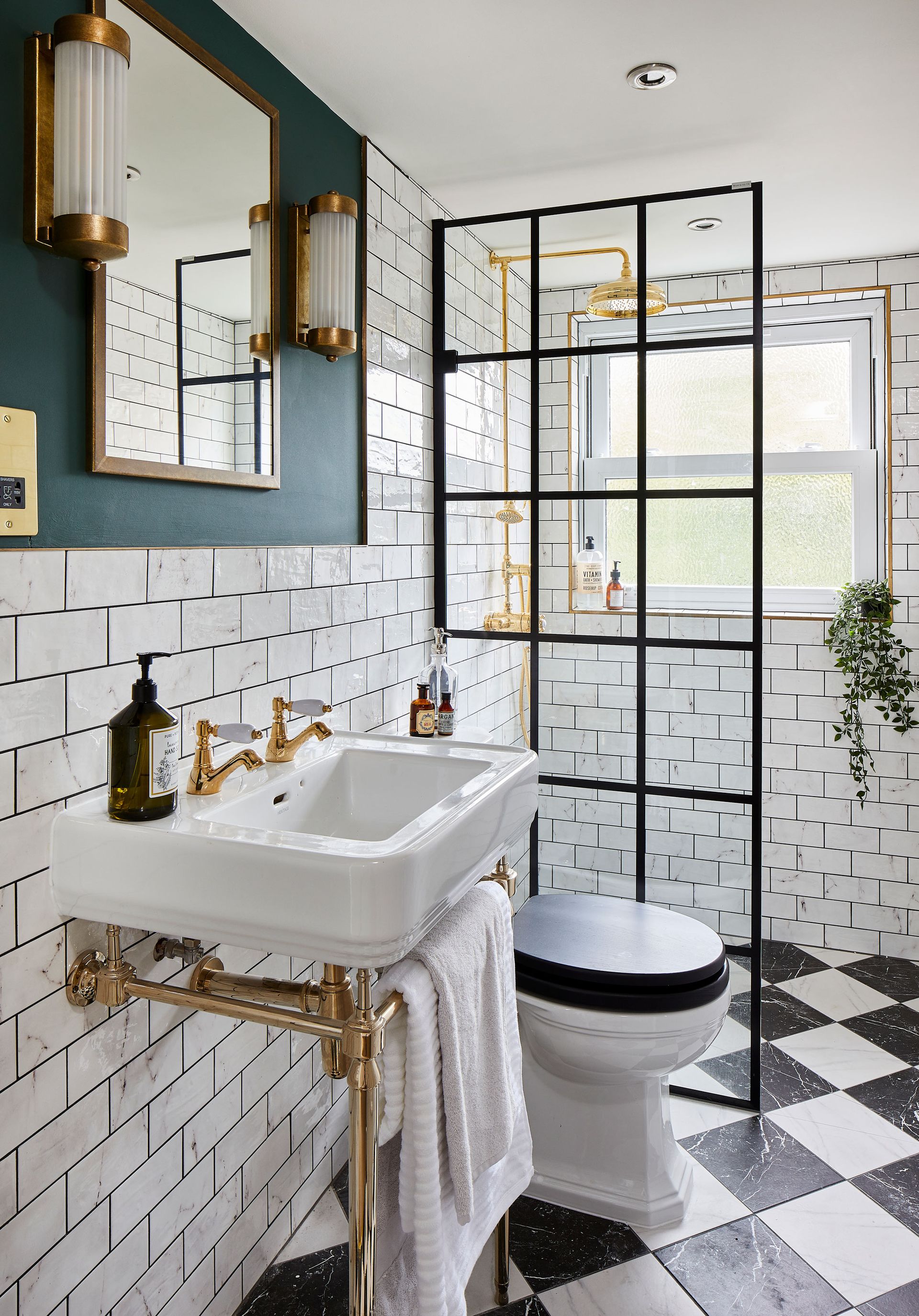 Clearly in a wet room, the floor will get wet, so choosing the best types of floor tiles that will not be too slippery is vital to ensure safety. Many tile manufacturers will specify certain styles as being suitable for wet areas. And with so many different styles and wet room ideas around, thankfully there are also a large number of stunning resin, porcelain and ceramic tiles to choose from – many of which are treated to handle water – to match the look you want to create, and your wet room needs too. A good idea is to choose a floor tile covering that has a gentle texture, giving some grip under foot.
Large format tiles can work well in a small wet room. They lead to fewer lines of grout which can create a grid-like pattern that makes the space feel smaller. That said, small patches of mosaic tiling (perhaps to provide splashback to a sink or feature) can be very effective.
Consider linking your wet room to adjoining rooms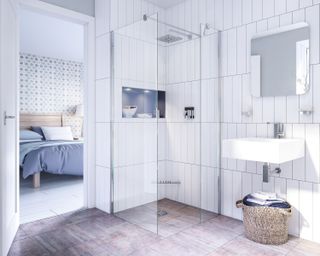 If the floor level of the wet room cannot match the room it is entered from, consider what sort of a join will be used and how this works practically. If a step up or down is required, it is best to have one 10cm step, or higher, instead of multiple steps measuring between 3 and 4cm, which could pose a trip hazard.
The water-tightness of where the floor meets the walls of the room needs to be carefully thought through, too, as if the junction of wall and floor moves, you could have disastrous leaks. A good solution is to carry the floor covering up the walls, particularly in shower areas.
Ventilating a wet room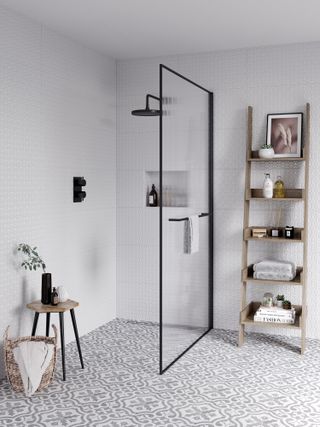 Ventilation is very important when planning out wet room ideas and design. And, a statutory requirement in a bathroom without an window that can open. Aim to site an extraction system in a location that is both inconspicuous and requires the shortest route for a duct to the outside.
Lighting a wet room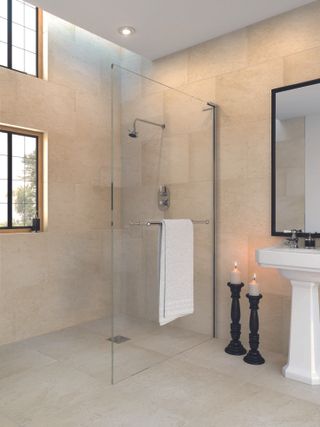 A flexible bathroom lighting ideas will ensure the wet room is bright enough for tasks such as shaving and putting on make-up, but can have a relaxing ambience for showering.
Downlights can provide the room with good overall light, while task lighting around mirrors will make precision tasks easy. Wet room lighting must be suitable for the zone of the room it's in, determined by its proximity to a water source, so make sure you have a thorough understanding on bathroom lighting zones and always work with a registered electrician.
Heating a wet room
Underfloor heating is ideal for a wet room, especially where space is tight. You can extend an existing radiator system to add an underfloor heating circuit, with the pipes laid between the timber joists, and insulation beneath.
Electric underfloor heating mats are easier to install as they do not increase the floor level significantly. They are inexpensive to buy, but will cost more to run than a water-based system. In a large wet room, you may need additional heating, so be sure to find the best radiator or heated towel rail to suit your space.
Dressing wet room windows
Natural light is a must to ensure that your wet room stays bright and spacious feeling. If you are so lucky to have windows in a large or small wet room, it's vital that the types of window treatments you choose can stand up to the humid atmosphere of the space. Shutters are smart, and will regulate light and privacy effectively. Window likely to get splashed? Choose a shutter that's specially made to tolerate water without warping. Roman shades are another lovely option and if you prefer blinds, louvred versions are also neat and effective, or try coated fabric blinds made to cope with the condensation in the room.
How should you decorate a wet room?
While a light, bright palette will help reflect light and make the wet room feel larger, avoid going overboard with white which can make the room feel cold or clinical, and consider warmer, earthy tile colors.
Patterned wall tiles or colorful accessories will also bring warmth and interest to the space. The odd house plant looks great in a wet room and will thrive well in the warm, humid environment. 'Accessorize the space with waterproof décor and plants, such as succulents, and even try adding a teak tray to lay across the tub.' Adds Shaut.
Demister mirrors will help make the wet room feel bigger. If you can, sit them flush with any tiling to create the illusion of depth, or choose mirrored wall cabinets to stash away bathroom bottles neatly.
Do you need planning permission for a wet room?
In the UK, A new wet room probably won't need planning permission, but installing a new loo, shower or basin and changing electrics near a shower are subject to building regulations.
If you are replacing existing plumbing work, it is not subject to building regulations approval, unless is it is near to, or involves electrics (such as an electric shower).