Awash with calming properties and aqueous connotations, blue bathroom ideas are great if you want to add a relaxing theme to your washroom scheme.
From pebble blue spaces that bring us back to the beach, to rich, jewel-like sapphire notes that add style and sophistication, the interiors world is your oyster when it comes to bathroom decor. Thankfully, blue hues are a bathroom idea that creates the perfect foundation for a versatile scheme.
Whether you choose to pair it with brass accents for an opulent look, or partner it with a complementary bathroom paint color idea, blue is a shade that's increasingly being adopted by even the most discerning of interior designers.
Blue bathroom ideas
'Green and blue is a winning combination, and one we as interior designers use as our neutral base. They are closely connected on the color wheel, so it's easy to introduce the two tones to create the illusion of more color without overpowering a space' say Jen and Mar, co-founders of Interior Fox.
'Fresh, earthy and completely versatile, you can't go wrong with green and blue. The trick is to tone up or down depending on the desired outcome.
'For a calming effect opt for lighter colors offset by natural finishes, or for a more sumptuous scheme choose much darker shades. We find that darker hues add more shadows and different tones when the light hits.'
1. Update your scheme with blue woodwork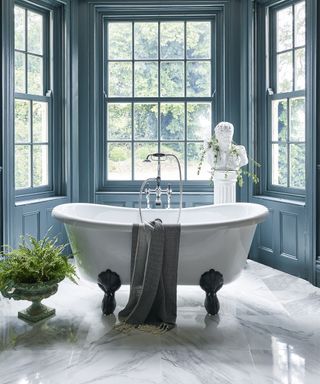 Painting your window panes blue is one of the most underrated bathroom ideas that can add instant appeal to your scheme. Depending on the type of paint you choose, and if you undergo the work yourself, it can also be a cheap bathroom idea too.
But selecting the right shade to match your interior space is important. While pastel shades can bring back nostalgic moments by the coast, they are also a great way to add a classic charm to traditional bathroom decor.
Don't be afraid to go for an inky navy idea in your washroom. By using blues at the darker end of the color spectrum, you can create a luxury bathroom look that works particularly well in period homes. This will create a Regencycore scheme fit for a queen.
2. Mix and match pattern in blue and black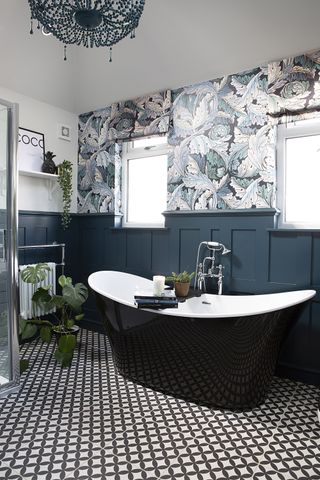 Not just for night time scenes, black and blue are colors that can add drama and elegance to a bathroom idea. But if you don't want to end up with a gloomy dark bathroom idea, then pattern is key to adding some pizzazz.
Packed with chic style, this bathroom design is crammed full of color, print and texture. Going for a half-half wall decor design, dark blue paneling is the perfect suitor for this fun and floral bathroom wallpaper.
And let's not forget about blue bathroom lighting ideas. Adding glamour in a place where you 'need to go' this chandelier will add a touch of VIP to your visit. The framed 'Coco' print in the corner adds a bit of 'je ne sais quoi' and is perfect for a Francophile or fashion enthusiast.
3. Buy blue bathroom storage or upcycle your own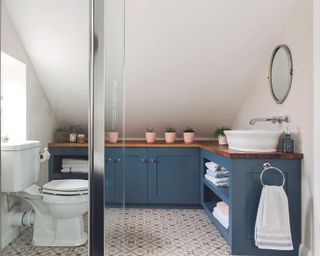 Unless you have a big bathroom where everything can be displayed without looking cluttered, you'll need to consider bathroom storage ideas.
Why not refresh tired-looking wooden furniture by distressing it yourself and adding a pale blue or grey-blue finish for a sun bleached seaside scheme?
Be sure to support independent experts where you can by turning to outlets like Etsy or Ebay. Not only are you likely to find a customized piece, it will be easier to hunt down big-saving bargains without the premium price tag.
4. Add personality to your space with wall art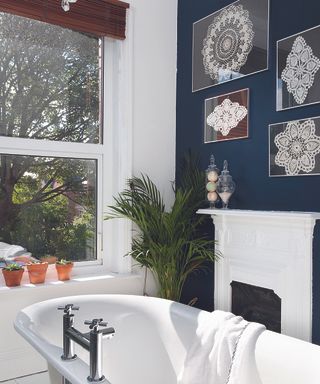 Bathrooms are a communal space that family and guests will use, but this doesn't mean that you can you can discount this space as a place to show off creativity and personality! So use your blue bathroom decor as a blank canvas.
Art in the bathroom doesn't have to be expensive. In fact, the humidity can ruin fine art, so stick to simple framed prints.
Getting the kids involved is a fun way to spend a rainy afternoon too. Let children freestyle their artistic visions onto paper, or have them pick up the skill of paper-cutting to create intricate silhouettes and shadows. This idea in particular is great for traditional bathroom decor and looks brilliant in a period bathroom.
5. Change the mood with iridescent tiles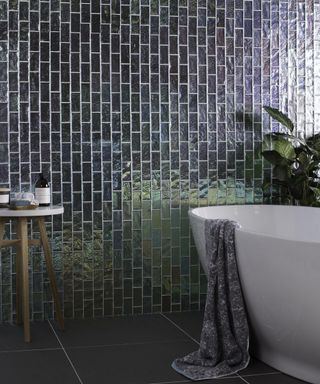 From mood rings to nostalgic neon wall art – the 90s are officially making a resurgence in fashion and interiors. And we are here for it! If you're a bit undecided on what hue to choose in your blue bathroom decor, then let the lighting do the work for you.
Creating a customized look in your bathroom, iridescent ideas work with your bathroom lighting decor to create a one-of-a-kind, pearlescent finish.
A great bathroom tiling idea, tiles that turn different colors are one of many blue bathroom ideas that will add a radiant glow to this room. Go floor-to-ceiling with a feature wall for a stand-out statement. Or, alternatively, a simple splash back by the basin makes that will add impact to a small bathroom design.
6. Make an entrance with blue flooring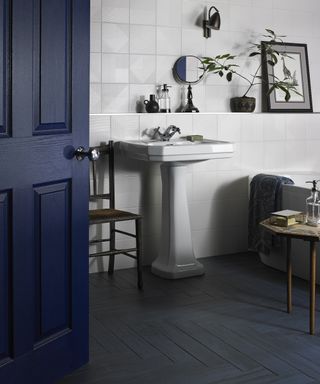 If you're lucky enough to have floorboards that are in good condition, painting your floor is a surefire way to maintain the original features in your home, while still giving them a fun upgrade. Be sure to sand them down and prime the surface for a smooth finish.
Alternatively, if they aren't in great nick, then covering them up with tiles is an trendy decision that is en vogue in the interiors world. And, there are an abundance of bathroom tile ideas and trends to get stuck into.
While terrazzo tiles disguise dirt and debris in a high-impact bathroom, mineral blue onyx floor tiles will add an earthy and organic feel to the area.
Why not experiment with mosaic tiling for a finish that is reminiscent of a Roman bath? And don't forget the door. By painting it a similar shade to your floor, you can create a well-executed washroom scheme.
7. Add a pop of blue with fixtures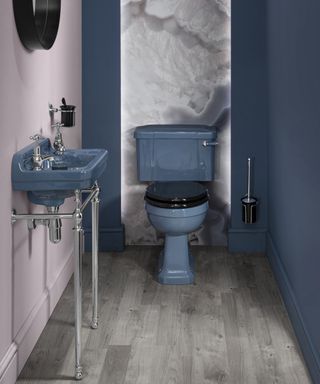 While we may not think of toilets as stylish elements in our bathroom, they can certainly be flush feature that sits in your scheme. Whether you commit to a decorative toilet seat idea, or decide to replace the whole fixture, this cute blue bathroom idea will do wonders.
Pair with matching sink in the same shade for a coordinated and cohesive look that will dazzle your guests. But if you don't want to invest in a entirely new suite, a set of faucets is a modern bathroom idea that can add the perfect finishing touch to your blue bathroom decor.
8. Just add blue bathroom accessories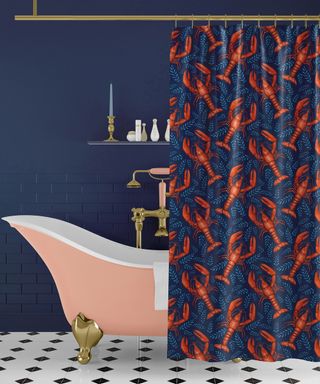 Re-imagine your self-care schedule with blue bathroom decor by shopping for aqueous accessories that pay homage to an under-the-sea scheme.
If plain accessories aren't your style, dip your toes into the idea of pattern and texture. For example, buy a boucle bathmat to add a tactile and soft touch to your space. Alternatively, jazz up your space with a fun shower curtain.
9. Create an underwater theme with clever paint ideas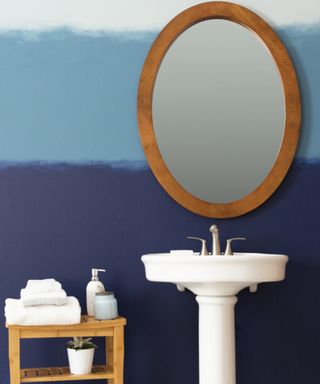 If you want to fully immerse yourself in an underwater environment without getting wet, then take a deep dive into stylish bathroom paint ideas.
This ombre idea is a great way to bring the outdoors and the outdoors to your space and we're sure you can agree that it transports you to holiday memories of yesteryear.
'Strong colors suit rooms that we tend to use at the end of the day, a time when we want to relax and be comforted, but this sense of well-being is also a wonderful side-effect of surrounding ourselves with colors found in nature.' says Joa Studholme, Color Curator and Author of Farrow and Ball.
If you'd prefer a feature with less fuss, turn to seashell and sailing boat stencils for a quick and easy blue simple bathroom idea that the kids can get involved with. Or, employ your children as abstract artists as they use paint to create a spotty and splatted accent wall.
10. Soundproof your scheme with blue wall paneling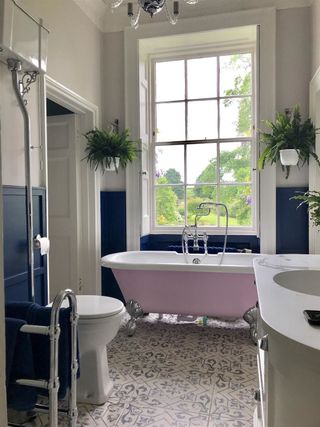 If you're a less-is-more sort of gal or guy, then incorporating a wall paneling design into your blue bathroom idea may be the way to go.
As well as providing a chic, decorative design, wall paneling has many functional purposes too. If you live in a terraced home or apartment with thin walls, paneling will provide an element of soundproofing which can blur the sounds of a very excited child at bathtime.
But, if you want to create a more considered and grown-up feel, use two shades of blue to create a contoured look. Kim K would be proud.
11. Blow the budget with a blue bath or save with DIY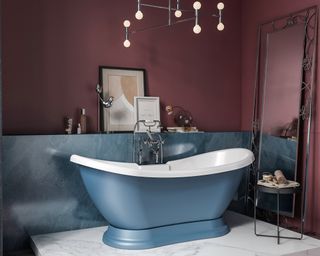 If you want to add an instant impact to your blue bathroom decor and have the funds to commit, then a blue freestanding bath design should be at the top of your shopping list. But fear not - if your purse is a considerably lighter after a full bathroom renovation, consider painting your existing bathtub.

Polly Shearer, Digital Executive at Drench says: 'Painting your bath is a fantastic way to freshen up and add a unique touch to your bathroom.'
'Not only will adding a lick of bath paint yourself give your bathroom some extra oomph without you having to strip out any fittings or fixtures, it also makes a fun DIY project and provides an opportunity to really get creative.'
So now the decision is yours. Will you opt for a glossy enameled finish or a Matt chalk paint as part of your blue bathroom decor?
12. Combine teal with wood for a modern rustic idea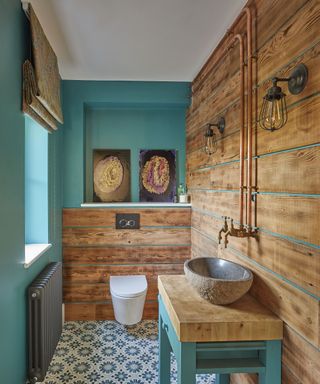 Combining modern teal with a rustic bathroom idea is one way to create a green bathroom idea that stands out from the rest.
To recreate this look pair a wood paneled wall decor idea with green cabinetry this country chic scheme.
The Orlando bathroom lighting idea from Industville provides the perfect vintage lighting solution, cascading light evenly across this green bathroom idea to add a touch of grandeur to any interior décor.
Style them hung as a cluster to create a feature that will certainly not go unnoticed!
Then add exposed copper pipework, simple faucets and concrete basin adds an industrial feel to this shabby chic space.
13. Go sophisticated with teal and grey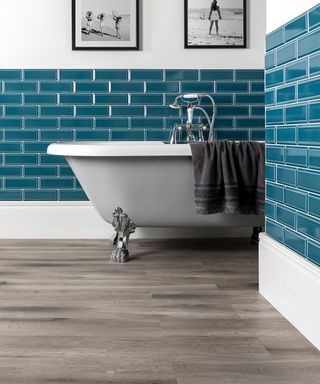 Stuck between a green or blue bathroom idea? Kill two birds with one stone with a teal and grey bathroom design. Adding a calm and relaxing feel to your scheme, aquamarine, azure blues and teals tend to make us reminiscence about our beach memories and trips to the coast.
Running with cotton candy in hand and a huge teddy bear, this grey flooring design reminds us of the long planks of wood along the pier.
For bathrooms on a budget, a wall decor idea made up of with grey scale or monochrome holiday snaps adds a touch of nostalgia and personality to this grey bathroom idea.
14. Create a tile design inspired by the sea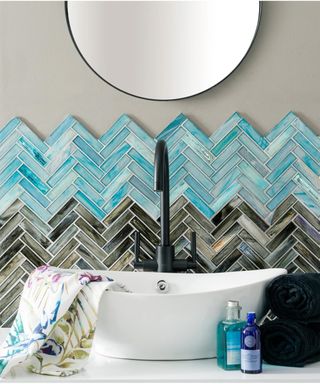 With an airy blue toned palette, this wavy seagrass mosaic tile brings freshness to interior walls as part of a coastal blue bathroom design.
In a ready-made herringbone pattern, the glass tile offers a quick and easy option for creating an eye-catching feature wall idea.
The design has the look and feel of luxurious mother of pearl, created with a combination of Matt and pearlescent finishes.
So to add an aqueous accent to your blue bathroom idea, shop these Sharme™ tiles exclusively at Topps Tiles.
15. Introduce animal print into a blue bathroom idea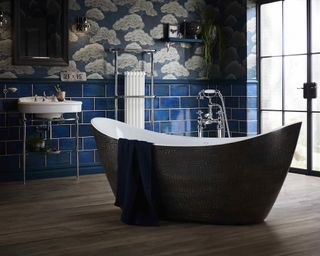 When looking to add a bit of exotic to a blue bathroom design, most of us will flirt with the idea of a new set of leopard motif bath towels or perhaps a zebra print accessory.
But if you don't fancy going all Tiger King on your washroom interiors, crocodile print can offer a more subtle and chic finish for your washroom.
You'll want to snap up this gorgeous mock croc leather effect freestanding acrylic bathtub by Heritage Bathrooms.
What is the best color blue for a bathroom?
'Go-to colors tend to be crisp whites, light and airy pastels, calming watery blues or bolder colors such as forest greens and deep blues,' says Helen Shaw, UK Director Benjamin Moore.
'Rarely are bathrooms huge, spacious rooms, so it's key to ensure that the colors you opt for work well in a compact and enclosed space.'
'That said, adding a splash of color to the bathroom doesn't need to be daunting. The bathroom is a great place to be a little more adventurous with how you use color and what color you opt for. For something a little more trend led in the bathroom, consider painting the lower half of walls in a bold shade.
'Rich blues lend themselves particularly well to bathrooms in this instance, consider a tonal hue or white for the upper wall to keep the space feeling fresh and open. Alternatively, adding a pop of color to your ceiling for additional interest can warm up a white bathroom to give a cozier feel.'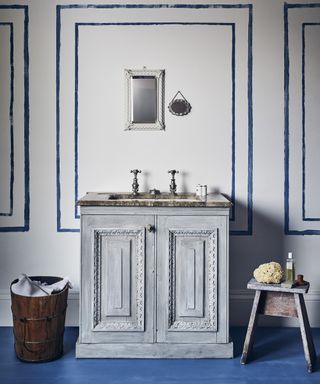 'Navy blue works particularly well in the bathroom because it pairs perfectly with white sanitaryware, and this classic light and dark color combination is both sophisticated and timeless, creating a look that will never go out of style.' adds Richard Farrimond, senior product manager at Heritage Bathrooms.
'To get the look in your bathroom, opt for nautical-inspired navy blue tiles and mix and match different textures by pairing with complementary blue wallpaper. Or, for a more understated look, consider painting your wall-paneling in a sophisticated shade of dark blue.
'For fans of maximalist design, you can also take this one step further and carry the look throughout the whole space by painting your cast-iron bath a matching shade of navy blue.'
'Whether you're looking to create some dark drama in your bathroom or want to add some contrast to an otherwise light space, the versatility of navy blue means it can be both a showstopping feature in your bathroom or add subtle touch of elegance.'
Is blue a good color for a bathroom?
'Your bathroom should be a sanctuary where you can let go of the stresses of the day and truly unwind.', says Richard Farrimond, Senior Product Manager at Heritage Bathrooms
'According to the rules of color psychology, introducing blue into your bathroom color palette can help to enhance feelings of relaxation and serenity and create a space that is both tranquil and inspiring.