Looking for gorgeous bathroom ideas? Well, you are in the right place! Here you will find all the bathroom inspiration you need – no matter what your plans for your new bathroom makeover are. They're all achievable too, whatever size room you are working on or the size of your budget.
Below, you will find both quick fixes to spruce up your current bathroom (we are talking paint, tiles, flooring) and bigger ideas for if you have a complete remodel in mind. For more practical advice, check out our bathroom design feature too.
1. Add a statement basin and bath
Washing our hands and face are simple tasks we take for granted in the developing world. But, that doesn't mean that we shouldn't pay mind to our sanitaryware.
Blending old with new, this hand-finished, country white counter top porcelain basin by London Basin Co. features a delicate floral pattern, gold rimmed design, and glossy finish.
Whether you have a rustic bathroom design [LINK], coastal scheme or a contemporary suite, this basin will sink in seamlessly into your washroom space. And no, we *CANNOT* get over the pink bath tub in the background either.
2. Incorporate pattern instantly with vinyl flooring
We have sung the praises of vinyl tiles and flooring many times before, and we can really really vouch for them because we have tried and tested them ourselves. They are so easy to install yourself, and most will come with instructions to guide you through the process. They can be laid on top of your existing tiles and no one need know about the ugly yellowing tiles that lie beneath.
Our go-to place for great quality vinyl flooring is Harvey Maria, you can order samples too and the patterns are stunning!
P.S. That sink, too!
3. Or go for a rustic 'wooden' flooring
You can get some really realistic 'wooden' vinyl flooring and vinyl tiles now and they are way cheaper and easier to install than solid wood flooring too. Also they can be a more practical choice in a bathroom because they aren't going to be effected by the moisture and real wood would be. Again you can lay them yourself and totally transform the feel of your bathroom in just a weekend.
4. Choose bold, geometric floor tiles
We're in love with these floor tiles, which form the basis of an unexpected but entirely effective colour scheme in this bathroom. Feel like taking inspiration from it? Choose a bold geometric floor, then pick out one of the colours – we suggest the most subtle one – and inject accents of that shade in the rest of the room. It'll help tie the space together and make an otherwise loud flooring feel more like it belongs there.
See more pictures of this extended Victorian home.
5. Reflect your bathroom flooring on your walls
These mind-bendingly cool hexagonal tiles look almost circular in this bathroom, contrasting with the sharp edges of the metro tiles and bath – but it's the way they've been taken up the walls and used to highlight the alcoves that we're really impressed by. Not only is this a great bathroom idea to pull together a scheme, it adds an extra splash of pattern to the space. Not blessed with handy inset shelves like these? Try reflecting your floor tiles in a splashback above the sink or on a windowsill.
Take a tour of this mid-century-style extended home.
6. Take on terrazzo in your bathroom style
One for the more daring, terrazzo is a statement alright – especially when it's used to cover the floor and walls of a bathroom. Even though the space is small, you'll notice that the on-trend pattern doesn't feel enclosed – instead, these tiles add a designer touch and make the space feel more like a very luxurious wet room. It's been softened with natural textures and floaty fabrics to make it even easier on the eye. If you don't want to take it this far, a terrazzo floor looks amazing with white walls as a nod to the trend.
7. Update your bathroom with paint
Potentially the easiest of all our bathroom ideas, take some paint to the walls. You can get so used to staring at the same, slightly off-white, stained walls that you stop noticing them. Give your whole bathroom a new coat of paint and you will instantly notice it feeling fresher and cleaner, even if you just go with white.
If you are feeling a bit braver though make sure you check our gallery of bathroom paint colours for loads of inspiration and for the best bathroom paint head over to our buying guide.
8. Use a paint effect to make a small bathroom feel larger
This is a fab bathroom idea that will make a small bathroom feel bigger! How does this work? Whether you fit panelling as in this bathroom, tile half way up or simply use paint to divide the room horizontally, the rules are the same: put a darker colour in the lower half of the room, a lighter colour above.
Doing so can rebalance the proportions of a narrow room with a high ceiling, it adds character and colour that you couldn't take up to the ceiling (or rather you could, but you shouldn't).
9. Paint the bathroom floor for an on-trend tile effect
How cool is this bathroom idea? Obviously it will only work if you are lucky enough to have wooden floorboards in your bathroom so make sure you check that's the case before you can pulling up tiles. But if you are blessed with floorboards, painting them in a bathroom is not only a practical idea but adds some subtle colour too.
For more advice on painting floorboards head over to our feature.
10. And paint your bath for a quick bathroom update
If you have a roll top bath, or even a bath with a panel, painting it can give it a new lease of life. It's also a great way to start a new colour scheme in your bathroom – we love the dark bath against the fresh white walls and the pattern of the bath mat and towel (which is Asda, would you believe?).
To find out how to paint a bath, we have a really easy to follow step-by-step guide that will help you out.
11. Upcycle old furniture with paint for a unique look
No bath to paint? No problem, try painting your vanity unit or any storage you have in your bathroom (check out our guide how to paint furniture for some tips). Keep it looking modern by teaming pops of pink with boldly patterned monochrome flooring and an array of house plants.
12. Create feature walls with this easy bathroom idea
Wallpaper as a bathroom idea? Really? Yes, it can totally work if your bathroom is well ventilated and you seal your wallpaper – or you steam-friendly paper and paste. Going for a bold busy print actually works really well as a small bathroom idea, because it can blur the lines of the edges of the room. It's a really popular trend in small, downstairs bathrooms, too.
If you like the look of this banana leaf print wallpaper, check out Etsy because they have loads of very similar options.
13. Use bold bathroom ideas for a maximalist space
Maximalism can work in any size of bathroom, and in fact bathrooms can be a great room to really express your extreme styles because it's not a room you will spend a ton of time in so you won't get sick of staring at the same patterns as you might do in a living room.
Wallpaper is again a fab bathroom idea if you want to go for a more maximalist look, pick a contrasting floor (vinyl can be your friend here as it's easy to change) and bring it all together with bold and unique accessories.
Contrasting colours is another way to get that maximalist effect but be sure to still stick with a theme. In this bathroom, there is a clear colour palette of reds and greens which are contrasting but because they are the only colours and there is an equal amount of each, it still works.
14. Create wall patterns with this easy DIY bathroom idea
You can create you own wallpaper effect with this really easy bathroom idea. All you need is paint and thick masking tape. Create the geometric shapes with the masking tape and then get painting in between. Easy peasy.
Check out more cheap bathroom ideas in our feature.
15. Tile a new splashback for a clean look
Did you know you can tile your own splashback? You don't even need to be that skilled at DIY, just patience and a good guide to follow will suffice. We can't help with the patience, but we can help you with our step-by-step guide to how to tile a splashback. It's a small job that could make a big difference. And maybe once you have practiced with the splashback you could learn how to tile a floor too.
16. Boost a simple bathroom design with tons of texture
Obviously the design here isn't really simple, but we love the elegance that comes with its minimalism, and although this bathroom isn't packed with all sorts of accessories, the details, from the tiles to the coordination of the rug and eye-catching lamp brings the wow factor and importantly, add much needed texture that makes a bathroom feel interesting and welcoming.
17. Update your bathroom lighting
Another small change that could make a big impact. Replacing you bathroom lights and opting for ones that work better for the space will instantly make your room feel bigger and well... lighter. If your current bathroom lights are fine, just think about adding more so you have different layers of lighting and lighting for different reasons.
We love these Ikea lights , they are so perfect for around a mirror and are simple to install. For more bathroom lighting ideas head over to our feature.
18. Pick an unexpected bathroom colour scheme
How cute is this for a bathroom idea? We love the matchy matchy look of the cabinet and the lights, too – just the perfect pop of colour in an otherwise all-white bathroom. All you need to do is paint a piece of furniture junk shop in a bold shade (it needn't be red – even a more neutral tone can have an eye-catching effect.
19. Expand the space by hanging mirrors
It's the oldest trick in the book but there's a reason we harp on about it – it works. If you are looking for bathroom ideas that will expand your space, it doesn't get easier than hanging up a big mirror – or three.
Think about the positioning of your mirror, too: obviously above the sink makes sense, but maybe try one on the opposite wall too to bounce the light around even more, or behind or around the bath. It's perfect for making a dark room lighter, too.
20. Get your bathroom storage ideas right
No matter what size your space, bathroom storage is always important. Try to have a mix of open and closed storage in your bathroom so there are spaces for your best toiletries, house plants and pretty knick-knacks to be on show, but also doors for unsightly but essential bits to hide behind. This bathroom ticks all the boxes with a mix of baskets (always a winner), drawers, a ladder for towels and some little open shelves too. Lots of bathroom ideas to copy here – those tiles are lush too!
For more bathroom storage ideas check out our feature.
21. Add smaller storage too for a quick bathroom update
Maybe all your bathroom needs to feel new is a good declutter and the best way to do this is invest in practical but stylish smaller storage. Ikea stock fab bathroom storage that's designed for smaller spaces and is really affordable too. But you don't need to buy pieces of furniture, even just picking out some small storage piece can make such a difference. We are so in love with the Kungsfors net bags! They look fab in any room but are ideal for storing toiletries you need to keep accessible.
For more small bathroom storage ideas, head over to our feature.
22. Add some more surface space with a handy Ikea stool
Yes, just a stool. You must have seen the Ikea Bekvam stool on Instagram? If you look closely, it's always creeping somewhere in the corner of seemingly every Instagrammer's room. It's not surprising, really, as it's a super versatile piece, looks stylish and is only 20 quid. You can use it as a stool, a step ladder or, as seen here, bathroom storage. It just adds a handy bit of extra surface space for storing toiletries or keeping folded towels. Plus you can soo easily paint it to match your bathroom.
23. Adding greenery is always a good bathroom idea
More easy bathroom ideas! If in doubt, we say fill it up with house plants. This a great way to add interest and personality to a bathroom if you are renting or just making do with what you have got before a renovation. If your bathroom doesn't have windows, opt for faux plants as real ones might not survive without sunlight. Whether you go fake or real, pick a few in a mix of sizes and shades, the more texture they add the better.
For our pick of the best indoor plants head to our buying guide (you will find both fake and real options over there).
24. Replace your bathroom hardware
If you have inherited a bathroom that just looks a bit dated but you don't plan on renovating it for a while, little updates like replacing the hardware can make a big difference. New taps, shower heads, towel rails and even new loo roll holders could be all you need for your space to feel a bit fresher.
Black bathroom hardware is bang on trend at the moment and you can find some really affordable options at Victoria Plumb and on Amazon even. If you are after swanky accessories, Anthropologie has the nicest selection.
25. Go for a contemporary look with monochrome bathroom ideas
Monochrome bathrooms are just a classic, they never date and always look gorgeous. Everyone is obsessed with the hexagonal mosaic flooring at the moment, and you can actually create loads of very cool patterns with it and they are great for adding a bit of interest to a monochrome bathroom. They are no harder to lay than normal tiles (in fact, we think they're easier – they just need more grout).
For more stunning modern bathroom ideas check out our gallery.
26. Pick a traditional feel with vintage bathroom fittings
If you prefer a more traditional vibe when it comes to your bathroom renovation then we think the best bathroom ideas come from mixing old and new. Keep all the essentials modern – toilet, shower, etc. and then source antique (or just older) pieces that are more decorative – like this vanity unit. You could also spruce up an old roll top bath – this can be a much cheaper option too if you have a look on the likes of Ebay.
27. Choose a minimalist style – especially in a small bathroom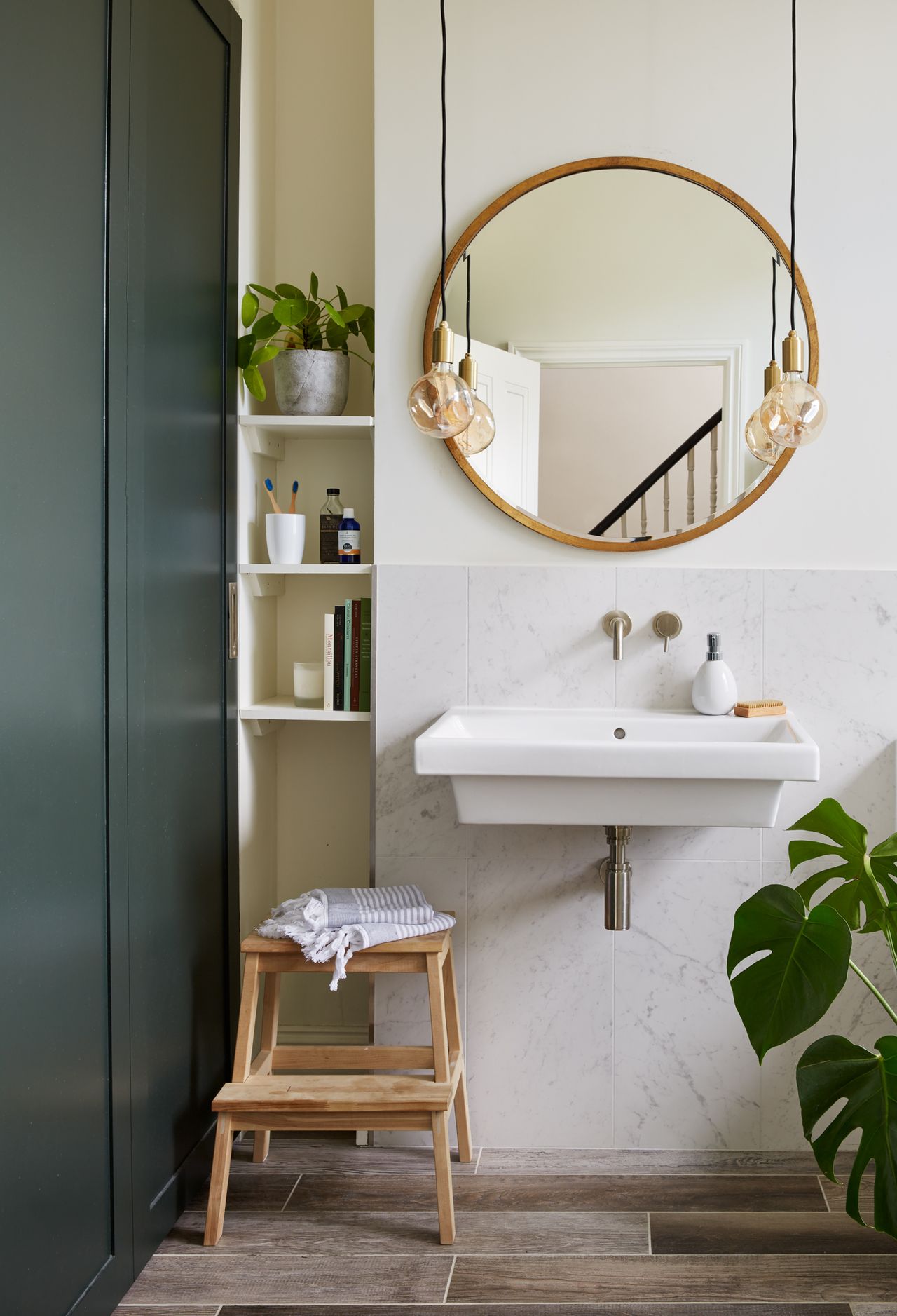 A minimalist bathroom style is the way to go if you have a small bathroom (although saying that, going the other way can work too). Strip back on what you need and stick to just in the essentials. Plus make sure you have your storage set up perfect to avoid clutter and keep that zen, minimalist feeling.
Wall mounted fittings – or fitted cabinetry – looks more streamlined so is a good option for smaller bathrooms as they allow for more light to follow around the room.
28. Add a natural touch to your bathroom with wood
Looking for bathroom ideas that stray from traditional white and monochrome and instead are more natural and rustic? Your best bet is wood. Adding wooden accents to your bathroom will make it feel warmer and avoid that cold stark feeling you can sometimes get in a bathroom.
Wooden furniture is an obvious way to get the look, but you could also cheat wooden floors and get mock wood tiles or wood effect vinyl flooring. Complete the look with plenty of house plants.
29. Pick colourful bathroom fixtures
And if wood isn't enough and you want a colourful bathroom, then we say go for it! Colourful bathrooms are back in style and we aren't talking brown carpets and avocado suites: this year, it's all about pinks and yellows and teals.
You can go as bright as you like, but we say, when it comes to the actual underlying design keep things neutral-ish so if you change your mind or styles change you don't have too much work on your hands to renovate. See in this bathroom – the bath is white, and the floors and furniture are neutral but you get that overall pink glow from the sinks and the feature wall of pink tiles.
If you love this sink as much as we do Victoria Plumb do a really similar one, so take a look – not a bad price either.
30. Or go for an almost all white look
We know that all white bathrooms can look a bit clinical and void of personality, but we love this white bathroom idea. It helps that there are lots of original features to bring character, but you can replicate them even in a modern bathroom – the panelling you could even DIY yourself. The bath and stool work well to break up all the white but it's still a lovely airy space.
If you like traditional homes, take a tour around the rest of this restored Regency townhouse.
31. Be inspired by this bathroom idea and go dark
And at the opposite end of the spectrum... Black bathrooms are definitely the bathroom style of the moment. But if you think about it, they are actually a really practical choice. Plus, there are loads of different routes you could go down, from the more traditional to the super modern. We love the simple square design of this black sink from Pure Bathroom Collection. Oh, and we think we might steal that bathroom idea of hanging monochrome prints in a bathroom, too.
32.Choose contract tiles to add interest to a bathroom
You can rely on just tiles alone to bring interest into your bathroom. We love how the vibrant coral looks against the very stylish terrazzo here. The stripped back space and lack of any clutter means the tiles don't totally overwhelm the room and they are the sole focus. Definitely take that tip – if you go big on the tiles, keep everything else pretty simple.
If you are after more bathroom floor tile ideas, head to our guide.
33. Or copy this minimalist bathroom idea with large marble tiles
This bathroom idea works perfectly in a smaller space because you really can't tell where the floor ends and the walls begin, which helps 'expand' the space. Larger tiles do tend to work better in small bathrooms and we love the look of these huge marble tiles – simple but effective. If you are looking for something similar check out what's on offer at Walls and Floors.
Find more tips on how to choose tiles for a small bathroom in our guide.
34. Pick a stylish black framed shower
Now let's look at bathroom ideas that cover more practical elements, like how to choose a shower. We have a whole feature full of advice to help you make the best decision for your space so have a read through that next. But if we could recommend one design, in particular, it would be a walk in shower set up with a black framed door.
Forget bulky enclosures that break up the space, a walk in shower that's just separated with a screen is by far a better choice, and it can work no matter what. size bathroom you are working with.
Want to glean another tip from this room? Laying tiles diagonally like they are above makes the room look wider and longer. Neat.
35. Go for a freestanding bath to stretch space visually
And if you want tips on how to choose a bath, we have a dedicated feature for that too. We are always of the opinion if you have the room, a freestanding bath is a great idea – and actually it can make a small bathroom feel larger by allowing you to see around and under it.
You can get them to suit modern or traditional styles and they just add a focal point to the space – especially if you go for something bold like the tub above. We have a whole feature dedicated to freestanding baths if you want more inspiration.
36. Create a wet room for the ultimate luxury
To create a really luxurious feel, a semi wet room could be a good option. You will have to decide if this is the direction you want to go in from the get-go as it will dictate a lot of your early renovations. For all our advice on wet room design, including some more gorgeous examples, head over to our feature.
37. Or get a similar effect with a walk in shower
Think walk in showers are reserved for massive bathrooms? Think again. Walk in showers can actually be the best option in a small bathroom. A shower enclosure would just waste space in this diddy room, whereas a walk in shower creates a seamless feel. The partition is actually a curtain on a moveable rail that can be moved against the wall when the shower isn't in use, so clever and looks gorgeous.
38. Choose organic materials to bring warmth and texture
Organic, botanical and natural-feeling bathrooms have traditionally been challenging due to the humidity of this space, which doesn't mix well with materials like wood, wicker and fabric. But instead of simply filling the room with plants – you'll have seen those classic 18-plants-in-the-bath shots if you're on Insta – new technologies and materials mean nailing this look is easy, without compromising on practicality.
We love timber-effect porcelain tiles, which you can use on floors and walls, and luxury vinyl tile plank flooring, which feels warm underfoot. New water-based varnishes are much better quality and help protect real wood in bathrooms.
You can even get ceramic wallpapers, which are highly durable, or you could cheat it and apply a cheap wallpaper covered in decorator's matt varnish.
39. Be bold with bathroom walls
We're saying Sayonara to subway tiles and hello bold patterned tiles. People are definitely being bolder in the bathroom, and we've seen a few homeowners on Your Home Made Perfect, the BBC show, really going for it.
Feature tile walls look great and you can really mix it up by laying the tiles in herringbone patterns, chevrons or even laying skinny tiles vertically. I love the Ca' Pietra Lilypad tiles, which are hexagonal – another trend that isn't going anywhere.
Grout used to be white or white, but these days you can make a statement by using black or grey for added punch, and you can even colour match your silicone. Topps Tiles and Tile Giant are great for affordable options, and you can save money by DIY-ing. Just make sure you have flat surfaces and use decent quality slow-set adhesive to give you time for mistakes!
40. Love grey? Go all out, but pick the right shade
If you're going all grey in your bathroom – from walls to woodwork – picking the right paint shade is a must. Sometimes this isn't easy to get right from a paint chart – but if you can find a helpful assistant in the paint shop/DIY store who's mixing for you, ask which shades have yellow or pink tints in them.
These shades will be warmer – and that's what you're looking for. So, whether you go light or dark, your room will feel welcoming, not cold. This grey above, for instance, has a discernible touch of yellow to it.
41. Match the wallpaper with the bath
Grey bathroom paint needn't be limited to walls and woodwork – why not use yours to paint the underside of a bath? You don't necessarily need to match walls or wallpaper with your shade, but doing so can make a larger bathroom – or one with tall ceilings – feel just that bit more characterful and lively.
42. Match iron-grey shades with wood for warmth
If the bathroom paint colour you've fallen in love with is a colder, harder shade, then there is a way to keep the room feeling warm and welcoming: and that's to add bags of texture with a warm-coloured wood. It needn't be on the floor, but a floorcovering does have a big impact on how a space feels, so it's your best bet. Otherwise, you can simply incorporate wooden accessories and furniture.
43. Ditch tiles and put panelling on bathroom walls
Tongue-and-groove wall panelling is a brilliant alternative to wall tiles in a bathroom – and cheap too. Plus DIYers can fit it without too much trouble. Let's talk finish: your bathroom paint needs to be designed to take the moisture that's produced in a bathroom, so look for water-resistant finishes for wood and mould-resistant finishes for plasterwork. For more wall panelling ideas, get inspo from our dedicated feature.
44. Add recessed shelves for extra (stylish) storage
This could be something you could actually build into a current bathroom, but if you are designing your bathroom from scratch think about what areas will be boxed off and can therefore have recessed shelves added. For example in this bathroom, the plumbing above the toilet has been hidden, and shelves have been added to make the space more functional.
For loads more inspiration, check out the rest of this bathroom makeover.
45. Get you bathroom window coverings spot on
Bathroom windows are so difficult to dress. Or are they? We think not: shutters are where it's at for us. Curtains are a no (too damp in a bathroom for them). Blinds can look gorgeous but don't add the texture we're after... but shutters bring it every time.
There's the visual interest, they can of course be in any other colour but white, and they're practical. Plus of course, we all associate them with living space, so they'll make your bathroom feel more like that kind of space than one that's separate and... sterile.
46. Shop for furniture designed for small bathrooms
If you are after really realistic small bathroom ideas, the Imandra range by B&Q (above) has been designed for small, busy bathrooms that see a ton of traffic and need plenty of storage.
So each piece of furniture is as slim-lined as possible to make the space easier to move around, but they are all packed with loads of practical storage to keep it clutter-free.
47. Shop your own home to furnish an awkward space
Look around for old pieces of storage that are going unloved and unused in a bedroom or living room and see if you can repurpose them in your bathroom.
Got a set of chest of drawers you were thinking of sticking on Gumtree? They could totally work as storage for all those hair masks you claim to be part of your 'self-care' routine. Sometimes, all the drawers need is a lick of paint or a sand down and there you go – instant bathroom storage.
48. Create cosiness in a loft with a bath under the eaves
It can be tricky to know what to do with a loft bathroom layout, ideally the shower will be at the tallest point of the room but there's nothing wrong with having a bath slightly tucked under the eaves. It adds a nice cosiness to the bathroom too and can feel lovely and cocooning when you are having a soak.
For more loft conversion ideas check out our gallery.
49. Make a loft bathroom feel more spacious with the right tiles
After more loft bathroom ideas? There are several things to love about this bathroom. Firstly, the light! And secondly, we love how the Brasilia floor tiles from Popham Design have continued up the wall, which draws your eye away from the fact that the bathroom is actually super narrow.
The beautiful white Victoria + Albert Eldon bath breaks up the pattern, yet the shape of it and the white pattern on the tiles link cleverly. The gold taps, shower and towel rail add a hint of warmth to the white painted side walls finishing off the space to a T.
For more tiles ideas for small bathrooms, check out our feature.
50. Add baskets to your bathroom for texture and storage
Until a few years ago we didn't fully appreciate the versatility of a good sized basket. Now, we use them for everything – as decorative plant holders, storage for towels, magazines, toys, laundry, they double as bins and they're also fab for storing toilet rolls.
This gorgeous braided basket is from Weaver Green and it certainly looks at home in a bathroom, so invest in a couple and put it to use to help clear your bathroom clutter.
51. Be clever with where you use pattern
Bathrooms have long embraced the timeless nature of black and white decor. As the saying goes, if it ain't broke, don't fix it – and we're not straying from the trend any time soon with stylish looks like this. Because bathroom suites are generally white, you'll need to be clever with your surfaces to introduce black without the room looking like a giant checkerboard – the safest bet is to keep the walls white, neutral or at least plain, and to concentrate the pattern on the flooring, like with these Oakham black pattern tiles from Walls & Floors, or matt black fixtures like taps and showerheads.
52. Bring in some warm tones easily with your towels
We often talk about changing your rooms with the seasons, but this can be trickier with a bathroom because how much can you really change? It's not like you are going to rip your bathroom out twice a year. The answer? Towels. Towels and accessories. Pick our some towels in hues that match the vibe of the season – so right now warmer, spicy hues would work perfectly. Super cheap too.