Yep, green bathrooms are back. And don't worry we aren't talking avocado suites – although we do have a soft spot for them. This form of green bathroom is chic and modern and just so incredibly cool. So we have rounded up our fave looks so you can get inspired to move away from the monochrome and get experimenting with colour. These looks don't all call for a complete remodel either, they can be adapted easily to work in your current bathroom.
Keep scrolling to see a collection of bathrooms that will make you green with envy and for more bathroom ideas check out our feature.
1. Use wallpaper to add green to your bathroom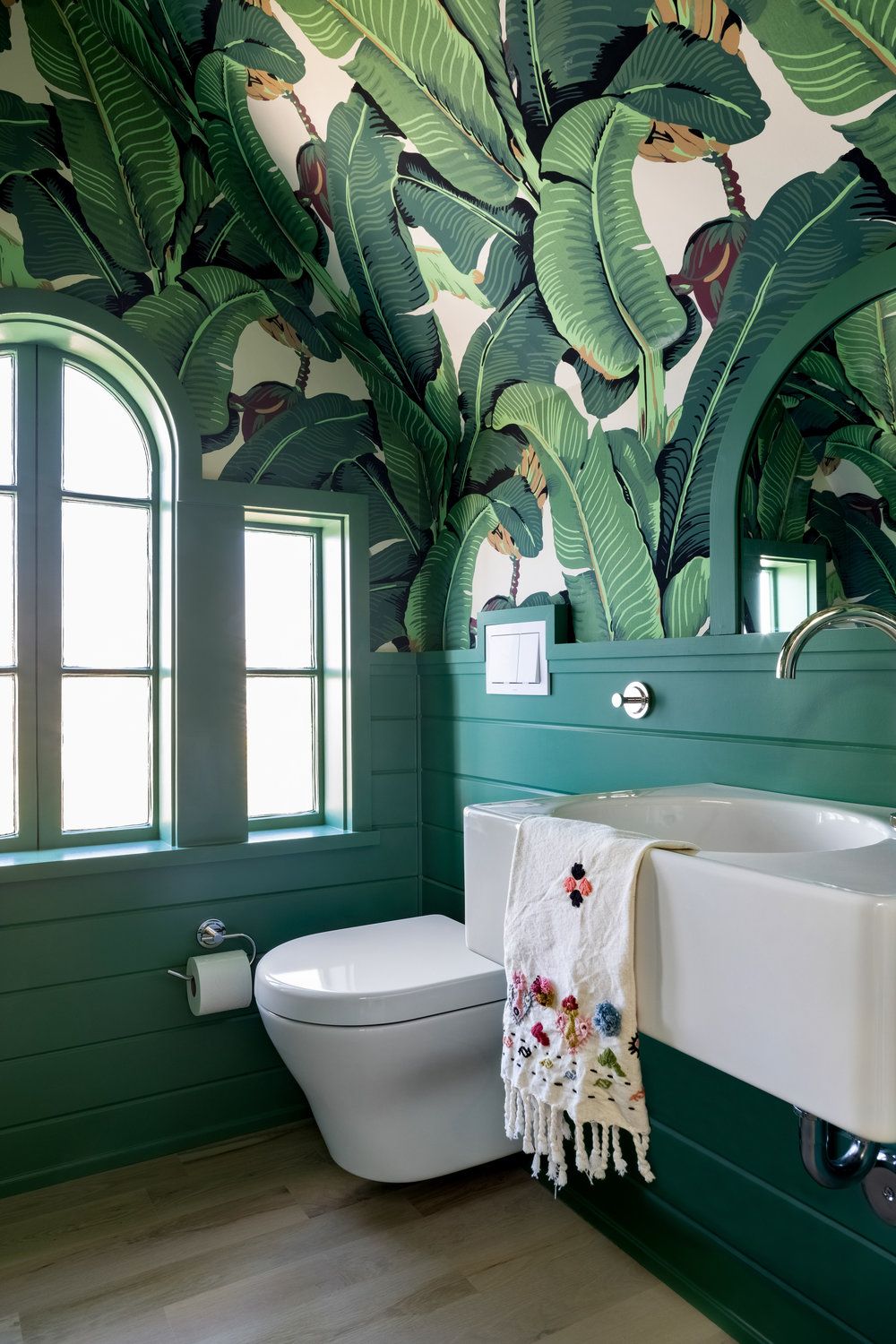 So wallpaper in a bathroom? Really? Yes, it can totally work if your bathroom is well ventilated and if you seal your wallpaper, or use steam-friendly paper and paste. Going for a bold, busy green print actually works really well in a small bathroom design too because it can blur the lines of the edges of the room. It's a really popular trend in small, downstairs bathrooms, too.
If you like the look of this banana leaf print wallpaper, check out Etsy because they have loads of very similar options.
2. Pick an olive green for a sophisticated vibe
Olive green seems to be the green right now, And we get it, it's a very chic hue that's almost like a neutral, so if you are a colourphobe this would be the kind of green to go for. Try just painting one wall in your bathroom first, get used to it, see how you feel about it, and then if you are feeling bold paint the rest of the walls. Add in some black accessories to complete the look.
This soothing olive green is Bancha by Farrow & Ball.
3. Paint your bath green
Ah how dreamy is this green bathroom? We love the combination of the dusky green paint with the patterned floor tiles, plus the hints of wood just soften the whole look. And if you want to add just a pop of green, take inspiration from this space and try painting your bath? You needn't be blessed with a rolltop bath either, if you have a bath panel you can paint that too, just check out our guide to how to paint a bath.
4. Mix a vivid green with a clean white
If you prefer a more traditional bathroom with clean lines and crisp colours, pair a bright green with a very clean white. The result is fun and creative, but still really elegant. The touches of silver work so well here too to add even more sophistication. This gorgeous combo is Strong White and Calke Green, both by Farrow & Ball.
5. Choose a blue green paint and gold hardware
We are going to call this a green, just a very bluely green. Anyways, whatever colour you would say this was, it looks gorgeous! Especially paired with all the warm, brassy golds of the hardware. You could use this green bathroom to inspire a quick, easy update and just paint one wall green and switch out your hardware for gold – check out Amazon because they sell some lovely, really affordable brass taps and showerheads.
Read more: