How we test vacuum cleaners: Quick Menu
Wondering how we test vacuum cleaners? When testing vacs, we know how important it is to have a rigorous testing process. Vacuums are a big investment and come in so many different styles, so it's important to put them through a fair process in order to decide which models are the best to recommend.
Over the past three years, we've been testing vacuums in our homes and in our testing lab. This process helps us push the capabilities to the limit, both in real-life settings and through our standardized testing checklist. We will always have tested a vacuum before recommending it. As well as this, we'll often test vacuums that have just come on the market — and sometimes even before they've hit the shelves.
This means that the best vacuums that we've tested have been thoroughly put through their paces before writing about them. All of them have been tested by our in-house team or specialist freelancers in various homes, who have years of experience testing homewares. From this, we have been able to put together in-depth buying guides for cordless vacuums, vacuums for pet hair, handheld vacs, and Shark vacuums.
Vacuum cleaner experts

Many of our experts are Customer Advisors, who are proven experts with years of experience with hands-on experience with leading products. This gives them the ability to thoroughly test out industry-leading brands. To become a Customer Advisor, we use a rigorous five-stage process.
The process is as follows:
Annie has tested a range of vacuum cleaners, from stick to robot to handheld models, for Real Homes. Before becoming our head of ecommerce, she has previously written for Ideal Home, Livingetc, Homes & Gardens, Gardeningetc, and Woman & Home.
Christina is our acting head of ecommerce at Real Homes, who has tested vacuums as well as household appliances like coffee makers and air fryers. Before joining the Future Plc family, Christina worked for Media 10, including on events such as the Ideal Home Show, Grand Designs Live, and Eat & Drink Festival. She is one of our Customer Advisors and has been invited to the SharkNinja headquarters to test vacuums, meet engineers, and visit the research and development department.
Millie is our head of reviews across Future homes titles. She has tested many vacuums in her South London apartment for a range of different brands. She is another of our Customer Advisors and has also been invited to the SharkNinja HQ.
Jaclyn was previously ecommerce editor across Future homes titles, including Real Homes. Jaclyn's home features a mix of hardwood floors, carpets, and area rugs. A small non-shedding dog lives in the house but still manages to track in his fair share of dirt.
Jen is now the editor over at Top Ten Reviews. Previously she has written for Ideal Home, Real Homes, and Homes & Gardens as our appliances editor.
Alexandra is a freelance writer and former journalist. She tests products out for Real Homes to see if they're worth your investment. She is well equipped to try out vacuums, especially pet ones while cleaning up after her cat, Dish, at home in New York City.
Sarah has reviewed many vacuum cleaners for Real Homes, taking them through their paces at home to give us an honest, real-life opinion and comparison on every model.
Linda is a freelance journalist who has specialized in home tech, interior design, and fitness for more than two decades. She has tested many vacuums for us, to find out how they coped with busy family life.
Molly has reviewed numerous vacuums for us at Real Homes. Previously, she has written about everything from ride-on lawnmowers to robot hoovers. She is currently an ecommerce editor at our sister title Ideal Home.
How we test vacuum cleaners
How we decide which products to review
All the reviews featured on our site are always impartial. While brands will send us vacuum cleaners to review, these are completely free in order to give us the opportunity to test them. We can normally keep these, which means we can add to our reviews throughout the months and years to see how it has held up over time with regular use.
When we aren't able to keep a product, we will be sure to use it for at least three to four weeks so we can test it as thoroughly as possible before sending it back. This allows us to always keep on top of new releases and allows us to test new vacuums constantly.
Some brands are more difficult to reach than others, but we are always trying to include products from a variety of different companies. This allows us to test different kinds of vacuums with different price points. We love trying out vacuums, so if a company launches a vacuum with an innovative feature, we'll always be the first to ask to call it in. For vacuum cleaners, we place our 'Review in progress' badge on the ones we are currently testing.
Why we bother with unboxing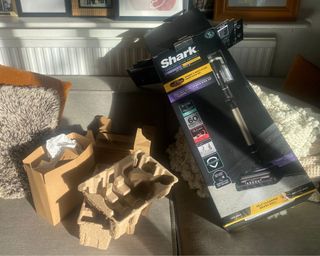 First impressions always count, so how the vacuum arrives is important to us. While damaged boxing can happen in transit, having a strong container that you can carry home or get delivered without the packaging being broke.
Many of our Real Homes reviewers live and commute into city locations, so we also have to think about carrying boxes on public transport like subways and buses. As well as this, lots of our team members rent apartments, so more often than not have to shuffle boxes through lifts or carry them up flights of stairs.
Not only this, but we are big advocates for sustainable packaging, too. Even if the vacuum comes in 100 percent FSC cardboard, we still believe that it should be sized appropriately. Inside the box, a little plastic is acceptable (e.g. for plug protectors), but we prefer this to be kept to a minimum. We'll always highlight where a product arrives with packaging that's harsh on the environment or excessive.
Not only this, but we also look at the amount of paper in it. Where a PDF or page can be found online or scanned via a QR code, we'll always highlight and state the environmentally-friendly benefits of this.
Our standard testing procedures
Functionality tests
Vacuums tend to fall into two key categories: cordless and corded. These both affect how a vacuum moves and the power levels it has. Cordless models are battery-operated which means freer movement, while corded models are plugged into the mains. For cordless models, we also look at how long the charging time takes.
There are other models types, such as robot vacuums and handheld vacuums which we also test, but cordless and corded are the ones that most people will opt for and use for regular deep cleaning.
For all of these, we look at how easy they are to operate via digital displays and buttons. As well as this, we test how they operate around various sized spaces and rooms. This involves testing how seamlessly they can be maneuvered and how bulky they are to carry.
We also test out individual features, such as LED lights, boost buttons, and accessories. Many top vacuums have specialist technologies, such as Shark models having CleanSenseIQ and Flexology.
Cleaning tests
When trialing how each vacuum cleans — no matter what the price or model — we test it out on three core factors: dirt, flour, and cereal. This allows us to test how the vacuum can clean up different sized debris with different textures. We also test them on various floor types such as carpet and hardwood.
1. Flour
Flour is a common spillage in the kitchen, which is why it's one of our top dirt factors to consider. The soft texture mimics debris like dust, dead skin, and pet dander, while the white color makes it useful visually as well. This makes it easy to see if dirt gets trapped in dust cups or the wheels.
2. Cereal
We use cereal to test, as the smaller pieces are light. Some vacuums scatter these, crunch them up, or even can't cope and won't suck them straight up. Our cereal of choice is rice-based ones, thanks to its small size and hard texture.
3. Dirt/Debris
Lastly, we also test dirt and debris. We use coffee grounds for this, as the smaller grains have the same texture as dirt and crumbs. The darker color also makes it clear to see how the vacuum cuts through the dirt. The scent of the coffee grounds also makes it easy to sniff out how well it tackles odors, as some vacs come with built-in neutralizers.
Maintenance tests
When testing our vacuums, we look at how easy it is to maintain and clean long term. This is why we specify whether filters are easy to clean or remove, whether a model is bagless or not, and how easy it is to empty into a trash can. We also will check how easy it is to clean. Some vacuums require the parts to be individually cleaned, while others even have self-cleaning functions. A good vacuum cleaner should make your life easier, and our testing is here to make choosing the one that does that easy, too.
How we test at home
When we test vacuum cleaners, we will test ours at home as well as in our lab. Why not just in in laboratory conditions, like other reviewers? Because that's not where you're going to be using your vacuum.
Just as in the lab, they're tested on mud, spilled cereal, human hair, and pet hair, plus the general dust that a normal, busy home accumulates. This is all done around furniture pieces and neglected nooks and crannies. This allows us to bring real-world testing into our reviews.
Our reviewers have smaller homes with both hard flooring and carpet, so the vacuums are challenged with both. We will also test them on high-pile rugs whenever possible. Switching between different rooms also allows us to test how efficiently a vacuum can get around the house in one session.
They also often live in spaces they share with other people, pets, or live in rented spaces with other people living around them. This is why we check how noisy the machines are to use and whether this impacts both them and those around them.
Cordless vacs are a popular choice now, so we also consider the battery life when testing these. Is the charge in the battery sufficient to finish in one go, or are you going to be stopped short? And how long will you have to pause while the battery recharges? A home — rather than a lab — is the best place to test this out.

Storage is another real-life issue. Are you going to have to dedicate a huge amount of cupboard space to the machine? You need to find out before you splash out, not regret your buy. That's why we assess this and consider the shape of the machine — not just its dimensions.
Our vacuum cleaner reviews
5-star reviews
4.5-star reviews
4-star reviews
3.5-star reviews
3-star review