Searching for a vacuum cleaner that's perfect for apartment owners? Enter: the new Shark Wandvac. We've been testing this revolutionary 2-in-1 vacuum cleaner for around six weeks now, which is long enough for us to come to a fair verdict. Gone are the days of finding the storage space for an upright vacuum and a handheld model, as this model can do both. It's a handheld vacuum that transforms into an upright vacuum, whereas most vacuum cleaners offer the same technology but the other way around.
What's so different? It performs incredibly well as a handheld vacuum, with a range of tools that fit only the handheld part of the vacuum cleaner, for more control. It also boasts impressive suction and easy maneuverability as an upright model, and when it comes to storage it's nice and slim.
The Shark Wandvac has been tested by our Deputy Ecommerce Editor, Annie, in her two-bedroom flat in South East London that she shares with her partner, her dog and her house rabbit. With plenty of hair to pick up and more than enough hard flooring to clean, Annie tested this vacuum in every way it can be used, with and without the extra tools. It sits neatly on a dock where it can charge, and here you can store one of the tools, too.
Read our full Shark Wandvac review for our full opinion, and to decide whether this is the best vacuum cleaner for your needs.
Shark Wandvac specifications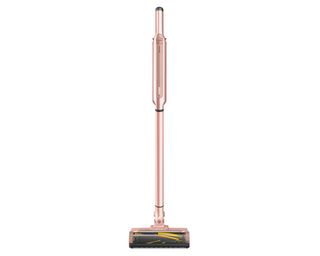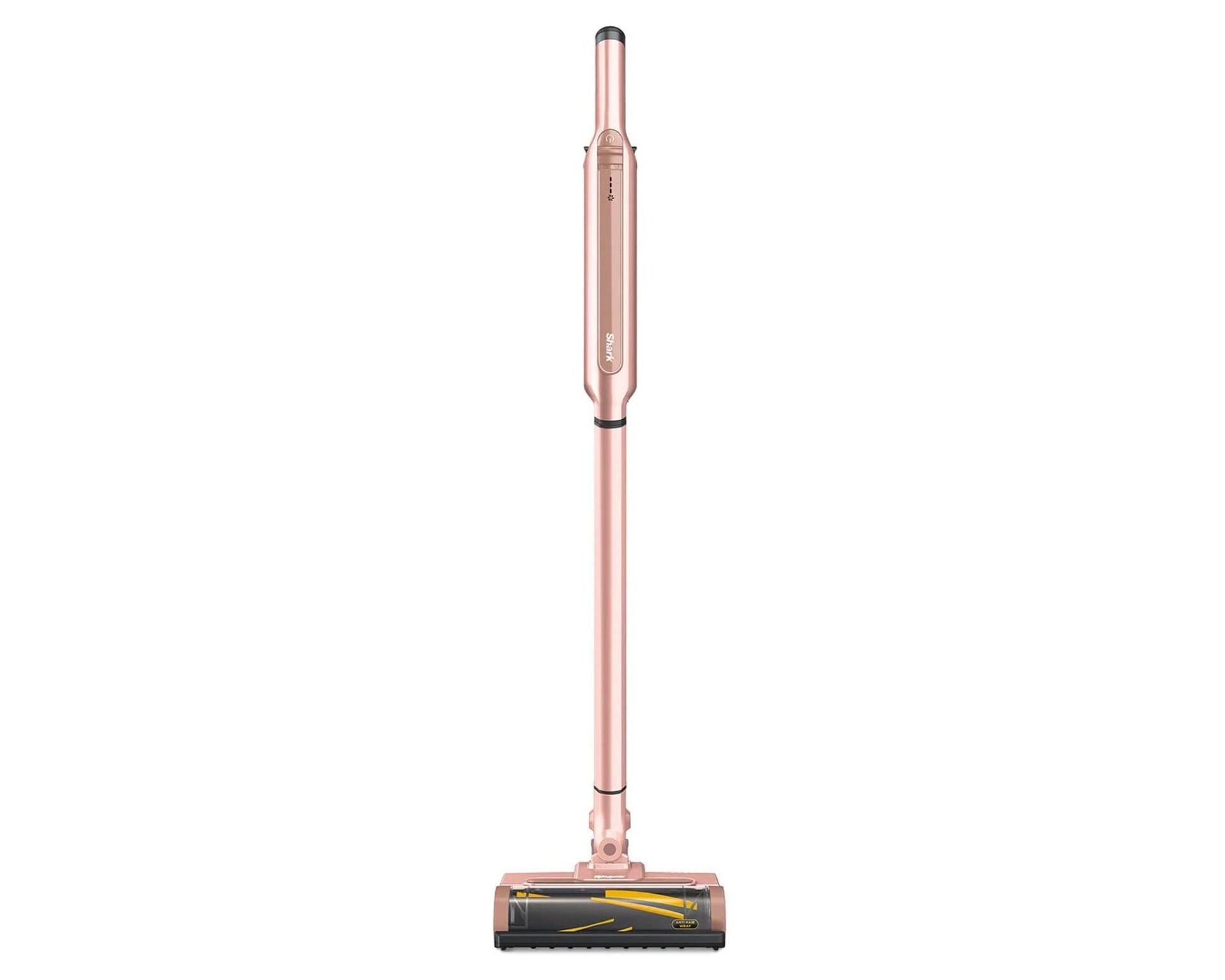 Model number: WV361RGUK
Battery run time: 16 minutes
Charge time: 3.5 hours
Settings: 2 - Normal and Boost
Bin capacity: 0.13L/ 0.13qts
Bagged or Bagless?: Bagless
Weight: 3kg/5.8lbs total, 1kg/2.1 lbs for the handheld unit only
Accessories: Crevice Tool, Multi Surface Tool
Unboxing the Shark Wandvac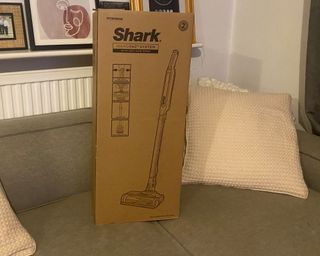 Our first impressions of the Shark Wandvac were positive, mostly because how sleek it looks and because of the gorgeous rose gold colour – who doesn't want their vacuum cleaner to look pretty? Other than that, once we opened the box and checked we had everything required, there was an easy to follow set of instructions on the box itself, to guide you through putting your vacuum together.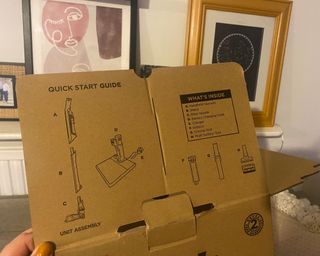 This vacuum cleaner comes in three parts, the first and top part of the vacuum cleaner being the handheld vacuum. This is where you can see battery life, turn the vacuum on, charge it directly and where the bin is positioned. You can use this part of the vacuum on its own or with both of the extra accessories which come included.
The second part of the vacuum is the wand, which is optional and it's the longest part of the vacuum which turns it into an upright model. To remove this part, you need to press both of the buttons on the handheld vacuum so that it releases. You can just use the handheld part with this wand, but it might not offer the best performance possible.
The third part of the vacuum is again optional, it's the floor nozzle. You can use this with the wand or without, as it clicks onto both parts of the vacuum cleaner. This is where you can charge your vacuum if you want to use the stand, and it slots onto this stand nicely.
When removing parts of this vacuum, ensure that they click back together when putting them back in place.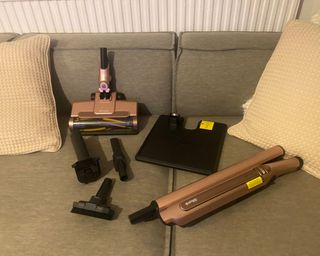 Dock
You'lll need to semi-assemble the dock for this vacuum, just by sliding the charging post into the dock plate until it fits. This will need to be placed nearby a plug socket, but be aware that the lead isn't the longest. Plug the charger into the charging post and when you put the vacuum on this dock, it will charge. Your crevice tool can live on this dock, too. However, the multi-surface tool won't fit so you'll need to find somehwere else to store this.
If you're interested in browsing more cordless vacuum cleaners, then see our dedicated buying guide.
Who will the Shark Wandvac suit?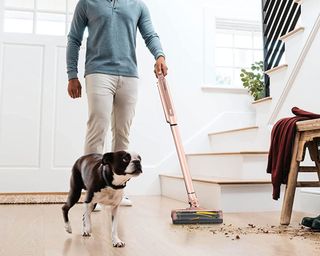 The Shark Wandvac is ideal for anyone like me, who lives in a smaller flat or a small home with limited storage space and not a large amount of floorspace to cover, since it doubles up as both an upright and one of the best handheld vacuums. It also has a short battery life, so bear this in mind if you live in a large home. It's great for anyone who is looking for a simple to use vacuum, which isn't super techy and can simply just get the job done of cleaning your floors and upholstery.
It comes with a good set of attachments, included in its (we think) reasonable price tag. It's lightweight so it would also suit anyone who struggles to lift things or to lift their current vacuum up the stairs. As for pet owners, this gets our seal of approval after testing it in a household with two very furry pets – a pug and a lionhead rabbit. It's extremely multi-purpose, so whether you use it as your main vacuum or alongside a robot vacuum, like we do with our Proscenic M8 Pro, it will be sure to get the job done fast, and efficiently.
What is the Shark Wandvac like to use?
Simply enough, the Shark Wandvac is a breeze to use. Whichever way you are using it, that is. I tested this vacuum cleaner a number of times, in a number of ways. Here's how it fared...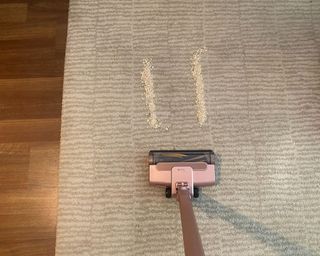 On carpet/rugs
I don't have any carpeted rooms, but I do have several rugs to test this vacuum cleaner on. To test this vacuum on a rug, I sprinkled some (definitely stale) porridge oats in two places. I suctioned up the first load of porridge oats, on the left, whilst the vacuum was on normal mode. The porridge oats to the right, I used the boost mode to vacuum.
In an honest opinion, I didn't notice a huge difference between these modes. The normal mode offers a pretty impressive suction performance, so there was not really much change when I pulled the boost trigger. Apart from the fact my finger started to ache and it was definitely louder.
That's not to say I would never use this mode again, of course, as I would definitely use it for spillages such as this with the porridge, for peace of mind that more of whatever else I spilled is getting picked up from the carpet. I would also probably use the boost mode to clean all the rugs in my home. The roller brush on the floor nozzle spins faster in this mode, so I feel like I can cover more floorspace in a shorter amount of time.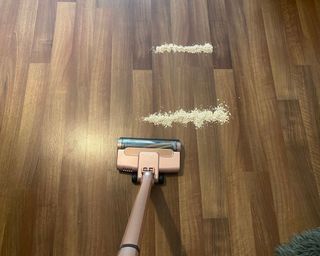 On hard floors
This vacuum performs impressively well on hard floors. I have laminate throughout my home, with the exception of my bathroom which is tiled. I performed the (now named) porridge oat test on my hard floors, but this time attacking them from a different angle. I did find that the boost mode picked up more bits of porridge oats, so in future I would definitely use boost when clearning up messes on hard floors. Otherwise, the normal mode works brilliantly for general cleaning, and it doesn't use as much battery. It's also quieter.
This vacuum performed essentially the same on tiles and laminate flooring, however you could hear its wheels significantly more. This can't be helped and isn't a big issue for me, with no sleeping child to ever wake by this sound. However, I'd probably bear this in mind if I was a parent and just avoid vacuuming the bathroom during nap time.
As a handheld vacuum
As a handheld model, this vacuum is brilliant. Its suction is incredible on the normal mode without switching to boost, and its head is quite large so that it can pick up larger bits of food, as well as dust and crumbs. You can also attach the handheld vacuum directly to the floor nozzle, to clean rugs or carpets closely. This also makes an easy job of cleaning the floors in your car.
You can, of course, use the handheld part of this vacuum without any tools, but there are two attachments to choose from if you want to make life easier.
With the multi surface tool
Okay, so this tool is a game-changer. I had used it before with my previous Shark handheld vacuum, but it was the one without bristles. This tool works in two ways: it has one part with bristles, that you can take off to reveal a similar tool but without the bristles.
So, the one with bristles I mostly used for cleaning surfaces – my TV stand, chest of drawers, console table, coffee table, dining table, kitchen counters. It can pretty much be used to clean any surface. I also used it to rid my sofa of dog hair, which there was probably much more of than I'd care to admit, and it did the job with no hassle. This is also handy for cleaning skirting boards, too, as well as for use on radiators. Moreover, you can use it on rugs if you want to clean those by hand. Just be aware that after using, there will be lots of hair entwined in the bristles that you'll need to pull out by hand.
There's another part of this tool, underneath the previously mentioned brush, a brush without bristles that you can also use on surfaces. This tool works essentially the same but it's flat with no bristles. Use this if you want to get closer to a surface to clean it, or if you're not worried about scratching a surface. This can also be used to get into corners as it has a square head. After use, you will also find that dust and hair have collected on this tool, but rest assured that you can just peel it away using your hands and dispose of it in your bin.
With the crevice tool
I used the crevice tool to mostly reach high places that otherwise I wouldn't be able to clean (I am a mere 5 foot 2, after all) without standing on something that's most likely wobbly and definitely unsafe. It's super handy for catching cobwebs and dust, and for cleaning smaller surfaces.
I have glass doors in my home which have small ledges around them and I've always found it a bit of a pain to get into here to catch dust, but not anymore! I also use this tool to clean corners on the floor, and it's handy for going over skirting boards too.
One thing I really loved to do with this tool is cleaning our velvet headboard. We've probably cleaned it once in the eight months or so that we've had it, so it definitely needed a good dust. Using this tool made this chore so easy and actually rather satisfying. Knowing this, I'll use this tool to clean the corners and cracks of our sofa and the dog's bed, too.
Another use for this crevice tool which I found super handy was to use it to clean up after my messy dog eats his breakfast and dinner. He's always throwing his dry food out of his bowl, so this is an easy way for me to clean up after him. After use, this tool needs no cleaning which is why we love it so much! It also slots neatly on the dock, as mentioned above, for easy storing.
Cleaning the Shark Wandvac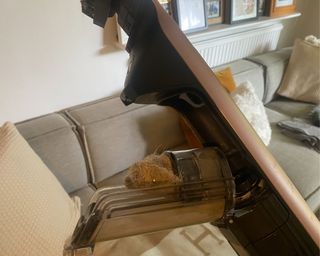 As with any vacuum cleaner, the Shark Wandvac will require a clean every now and then. And we don't mean just emptying the bin, as this couldn't be any easier so should be done after every use. Simply detach the handheld vacuum from the wand and the floor nozzle, take it to your bin and hold it over it. Then, push the button that sits just below the power button forward, and the bin will open. You might discover some hair build up, which you'll have to pull away from the cone-shaped part of the bin.
It's worth us noting that when this vacuum's bin is full, it will turn off and flash to signify that it needs to be emptied to continue working. A handy feature many vacs lack, but it prevents it becoming less efficient in use.
Cleaning this vacuum is easy, and a process that is easy to remember after one try. Nevertheless, it has instructions actually on the vacuum on how to disassemble it for cleaning. Just be sure to rinse everything under warm water only and leave it to air dry before putting the vacuum back together. It also has a reminder on the handheld part of the vacuum to clean its filter once a month.
Storage and maintenance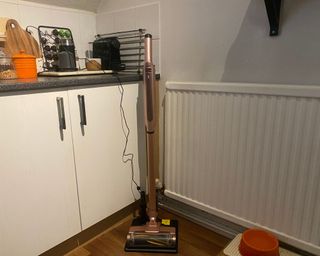 Thanks to its slim frame, this vacuum cleaner is easy to store. It comes with a dock that you can store this vacuum cleaner standing on, and also one of the tools can sit on here too. This dock can sit neatly in a corner of your home, or inside a cupboard. It takes up minimal floorspace.
You can also connect this dock to the charger and plug it in so that it charges your vacuum whilst storing it. Otherwise, if you can't find anywhere to place the dock that's nearby a plug socket, you can charge the vacuum cleaner directly to the handheld section of the vacuum. It plugs in right by the suction part of the vacuum.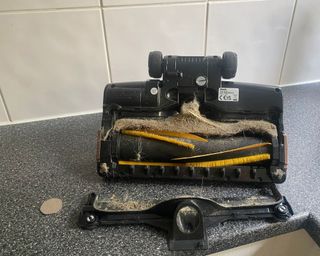 When it comes to maintenance, you might want to check for blockages should your vacuum appear to not be working as good as it was when new. You could have a blockage in the handheld part of the vacuum, the wand or the floor nozzle.
You can check the wand and handheld unit with a torch and feel for anything that might be stuck. To check for a blockage in the floor nozzle, you'll need a coin to open the four locks on the underneath of its head. From here, you can remove its cover and tilt back its neck so that you can access the opening and remove anything in the way. It would be a good idea to take this floor nozzle over to your bin along with a cleaning brush (we used the brush from out dustpan) and brush off any dust into your bin. Remember to put it back together properly after doing this.
How does it rate online?
The Shark Wandvac is rated highly online, unsurprisngly.
Reviewers from John Lewis have rated this product 4.5-stars out of five. There are lots of comments on how easy it is to use, with one reviewer saying it's helpful for their arthiritis, there are also several comments on how good value it is. With several mentions of how lightweight it is, too, lots of comments claim it's surprisingly strong when it comes to suction power.
Over at Amazon, this vacuum has a 4.5-star rating. Happy reviewers note how it's handy for carrying up the stairs and for using to clean stairs, and how it's versatile thanks to its tools. Several reviewers say they live in a small house or flat and it's perfect for their needs.
Over at Shark direct, this vacuum gets 4 out of 5 stars. Comments include how easy it is to manouver and how it's handy for cleaning a car. Lots of reviewers comment saying how they wish they had bought two batteries for it, for double the run time.
Customers from Walmart rate this vacuum 4.3-stars out of 5 with lots of people saying it does an awesome job at sucking up pet hair. The same case with other websites, customers have moaned about short battery life, but overall they seem pleased with performance and the tools that come included.
How does it compare to similar models and its predecessors?
This is the first 2-in-1 vacuum from Shark, so in this case we'll compare it with the closest handheld model and the closest cordless model.
The Shark Cordless Handheld Vacuum is similar to this model, though in our opinion the suction power is so different. We've been able to compare both of these models together, and the Wandvac's suction is 10 times better in our eyes. When it comes to battery life, the Wandvac offers 16 minutes from one battery, whereas the normal handheld model offers just half of the time, so eight minutes in total.
Both of these handheld vacuums come with tools, though the Wandvac's multi surface tool can be used two ways, one with bristles and the other without. Both of these vacuums offer similar bin sizes but the Wandvac has two modes to choose from, and it will automatically turn off once its bin is full. When comparing price, the Wandvac is £199.99/$259.99 and the Cordless Handheld Vacuum is £129.99/$129.99.
When comparing the Shark Classic Anti Hair Wrap Cordless Vacuum (IZ201UK model) with the Wandvac, these are both great options depending on what you are searching for, and your budget. The Classic is £349.99 and the Wandvac £199.99. The Classic option offers a larger bin, a longer run time of 40 minutes and its wand can bend to clean under furniture, plus it transforms into a handheld model. It also comes with attachments. Though do note this vacuum is heavier than the Wandvac, but both offer the same floor nozzle to prevent hair from getting caught in your vacuum. We rated this vacuum 4.5 stars in our Shark Anti Hair Wrap & DuoClean review.
Over in the US, you can compare this vacuum with the Shark Vertex Pro. It has a removable battery with 60 minutes of life, and it tranforms into a handheld model with a floor nozzle. It has a larger, one quart capacity bin, and it weights more at almost nine pounds. It also boasts a self-cleaning brushroll for picking up pet hair, and LED lights on its head so that you can see under furniture. It retails at $479.99.
See our dedicated guide on the best Shark vacuums for more suggestions from this brand.
Should you buy the Shark Wandvac?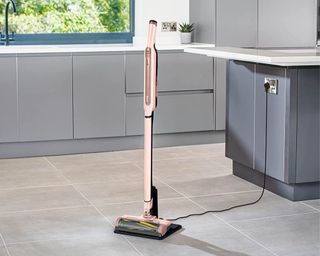 In our opinion, the Shark Wandvac is a great little vacuum, but it's no match for professional jobs or for anyone who is looking for a vacuum for their large home. If you're part of the latter group, you can buy another battery so that this vacuum will last for a total of 32 minutes of cleaning. However, it's definitely not a vacuum you'd use to clean up the mess from a building site. It's an undeniable bargain for anyone looking for something which is: simple, easy to use, affordable, and easy to store. The fact it comes with attachments is great, and it really is a nifty piece of kit.
So, if you live in a small home or flat, you're a pet owner and you're on a budget or searching for something easy with limited storage space to offer, this is the vacuum for you.
About this review, and the reviewer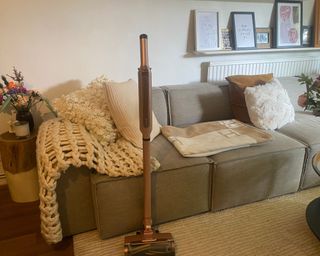 Annie Collyer is our Deputy Ecommerce Editor at Real Homes, and she reviews a bit of everything from BBQs to mattresses and vacuum cleaners. Annie lives in a spacious two-bedroom flat in South London with her partner and her two pets, a Pug called Doug and a lionhead rabbit called Henry who lives indoors.
Annie has been testing this vacuum cleaner for six weeks at the time of writing this review, using it once or twice a week to clean her home. This vacuum cleaner was living in Annie's living room, but then it moved to her kitchen to sit in an inconspicuous corner. After reviewing, and getting around to organizing her hallway cupboard, this vacuum cleaner will live there and she will charge it directly, instead of via the dock.
Annie previously owned the Shark handheld vacuum cleaner and rates this higher as it has better suction, whilst it tackles pet hair easier, in her opinion. With two furry beings running around, and a busy weekly schedule between going into the office, swimming, going on dog walks, socializing with friends, and wedding planning, Annie is always looking for products to test to shave time off doing chores. Along with the Proscenic M8 Pro robot vacuum cleaner she reviewed for us, Annie uses this as her main vacuum and considers it to be just perfect for her situation.
Interested in knowing more info on how we test products at Real Homes?