Turn off the lights, wear extra jumpers and kiss goodbye to standby mode. The current energy crisis means we're all seeking out ways to reduce our electricity consumption. This means if you are looking to invest in a new vacuum cleaner, there's never been a better time to focus on energy use.
Promising to guzzle 30 per cent less of my precious electricity supply than other models in the Henry range, the arrival of Numatic's Henry Eco was perfectly timed to help keep our winter utility bills under control. I was thrilled to have him stay for a good solid month of testing on the many and varied flooring types in our busy four-bed family home.
Energy-savings aside, this Henry Eco's visit was also perfectly timed to help out during the last significant stage in our gruelling four-year renovation. Namely the decorating and carpeting of three bedrooms and the upstairs landing (yes, I know you should start at the top and work down, but the kitchen extension was far too exciting to wait).
Read on to find out how the Henry Eco vacuum coped with 50 years' worth of under-carpet dirt (gag), sander-induced dust storms and the general day-to-day mayhem that three dogs and two children bring. Then take a look at our Henry vacuums guide for more tried-and-tested reviews from Numatic.
Everything you need to know about the Henry Eco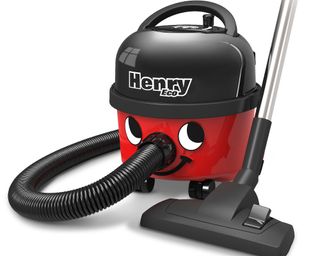 Model No: HVR 160E
Price per use (per hour): 14p
Bin capacity: 6 litres
Power source: Main electric
Cleaning range: 25.7m (10m cable)
Weight: 7.7kg
Motor power: 420w
Dimensions: H32cm x W34cm x D34.5cm
Warranty: 2 years
Vacuum expert
Vacuum expert
Linda Clayton is a professionally trained journalist who has specialised in home tech, interior design and fitness for more than two decades. She's a fastidious product reviewer, design obsessive, serial renovator, and amateur runner.
Who will the Henry Eco suit?
Fans of Martin Lewis will be hot for the money-saving benefits of the Henry Eco's reduced energy consumption. It's also a great choice for DIY enthusiasts, messy pups and retro types who are not, and never will be, convinced by cordless vacuums.
Unboxing the Henry Eco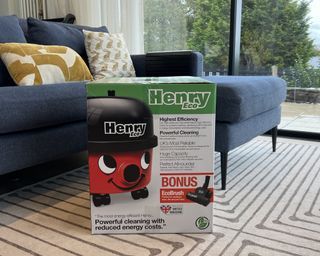 Delivery went smoothly, and quickly; you'll get same working day dispatch if you pay before 11.30am. The box was about the size you'd expect given the scale of the vacuum. I love that the Henry Eco is made in the UK. This means its carbon footprint is already good compared to imports, and the overall packaging was also commendable in terms of recyclable content and general lack of plastic.
Putting the Henry Eco together didn't require many braincells, but if you're stuck the owner instructions booklet comes with photo-based directions. This is a refreshingly low-tech vacuum, you hit the green rocker button to turn it on and off. Oh, and there is a red 'power on' light so that you can tell whether the socket is switched on before you start. No glitchy Apps to pair and no complicated cleaning programmes to work out.
Connecting the main tubes down to the floorhead was rather stiff and unwieldy. It would have been nice if they locked firmly into position with some kind of clip/button, rather than just pushing them, forcefully, together. A twisting action helped a tad. I also didn't love the quality of the plastic and joints on the floorhead, they felt cheap and flimsy.
With some extremely hairy residents, I was delighted to discover a brush in the floorhead. Not the main floorhead sadly, but in the smaller 190 Eco Brush supplied. The Henry Eco also comes with two brush-based nozzles, a crevice nozzle and a nozzle extender tube. There were two vacuum bags included, too, and one was already poised in position, ready to go.
How did the Henry Eco perform in testing?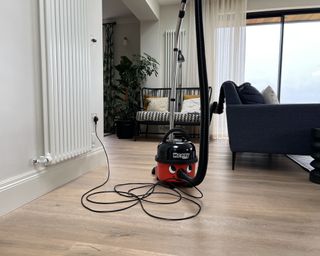 I tested the Henry Eco directly after the Henry Allergy and it was barely obvious that the Eco is not quite as powerful as the Allergy. For me, the slight power reduction was a good thing. I found the Henry Allergy a bit too sucky; to the point I couldn't move it across some of my flat pile rugs without first adjusting the air vent. Even then is could be a sweat-inducing workout.
The Henry Eco is still no slouch in the suction department, but I found it easier to use because of its mildly lower suction. It is rated 1,750mm H2O on suction, compared to 2,300mm H2O on other models in the Henry range. This rating is to do with something called Water Lift and is widely used by makers of commercial cleaners to rate (and compare) suction ability; most range between 1300-2200mm H2O. Not many domestic vacuums seem to use this type of suction rating, so it's not terribly helpful for everyday consumers, but it is useful when comparing the Henry Eco with other Henry models.
Getting down to cleaning, using the main floorhead the Henry Eco transitioned well between surfaces (we have floors in wood, porcelain, terracotta, carpet, laminate and many rugs) but I did need to press the carpet/hard rocker on the floor head when moving between hard and soft flooring. This was an easy foot-action and essentially brings a thin brush down so that the plastic floorhead doesn't scrape across hard floors. Your ears will soon remind you to flip the rocker if you've forgotten.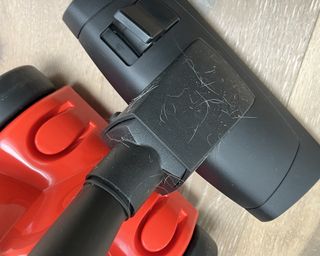 One of the weirdest things about the Henry Eco's floorhead is that it's a magnet to dog hair! There must be some kind of static situation but when I vacuumed on carpet, half the hairs seemed to wind up on top of the floorhead, rather than inside. Not helpful.
The Henry Eco is really light and easy to pull along behind you, and the large flip-up handle makes it easy to carry upstairs. Vacuuming the stairs is slightly awkward because you either hold the main unit and then the hose hits you in the face (dislodging my glasses), or you wedge the main unit onto a step with your knee. I'll admit to only doing the stairs once with the Eco, before returning to my light and portable cordless vacuum.
Speaking of which, I will always prefer cordless over corded vacuum cleaners but once you get over unwinding and winding the Henry Eco's 10m cable, the reach is decent, and I only had to move to a new socket a couple of times upstairs, and three times downstairs.
After endless hours of sanding back ancient skirting boards and doors in the bedrooms, the Henry Eco was my absolute hero. It made very short work of all the dust and never struggled or blocked when it came to clearing the rubble and debris my husband created when repairing the window surrounds and replacing old architraves. You really feel like the Henry is made for proper grunt-work, and I wasn't surprised to see our carpet fitter had one in the back of his van (it was the classic Henry and looked about 100 years old!).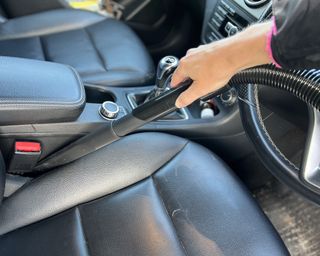 On the subject of vehicles, the Henry Eco did a great job on my car interior, which hadn't been vacuumed for an embarrassingly long time. We are lucky to have an exterior power point near the driveway, so I didn't have to use an extension lead, and the Henry Eco's suction power easily blitzed away horse hair, dog hair, our daughters' hair and about six months' worth of sand, dirt and sticky, unidentifiable debris. The crevice nozzle was just long enough to reach that awkward slither of carpet down besides the seats, too, which was very satisfying.
Like all Henry models, the Eco has an air vent in the handle tube, which enables the suction to be reduced. This proved handy when 'dusting' the curtains (that I should have taken down) post sanding, and also for vauuming the sheepskin rug in our bedroom. It's a low tech but effective feature, if rather stiff to twist open and closed.
Floorheads
The main floorhead manoeuvres nicely, but I would still have liked a brush head inside. Happily, the Henry Eco comes with a second, smaller head, which does have a brush. It's not overly populated with bristles, but it did make removing pet hair from the upholstery very easy. I used it a lot more than I anticipated.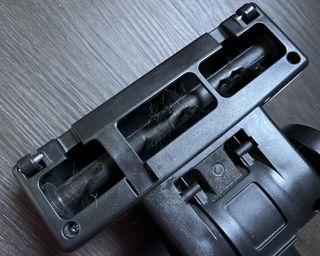 Attachments
The remaining attachments are fairly standard. There's a wide upholstery nozzle with a bristle part that can be removed for doing smoother surfaces like mattresses, plus a round brush nozzle, which is great for the tops of skirtings or anywhere you don't want to damage paintwork/wood. I didn't really need the extension tube as our ceilings are 2.4m high and the main tube/hose is long, but anyone in an older period property might appreciate the extra few inches for cobweb removal.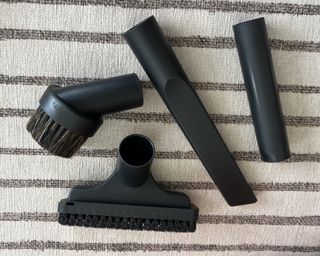 Noise
As mentioned, I didn't find the Henry Eco's reduced power (compared to other Henrys) affected performance negatively, but I did appreciate the noise reduction that comes with a lower-powered motor. The Henry Eco is impressively quiet, for any vacuum, and this was backed up by the App on my phone, which recorded the noise levels at 55 dB(A), which is similar to a normal conversation between two people. Those with children who still nap in the day (or night-shift workers) may appreciate this observation!
Energy Use
The Henry Eco's lower energy use is predominantly down to its motor power rating, which is 420 watts, compared to the 620 watts on other Henry models. It's worth noting that watts don't rate a vacuum's suction prowess, it refers to the motor's power consumption.
Using watts to calculate energy use (at the current average price electricity price of 34p per kWh), it costs around 14.2p per hour to vacuum with a Henry Eco, compared to 21p per hour using a regular Henry. That's a saving of roughly £2.08 a month, and nearly £25 a year. The Henry Eco does cost £10 more than a regular Henry to buy but you should save that amount in less than six months. *Note: this is my own maths, not official stats from Numatic.
Maintaining and storing the Henry Eco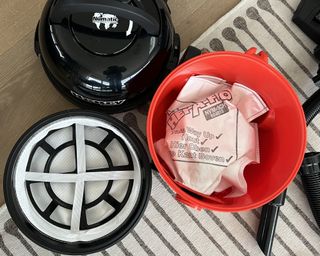 As a bagged vacuum, the Henry Eco is super easy to maintain. There are filters built into the bag, and also a giant TriTex filter that looks a bit like a massive chef's hat and sits between the bag and the motor unit.
The upside is you never have to wash filters to keep the suction strong, the downside is that you can't wash the TriTex filter, only replace it. For £24.98. How often you change the filter is dependent on use, and it should last longer if you use genuine Numatic bags. In theory you shouldn't have to replace the filter before a year is out (most used for residential cleaning will last twice that, but if you start to lose suction and the bag isn't full, a fresh filter should give your Henry Eco a new lease of life.
Storing the Henry Eco doesn't require a very wide space, but you'll benefit from a tall cupboard or corner if you want to dock the floorhead on the back, as the hose is quite tall. There are a couple extra docking points in the back for attachments; I put the crevice nozzle and one brush nozzle in, so they were always close to hand.
Winding the cord in is a manual affair and can be annoying when the cord inevitably gets tangled in a chair leg but the winding motion itself is smooth and doesn't require any muscle power. Don't wind too quickly at the end or you'll get whacked in the shins by the plug.
To empty, take out the bag, making sure the self-seal tab is in position, and throw it in the dustbin. There will be none of the dust cloud hideousness that's inevitable when emptying a bagless vacuum, which is great news for allergy sufferers. New bags start at £4.49 for three but they will last a very long time. I filled the six-litre bag about halfway in my month-long test period, but it did guzzle a lot of renovating chaos.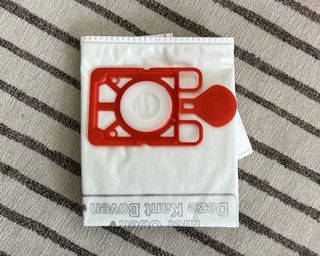 How does the Henry Eco rate online?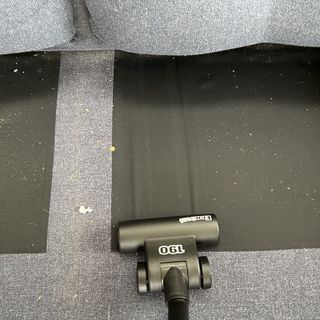 Finding online reviews specifically for the Henry Eco model isn't easy. On Numatic's Myhenry.com consumer website, powered by TrustPilot, there are only 19 reviews but they're predominantly positive (4.5 stars out of 5). One buyer did gripe about having to pay an extra tenner to make a more eco-friendly purchase, which was a valid point, but the majority were very happy with their Henry choice.
How does the Henry Eco compare with other Numatic models?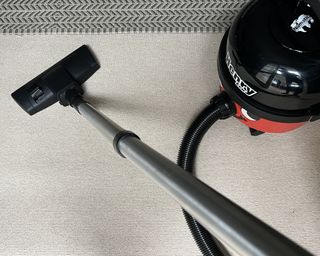 Compared to a regular Henry vacuum, the Henry Eco costs £10 more to buy and weighs slightly more (but only 0.2kg). It offers marginally less suction, but I found that to be a positive, strangely, and it will undoubtedly cost you less to run. You won't be rolling on the bed throwing fifty-pound notes in the air, but every penny counts in the current economic climate.
Beyond Numatic, it's hard to find a corded vacuum cleaner with a similar bin capacity, cord length or watt motor as the Henry Eco. The closest I have found is AEG's VX6-2-CB-P, which is highly rated by customers and a similar price at £149. The bin is almost half the size, the cord is half as long and it's noisier, too. I'd stick with the Henry Eco.
Should I buy the Henry Eco?
If you are in the market for a corded cylinder vacuum without too many bells or whistles, then the Henry Eco is a solid choice. Literally, I reckon you could kick it down the stairs without wiping the smile off that cute, bug-eyed face (or breaking it). The price is good, and the energy savings are not to be sneezed at, plus you'll get to enjoy that cockle-warming feeling that comes with supporting British industry. You may not want it as your one and only vacuum, a more portable handheld would be useful for everyday spills and thrills, but this is the beast to bring out on cleaning day, and any other hardcore vacuuming situations.
About this review – and our reviewer
Linda was sent the Henry Eco to test in her Devon home, to find out how well it performs across various floor types and how well it copes with busy family life, and her three super-fluffy, world-class moulting dogs.
For more information on how we test products at Real Homes, you can read our guide for your peace of mind that we're doing all the right things.
We are not given any compensation for our reviews, but if manufacturers do not require test products back, we can continue to use and update with any new findings should they arise.