Heard plenty of good things about the Dyson V11 Absolute, and tempted to get yourself set up with this smart-looking cordless vacuum? We're here to give you what you need to know so you can decide if this really is the machine for you.
I tested a wide selection of the best vacuum cleaners on carpet, parquet, tiles, stairs and upholstery, and challenged them with mud, fluff, light debris and pet hair to give you the lowdown on how efficiently they'll do the job, how easy they are to use, and how much space they'll take up in your cupboard.
Dyson V11 Absolute specifications:
Maximum power: 185 air Watts
Cable length: Not applicable
Dimensions: H128.6 x W25 x D26.1cm
Weight: 2.97kg
Noise: not available
Energy rating: no ratings for cordless vacuums
Dust capacity: 0.76 litres
Who will the Dyson V11 Absolute suit?
This cordless vacuum is up to the challenge presented by family houses, but it's compact enough for those in smaller homes, too. Got pets? You'll be happy with the results.
What is the Dyson V11 Absolute like to use?
This machine is pretty intuitive, so you'll be whizzing round your rooms in no time once it's out of the box.
Hard flooring, carpet and stairs
The Dyson V11 Absolute will sort out all the flooring types in your home, and clean up your staircase, no matter how mucky you've got the lot of them.
On carpet I found it pulled off the neat trick of picking up the dirt I could see, plus removing a lot more besides. It also did an excellent job in restoring carpet pile even on a deep version, which was pleasing: it made my carpets feel new even when that's far from the case.
It wasn't phased by lots of debris and dust on hard flooring either, whether that was on parquet, tiles or laminate, getting great results on all three.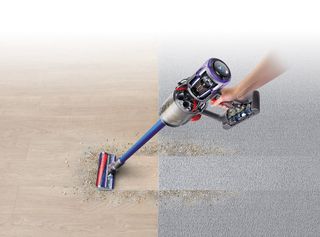 The Dyson V11 Absolute comes with two floorheads: the high torque and the soft roller. I found the latter worked well on a tiled floor (and took away the fretting I was experiencing about cleaning some new tiles for one of the first times). But, for speed when I was whole house cleaning, the high torque floorhead came into its own. Use the auto setting on the machine (of which more below), and this floorhead adjusts the suction power to the floor surface so you get effective cleaning results with the best battery life.
As well as appreciating the extra cleaning time, I was also pleased that this meant I didn't have to make any manual adjustments to the machine when moving from carpet to parquet and so on, saving time (and the annoying realisation that you're not cleaning properly because you forgot… I know that's not just me).
The Dyson V11 Absolute was also a champ when it came to vacuuming the stairs. For me, the only downside of this vac showed up here, though. I found it a little bit heavy as a handheld, and it made me feel like I needed to build up shoulder strength. If your muscles are better than mine, I don't think this would be a niggle, but it's worth bearing in mind.
Dyson V11 Absolute attachments
The Dyson V11 Absolute came with all the tools I would expect to get my home clean, including a crevice tool, soft dusting brush, combination tool which allows you to choose to add brushing to suction, or not, depending on where you're vacuuming, and a mini motorised tool that proved handy for dirty car seats and the staircase. Like the floorheads, the attachments have robust looking buttons in red so there's no puzzling over where to press when you're swapping over.
The dusting brush did an excellent job on a dusty bookcase in my home and you can also use it for tasks like cleaning blinds. This attachment is a decent size, which saved time on tackling a large job (like my bookcase). The mini motorised tool sorted out pet hair on the stairs efficiently, too.
Power and debris removal
The Dyson V11 Absolute passed my light debris and mud tests with flying colours. On carpet there was no scatter at all, and the machine picked up thoroughly first time through the mess. On my hard flooring selection there was a tiny bit of moving debris and dirt around, but the amount not sucked up immediately really wasn't anything much, so it was near to full marks to the machine all round the house.
One of my favourite aspects of this cordless vacuum is how easy it was to move between the three cleaning modes it offers: eco, auto and boost, which are clearly indicated on the digital display. All I had to do to select between them was press the button. Even more pleasing from my point of view was the way the display also let me know how much cleaning time I had left before recharging was required. I didn't experience any loss of power when the machine was near to needing recharging, either.
I found I used eco mode for lighter tasks like dusting, while auto mode in combination with the high torque floorhead got me all round at speed and with no disappointment regarding battery running time. Although I tested the Dyson V11 Absolute on a thoroughly in need of cleaning home, its suction was more than powerful enough without having to use boost much. In fact, when it came to cleaning a pet blanket, even on eco mode, holding the four-legged members of my household's favourite taut while picking up fur was a must because of the vac's power.
Dust bag removal
The max mark on the dust container is clear, and once I'd got there, removing the dust container from the vacuum cleaner was simplicity itself, as was emptying it over the bin; the lid opened fully so the dust and dirt ejected effectively. The bin was also easy to put back in place.
Note that as well as emptying the bin, cleaning the machine's filter is also necessary, and once this is done – under the tap – you'll need to leave it for 24 hours or longer until completely dry as it can't be wet when you replace it.
Handy features
Yes, I've already said it, but I will say again how marvellous it was to know how much time I had left before the battery of this model needed to be re-charged.
Also useful is the dock you can fix to the wall so you can hold the vac in place rather than propping it.
And I'll also mention something that you may find handy – or decide doesn't suit you at all. You have to keep squeezing the trigger to operate this vacuum cleaner. On the up side, this means you only use up battery time when you're actually cleaning and you won't be running the battery down if you, say, prop the machine up to move a piece of furniture. On the down side, you might find this hard work on your hand. The trigger doesn't take much squeezing – which if you're anything like me could mean you set the machine going by accident when you pick up the handle – so rather than the actual operation being tiring, it's the continuous nature of doing it that might be irksome.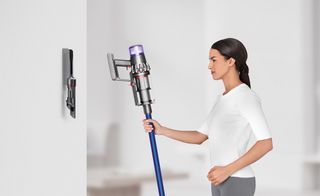 Storing the Dyson V11 Absolute
If you've had a cordless vacuum before, you'll probably think the Dyson V11 Absolute is more or less the same in terms of its demands on your precious cupboard space – that is, not very. The wall mount (see 'Handy features', above) is also a boon. The machine's charger is also compact, and plugs directly into the vac, so if there's not a power socket where you store it, you will find yourself leaving the machine by one of these for the four and a half hours it takes to charge fully.
Manoeuvrability
I found the Dyson V11 Absolute a great mover when it came to using it as a stick cordless vacuum. It wasn't hard work to push, and it went exactly where I wanted it to. It also got very close to the edges of the room so I didn't find myself missing the dirt here, and it was easy to get it under furniture as well.
As mentioned above, as a handheld, I found it a bit heavy to use for a prolonged period, which others may also find an issue.
How does the Dyson V11 Absolute rate online?
On the Dyson site buyers of this vacuum cleaner award an average of 4.8 out of five for this model. Reviewers note that the running time is sufficient to get round the whole house before recharging, are delighted with the cleaning power, and acclaim its efficiency on getting up pet hair. They also mention that for them it's been worth the purchase price. On the flip side, the fact that the trigger needs to be held down rather than the machine having an on/off switch is a problem for some users, while others say the machine is too heavy for them.
For those who have purchased the Dyson V11 Absolute from Amazon the average score is nearly as high at 4.6 out of five. These users like the machine's power – even on its lowest eco setting, the fact that it automatically adjusts to different floor types, and the ease with which the dust container can be emptied. For some, it takes too long to charge, while the weight of the machine when vacuuming high up is also mentioned.
How does the Dyson V11 Absolute against similar cordless vacuums?
There's no denying that the Dyson V11 Absolute is near the top end of the cordless stick vacuum category when it comes to price – although it isn't the most expensive out there. In terms of the cleaning time it offers on a single battery it's up with the best, and its cleaning performance also puts it at the head of the field.
Watch the shoppable video below to see how a similar model – the Dyson V11 – compares to market leaders.
About our review – and our reviewer
Sarah Warwick has specialised in homes and interiors for over 20 years. She was Executive Editor of Ideal Home magazine, and has written for nationals, magazines and websites including Real Homes, Homebuilding & Renovating, Grand Designs, Homes & Gardens, Houzz, The Guardian, House Beautiful and Country Homes & Interiors.
She put the vacuums through their paces all round the house, on all sorts of dirt and debris, and a variety of flooring and surfaces.