Hunting for a new vac to get your home clean? The Shark Anti Hair Wrap & DuoCean IZ251UKTDB cordless vacuum cleaner benefits from plenty of nifty features. The cordless stick model functions as a handheld, too, making it a space-saving two-in-one.
But how to decide if it's the vacuum cleaner for you? Easy! Our review will deliver all the detail you need. I've tested a wide selection of vacuum cleaners on carpet, parquet, tiles, stairs and upholstery, and challenged them with mud, fluff, light debris and pet hair to give you the lowdown on how efficiently they'll do the job, how easy they are to use, and how much space they'll take up in your cupboard.
Can't wait to buy? Find the best price for the Shark Anti Hair Wrap & DuoClean IZ251UKTDB from your favourite retailers below. Make sure you check out our best vacuum cleaner guide for more vac reviews, too.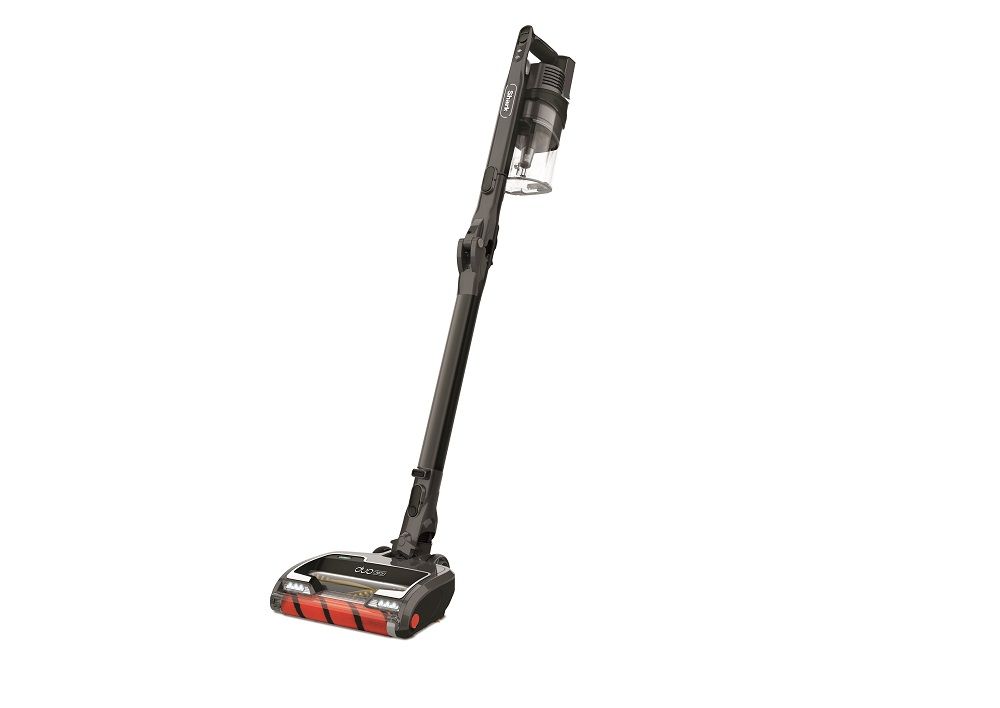 Shark Anti Hair Wrap & DuoClean IZ251UKTDB cordless vacuum cleaner specifications
Shark Anti Hair Wrap & Duoclean IZ251UKTDB at a glance
Type: cordless stick and handheld
Bag or bagless: bagless
Suction: effective
Noise: not bad overall but makes more on carpet than hard flooring
Easy storage: handily, it folds down so it's not as tall as other stick vacs
Maximum power: 21.6V
Cable length: Not applicable
Dimensions: H118 x W26 x D24.5cm
Weight: 4.1kg
Noise: rating not available
Energy rating: no ratings for cordless vacuums
Dustbag capacity: 0.7 litres
Who will the Shark Anti Hair Wrap & DuoClean IZ251UKTDB suit?
If you share your home with pets, this vacuum can help you with your ongoing mission to keep up with the hair they shed. But it's also a winner for homes of all sizes and households with its generous running time and abilities on hard flooring and carpet.
What is the Shark Anti Hair Wrap & DuoClean IZ251UKTDB like to use?
You won't be left puzzling about how to set up this vacuum out of the box, nor how to operate it since both are simple.
Hard flooring, carpet and stairs
The Shark Anti Hair Wrap & DuoClean IZ251UKTDB delivered pretty consistent results on my floors, leaving carpet – including on the stairs – tiles, and parquet clean. I didn't need to keep going back over areas to pick up missed bits either, keeping all my vacuuming jobs as short as possible.
I found the Shark tech performed as promised, too. Anti Hair Wrap is a feature designed to stop hair – that's yours and that of the four-legged residents of your home – accumulating around the brush roll. My findings? Definitely the case. Neither human hair nor the very generous contributions made by my small furry housemates lodged itself around the brushes of the floorhead or the motorised pet tool, saving a whole lot of unwinding and cleaning-out hassle.
Shark's flexology is a feature that allows the wand to go from straight to angled. It's worth having because it means you can get your vac under the beds and various items of furniture that are raised up on legs. For me, the only downside was that it meant the floorhead wasn't as easy to direct accurately as is the case when it's used with the rigid wand. That said, it still proved itself a useful option that meant I could do a thorough job on the flooring all round each room.
If you struggle with the cleaning of your staircase with your existing vac, you could find this model a pleasing alternative. I used the handheld to do the job and was delighted by how light it was. Teamed with the motorised pet tool (see below) it did an extremely thorough job and was easy to use on steps and risers, even on the awkwardly shaped first step.
What attachments does the Shark Anti Hair Wrap & DuoClean IZ251UKTDB come with?
The Shark Anti Hair Wrap & DuoClean IZ251UKTDB comes with a great set of attachments. You'll get the motorised pet tool mentioned above, which brought me impressive fur-removing and carpet pile restoration results. You won't miss out on any of the essential kit either with a 20cm crevice tool, upholstery tool, a dusting brush, and an anti-allergen dusting brush also in the suite of attachments that come with this model.
The tools were effortless to swap on and off the vacuum, and all are compatible with both the handheld and the wand. Using the latter, you can dust up high but also get round the skirting boards without having to bend, which my back benefited from during a long vacuuming session.
The attachments aren't on board the vac, which did mean a to and fro that slowed me down when I was cleaning. Obviously, this is a downside you need to consider before you buy, but the positive is that there's less weight to take round the house. You get a tote bag to stow them with this model, which saves the scatter in the cupboard.
How manoeuvrable is it?
I didn't have any issues with manoeuvring the floorhead of this vacuum cleaner where I wanted it to go, and it did a pretty thorough job up to the edges – although it didn't achieve quite the hugging of the skirting boards I've found using some other manufacturers' models.
It is relatively light at 4.1kg and I didn't consider it a burden to carry up and down the stairs. The slim shape assisted, as it does, with all cordless stick designs so it could be a good solution if you find upright and cylinder vacs awkward to move between floors of your home. Do bear in mind, though, that the weight of the vacuum is concentrated at the top because of its cordless stick design, and this may take a little getting used to if you are new to this type of vac.
Used as a handheld vacuum cleaner for the stairs or upholstery, it's easy to move around with but for above-floor use with the wand, for me, this was a two-handed effort.
Power and debris removal
The abilities of the Shark Anti Hair Wrap & DuoClean IZ251UKTDB when it came to getting all sorts off the floor, the upholstery and other surfaces? It was top marks for power and therefore debris removal all round on my part.
Debris removal
It dealt with my Rice Krispies challenge with equal aplomb on both carpet and tiles. They didn't scatter making the job super speedy. When it came to fine dust, mud, hair and fur the Shark was highly efficient all round the house whatever the floor or other surface, too.
If you're interested in the detail, the tech that delivers these results on floors is the DuocClean feature. It refers to the floorhead's two motorised brush rolls. A bristle brush roll works deep into carpet to remove dirt that's embedded, and a second soft front brush roll is in constant contact with the floor. It's this that draws in debris, Shark says, and that also lifts the fine, stuck-on dust.
The power behind the removal
Also making vacuuming easy from my point of view was the fact that the sliding 'on' switch of the vac can be toggled between the carpet setting and the hard floor setting that also works for small rugs. Result? I could move between different floor surfaces quickly. The vac has a boost button, too, and I found the fact that this is a trigger rather than a slider a good design feature. You have to hold it to use it, which discouraged me from keeping it on longer than strictly necessary and draining the battery power. The boost mode can be used on both carpet and hard flooring.
Powerful suction can be a dual-edged sword in that it makes a vacuum hard to push, but the Shark delivered the former without feeling effortful to use on both bedroom carpets and the hard flooring in my home. Noise-wise, the vac was actually quite restrained on hard flooring, and it wasn't super loud on carpet either although the volume was noticeably greater.
How long can you keep on vacuuming for? This model comes with three batteries giving you up to 120 minutes of running time in total. The charging cradle that comes with the vac lets you do this for two batteries at a time, so you can get yourself organised to vacuum without pause. You can also plug the vacuum cleaner in to charge it.
Dust container removal
Dust container removal was a breeze (and good thing, too, if like me, you continue to find the sight of all that's been lingering on the floor a slightly disturbing one). All I needed to do was release the handheld from the wand, hold the dust container over the bin and move the slider to open it. The process was easy, and the bin parted with all of its contents. For thorough cleaning, note that you can take the dust container off the handheld.
Handy features
If you haven't had the pleasure of using a vacuum with lights in the floorhead before, I reckon you'll be a convert when you've done so. The lights on this model really did help me spot the bits of fluff that are easy to miss (until the vacuum has been tidied away into the cupboard when they suddenly become glaringly obvious).
As mentioned above, but worth restating as it definitely counts as a handy feature, is the fact that there is the option to charge the batteries on or off the vacuum.
Are you, or someone you share your home with, bothered by allergies? The anti-allergen complete seal, which promises to capture 99.9 per cent of dust and allergens inside the vac rather than releasing them back into the room, is a reassuring feature.
Not exactly a feature, but definitely a benefit if you like your appliances sophisticated rather than gaudy in appearance, is the black colourway of the Shark Anti Hair Wrap & DuoClean IZ251UKTDB.
Storing
Stick vacuums are generally pretty convenient to store – so long as your cupboard is tall enough – because they aren't bulky. Plus, when they double as a handheld, that's one vacuum rather than two to find room for.
The advantage I found with the Shark on top of these standard cordless stick plus points, though, is that it folds down thanks to the flexology feature that allows the wand to bend in the middle. The bottom line is that you don't need such a tall cupboard to be able to stash it neatly away.
There's an extra benefit to its flexibility. Like other cordless stick vacs, when the Shark is fully assembled, it doesn't stand up on its own; you need to prop it. Fold it to store, though, and it's stable. Neat!
How does it rate online?
On the Shark site (opens in new tab) it's an average of 4.6 out of five stars for this sleek black vacuum cleaner. Purchasers like the running time of the appliance, and say the battery power doesn't fade even when it's running low. The Anti Hair Wrap feature also won plaudits, as did the vac's low weight and ease of use. As for the negatives, the fact that it doesn't stand up on its own was a bugbear, while others said they needed the boost button too frequently, draining the battery.
The verdict of those who've bought via the Currys site (opens in new tab) is an average of 9.1 out of 10. These reviewers mentioned how easy it was to empty the dust container, appreciated its effectiveness on cat and dog hair, and liked the fact that it has three batteries to avoid running out of power. Their negatives? For some reviewers it was too heavy, and others wanted more power. The fact that attachments can't be carried round on the vac was also a thumbs down for some buyers.
How does it rate against similar vacuum cleaners?
It's true that the Shark Anti Hair Wrap & DuoClean IZ251UKTDB is in the more expensive part of the cordless stick market, but it holds its own against its top-of-the range rivals in terms of cleaning results. The points that might tip the balance in its favour depending on your needs? The fact that this model has an up to 120 minute running time is one, while the promise of leaving behind the chore of unwrapping hair or fur from vacuum brushes could also tip the balance in its favour.
About our review – and our reviewer
Sarah Warwick has specialised in homes and interiors for over 20 years. She was Executive Editor of Ideal Home magazine, and has written for nationals, magazines and websites including Real Homes, Homebuilding & Renovating, Grand Designs, Homes & Gardens, Houzz, The Guardian, House Beautiful and Country Homes & Interiors. She put the vacuums through their paces all round the house, on all sorts of dirt and debris, and a variety of flooring and surfaces.