On paper, the Hisense HVC6264BKUK Hi-Move Cordless Vacuum brings together all our favourite features of a vac; competitive runtime, 2-in-1 design, floor nozzle LEDs, flexible wand and more. Returning from maternity leave earlier this year, I jumped at the opportunity to get my hands on this vacuum cleaner to give it a run for it's money around my (now) constantly messy home. And speaking of money, with a price tag of less than £200 there surely couldn't have been room for any improvement since it's one of the most affordable vacs I've seen for a long time.
I've been putting the Hisense HVC6264BKUK through its paces in my 3-bed home. We have a combination of wooden, tiled and carpeted flooring, plus a steep staircase, which makes it the perfect playground for a vacuum cleaner to show me what it can do. Aside from the foods on the floor courtesy of my one-year-old, I've also deliberately scattered some dry foods on a large rug and tiled flooring so you can see first hand an example of what it's capable of.
Intrigued? Keep scrolling to hear how it performed then, check out our best vacuum cleaners buyers' guide where you may also see this cordless vacuum featured.
Product spec:
Model.no: HVC6264BKUK
No. of settings: 2
Bin capacity: 0.4L
Suction power: 32W
Runtime: up to 45 minutes
Charging time: 4 hours
Weight: 3kg
Accessories: Motorized Bed Nozzle, Flexible Tube, Brush Nozzle and Crevice Nozzle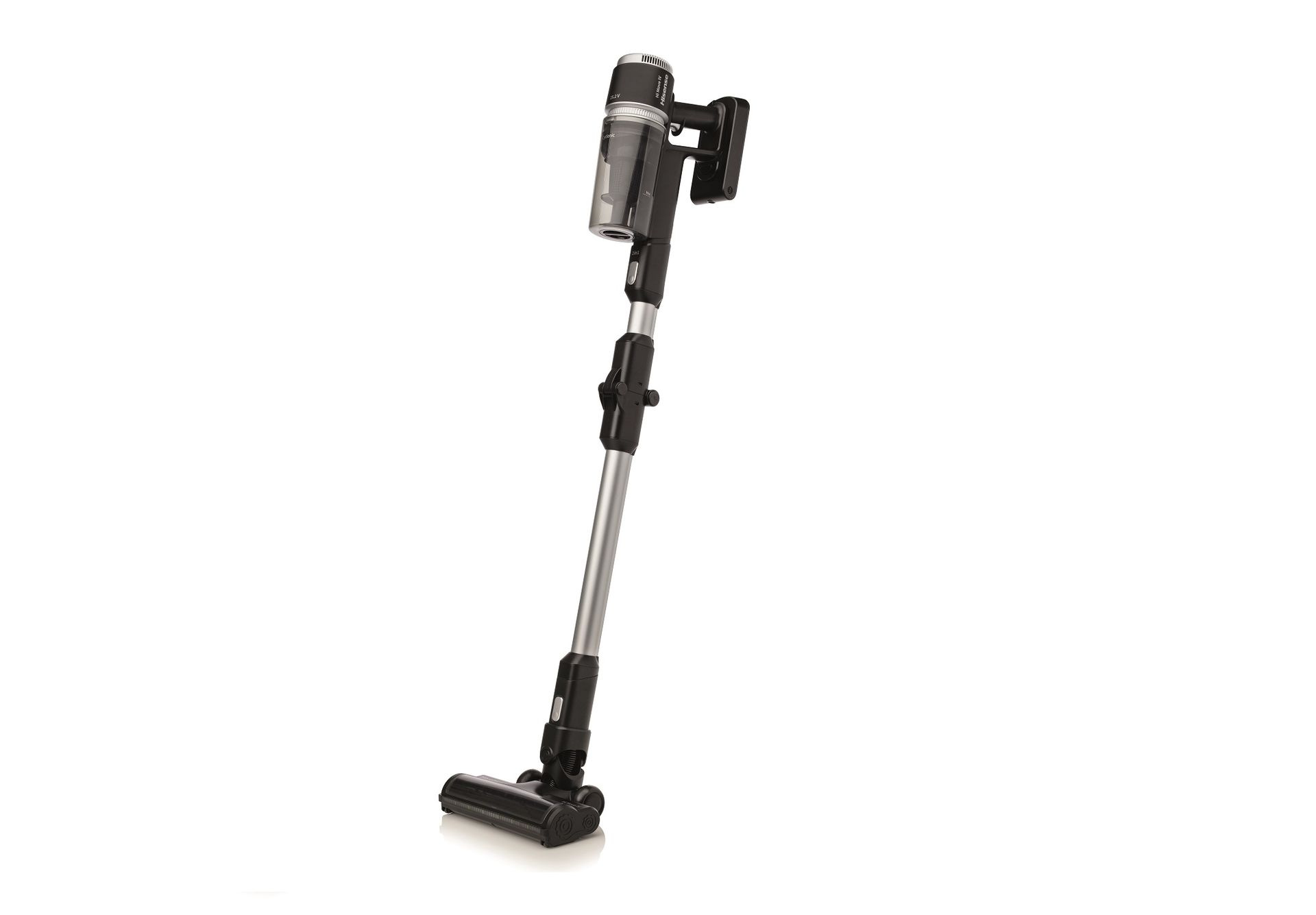 Who will it suit?
Owners / renters of a flat;
Family's in need of a second vacuum cleaner;
or single occupants who want a quick way to clean floors
Delivery, unboxing and set up
The Hisense HVC6264BKUK Hi-Move Cordless Vacuum arrived by courier. The branded box which contained the vac was within an outer, plainer box for delivery. It was all nice and compact and made the most out of the available space. Each element to the vac had a designated space but these were wrapped in a plastic bag, perhaps too much plastic, and is something which I personally feel could be avoided.
Set up was nice and easy. Each part can be clipped together and it doesn't take too much guess work to figure what which bit goes where.
Before I used the vac for the first time I decided to ensure that the battery was fully charged. The battery is detachable which made charging mega easy to quickly get on with since I didn't need to mount it or find a safe space to prop the vacuum cleaner up against. I left it for an undisclosed time to charge this time round, which was basically when I noticed that the lights on the battery had stopped flashing.
What's it like to use?
To get you started, the vac comes arrives with a Quick Guide and Instruction Manual. The Quick Guide is the one to read through first since it gives you a brief overview of which attachments can be used in different areas of the home using images. The Instruction Manual is more of a 'do's and dont's' guide which you'll find that you will refer to less than the Quick Guide.
With it's suite of attachments I alternated having a go at vacuuming the floor, stairs and higher up places, all with varying degrees of success.
Floor
Vacuuming the carpet was a breeze. At 3kg, the Hisense HVC6264BKUK Hi-Move Cordless Vacuum vac is one I consider to be a lightweight vacuum cleaner so it can be easily manoeuvred around. It also helps that the handle is comfortable, and you don't need to hold down the trigger to keep it running – just 'push' to turn on, and 'push' to turn off.
The suction is just as good as some of the more expensive vacuum cleaners I've reviewed. It didn't struggle one bit on the pantry test (below) and remarkably very little hair got wrapped around the bristles which I'm still amazed by. It was also kind of cool to see the cyclonic suction in action – all the debris was being circulated in the bin like a whirlwind.
Working around furniture was a doddle, even in low light since the motorized floorhead has LED lights on it which showed the crumbs (etc!) underneath the dining room table. The flexible wand came in useful when vacuuming underneath furniture such as the bed and wardrobe, although this was quite stiff to release which got a little frustrating it has to be said. Now you may be tempted to try out the bendy wand for even more flexibility. I tried this and would say that, from my experience, it's best avoided – best to keep that to reaching up high to the picture rails or skirting.
Transitioning over to the wooden floors and tiling in the kitchen was pretty seamless and, again, it was no effort for the Hisense HVC6264BKUK Hi-Move Cordless Vacuum to pick up the sugar, flour and crispies off the floor. What I did notice, however, was that the floorhead did slide around a little on the tiled flooring. There was definitely not as much resistance as on the carpet but still, it got the chore done eventually.
Stairs
To vacuum the stairs I switched the motorized floorhead to what is referred to as the bed nozzle and used the vac as a handheld by removing the wand. I really struggled with it in this mode. The handle felt really top-heavy and it wasn't forgiving when trying to get in tight next to the step above, or to the side of the staircase. I had to hold it at such an angle to feel the brushes make some sort of contact to the carpet, but this was uncomfortable so switched it back to the floorhead which ended up being more cumbersome due to the size. In the end I just managed to clean the edges of the stairs with the crevice nozzle, making a bigger deal out of the chore than it needed to be.
Higher up places
Using the brush nozzle and the bendy wand I reached up to tackle the (thin) layer of dust on top of the picture rails in our living room. Suction was just as good as it is on the floorhead and bed nozzle, and the brush helped to sweep the dust up into the wand. Without the head I feel it could have done just as good a job, though, it just help to get a better angle.
I also used the crevice nozzle on our traditional styled radiator in the bathroom, but this didn't get through the narrow gaps and it felt bulky to use. The brush nozzle didn't work out either so, sadly, I had to whip out the trusty microfibre cloth to clean this particular radiator instead. This was the same story on our not-so-traditional radiators, too.
Things to note
The runtime goes quickly in a 3-bed house, especially since this vac can do so much. I used this vac on the 'high' setting when vacuuming the floor which gave me a runtime of 19 minutes and eight seconds. This was just about long enough to run the vacuum cleaner around on the carpeted areas of my house, not including the stairs. You can expect to achieve the longer runtime of up to 45 minutes on the lower setter, as advertised, which I used when using the vac as a handheld.
You're notified when the battery is running low on the LED screen and there is a noticeable drop in suction so it's not like you can recharge the battery for 5 minutes to get a bit of extra juice to finish the job. The specifications say that it has a full recharge time of four hours, but I recorded a charge time in excess of this to 4 hours and 24 minutes.
Cleaning and maintenance
Depending on the size of your house, frequency that you vacuum or amount of fluff / dust / dirt you have to banish, you may find that you'll be emptying the 0.4 litres bin after each use. I did most times I used this vac anyway. It's pretty small compared to my usual vacuum cleaner (Dyson Absolute Outsize) which has a bin capacity of 1.9 litres, so it was a stark comparison.
Try not to rush emptying the bin by making sure that it is emptying where you want it to go and you're not stood next to an open window or door because otherwise, everything you've just vacuumed up will be all over the place. There's a lever just beneath the handle to pull, which will release the bin and subsequently the filters. It took me a bit of time to figure out how to empty it so it's not particularly intuitive. Also, avoid going above the max line on the bin because (as I did) you'll find that it starts to empty itself.
The filters and the brushbar are easy to remove for cleaning; there's a button to press on the side of the floorhead to release the brushbar, and the filters can be lifted out of the bin when releasing the debris. It's advised (and best) to use plain, running water for a rinse. Alternatively the filter has been twizzled around when in situ for a quick clean.
How does it rate online?
Looking around at customer reviews for the Hisense HVC6264BKUK Hi-Move Cordless Vacuum, they seem to echo similar things to what I've noticed so far. On AO.com a customer shared that she has pain in her shoulders so needed a vacuum cleaner which was light and easy to use, and 'this one is perfect!'.
Over at very.co.uk there's two reviews where one says that it cleans quietly, quickly and extremely well and would give it 4.5 stars if she could, deducting half a star because she didn't find it that easy to convert into a handheld. The more negative review where just 1 star was given is because by the sounds of it the product was faulty, although when it did work it was ok at best for the money.
Real Homes verdict: should I buy the Hisense HVC6264BKUK Hi-Move Cordless Vacuum?
If you're after a second vac, yes. And if you need a lightweight vacuum cleaner, yes. The Hisense HVC6264BKUK Hi-Move Cordless Vacuum does a lot for the money you'll pay for it. The nice-to-haves such as the LED lights on the floorhead are good, and it's really very versatile. Suction is consistent until you're into your last five-or-so minutes of runtime, and it's really useful to have the flexible wand when reaching under the bed.
The things which it lacks for me is the small bin capacity, which wouldn't be a problem if it's being used as a second vac for quick tidy's. And on the stairs is was pretty cumbersome, which wouldn't be problem if you lived in a flat. All in all, though, for less than £200 this vacuum cleaner is very good and I wouldn't hesitate to recommend it.
About this review – and our reviewer
Jen is our Large Appliance editor heading up vacuum cleaners, washing machines, dishwashers and barbecues across the Future Homes titles. She is four years into a house renovation, and has tested many home appliances and mattresses in the last few years.
She was sent this product to review to find out how it performs in a family home with various floor-types with varying amounts (and types) of debris. Her three-bed house has hard wood flooring and limestone tiles downstairs, and a relatively new carpet running up the stairs, across the landing and into the three bedrooms making it the perfect space to review vacuum cleaners.
We are not given any compensation for our reviews, and the Hisense Hi-Move was lent to us for the duration of the review before being returned.