eufy HomeVac H30 Infinity: Quick Menu
A versatile vac (like the eufy HomeVac H30 Infinity) is a must-have if you live in a busy household. With my two dogs forever making a mess of my house, I reach for my handheld vacuum almost daily. These lightweight, compact vacuums are perfect for cleaning up pet hair, kitchen spills, and dirt that gets tracked inside, and the eufy HomeVac H30 Infinity makes everyday cleaning even easier thanks to its unique floor tools.
This handheld vacuum comes with a whole arsenal of attachments, including a crevice tool/dusting brush combo, a motorized pet tool, and an extension wand and floor tool. The latter is particularly useful for cleaning hardwood and tile flooring—without having to crawl around on the ground—and it's infinitely quicker and easier to use than a full-size vacuum.
After testing the H30 Infinity for several weeks, I'm convinced that it's one of the best vacuums for pet hair — or anyone with a busy household. Here's everything I loved about this vacuum, as well as the *one* aspect that fell flat for me.
eufy HomeVac H30 Infinity review
What I thought of the eufy HomeVac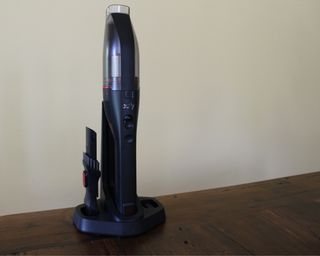 The Eufy HomeVac H30 Infinity is perfect for quick cleaning jobs around the house, as it offers powerful suction in a compact form. Tipped as one of the best handheld vacuums, it can be used to suck up debris and dust in small spaces, and the motorized pet tool makes it quick and easy to remove hair from furniture and upholstery. However, it's more versatile than many handheld vacuums, as you can also attach its extension wand and floor tool to pick up dirt, dust, and spills without having to bend over. This essentially converts it into a cordless vacuum.
The only aspect of this vacuum that I wasn't impressed with was the mopping module, which was awkward to use and not very effective. Definitely not the best mop I've come across in my history of testing cleaning appliances.
I'm Camryn Rabideau, a freelance writer and product tester for Real Homes, and I've been testing vacuums for several years. I've tried everything from high-end robot models to budget-friendly handheld vacuums, so I have a good idea of what's worth your money — and what's not. I'm also the proud owner of several pets, including two long-haired dogs, so I understand the struggle of trying to keep your home free of hair, which feels like an uphill battle most days.
Using the eufy HomeVac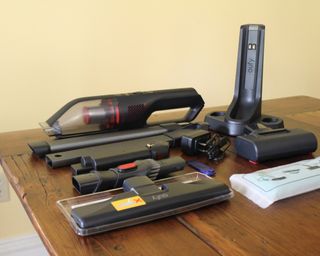 To test out the eufy HomeVac H30, I used it for several different cleaning jobs around my home and tried out all its different settings and attachments. After a few weeks of use, it proved to be quite versatile, and overall, I was impressed by its suction power and performance.
Vacuuming
I was fairly skeptical about this vacuum, as I've never seen a handheld vacuum with a floor attachment, but after using it for a few days, I started to understand the hype and why it could be considered one of the best vacuum cleaners for small apartments. Right away, I was impressed by its powerful suction, which is more than enough for most cleaning tasks on the lower setting.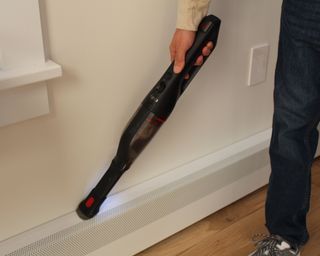 I used the vacuum to clean my bathroom, and it was perfect for getting into tight corners like behind the sink and dusting along the baseboards, windowsills, and trim. The floor attachment also proved to be quite handy.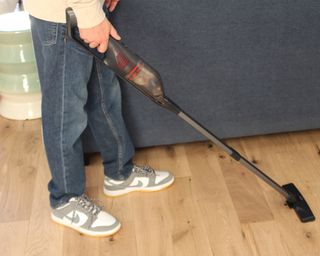 I did turn the vacuum up to its higher suction setting while using the extension pole, and with max power, it had no problem sucking up the hair and dirt on my bathroom floor. I also successfully used it to pick up cat litter that got kicked out of the box. Because the vacuum is so compact, it was much easier to navigate around small spaces than my full-size vacuum, and it left the floor spotless! Overall, I used it for around 15 minutes, switching between the eco and high suction settings as needed, and the battery didn't run out of juice.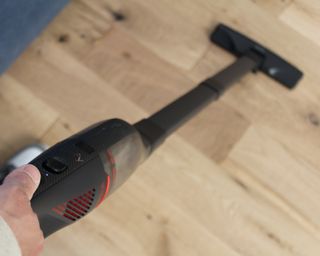 Cleaning up pet hair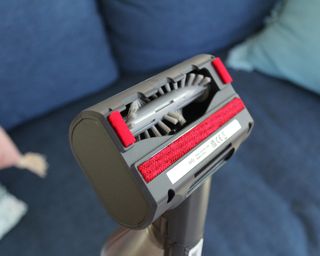 Thanks to my two dogs and cat, there's never any shortage of pet hair around my house, and I usually vacuum the furniture at least once or twice a week to keep it looking presentable. The HomeVac H30 comes with a motorized pet hair brush, which I put to use on the two sofas in my living room. Its spinning bristles quickly picked up all the visible hair, even on the low suction setting, and I liked that the tool is able to pivot up and down, making it easy to clean at any angle.
My one note is that the long, barrel-shaped design of the vacuum can be a bit awkward to wield, as it's bottom-heavy with the pet tool attached. I generally found myself using two hands to hold the vacuum steady and ensure it went where I wanted it to go. Not a big deal, but the vacuum isn't going to win any awards when it comes to ergonomics.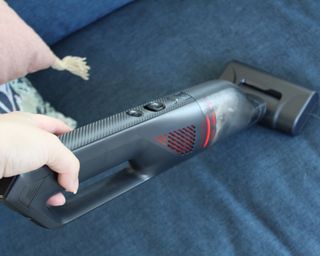 Wet mopping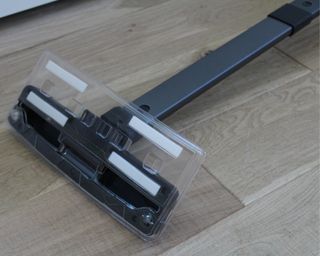 To me, the one strange part of the HomeVac H30 Infinity is its "mopping module." When I was putting together the vacuum, I actually thought it was a piece of packaging — it's made from thin, see-through plastic—and put it in the trash. Thankfully, I read the instruction manual and realized my error before it was too late.
Honestly, this isn't a tool I see myself using, but I tested it out anyway. The plastic piece clips onto the bottom of the floor attachment, and then the single-use mopping pads attach via velcro. The pads are pre-moistened, and you're able to vacuum while mopping the floor at the same time — in theory, anyway.
I used the mopping pad to clean around my dog's water bowl, as the floor tends to get dirty, and frankly, it wasn't effective. Only the front edge of the pad actually made contact with the ground, so I had to apply a lot of pressure to get any sort of scrubbing action. It was awkward to do, and overall, it didn't get the water marks off the floor. I'd much rather use a Swiffer WetJet — my go-to tool for those kinds of cleaning jobs. You're also not supposed to use the mopping attachment to clean up wet messes, so I don't see it being useful for most people.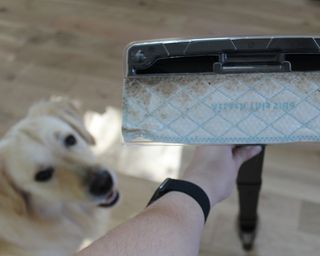 Battery life
Eufy claims that the HomeVac H30 can run for up to 20 minutes on the lower "eco" suction setting and 10 minutes on the "max" setting. Throughout the course of testing, I actually never had the vacuum die on me, which was really impressive for a handheld model. There were several times when I used the vacuum for more than 15 minutes, on and off, and the battery indicator still had two of its three lights on.
When the vacuum is running low on power, it sits nicely in the charging dock, which can either be placed on a flat surface or mounted to your wall. I loved that you simply place it in the dock to start charging—there's no need to connect a plug, so it's quick and easy to do.
How to clean the eufy HomeVac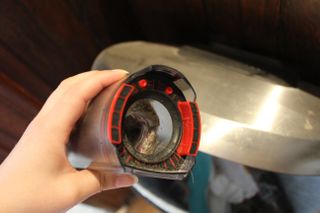 The HomeVac has a button that allows you to detach its dust cup, which you can then empty into a trash can. While the dustbin looks fairly small at first glance, I generally just needed to empty it after I was done cleaning. The only time it needed to be dumped more frequently was when I vacuumed up a lot of pet hair, and sometimes I did have to fish clumps of hair out of the cup if it was overfilled.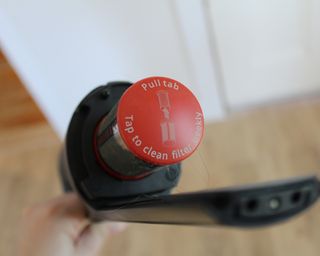 The vacuum also has a filter that needs to be cleaned regularly. The brand recommends tapping it off over the trash can at least once a week to remove lingering dirt and dust, and replacing it every six months. You may also need to occasionally remove hair from the bristles of the pet tool, and the vacuum comes with a handy little tool that helps to cut away tangled strands.
Is the eufy HomeVac right for you?
The eufy HomeVac H30 Infinity is a useful cleaning tool, especially for busy households with pets or children. It can be used as a classic handheld vacuum or with its floor attachment, yet it's more affordable than the best stick vacuums. It retails for around $200 at full price, and it's sure to become a frequently used cleaning tool for all sorts of small daily messes.
If you're solely looking for a handheld vacuum, the HomeVac H30 also comes in two other package options: the H30 Mate, which includes the motorized pet tool and crevice tool, or the H30 Venture, which includes the crevice tool and a multi-surface tool. Neither of these models comes with the extension wand/floor tools, but they are less expensive than the Infinity.
Where to buy Eufy HomeVac
Due to its popularity, it's currently sold out on Eufy and Amazon, and The Home Depot but keep checking back as we'll let you know when new stock comes in.
If you need something similar quite urgently, have a look at these options: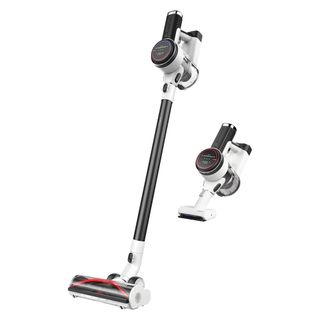 Cordless or handheld
Love having confirmation that your floor is clean? The LED color ring on this vacuum guides you through your chores and adjusts the suction power as appropriate. It's worth noting that you might not want this if you don't want to spend time cutting tangled tresses out of the brush roll with a pair of scissors.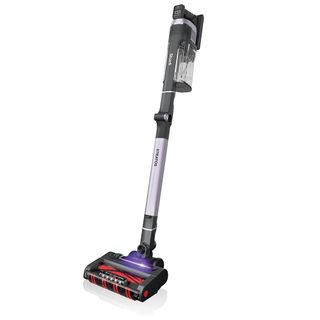 Great for pet hair
2. Shark Stratos Cordless IZ862H
No matter what the size of your home, this Shark vacuum will clean it with plenty of precision and power. It adapts suction power depending on the surface and the debris, without you having to change a thing. It's also brilliant for capturing pet hair, thanks to its brush roll and LED lights. It also folds down neatly for storage, which is useful for those in smaller spaces.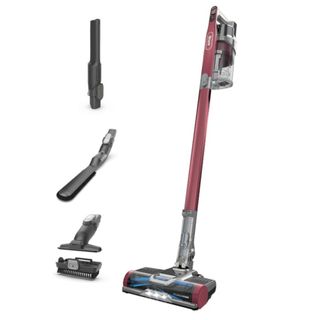 For small spaces
3. Shark Cordless Lightweight Stick Vacuum IZ362H
Only in a smaller space, or want a vacuum for upstairs? This has plenty of power without being too heavy, at a really great price. While we haven't tested this ourselves, it does have over 5,000 five-star ratings on Amazon, with shoppers saying it's easy to grip, charges quickly, and has a large canister.
How we test vacuum cleaners
Eufy sent me the vacuum and I tested it in my home for several weeks before writing this review. I used the following criteria to test and evaluate the vacuum:
Unboxing: I evaluated the vacuum's packaging, including the overall condition of the vacuum when it arrived at my home. I considered the use of sustainable materials in the packaging and gave extra points for the lack of polystyrene. I also considered how easy the unboxing and setup process was.
Operation: In testing the vacuum's operation, I considered the many different ways that buyers might use it and replicated those. I tested it on laminate floors, skirting and areas where my pets frequent, looking for a consistent and quality performance.
Ease of use: Vacuuming is hard enough, so I looked to the vacuum to make the chore easier. I gave extra points for features like a lightweight design, easy maneuverability, the ability to fit underneath furniture, and buttons and attachments that are simple and easy to operate.
Ease of maintenance: I also weighed factors like the amount of maintenance the vacuum needs and how easy that maintenance is.