The Miele Classic C1 Turbo Team PowerLine - SBAN0 is the right choice if your home has a lot of hard flooring or low-to-medium pile carpet. We're always on the lookout for the best products to clean your hard floors and the rugs that cover them, and we think we've found a winner in this Miele Classic C1 canister vacuum. We've tested it on various floor types – even 100-year-old hardwood floors! – so that through our review, you'll be able to clearly see how this purchase can impact your home cleaning and care routine.
If you're looking to find the best vacuum for your home and price point, check out our vacuum cleaner buying guide which goes into full detail on the best of the best buys. But first, check out this review of the Miele Classic C1 Turbo Team PowerLine – SBAN0 and discover why it's 'vacuum goals'.
Miele Classic C1 Turbo Team PowerLine – SBAN0 SPECIFICATIONS
Design: Canister vacuum cleaner with dustbag
Cleaning features: Six-cleaning feature dial that can be set to hardwood floors, low carpet, or rugs and upholstery
Reach: 18-foot cord, 29-foot operating radius
How it moves: Caster rubber wheels with three-point maneuverability
Filter system: 3.5-liter filtration bags that capture 99.9 percent of dust and small particles
Storage: Upright storage with a locking system for floorhead and handle
Who is the Miele Classic C1 Turbo Team PowerLine perfect for?
People with hardwood floors: Soft natural bristles on the parquet brush and rubberized wheels protect the most sensitive of floors.
Those living in a zero-carpet home: Tile in the kitchen? Laminate in the living spaces? Stone in the bathroom? This vacuum is best on hard floors.
Carpet in the bedrooms: If your bedrooms have low-to-medium carpet, this canister vacuum will do the trick.
Folks who struggle with a dusty home: Removes nearly 94 percent of all particles that are as small as 0.3 microns and traps 99.9 percent of dust particles in the filter bag.
Apartment and small home dwellers: Super light and compact, you can store it in a home with minimal storage space and carry it up stairs easily.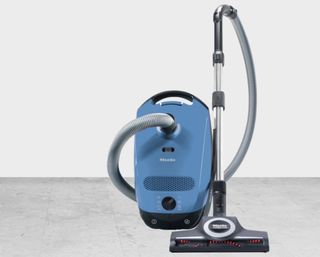 What's the Miele Classic C1 Turbo Team Powerline like to use?
The Miele Classic C1 Turbo Team Powerline arrived in a compact, lightweight box. The canister vacuum was so easy to assemble, I didn't need the instructions. Lightweight with three rubber wheels that maneuvered at even the slightest turn, I was intent on vacuuming my living room and lounge right away, the two spots in my house that tend to accumulate the most dust.
To turn on this Miele canister vacuum, you pull out the cord and plug it into a wall outlet, before setting the dial on the top of the vacuum to the type of flooring you'll be cleaning. The dial has six options: curtains/fabric, upholstery/curtains, deep pile carpets/rugs/runners, energy-saving, low pile carpets and rugs, and hard flooring/heavily soiled carpets and rugs.
Though a small parquet floorbrush was included in the purchase of this canister, I opted to use the Parquet Twister (XL) floorhead, an additional accessory buy. Both floorheads have bristles that are extremely gentle on hardwood floors, but the Twister made it easier to get under furniture without having to move it thanks to a unique twisting feature (hence the name).
I turned on the vacuum with the on/off foot button and the vacuum came to life quite softly, so much so that I wasn't quite sure I had properly hit the button until the noise grew slightly louder. That said, this Miele is pretty mellow on the noise front, but if the noise is too loud for you, turn the dial to energy-saving and it becomes even softer.
I generally have to use a microfiber pad a few times a week to handle the dust and dirt on my floors, but with the Miele, I quickly realized this did not have to be my reality. The floorhead glided like butter across my historic wooden floors picking up dirt and dust unlike anything else I've tried. I didn't have to move my furniture and I had a radius of almost 30 feet, two things that made vacuuming very convenient and easy.
It worked so well to pick up dirt and dust, that when I mopped my floors right after vacuuming, there was very little grime on the brand new white microfiber mophead pad.
In the kitchen and bathroom, I changed the floorhead to the Turbo Brush Floorhead STB 305-3 which is included in the purchase. It moved a bit different – more loosely – than the parquet floorheads but I quickly got it under control. What most surprised me was how the vacuum picked up crumbs and other particles along the edges of the floorhead which doesn't always happen with other less-quality vacuums. On some of my rugs, the suction power was slightly too strong, but thanks to an air inlet valve, I was able to reduce the suction power enough to vacuum the rugs more easily.
At times, it was necessary to extend the handle, but rather than a separate extension, this vacuum has one built-in. A simple click of a button and the telescopic suction wand glides open an extra foot.
There were three other floorhead accessories included with this Miele canister vacuum: a dusting brush, an upholstery nozzle, and a long crevice nozzle. The dusting brush was gentle and the upholstery nozzle worked well on a velour vintage chair I bought at an estate sale that needed some TLC. The long crevice nozzle is perfect for those tight spots between your fridge and counters. The accessories fit onto an accessories attachment that connected around the hose, meaning they wouldn't be lost on some shelf and would always be with the vacuum.
After using the Miele canister vacuum, you unplug the cord and press a cord button with your foot and it sucks the cord back in. The vacuum is to be stored standing up with the handle locked in place on the back of the vacuum. The top handle allows you to carry the canister vacuum to its storage spot. At 14 pounds, it isn't the lightest vacuum on the market, but for a canister it's pretty nimble. People who live in apartments or need to go up and down stairs, won't have any issue carrying this product around.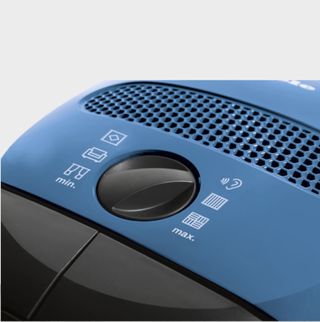 What you need to know about the filter:
It's important to note that this Miele canister vacuum is equipped with an AirClean filter and filter bag. Not only does this type of filter trap 99.9 percent of dust, allergens, and particles, but it promises that the room air is cleaner after vacuuming than it was before. Changing the filter bag is pretty easy, but you only need to do this about every 50 hours of use or once a year. With a TimeStrip exhaust filter change indicator, you'll know exactly when the time is right to change your filter.
If you have a number of pets, a super dusty home, or lots of foot traffic that brings in an exorbitant amount of dirt, you may need to change the filter bag more than once per year. You'll have to order the Miele FilterBags when it's time to replace, but at less than $12 for three filters, it's not costly at all.
How does the Miele Classic C1 rate online?
This canister vacuum has high ratings online, which is no surprise to us after our time using it. You'll generally discover an average of a 4.5 out of 5-star rating for this product.
What do you get for your money?
In addition to a seven-year warranty on the motor and casing and a one-year manufacturer warranty on parts and labor, you can purchase a one-year Miele warranty which means the company will fix the vacuum free of charge during this period. With a big reputation for quality appliances, you could probably forego that one-year warranty as Miele is a pretty good brand that doesn't often break down.
Is the Miele Classic C1 Turbo worth it?
The answer is yes, ten times over. I've used a variety of the best vacuums in the past, but only upright ones. This was my first time using a canister vacuum and not only did I find it easy to maneuver throughout my 1,600-square foot home, but it had the power and suction capability that is unlike anything else I've ever used.
With extremely dusty floors, this canister vacuum picked up what neither brooms nor microfiber pads have been able to do. Plus, the brushes and wheels protected my floors from scratches which any homeowner knows is an important feature. Though it's a bit on the expensive side, it's well worth the investment. The top quality of Miele guarantees a great product that will last a long time and pay for itself in the long run.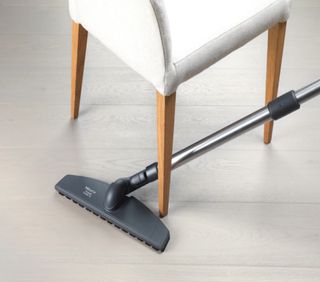 How does the Classic C1 Turbo Team PowerLine compare to other Miele canister vacuums?
Miele canister vacuums range from $299-$1,499 and vary in features. If you want a bagless canister vacuum, get ready to dole out $599, at the minimum. The Classic C1 Turbo Team PowerLine is a good product for those with a medium-sized home with primarily hard floors. That said, it doesn't hurt to take a look at all the Miele products – like those that work on heavy-duty carpet or are best for cat and dog owners. We've made it easy to peruse their large selections with a Miele vacuum buying guide that provides insight on various Miele vacuums from canister vacuums to cordless and robot options.
More vacuum reviews to check out:
Read more: