The Roidmi Nano P1 Pro is a super lightweight and portable handheld vacuum, perfect for using on a desktop or kitchen counter. It's less suitable for large areas of dirt and dust, and you'll need to empty it semi-regularly, but you'll want to keep this vacuum on hand for life's little messes.
I put the Roidmi Nano P1 Pro to the test over a month, using it for all sorts of household messes in the kitchen, bedroom and upholstery. What it lacks in multifunctionality it makes up for in sheer convenience in certain areas, so if you have the same needs as me when it comes to choosing a handheld vacuum, the Roidmi Nano P1 Pro could well be a good option for you.
For other options, check out the best handheld vacuum cleaner guide for more top options and reviews. For my Roidmi Nano P1 Pro review, keep reading.
Roidmi Nano P1 Pro: Product specs
Type: Handheld, cordless, portable
Capacity: 0.1L
Battery life: 24 minutes
Charge time: 3 hours
Dimensions: H27.5 x W6 x D6cm
Product weight: 500g
Motor: 130,000rpm
Colours: Black, white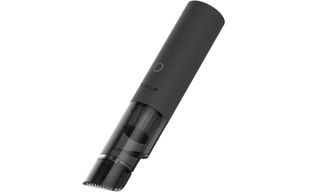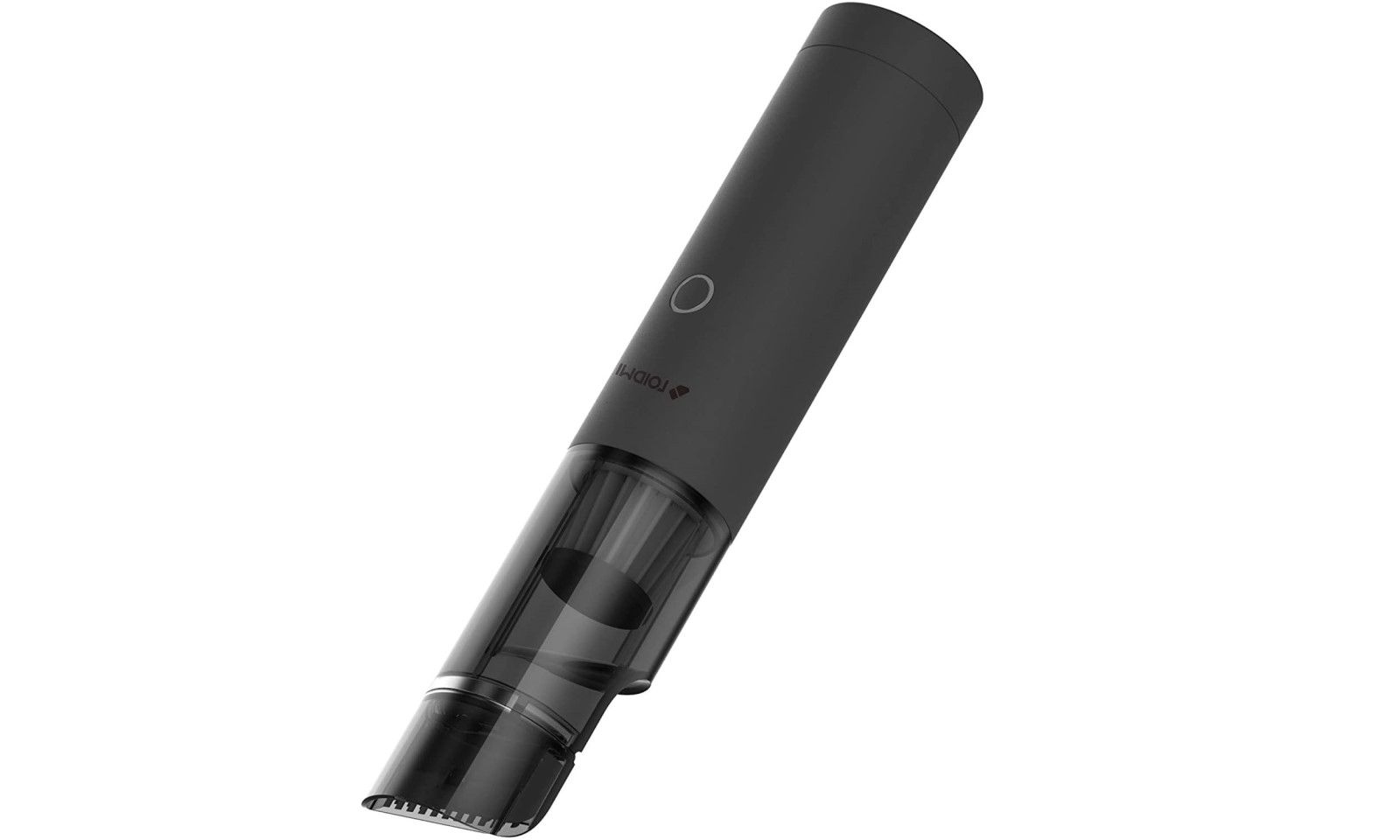 What's in the box?
The Roidmi Nano P1 Pro is small, and so was the package it arrived in. It comes with a USB-C charging cable, fully assembled and with a little bit of juice already charged into it.
There are no other head options with the Roidmi Nano P1 Pro, and it also comes with just the one filter, already slotted into place. You can press a button to push forward bristles on the cleaner head, so it is able to clean in two modes, but that's about as multi-functional as this handheld vacuum gets.
I was able to simply flip the head up and turn on the vacuum by pressing down the power button, straight upon arrival. After a couple of hours of charging, I was ready to give the Roidmi Nano P1 Pro a try.
Using the Roidmi Nano P1 Pro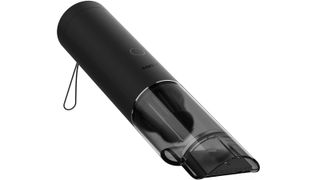 To start the Roidmi Nano P1 Pro you need to flip out the brush head, which folds flat to resemble a tube when not in use. You then just press and hold the button, which will light up and begin to vacuum after a few seconds. Pressing this again will bump the Roidmi Nano P1 Pro into high speed with an audible boost in power, and holding again will switch the machine off.
When it's on, there's a light that shines from the Roidmi Nano P1 Pro. This comes from the underside of the power button, meaning it doesn't so much illuminate what's in front of the handheld vacuum as what's behind it. Not particularly useful, but then, it's by no means an essential part of a vacuum.
The Roidmi Nano P1 Pro has a curved mouth on one side, which lies flat on the other. The flat side is best placed against a surface such as a table or desk top, and even though the entire head of the vacuum won't press completely against a surface, it still is plenty powerful enough to remove debris from its path.
It took me a few tries to find where the Roidmi Nano P1 Pro would best slot into my life. It did an ok job of picking up dust from windowsills and other areas of my house, but because the bristles can never be retracted completely from the brush head they did get a little jammed with dust particles and other debris. That's a common issue I had with the Roidmi Nano P1 Pro. The bristles cannot be removed so you need to give them a scrub if they become crammed full of dirt of hairs. It's not so much of an issue when you're picking up finer particles, but with per hair on carpets and stairs it becomes jammed pretty quickly.
I soon found that the Roidmi Nano P1 Pro is most handy in the kitchen, which works well for me as someone who spends so much time there testing kitchen gadgets such as coffee machines and air fryers. Few things annoy me more than crumbs and coffee grounds across my kitchen counter, and being able to leave the Nano P1 Pro right next to my coffee machine meant I was able to pick up any stragglers and rid my counter of coffee grounds with ease. It's a very niche use for a handheld vacuum, but because it's so small it fits the bill perfectly.
The Roidmi Nano P1 Pro also does a great job of picking up slightly larger debris such as rice, which is pictured below. While it's small the suction is very powerful, so there's not much it would struggle to pick up. Ideal for cleaning cars.
One criticism I've seen of the Roidmi Nano P1 Pro is its brush head. Some claim that it's not best designed to access corners. I'd agree that it probably won't fit into all tight spaces, but because the suction is strong enough to pick up bits and pieces that aren't immediately underneath it, I had no trouble picking up coffee grounds from the corner of my kitchen.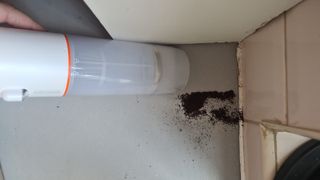 Other handheld vacuums I've used are so bulky that I couldn't keep them on a kitchen counter, in a glovebox in my car or in my handbag, but the Roidmi Nano P1 Pro slots neatly into just about any space.
My partner reminded me of the Friends episode where Monica is vacuuming her vacuum cleaner with a handheld. She shouts "now I just need a smaller one to clean this one!" Well, the Roidmi Nano P1 Pro is that vacuum. You're welcome, Monicas of the world (myself included).
Roidmi Nano P1 Pro: Battery life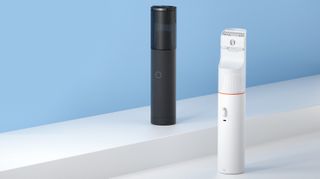 The Roidmi Nano P1 Pro claims to take three hours to charge, but I found that it took slightly less than this for the flashing light to turn solid, indicating that it's ready to go.
The first thing I did was test the battery life. After topping it up completely, I set the vacuum on and allowed it to drain until the vacuum switched off. Roidmi claims that the runtime of the Nano P1 Pro is 24 minutes. More precisely, my recorded runtime came in at 23 minutes and 40 seconds. That's plenty of pint-sized cleaning from one charge.
As for the high power mode, Roidmi doesn't advertise a battery life for this higher setting. When I tested it, the battery lasted 13 minutes and 46 seconds before shutting down, which is a longer lifespan than most handheld vacuums on their regular setting.
Emptying the Roidmi Nano P1 Pro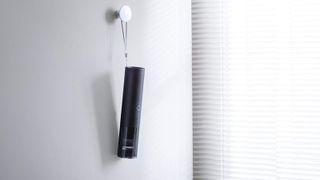 To empty the Roidmi Nano P1 Pro you need to twist off the top and pull off the filter. Then everything should fall out swiftly with a tap against the side of the bin. I would suggest doing this over the bin so you don't drop any dust or particles anywhere.
The filter does get a little clogged up, but it's just a case of rinsing it under the tap to clean it. Then leave it out to air dry while the Roidmi Nano P1 Pro charges and you'll be set to go after slotting everything into place again, which is very straightforward.
The 0.1 litre bin is teeny, but so is the vacuum itself. I found that it didn't take much emptying as I wasn't attempting larger tasks, but if you do use it for areas with lots of dirt and dust it's easy enough to empty and continue use.
Is the Roidmi Nano P1 Pro handheld vacuum cleaner worth it? Here's our verdict...
The RRP of the Roidmi Nano P1 Pro is £119, which is more expensive than many handheld vacuums on the market. For the money, you get a mini vacuum cleaner that can be used when travelling or left in the kitchen or bedroom for little tasks. It has a USB-C charging port that's very easy to access, and the battery life is much more impressive than most handheld vacuums of its size.
This handheld vacuum cleaner isn't the niftiest, but it is very powerful. You may not be able to get into every corner of your home but it's strong enough to remove a large fraction of dirt and dust, and can pick up larger spills too, including rice and cereal. If the Roidmi Nano P1 Pro sounds like it fits your specific needs in a handheld vacuum, give it a go. Otherwise, a larger handheld vacuum may be a more versatile pick.
About this review and our reviewer
Millie Fender is an editor at Real Homes, specializing in small appliances. She loves putting new products to the test, whether they're air fryers, coffee machines or vacuum cleaners.
The Roidmi Nano P1 Pro handheld vacuum cleaner was reviewed in Millie's own home, as with all of our product reviews. Millie reviewed the vacuum for over a month, so she had time to make sure it performs well for longer periods of time.