We've managed to get our hands on a vacuum cleaner mop – the Proscenic P11 – and we're here to tell you all about it. Whether you are considering getting rid of both your vacuum and mop and investing in a 2-in-1 model, or, you just want to see what all the fuss is about.
We've been testing the Proscenic P11 in our small flat, which has hard laminate floor everywhere – with the exception of a few long-pile rugs – and obviously, there's a small amount of storage space. We should also mention that we live with two pets – a long-haired rabbit and a short-haired dog – so there's pet hair aplenty over here. We should note that we use this vacuum cleaner along with a robot vacuum that automatically comes out to clean three times a week, and a handheld vacuum cleaner for quick jobs.
Not sure you want to merge the two? See our best vacuum cleaner guide, and then check out our best mops guide for more recommendations. Otherwise, keep scrolling for the full review to see if this is the cordless vacuum mop for you.
Proscenic P11: specifications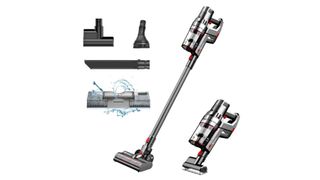 Power: 25kpa
Bag or bagless: Bagless
Weight: 1.8kg
Dust bag capacity: 0.65 L
Charging time: 3-4 hours
Battery life: 53 minutes – on the least powerful setting
Who will the Proscenic P11 vacuum cleaner mop suit?
The Proscenic P11 is definitely best for those with smaller homes – whether that's a flat, bungalow or a one-bed house – due to its short battery life. It's also a great buy if you have a small amount of storage space, and fitting in both a vacuum and mop is a struggle. Since it's super lightweight at 1.8kg we also think it's a great vacuum (and mop) for those who may be less able.
What is the Proscenic P11 vacuum cleaner mop like to use?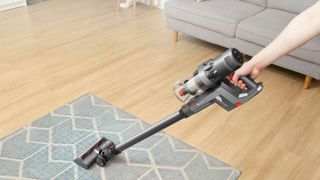 Simply put, this vacuum cleaner is pretty much a dream to use. We've used it with the mop head on, and without, and we can confirm that both ways it performs well.
When vacuuming
All you need to do is press the trigger and this vacuum will turn on. From here you can use its touchscreen to control its speed and check its battery level. Then, you just need to start moving. It's super easy to use and control, as it's pretty much the same as any other cordless stick vacuum cleaner out there, and it makes getting into those corners an easy task.
When mopping
In order to use this vacuum cleaner for mopping, you'll need to fetch the water tank. Fill it with hot water and whichever cleaning product you like to use on your floors and close it up. Attach it to your vacuum by placing this tank on the floor (with the wet pad on) and placing your vacuum cleaner on top of it. It should all click together and when you move the vacuum, it will take the mop pad with it too. You will notice that the mopping is slightly inconsistent, as sometimes it will clean your floors with lots of water and other times not as much, but this is all down to the amount of pressure you apply when mopping.
And how does it manoeuvre?
It manoeuvres like any other cordless vacuum – easily. Though be aware that it's not the easiest to get under large furniture as it doesn't bend. The head of this vacuum can swivel around furniture legs or rugs, with minimal effort required from you. The only annoying thing is that you'll need to take the mop head off when tackling a long-pile rug (or carpet). I tend to use it on all of my hard floors with the mop head on, missing out the rugs. Then afterwards I'll take off the mop head and go back and go over all my rugs.
Proscenic P11 vacuum cleaner mop attachments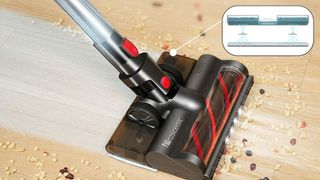 So, this vacuum cleaner mop comes with lots of attachments. Firstly and obviously, a water tank for mopping. This is super compact so when you're not using it you can just pop it in your cleaning cupboard. As for the pad that comes with, this can be washed in your washing machine after use.
You can use this vacuum cleaner mop as a stick vacuum or a handheld, by removing its tube and attaching the body of the vacuum (where the bin and touchscreen is) to its head. It also comes with an anti-wrap hair brush that does exactly what it says on the tin. Whether you are a pet owner or not, this brush makes cleaning your vacuum much less of a chore.
Also in the box with this vacuum comes a round brush tool – for cleaning sides or skirting boards – as well as a mini motorised tool and a crevice tool. Use the mini motorised tool for cleaning smaller spaces, and the crevice tool for reaching those hard-to-clean corners.
Also, though not an attachment per se, this vacuum cleaner does feature an LED light in its head. This makes it so much easier to see dirt, dust and debris on your floor when cleaning.
Power and debris removal when using the Proscenic P11 vacuum cleaner mop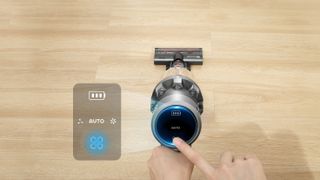 The suction of the Proscenic P11 is admittedly very impressive. I am not sure why I didn't expect it to be – maybe because of its super reasonable price tag – but I've used it countless times and I've been shocked at just how much dirt and dust has been in its dust bin afterwards. Especially since this is one of three vacuum cleaners that I use in my house.
I also used this vacuum cleaner to clean up the mess that our artificial snow-tipped Christmas tree left us with, and I was impressed at how easy it picked up the fake snow and also, how much of it could fit in the dustbin – there was A LOT of the stuff. Very satisfying, though.
I always tend to use this vacuum cleaner on the highest setting, because why wouldn't you? I'd rather use it for less time and pick up everything in its path than use it for longer and only pick up half of the mess I want to.
It's also worth me noting that I have not noticed any hair tangling in this vacuum's brush – although I have super thick hair that's constantly falling out on our floors, and we live with two hairy pets. In comparison to our other vacuums, and other ones I've tested, this is very impressive.
Removing the dustbin on the Proscenic P11 vacuum cleaner mop
This is incredibly easy – to remove the dustbin you'll need to press both of the red buttons either side of it (on the vacuum's tube). From there, you can easily pull the dustbin away. Then, open the top of the bin and tip it to empty. You may have to get your hands in there if you have been vacuuming hair as it does easily get caught around the filter.
Proscenic P11 vacuum cleaner mop handy features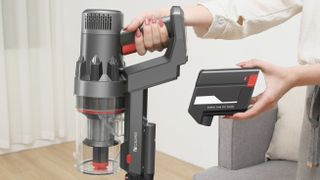 There's one hugely obvious handy feature of this vacuum, and that is the fact it can vacuum and mop at the same time. Other than that, the touchscreen makes the vacuum very easy to use as from here you can see battery life, any faults (we've not had experience with this yet), and you can change mode.
Another handy feature is that it comes with a wall mount to free up floor space in your home. Oh, and when it comes to charging you can just charge the battery, instead of having to awkwardly position the entire vacuum by a plug socket. So, you can pop the vacuum back on its wall mount when it's out of juice, then charge the battery on its own – so handy and much better than having an entire vacuum cleaner perching on your kitchen worktop.
Storing the Proscenic P11 vacuum cleaner mop
Storing this vacuum cleaner and mop is an easy task as we've mentioned it comes equipped with a wall mount. Even if you don't plan on using this wall mount (perhaps you have nowhere to put it?) then storing this vacuum is still easy. It can fit into the smallest of cupboards, and since it all comes apart it really does have a small footprint.
How does the Proscenic P11 vacuum cleaner mop rate online?
This new vacuum mop is a new(er) release, so there aren't many online reviews. Amazon reviewers rate it 4.1 stars out of five in total – which we think is great from a brand who are still establishing themselves – and it's highly rated for being lightweight, having great suction power and being thick (sturdy when in use). The only factor that brings it down is its battery life.
Is the Proscenic P11 vacuum cleaner mop worth buying?
We do think this vacuum cleaner mop combo is worth buying – mainly because of its cheap price tag for a 3-in-1 cleaning tool, but also because it is admittedly great for smaller homes that are less busy than family homes, and it really is so convenient. It cuts cleaning time in half. While it's not the very best vacuum cleaner you can buy, it certainly does the job.
About our review – and our reviewer
Annie Collyer is the UK Shopping Editor at Real Homes, Homes & Gardens, Livingetc, Ideal Home and Gardeningetc.
She writes our shopping edits as well as reviews – on everything from hair tools to home gym equipment and cleaning buys.
More vacuum cleaners: