Put the Dyson Ball Animal 2 on your vacuum cleaner shortlist? Then read on to find out if it's the buy for you. I tested a wide selection of the best vacuum cleaners on carpet, parquet, tiles, stairs and upholstery, and challenged them with mud, fluff, light debris and pet hair to give you the lowdown on how efficiently they'll do the job, how easy they are to use, and how much space they'll take up in your cupboard.
This vacuum cleaner is, in my eyes, one of the best vacuums for pets, too. I used it to clean up after my Cavapoo, and its suction power was sure to never disappoint. Just be aware that if you do live in a smaller home, it does require a little more storage space — and it's corded.
In the market for a cylinder vacuum instead? Check out our Dyson Big Ball Animal 2 review.
Dyson Ball Animal 2 at a glance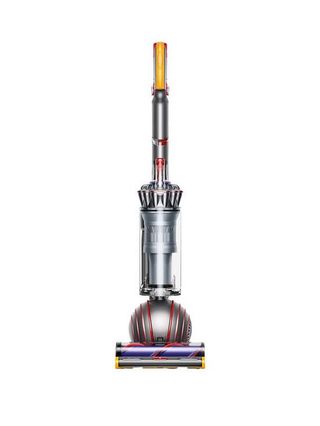 Type: upright
Bag or bagless: bagless
Suction: excellent
Noise: middling for the vacuum cleaner world
Easy storage: you'll need the usual upright space
Dyson Ball Animal 2 specifications
Power: 90 air Watts
Cable length: 10.81m
Dimensions: H1,057 x W281 x D384mm
Weight: 7.34kg
Noise: 80dBA
Energy rating: A
Container capacity: 1.8 ltr
Who will the Dyson Ball Animal 2 suit?
Owners of medium to large homes with lots of carpet plus hard flooring to keep clean and a shedding pet or three to keep up with.
What is the Dyson Ball Animal 2 like to use?
You'll really feel like you're keeping up with the onslaught of dirt and fur in your home with this vac.
Hard flooring, carpet and stairs
Full marks for all-round cleaning to this vacuum cleaner. The Dyson Ball Animal 2 got great results on tiles, parquet, stairs and carpet with both normal and deeper pile in my home. It went right up to the edges of rooms, too. On the downside, it isn't the lightest cleaner to push and I felt like I was doing my bit in the cleaning effort.
Dyson Ball Animal 2 attachments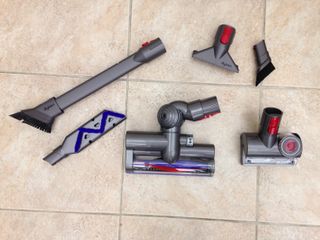 The Dyson Ball Animal 2 came with a two-in-one to deal with dust and cobwebs, a stair tool, and the tangle-free turbine tool. The latter's designed to pick up pet hair, and it's up to the task, removing shed fur speedily from my upholstery.
Dyson Ball Animal 2 power and debris removal
Challenged with both light debris and mud on hard flooring, this machine dealt with them speedily and effectively, and was a time saver as it sucked the lot up without scattering it around. It dealt with both challenges equally successfully on carpet. I've found with other Dyson vacs that a carpet you thought was clean was in reality still harbouring what it shouldn't until the Dyson had done its work, and this model brought the same impressive results, pulling up hair and dust I didn't know was still lurking.
Dyson Ball Animal 2 container emptying
The container was easy to remove from the machine when the time came. Emptying required a firm push of the button but, that accomplished, all the dust and debris was straight in the bin. The container had good capacity so didn't have me trekking to the bin all the time.
Dyson Ball Animal 2 handy features
Cleaning below the furniture was made easy by the low profile cleaner head, which attaches to the wand so you can get underneath tables, the sofa and beds. The handle is also articulated so you can suck up cobwebs on the coving without a struggle, as well as sort out the staircase.
I found the length of the cable pleasingly generous. It didn't ever have me worried about going too far and yanking it out of the socket because there was length to spare in whichever room I was in.
Households with allergic members will also be happy that this model is certified as asthma and allergy friendly by Allergy Standards.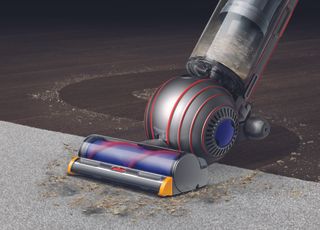 Storing the Dyson Ball Animal 2
If you have enough cupboard room for an upright vac, this version won't hog more of it than it should. The cord winds around the back of the machine and the wand is tidily in place when it's not being used, so it has a neat silhouette.
Dyson Ball Animal 2 manoeuvrability
You're either a fan of the appearance of the ball or not, and while it doesn't get my style vote, this feature definitely makes the machine easy to manoeuvre. The only question is whether you have enough strength to push it while it does its sterling job. For me, it was doable, but certainly not light work.
When it came to lifting the vac up and down stairs, I found the shape made it easy to fit the machine close to my body to make straining my back less likely. It is a weight to carry, though, so won't suit everyone.
How does the Dyson Ball Animal 2 rate online?
On the Dyson site, it's a score of 3.9 out of five for this model. Acclaimed are the ability to angle the hose so it's easy to vacuum the stairs, the suction power, and its relative quietness. Negatives for these buyers included difficulties in pulling out the hose (although Dyson does respond that this may be stiffness when the machine is new), and the weight.
As for Amazon shoppers, it's a verdict of 4.1 out of five stars. Reviewers rate its ability to get embedded pet hair out of carpets, the fact that it's less noisy than previous models, and versatility across different surfaces. Buyers who weren't as delighted reckoned it was hard to push on carpet, and didn't find access to the hose intuitive.
How does the Dyson Ball Animal 2 rate against similar vacuum cleaners?
The upright vacuum market offers oodles of choice, both for those who vote to buy vacuum bags and fans of the bagless cleaner option, like this machine. The Dyson Ball Animal 2 definitely holds its own against its bagless rivals in terms of cleaning power, and in sorting out pet hair. And while it is beaten on price by Dyson's own Light Ball Animal, features like the articulated wand give this model the edge for all-round-the-home versatility.
About our review – and our reviewer
Sarah Warwick has specialised in homes and interiors for over 20 years. She was Executive Editor of Ideal Home magazine, and has written for nationals, magazines and websites including Real Homes, Homebuilding & Renovating, Grand Designs, Homes & Gardens, Houzz, The Guardian, House Beautiful and Country Homes & Interiors. She put the vacuums through their paces all round the house, on all sorts of dirt and debris, and a variety of flooring and surfaces.