If you're looking for a versatile handheld vacuum with a long battery life, take a look at the Proscenic S1 Handheld Vacuum. After putting it to the test for a few weeks, I was impressed by not only the multi-functionality on offer with this handheld vacuum, but also the value for money.
I am the small appliances editor at Real Homes, meaning I spend my time testing out vacuum cleaners, kettles, juicers, and so much more. One thing my two bed flat is never short of is dust, and my white berber rug becomes dirty very quickly, so testing the Proscenic S1 Handheld Vacuum meant using it on upholstery and hardwood floors, as well as those nooks and crannies that can often build up dirt and spider webs.
It has also been featured in our cordless vacuums guide and our best vacuums guide because I love it that much. Here's my review...
Proscenic S1 handheld vacuum specifications
Type: Handheld, cordless
Capacity: 0.12L
Battery life: 15-30 minutes
Charge time: 2.5-3 hours
Dimensions: W6.6 x H6.6 x L42.3cm
Product weight: 0.63kg
Power: 12,000Pa
Colours: Black, grey
Unboxing the Proscenic S1 handheld vacuum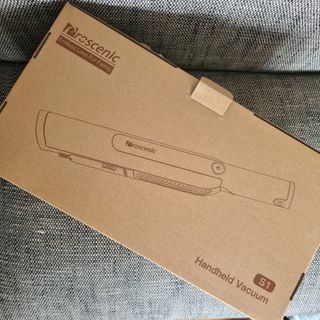 The Proscenic S1 Handheld Vacuum arrived in a compact cardboard box which contained the attachments, stand, and charging cables as well as the vacuum itself. Included in the box was:
Proscenic S1 Handheld Vacuum
Crevice nozzle with movable brush
Brush nozzle
Charging cable for the Proscenic S1 stand
USB-C charging cable for the vacuum
The vacuum arrived with a little charge in it, but I put it on to charge fully before using. It has a nozzle that can work independently of the attachments, and attaching these simply requires slotting them into the central nozzle. They stay in place when in use but can be pulled out to remove, which is very straightforward.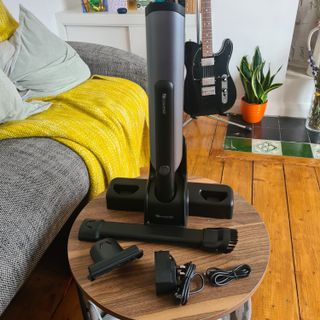 You can charge the Proscenic S1 Handheld Vacuum by either placing it in the stand, which can be plugged into a power socket, or charging directly with a USB-C cable. Both come included. Charging time took around 3 hours and 30 minutes from completely empty.
Using the Proscenic S1 handheld vacuum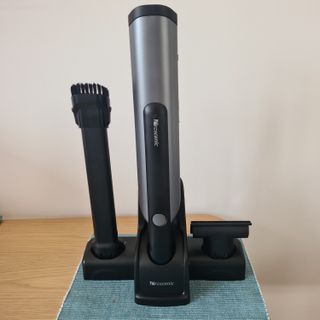 The vacuum is easy to hold. It's only 0.63kg and the handle is sturdy, allowing you to reach into corners or crevices without feeling imbalanced.
According to Proscenic the vacuum runs at less than 70dB, which I tested with a sound meter app. The app found that it hit 77dB on the regular setting, and when put into high power mode it went up to 92. So, not as quiet as the brand claims, but it's still perfectly possible to have a conversation while using the vacuum.
When it comes to using the vacuum, you simply press the power button to start. Pressing it again will boost it into high gear, and then a third press will turn the machine off. You will have to go from regular to boost in order to switch the vacuum off, which is mildly annoying but does not affect performance at all.
Regular mode sits at 8,000Pa and switching into high power boosts it to 12,000Pa. This is pretty good for day-to-day use. I found that lighter debris such as dust and sugar particles picked up in one pass. The vacuum also did a good job of picking up rice and larger particles like small leaves and even hair.
One complaint I have is that there is a strong gust of air that emerges from either side of the handheld vacuum. If you're picking up a large spill it may blow sugar or dust away if it's to the side of the vacuum, which can result in a bit of a chase to pick it up.
Brush nozzle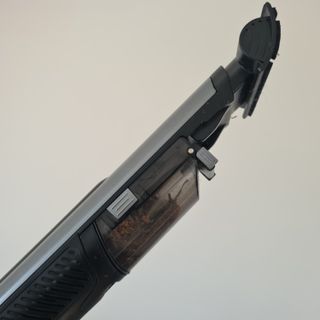 The brush nozzle on the Proscenic S1 is excellent for upholstery. I found that it did a particularly good job on my rug, picking up hair and some really trodden-in dirt. I did have to do a few passes to get it completely clear but I found that switching the vacuum into boost mode made the process a lot faster.
Crevice nozzle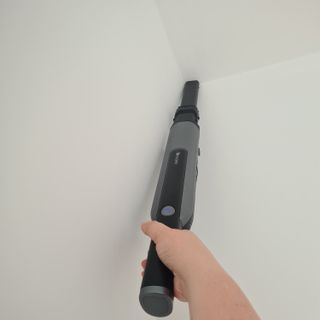 The wide and flat crevice nozzle was perfect for reaching into the top corners of my rather high ceilings. One of the clever things about this attachment is the brush head, which can be pinched and moved up to the top of the nozzle, or back onto the base depending on what you're cleaning.
Proscenic S1 handheld vacuum battery life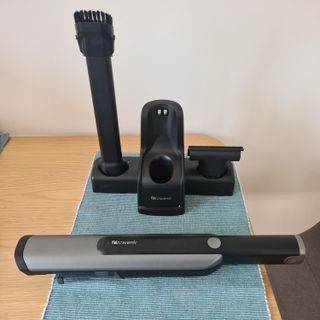 If you're considering buying the Proscenic S1 you may be put off by the slightly ambiguous battery life listed online. It says 15-30 minutes, but that's a large timespan that could make the difference between a completely clean car and one that needs a second vac once the machine has re-charged. So, I put this claim to the test and I was very pleasantly surprised by the battery life on the Proscenic S1.
I charged the Proscenic S1 up completely and then let the battery run on the regular setting until the machine died. This took 26 minutes and 36 seconds, which is better than even the Roidmi Nano P1 Pro, which I recently praised in a different review for its impressive battery life of 23 minutes and 40 seconds.
I then let the Proscenic S1 charge up completely. The S1 has a blue light when it's running, a green light when it's charging, and a red flashing light when the battery is low. The green charging light pulses until the machine is fully charged, when it turns solid.
In the high power mode, the Proscenic S1 lasted 15 minutes and 42 seconds. I was impressed by this, because the difference in power really is noticeable. Some handheld vacuums such as our highly rated Shark CH950UKT offer less than this in the regular setting.
Emptying the Proscenic S1 handheld vacuum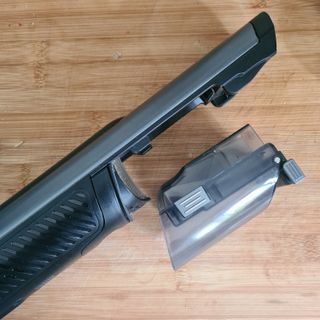 Emptying is easy. The bin detaches completely when you squeeze either side of the canister and then just a case of tipping into the bin. For a mess-free experience, I would recommend holding the Proscenic S1 nozzle down and then detaching the bin, as it will come out still containing the debris which you can then tip yourself.
Putting the bin back in simply requires clicking the top section in and then sliding the base until it clicks. The whole process is very easy and mess-free.
Is the Proscenic S1 handheld vacuum cleaner worth it? Here's our verdict...
The RRP of the Proscenic S1 is £79 or $99, which is on the higher end of the vacuums in our roundup. It's still a good investment, though. I was impressed by the superior battery life and powerful suction, as well as the neat charging base and versatile attachments. The USB-C charging cable comes included, as does the base and all the attachments you'll need to clean your car, stairs, or kitchen.
When it comes to power the Proscenic S1 is up there with one of the more powerful handheld vacuums on the market. It did a good job of picking up both large and small debris, and while I don't have a bet its performance of picking up hair from my rug indicated to me that it would be a good option for pet owners.
About this review and our reviewer
Millie Fender is an editor at Real Homes, specializing in small appliances. She loves putting new products to the test, whether they're air fryers, coffee machines or vacuum cleaners.
The Proscenic S1o handheld vacuum cleaner was reviewed in Millie's own home, as with all of our product reviews. Millie reviewed the vacuum for over a month, so she had time to make sure it performs well for longer periods of time.