Finding time to vacuum isn't the easiest the thing to do, especially when you're working and have kids (big and small) about the house. If you're in need of a helping hand to get the chore done, our AEG RX9-2-4STN Bagless Robot Vacuum review would be worth a read.
Owing to house renos, this happens to be the first (of hopefully many) robot vacuum cleaners I've had hands on experience with. The downstairs to our home is all one-level which has restored pine floorboards and limestone kitchen tiles, plus a large open-plan space which made this an ideal playground for the AEG RX9-2-4STN Bagless Robot Vacuum to roam. To the upstairs of our house is a split-level landing and fluffy new wool carpet throughout the three bedrooms. With so many challenges for even the very best robot vacuum cleaners to take on I was not only intrigued to see how this little robot performed, but I was also glad of the opportunity to have the vacuum cleaning taken care of.
I tested it for six weeks before writing up this review. From the initial set up to cleaning and maintaining the vac, it has all been jotted down here for you. Keep reading to find out how we / it got on in our home test.
Product spec:
Cleaning time: 40 minutes
Charging time: 2.5 hours
Noise level: 75 dB(A)
Dustbox size: 0.7 litres
No. of settings: 3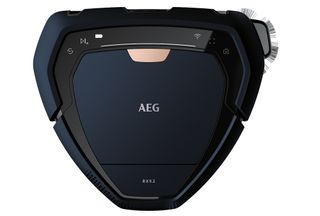 Who will the AEG RX9-2-4STN Bagless Robot Vacuum suit?
This robot vacuum is one for family homes in need of a daily clean. It can take care of the chore whilst you are at work and the kids are at school, so it's one less thing for you to worry about. Got pets? It would be worth upgrading to the AEG RX9.2.4ANIM which has an ultra-filtration system and quicker charging time.
I wouldn't suggest this is suitable for really cluttered homes. There is absolutely no problem in having a cluttered home (we tottaly get it) but in order for the robot vac to work its pathways will need to be kept clear at all times, so it may struggle to actually clean if it's unable to easily access where it needs to go.
How easy is the AEG RX9-2-4STN Bagless Robot Vacuum to set up?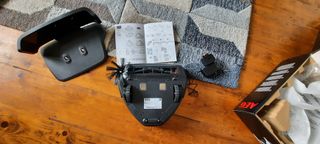 It's really easy. All you need to basically do is to download the app and follow the on-screen instructions.
There are no instructions per-se with the AEG RX9-2-4STN Bagless Robot Vacuum s it takes a bit of guess work, especially with which app to download. There's two in the Google PlayStore, one made more sense than the other. I first downloaded the AEG RX app which sounded the most logical since this is an AEG RX vac. This however turned out to no longer be available and I was referred to the AEG Wellbeing app - thank goodness this was on a pop up message. Once you have downloaded the correct app you'll also need to attach the side brush and set up the charging station in a suitable space in the home.
You'll find that there is some juice but not loads which doesn't get you very far so I'd advice that you give the AEG RX9-2-4STN Bagless Robot Vacuum a full charge before starting a clean. It'll take 2.5 hours for a charge so I used this time to get more familiar with the app. It is quite basic and not over complicated so navigating it was relatively easy. You'll see that you can schedule tasks, edit maps, set one-of-three modes and tweak any elements to your profile which you need. Whilst I was in the app I also decided to connect the robot vac to Google Home which meant that I could (also) use my voice to control it. I didn't already have this app installed on my smartphone but it was easy enough to find in the Google Playstore, and follow the on-screen instructions.
What's the AEG RX9-2-4STN Bagless Robot Vacuum like to use?
You have a choice about how to use the AEG RX9-2-4STN Bagless Robot Vacuum; buttons on the device or via the Google Home or AEG Wellbeing app. Using the buttons is good for a quick stop when you're next to the vac; Google Home is good for a voice command, but I would recommend the AEG Wellbeing app. It is specific to the brand and product after all. And you'll get a lot more from your vacuuming experience from using it, too.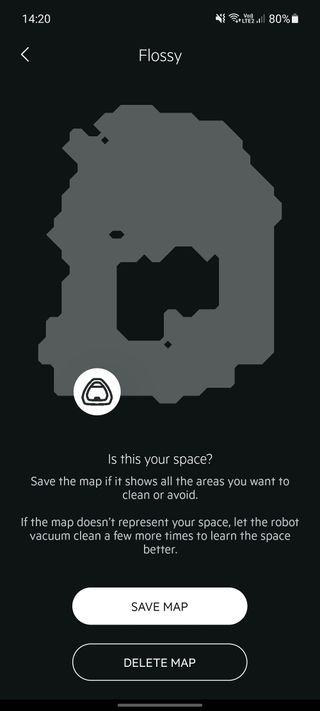 Before any cleaning commenced the AEG RX9-2-4STN Bagless Robot Vacuum needed to map out the floorplan. 'Flossy' knew just what to do which is fortunate because with no instruction manual, I wouldn't have known what to do otherwise. We started upstairs which has a split-level landing and is all carpeted. I set the base up in the main bedroom so Flossy had a permanent residence to return to after each trip.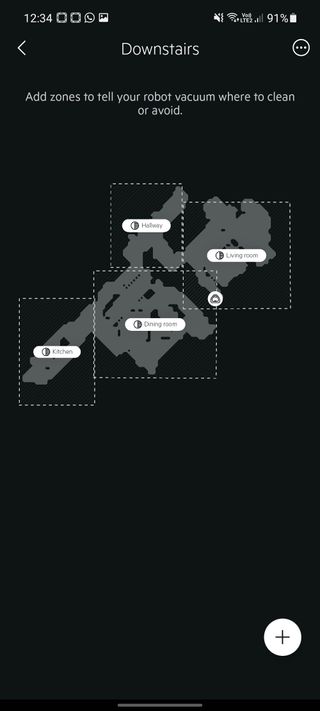 The mapping was the maiden voyage. What felt like ages was actually more like an hour-or-so for Flossy to get her bearings. Once complete, she started to make her way back to base but seemingly got a little lost along the way so backtracked and went in various circles before making it back safely. The floorplan didn't look that accurate after the first go, nor the second or third.
By attempt five, I decided to delete the map and start over but it still didn't look like the floorplan I was expecting. Perhaps this is because the master and second bedroom are back-to-back, and the walls are pretty thin so there was just never the option to end up with a floorplan more defined. I thought this was it. This was a failing of the AEG RX9-2-4STN Bagless Robot Vacuum. And yet when I set it up downstairs the mapping was pretty spot on, on the first attempt.
By the third roam I added zones and could opt on whether or not I wanted all these cleaned. Once these zones have been set, you can select 'Adaptive' mode which is specific to zone cleaning.
How good is the AEG RX9-2-4STN Bagless Robot Vacuum at cleaning?
Really good. The AEG RX9-2-4STN Bagless Robot Vacuum transitions well across different floor types, and takes on rugs (eventually). You can almost see the coggs turning as it navigates around obstacles in the room and figures out how it is going to get up-and-over edging of a rug. I had it set on 'Smart' mode for all cleaning tasks which seemed the most logical for cleaning hard surfaces and carpets. On hard surfaces it's quiet, whereas on carpets it's on full power. This is a good job because on the hard flooring you can hear the AEG RX9-2-4STN Bagless Robot Vacuum cleaning when you're on a different floor level, so is probably something not to have scheduled during the night times.
The proof of how good the robot vacuum is at cleaning is looking inside the dust container. It gets packed. Our carpet has only been fitted for a few months so it's still pretty fluffy, which filled most of the container. I could also visible see that small food items had been swept up from underneath the highchair, which is always a pleasing sight – especially when you're not the one vacuuming.
For the purpose of the review I scattered flour on the kitchen tiles to see how it got on with that. It got covered in it. The brushbar got a long-lasting coating, too. It was good to see what kind of journey it would have has it ventured across the tiled surface, and it was an odd one at that. The AEG RX9-2-4STN Bagless Robot Vacuum skirted around the edge of the flour before tearing up the middle of it to another area of the room before heading back down. It certainly wasn't the quickest clean but it got the worse up. You'll find that you may want to get your best vacuum cleaner out to finish the job because anything as fine or powdery as flour will gather in grooves.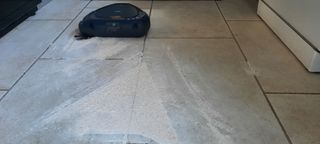 I'd take the battery levels displayed on the app with a pinch of salt. It didn't seem to last long with high battery, and spent most of the time with a medium battery level. Even with the medium battery level it returned to base to charge so maybe it was preempting something, and didn't want to take on too much unless it was full of juice. Who knows. But after returning to base for a debatable charge, the AEG RX9-2-4STN Bagless Robot Vacuum did venture back out to finish the job on its own accord.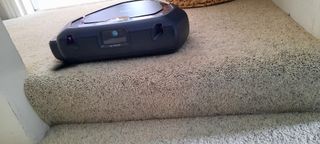 If you live in a house with multiple levels then you'll be relieved to know that the AEG RX9-2-4STN Bagless Robot Vacuum copes well with heights. It came super close to the edge of the split-level landing and had no wobbles. It intelligently stopped as it got too close and reversed to carry along it's pre-mapped route.
Anything else?
The design of the AEG RX9-2-4STN Bagless Robot Vacuum is of a triangular shape which means that it it can get into any tricky and / or tight spaces, although this did take some manoeuvring. And being low-level means that it can get under furniture without breaking a sweat.
Emptying, maintaining and storing the AEG RX9-2-4STN Bagless Robot Vacuum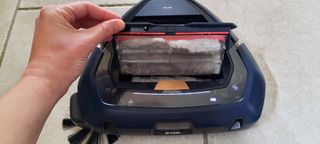 The bin is housed underneath the lid of the AEG RX9-2-4STN Bagless Robot Vacuum which can be easily released with a gently push. The dirt is tightly compressed so there's no worry about that flying away as you attempt to empty it into the bin. You'll get notified when the bin is full but you can empty this before if you want.
Both the filter and brushbar can be removed for rinsing which is easy enough to do, just make sure it's all thoroughly dried before reattaching. The extra bit of care which will need doing a little less frequently than rinsing is replacing the power brush which will get more and more tangled, the more times you use it. These can be bought directly from AEG for £25.58.
Storing all happens on the base, which the AEG RX9-2-4STN Bagless Robot Vacuum returns to when it needs a charge or the cleaning has stopped.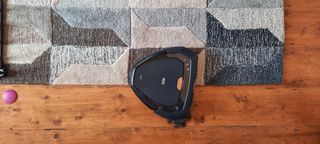 Real Homes verdict: should you buy the AEG RX9-2-4STN Bagless Robot Vacuum?
As the first robot vacuum I've reviewed, the AEG RX9-2-4STN Bagless Robot Vacuum is game changer in how I go about vacuuming my home on a regular basis. It was great to have a helping hand and I know it did a good job because the evidence was obvious in what it had removed from the floor, and filled the bin with. There's a couple of niggles such as the unclear mapping to the upstairs of my house, noise levels on hard flooring and the frequency plus time it takes to return to base which is why it has missed out on half a star.
It isn't the most expensive robot vacuum cleaner, but equally it's not the cheapest. It's a solid mid-range robot vacuum which does everything you'd expect it to from the specifications and if you can get over the little niggles I've outlined then you won't be disappointed.
About this review – and our reviewer
Jennifer (Jen) Oksien is our Large Appliance editor who has reviewed too many home appliances and mattresses to count over the years. She was sent this product to review at home to find out how it performs in a family home with various floor-types with varying amounts (and types) of debris. Her three-bed house has hard wood flooring and limestone tiles downstairs, and a relatively new carpet running up the stairs, across the landing and into the three bedrooms making it the perfect space to review vacuum cleaners.
We are not given any compensation for our reviews, but we may be gifted the product meaning that we can test it over a greater length of time, and update if required.