The Shark Cordless Handheld Vacuum WV200UK is refreshingly compact, making it ideal for space-starved homes. And busy ones with pets and kids that cause chaos wherever they wander.
Having an active (to put it mildly) toddler and a cat who is shedding hair by the bucketful, I seriously put it through its paces on all the many and varied floor types in our four-bedroom family home that we've just moved into (lots of dust to collect round these parts).
We're talking crumbies, litter tracking (when my cat 'digs to China' in her little box and gets it stuck on her paws and eventually scatters the stuff everywhere), and an array of spills around the house on various surfaces (tiles, laminate, wood, and carpet).
According to Shark this little vacuum 'redefines quick clean-ups... engineered with a high-efficiency motor for impressive suction.' But, with a heftier price tag than the average handheld vac, can it really do better than the others on our best handheld vacuum list?
Read on to find out how I got on living with the Shark cordless handheld vacuum, then check out our best vacuum cleaner guide for more potential contenders for your next vacuum purchase.
Everything you need to know about the Shark WV200UK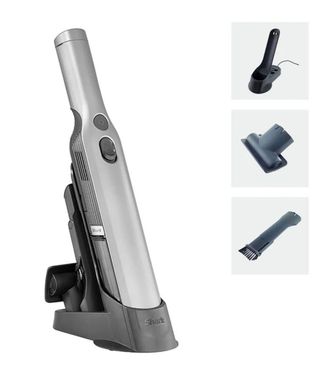 Model no: WV200UK
Bin capacity: 0.1l
Power source: 10.8 volt Lit-ion battery
Cleaning time: up to 8 mins
Charging time: 2.5 hours
Weight: 1.3kg
Dimensions: H38.5cm x W9.5cm x D22cm
Warranty: two years (including battery)
Who will the Shark Cordless Handheld Vacuum WV200UK suit?
Those lacking storage will love the compact charging dock and sleek-looking design that's nice enough to have sitting out on display. It's super light and easy to maneuver too, which is great for anyone suffering from strength or mobility issues. Pet owners and toddler wranglers will particularly love the quick and easy clean-ups.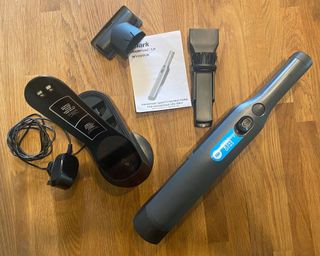 Delivery, unboxing and setting up
I had zero issues with the fast, efficient (and free if you order before 8pm) delivery of the Shark Cordless Handheld Vacuum WV200UK. The box was compact, as you might expect from a compact stick vacuum, and the packaging was environmentally considerate with a small amount of plastic.
Unboxing was hassle-free. I didn't need to look twice at the instructions to set it up and get it on the battery dock to charge, which is always a promising start. Shark recommends charging it fully (which takes about 2.5 hours) even if it comes with a partial charge. When it's fully charged the blue light dims so you know it's good to go.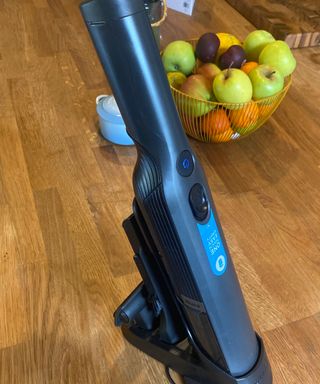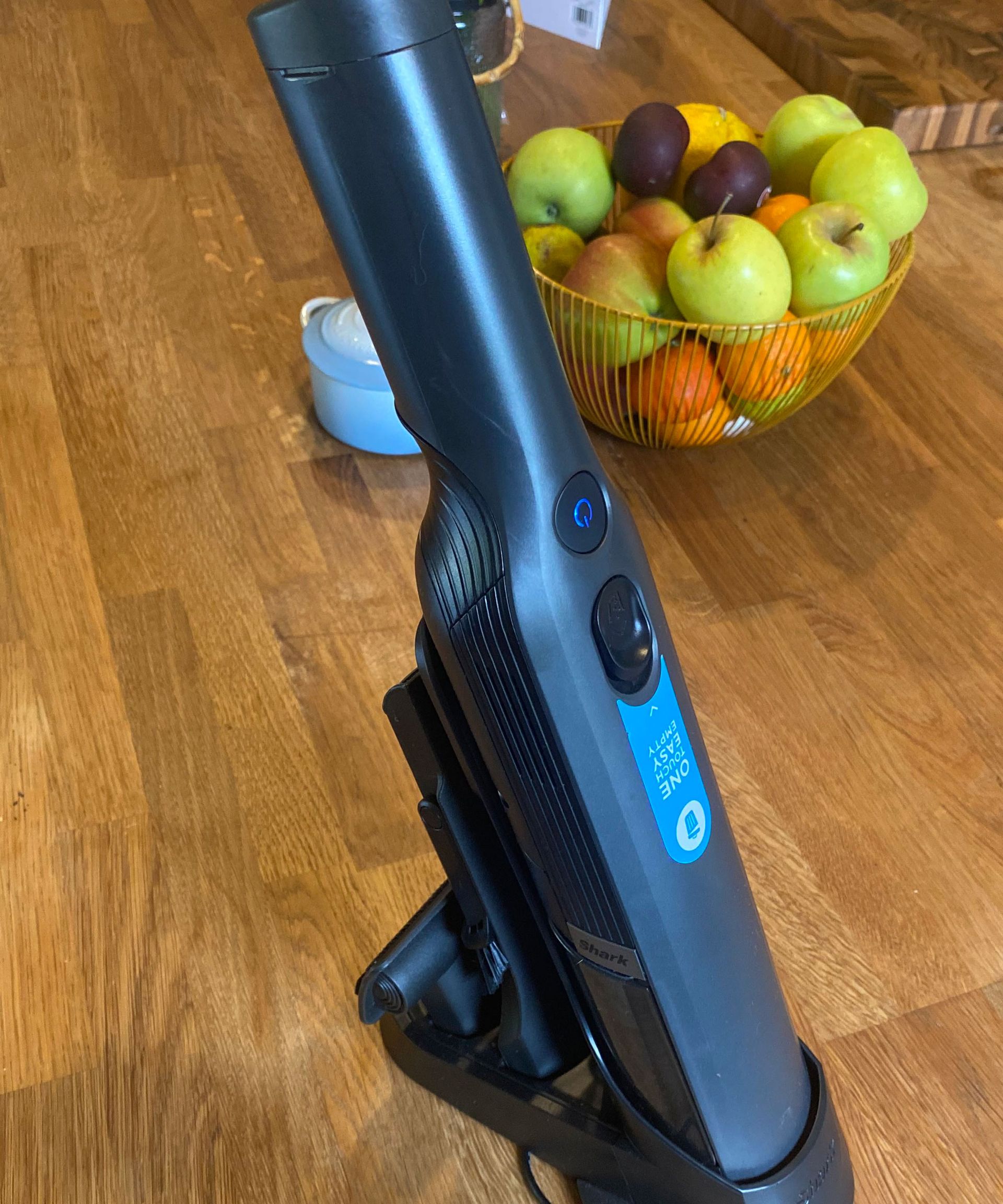 Performance
When I powered up the Shark Cordless Handheld Vacuum WV200UK for the first time, I was pleasantly surprised by how quiet it is and how light (700g to be precise). So light that I found myself going on a cleaning spree, cleaning sofa cushions and getting into hard-to-reach nooks and crannies with the Duster Crevice Tool (which is brilliant). You can even use the dusting tool for reaching up to curtain pelmets and light shades etc.
Although my spree quickly ended when the battery gave up the ghost and stopped me in my tracks. Annoyingly, I didn't notice it was about to run out but for the subtle blinking blue light indicator. So I placed it back on the charging dock to give it some more juice. Lesson learned that it's really handy for quick jobs but not for more than eight minutes worth as that is the max run time.
Once I'd got the hang of its usage, I went to town with it cleaning up my toddler's strewn crumbs after her dinner. It cleaned it up rather well – better than the usual dustpan and brush that I usually have the joys of using. I even gave her it to clean up a bit herself because it was so light, proving it has top entertainment value to boot.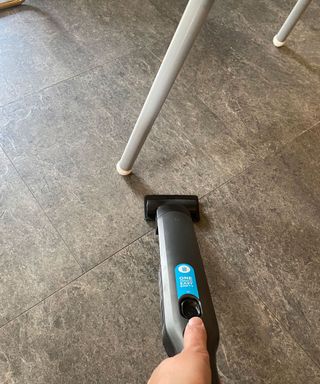 Cat litter scatter was a trickier one to suck up and I'm not surprised as even brushing it up can cause a great deal of angst. I used the pet nozzle attachment though and on the whole, it picked up most of the pesky stuff. When it didn't, I went over it again and the second attempt worked, which isn't bad compared to other vacuums I've tried to pick it up with.
The Multi-Surface Pet Tool worked a treat on my cat's fine hairs that in summer end up pretty much everywhere. The one area that I found it tricky to pick up from was our grey sofa in a velvety fabric. However, I flicked the brush on the tool down to replace the nozzle and it helped to pick it up to be sucked up.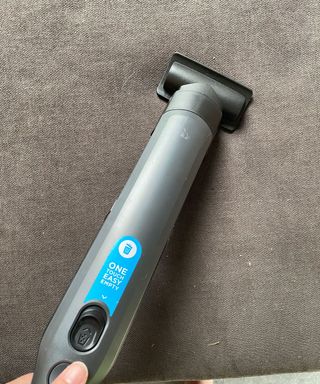 In general, I found the Shark Cordless Handheld Vacuum WV200UK really great to use, easy to scoot about with, and seriously good for those who have mobility issues like myself at the minute with pregnancy-induced lumbar pain.
But what about the cleaning results? On the whole, I found the suction was pretty good and was more than capable of dealing with pet dander and toddler debris we tend to collect on the daily, so I would definitely recommend it to those after the best vacuum for pet hair but in a smaller package for spot cleans.
In terms of power duration, you can expect to get roughly eight minutes, because of the high-efficiency motor which is responsible for its great suction. Basically, this is a great addition to your vacuum arsenal and you'll need to check out our best cordless vacuums to complement it – but it is top-notch for tackling quick clear-ups.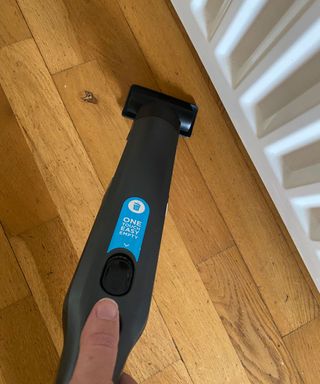 Recharging the battery takes two hours and 30 minutes, which is quick charging compared to most handheld vacuums and the fact that it's always stored on the charging dock anyway, it's hard to forget to actually keep it ready for action when the unexpected happens. Still, that seems like a long time for eight minutes of cleaning power, so keep it topped up.
In reality, of course, many homes keep a cabled vacuum cleaner for doing longer cleaning sessions, leaving the handheld for those quick daily skite-abouts when needed.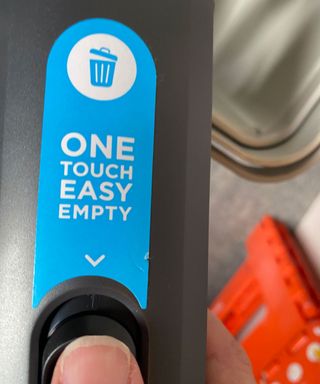 Maintenance and storage
I always dread emptying vacuums because I usually make a right muck of it, even when it's supposed to be easy... all thumbs. And most people need to have an easy-to-empty vacuum.
The good news is, for anyone considering the Shark Wandvac cord-free handheld vacuum, it's super easy to empty. It even reminds you how to do it below the power button so you'll never, ever forget. All you do is slide the button down and hey presto the 'dust cup' pops open like a dream.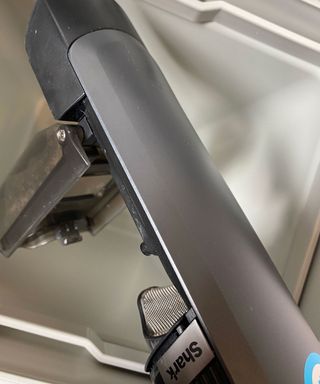 The bad news is that the easy-to-empty dust cup is also on the small side. For a compact machine that's understandable and because it's so easy, it won't feel like too much of a chore to do each time you use it.
Cleaning the filters is also really well thought out – there's guidance on the vacuum itself so there's no need to keep consulting the manual to remove. Washing the filter is done under a running tap in lukewarm water and you can also give the canister it lives in a wash out too. Just leave to air dry for 24 hours before reinstalling.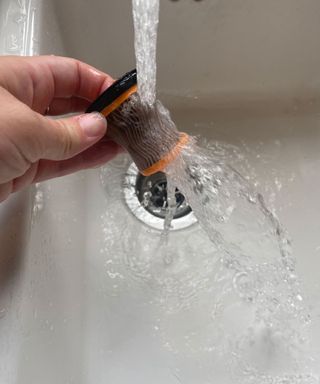 The Shark Cordless Handheld Vacuum WV200UK is super convenient to store away in a cupboard or just leave out to constantly charge on the bench. Shark does state it is designed to be displayed and with its low profile dock, slick design, and streamlined look, it's easy to see why.
How does the Shark Cordless Handheld Vacuum WV200UK rate online?
On Shark's own website, customers give the Shark Cordless Handheld Vacuum WV200UK a decent 4.5 out of 5. Like me, the majority found it had great suction, was light, and charges quickly. Others mention how great it is for crumbs and spillages and how it's even good for stairs.
The negative feedback mostly focuses on the short battery life and the suction they experienced didn't cut it for their clean-up jobs. Elsewhere on ao.com and Amazon, the responses highlight its ease of use and that it's stylish and functional.
How does the Shark Cordless Handheld Vacuum WV200UK compare to other vacuum cleaners?
Shark's handheld vacuum range features four cordless handvac models, the handheld vacuum cleaner WV251UK, the Shark Cordless HandVac CH950UKT and the Shark WandVac 2.0 WV270UK handheld vacuum cleaner, which is the same as the Wandvac 1.0 but with a run time of up to 15 minutes and are more expensive. Essentially, you just need to decide if you want more of a run time and spend the extra money for it. I can't comment on any of the other models as I haven't tested any others, but in the case of extra run time, I'd say it might be worth it..
Beyond Shark, the closest competitor would be the Beldray Revo Cordless Handheld Vacuum Cleaner, which is light, has a similar look but has a way better run time of 30 minutes. If you are looking for better battery life, a more reasonable price tag and more accessories, we'd recommend considering the Proscenic S1 Handheld Vacuum.
Should I buy the Shark Wandvac cord free handheld?
The Shark Cordless Handheld Vacuum WV200UK ticks a lot of boxes, namely the cleaning (which is a big box to tick), weight, storage, and ease of use. Ok, so it lets itself down a little on bin size and battery life, but for what it's designed for (small clean-up jobs), it's perfectly suited. Plus, those in smaller homes or apartments probably won't even notice.
I found this vacuum much lighter, and the suction so much better than my regular handheld vacuum, and it picks up the necessary debris and messes from our busy family home with ease.
It's got good sturdy construction and the accessories and connections felt very robust and clicked firmly into position.
Even if you have a large home, I would recommend you buy it as a secondary vacuum to grab when a quick mess happens and speed and convenience are of priority. Store in the kitchen for quick spills.
About this review and our reviewer
Jenny McFarlane is Senior Digital Editor for Real Homes. She's a design obsessive, an avid collector of homeware (much to her husband's despair), and a lover of period properties.
She was sent the Shark Wandvac cord-free handheld vacuum to test in her Belfast home she's only just moved into, to find out how well it performs across various floor types and how well it copes with busy family life, and her black and white cat's many adventures.
As with all our reviews the Shark Cordless Handheld Vacuum WV200UK has been tested first-hand in our home, using it just as you would so you know exactly what you are buying. The products are given to us free of charge and we test them for as long as possible before sending them back to the brand unless we are able to keep it as we are with this vac. This means that we can continue to use the product which gives us the opportunity to return to our reviews for updating, so you can keep up-to-date with how it's fared over a period of time.
Read more about how we test products for Real Homes reviews.