You may perhaps be more familiar with Kärcher for there pressure washers and window vacs. So, as I was, you may be surprised to hear about not one but four new cordless vacuum models added to their product line up. The Kärcher VC 6 Cordless Premium was one of them which seemed to have everything going for it, and an affordable price tag to boot.
I've been giving this cordless vacuum a run for its money over a six week time frame. I live in a three-bed, Victorian terrace which has the period features we love (and simultaneously hate) such as a steep narrow staircase, tight corners and high ceilings. The flooring is restored pine floorboards and limestone tiles downstairs, and new wool carpet upstairs across a split-level landing. It's a challenge for even the best vacuum cleaners, so I was looking forward to seeing how this cordless vac performed. Keeping reading to hear how we got on.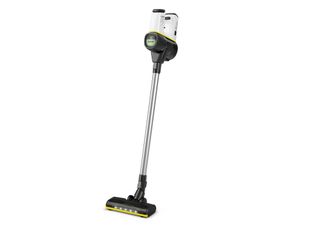 Kärcher VC 6 Cordless Premium product spec:
Container capacity: 0.8L
Battery runtime: up to 50 minutes
Charge time: 3.5 hours
Weight (without accessories): 2.6kg
Dimensions: L235 x W266 x H1130mm
Delivery and unboxing
What's in the box?
- 2x batteries
- 2x air intake filters
- Crevice nozzle
- 2-in-1 upholstery nozzle
- Motor-driven floorhead with universal brush roll and LED lights
- Filter cleaning tool
- Metal suction tube
- Wall bracket with charging function
- Charger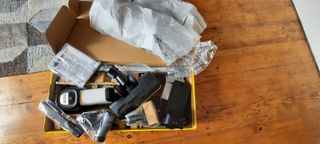 The Kärcher VC 6 Cordless Premium arrived in a compact, branded box which was easy enough to get through the front door, single handed. Upon opening the box, all the pieces were revealed albeit wrapped in clear plastic. I immediately saw that each piece (bar the crevice and nozzle tools) were very on-brand with the Kärcher brand stamped on it and/or in the familiar yellow and white Kärcher colours.
Out of the box it was evident that each piece clips together. There was, however, an attachment which I hadn't come across before – the filter cleaning tool. It looks odd. And it took me a while to get my head around the Quick Start guide which works in tandem with the instruction manual, which is more like a book, to understand how it'll work.
Using the Kärcher VC 6 Cordless Premium
The first most noticeable thing about using this vacuum cleaner is how light it is. Without accessories it's 2.6kg (that's the unit) which is mega lightweight. I tend to class a 'lightweight vacuum' as 3kg and under. If you add either the nozzle or crevice tool to make this a handheld vacuum, then it's still light. Yet if you add the wand and floorhead, it does gain weight but not enough for me to say that it's even remotely heavy. It's certainly a good option if you need a nimble and agile vac.
Floorhead
I attached the floorhead to the wand to clean the carpets, rugs and stairs. It's great. It has LEDs which light up when the vac is running which are mega useful when vacuuming areas in low light levels, or under furniture. It's a feature I'm seeing more and more of now so it is something which although I don't feel is necessarily, is something which I've come to expect.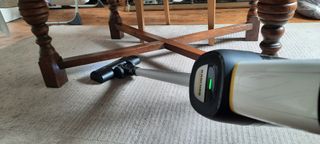 The floorhead – also known as the motor-driven multi-function brush – is suitable for use on carpets and hard flooring. Looking at it, there are two types of brushes on the bar; one is courser than the other, yet is still relatively soft compared to some other vacuum cleaners. Barely any of my long hair has got in a tangle over it, either.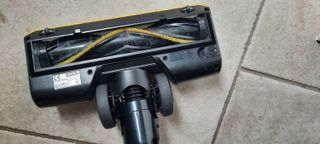 Cleaning carpets (or rugs) with deep pile is no match for the vacuum cleaner, especially if you hit 'Boost'. You'll notice a big difference in suction power and the noise output so if it gets too much, or you're starting to run low on battery, you can just hit Boost again and it'll reset to the lower setting. There are just two settings to this vac but I don't feel any more are needed. When using it for long periods of time, on either setting, there is a locking lever just next to the handle so you don't feel the need to hold down the trigger button.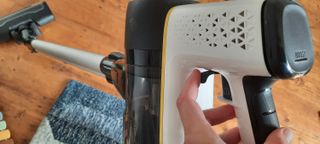 2-in-1 upholstery nozzle
This attachment is one which I haven't seen quite like anything before. The frame with the surrounding bristles can be taken off by pressing the unlocking button. It doesn't feel flimsy, although I would worry about losing the frame if I didn't secure it again after use.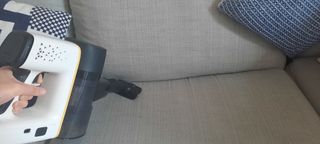 The soft brush is suitable for use on hard furniture such as tables, whereas the wide brush is used to clean upholstered furniture or curtains. I for one thought I would struggle to find any crumbs that I hadn't eaten, and yet there they were residing on the sofa after my morning cup of tea and biscuit(s). The nozzle easily clipped onto the main unit and was easy enough to move, although the suction is so good there was a little resistance to move the vac around. It did the job though. There was no more evidence of taking the last biscuit (oops).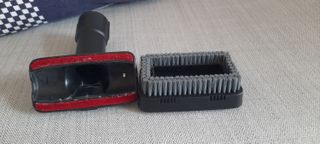 While I had this tool out I decided to try using the soft brush on the keyboard to my laptop (fine) and the fireplace hearth (not so fine). The latter was more cumbersome and found it was quicker to dust this with a microfiber cloth.
Crevice nozzle
I generally don't tend to get on very well with this attachment for vacuum cleaners so the VC 6 shouldn't take this too personally. It is easy to attach, yes, but it doesn't seem to clean quickly or well enough for me. Perhaps I have higher standards and more lack of patience than I thought. What I found the most useful to use this attachment on was tight up against the skirting or along the folds of the carpet up the stairs. I did try using it along the top of the skirting and in between the grooves of our traditionally-styled bathroom radiator but, again, I would get more satisfaction from using a microfiber cloth.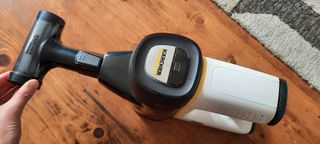 Anything else?
The filter cleaning tool is unlike anything I have seen before. You have two air inlet filters with this vac. You can put one in the cleaning tool, and the other in the main unit; clip the attachment in place and turn the vac on to Boost; lock it in place and then turn the filter in the attachment. And there you have it = a clean filter. What I would say about this, however, is that if you have a particularly mucky filter then ensure that you transfer it into the opened filter cleaning tool outside – I did this inside, and ended up vacuuming it up again. It's surprising how grubby it can get...
Storage and maintenance
Storing the cordless vacuum essentially means wall mounting it. It comes with a wall mount and a couple of screws (and rawl plugs) for securing it. The wall mount also allows for the vac to be charged directly from it with a port on the base for plugging in the charger.
The VC 6 does come with two batteries, however, there is no place to store the additional battery when not in use. The batteries are both removable so I just kept one fully charged with the attachments so it was all in one place. There is also no place or space to store the attachments although these don't take up so much room (just need to remember where I put them!)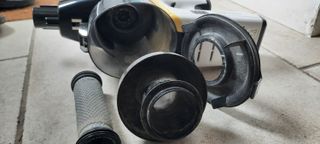 General maintenance of the vac will involve regularly emptying the 0.8 litre bin, cleaning the air inlet filter either with the tool or by giving it a quick rinse under the tap and cleaning the HEPA filter. You'll find that to empty the bin you'll need to remove both filters – I thought debris was stuck for good above the 'MAX' line, until I realised the HEPA filter could be removed. The instruction manual is very comprehensive so I would advise reading this to clean each part of the vacuum cleaner and the accessories correctly.
How does it rate online?
Over on the Kärcher website it has scored 4.9 out of 5 stars from 21 reviews. There are three reviews which have given it four stars. One reviewer has said that they found it performs better on carpet, the bin could be bigger and another shares that the rotation brush is a bit too hard and makes them feel like it's scratching their floors (although it's not). Admittedly, though, none of these three reviewers had the vac for very long. Everyone else has found that it's really 'lightweight', 'fantastic' and 'quiet' with comparisons being drawn against certain Dyson models.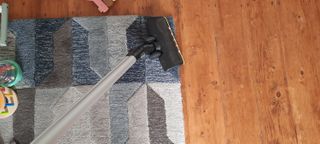 How does it compare with other vacuum cleaners?
The closest comparison to the Kärcher VC 6 Cordless Premium which I can think of (and find) is the Dyson Outsize Absolute. This is another vac that I have reviewed which has the epic suction, solid build and impressive floorhead (albeit without the LED adornment). It is however three times the price of the Kärcher VC 6 Cordless Premium. Yes it's a Dyson which is in a league of its own, but if you don't have £699.99 to spend on a vacuum cleaner, then the Kärcher VC 6 Cordless Premium is a much more affordable option for a quality bit of kit.
Real Homes verdict: should I buy the Kärcher VC 6 Cordless Premium?
From the initial set up to using the vac on a daily basis, I have been impressed by the Kärcher VC 6 Cordless Premium. I've actually found it difficult to find a reason not to buy it, but have thought that a longer runtime on Boost would always be welcomed.
For the £379.99 price tag you really can't go wrong with it. I've compared it to the Dyson Outsize Absolute. And other reviewers have bought this vac to replace a Dyson, although I'm not sure which models these were of course. If you need a lightweight, easy to use and solid cordless vacuum then you may have just found what you have been looking for.
About this review – and our reviewer
Jennifer (Jen) Oksien is our Large Appliance editor who has reviewed too many home appliances and mattresses to count over the years. She was sent this product to review at home to find out how it performs across the various floor-types with varying amounts (and types) of debris. Her three-bed house has hard wood flooring and limestone tiles downstairs, and a relatively new carpet running up the stairs, across the landing and into the three bedrooms making it the perfect space to review vacuum cleaners.
We are not given any compensation for our reviews, but we may be gifted the product meaning that we can test it over a greater length of time, and update our reviews if required. We also receive affiliate commission for some products brought through our site.