Wondering whether the Shark DuoClean & Anti Hair Wrap Bagless Cylinder Pet Vacuum CZ500UKT can cut it in your home when it comes to deep cleaning? We tested this Shark favourite out at home to establish if its large capacity and many features can help to simplify your cleaning routine.
I was in desperate need of a powerful vacuum at the time that I began testing this Shark, as I had just moved into a new flat, and it hadn't been left as clean as I would've liked. My flat has both areas of carpet and laminate floors and very high ceilings where dust can gather, so I was equipped to try out all of the different elements of this vacuum, including the extended wand.
This vacuum has been marketed as designed for being great for pets, with its standout features being a power brush, brush roll, bagless system, and lightweight design. Here, I'll explore if it deserves a spot in our round-up of the best vacuums, and see if it can rival cult picks from other appliance giants too.
Note: In this review, I tested the Shark DuoClean & Anti Hair Wrap Bagless Cylinder Pet Vacuum CZ500UKT, which is sold in the UK. This vacuum is known as the Shark CZ2001 in the US, but includes one less attachment. The body style and Duo Clean Powerfins and Self-Cleaning brush roll features within these two vacuums are the same.
Specifications of the Shark DuoClean & Anti Hair Wrap Bagless Cylinder Pet Vacuum CZ500UKT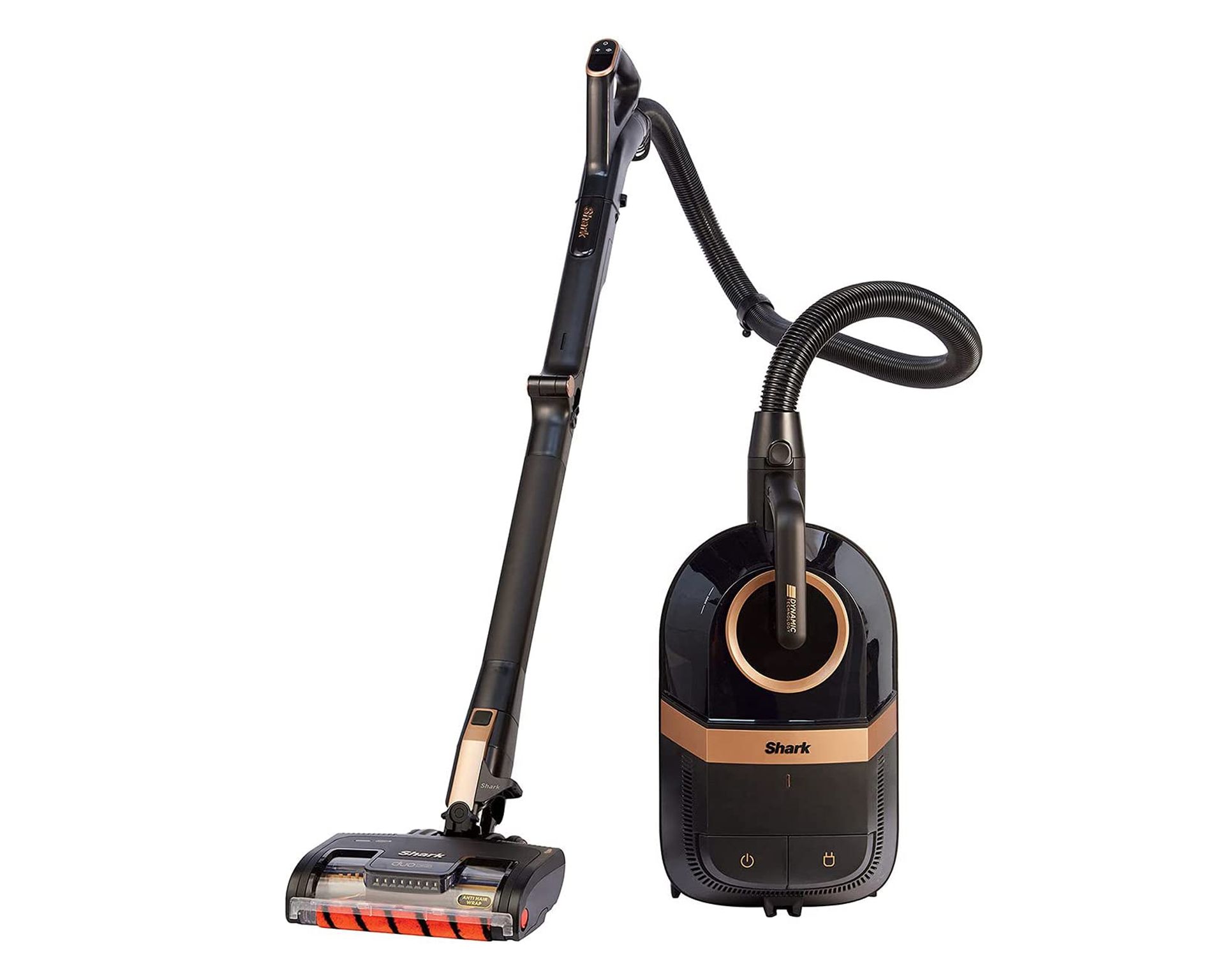 Model no: CZ500UKT
Bin capacity: 1.6l
Power: 800 watts
Power modes: 3
Noise level: 78dB
Weight: 8.4kg
Dimensions: H12.6 x W32.48 x D12.01 cm
Colour: Black and Copper
Who will the Shark DuoClean & Anti Hair Wrap Vacuum suit?
Some of the best Shark vacuums are their famous cordless models, but this is a corded canister type for the busy family home.
This vacuum is versatile when it comes to those with varying floor types, with the ability for you to use it on carpets and hard floors without issue thanks to the small smooth glide wheels. It's also great for those who don't want to contort themselves just to get their cleaning done, with a 'Flexology' design as part of the extended wand that lets you get under sofas and furniture with little effort.
Those who want a sturdy, corded vacuum are well suited to this machine, especially thanks to the fact it has nine metres of cord to work with. It's also unbelievably easy to fetch the cord back in with the button on the main body of the vacuum, so if you just want to plug in in one place and get your clean done, this is a good choice.
It is also marketed as a pet model, so if you were looking for one of the best vacuums for pet hair, this should be one to consider.
Delivery, unboxing and set up
The Shark DuoClean & Anti Hair Wrap Bagless Cylinder Pet Vacuum CZ500UKT has many benefits, but it's fair to say it's not a super slim vac. It arrived in my flat in a pretty large box, and it was heavy to get up even one flight of stairs. The unboxing process was fine, though it seems like things could have been squeezed in more efficiently.
In the box, you receive a handle, a hose, a Flexology wand and a cylinder pod (which is the main body of the vac). These all fit together to form the bulk of the unit, and that whole process was really easy. From there you can pick which head you apply to the vacuum depending on the type of cleaning you want to do. Your options are the Anti Hair Wrap & DuoClean Floor Nozzle, a crevice tool, an upholstery tool, and an anti-hair wrap power tool. In theory, you can store all of these extra tools on the handle, but I found that to be inconvenient, both while using the vacuum and when I went to put it away. That left me with loose attachments, and I would have liked to have seen a bag or better system for keeping them organized.
Performance
There's a lot going on with the Shark DuoClean & Anti Hair Wrap Bagless Cylinder Pet Vacuum CZ500UKT; it's bursting with features, it has various power and suction settings and there are all of those aforementioned attachments that are now floating around in my flat.
Regardless of all of the various elements, from the first use of this vacuum, I was impressed. It slots together really easily, and I absolutely loved the control panel being accessible on the handle, meaning you don't need to bend down and switch the machine on at the main body. Instead, you can get going straight away, and you have control over the different speed and suction settings at your fingertips, which is great.
The controls on the handle are touchscreen, which makes this vacuum feel very expensive, and there's an LED display so that you can see which speed you're on. There's a carpet mode, a hard floor mode and an above floor mode, as well as three speeds to power through. I liked using it on the turbo setting when it came to cleaning carpets.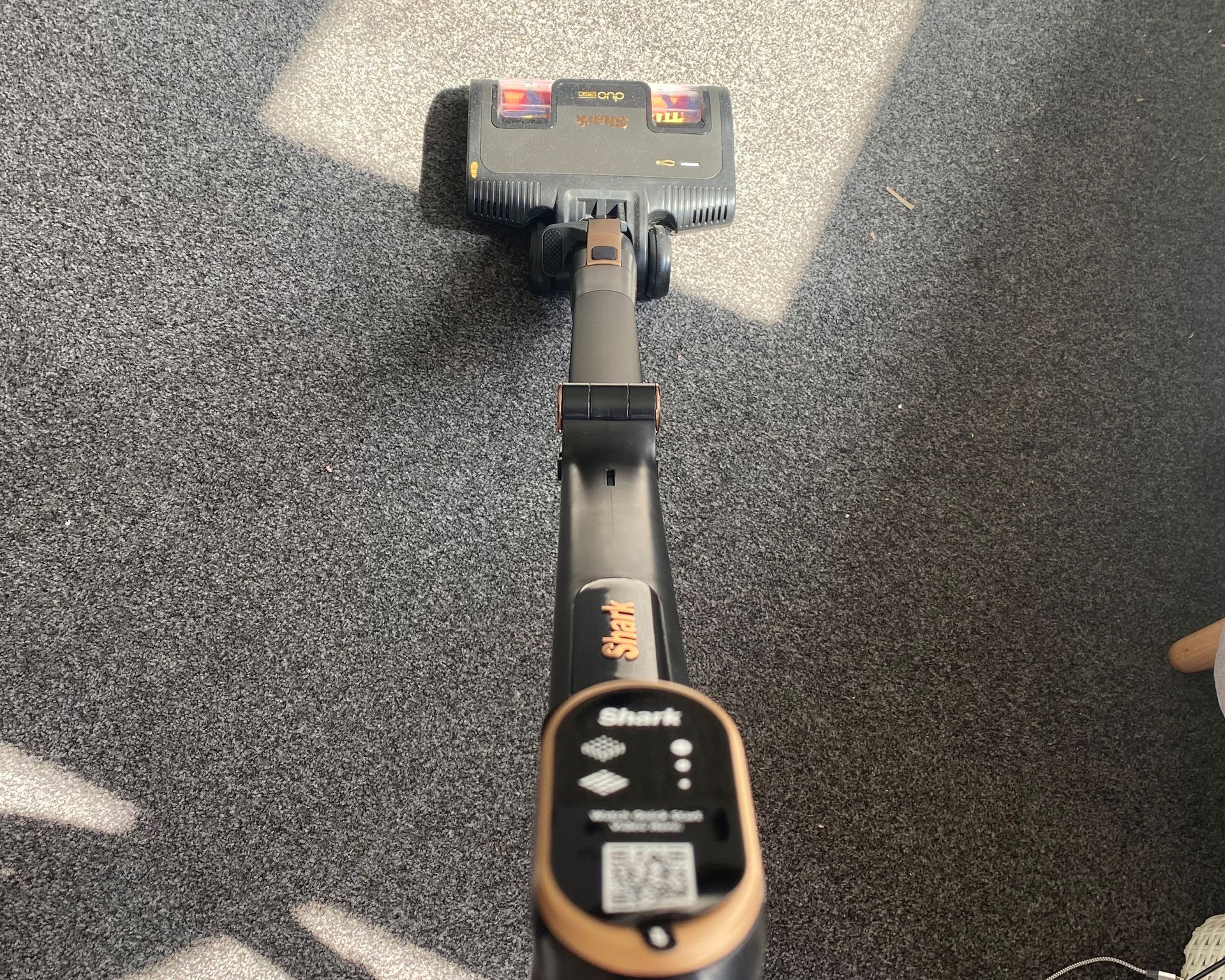 The Flexology wand is slim but sizable in length, and paired together with the full sized head, which you'll probably be using most often, it's nice and lightweight. I use it to easily get under sofas, beds, my desk and coffee table at home and you can also press a button and then bend it about halfway down to get even more reach. On the whole, I think the power levels with this vacuum are very impressive. I always feel like I've done a deep clean when I'm done with it, which is the main thing I want from my vacuum. It's quiet too, at just 78 decibels.
Another selling point with the large head is that it has LED headlights, and I've found that they're a gift for picking up everything on the floor under my kitchen cabinets that I can't usually see, like crumbs. I've seen reviewers online say that the lights are pointless unless you're vacuuming in the dark, but I think they do help to a degree, even if they're not quite at the level of the lasers on the Dyson V15 Detect.
A critique I would have is that the large vacuum head is that it's not great for all of the edges of a room, as the suction doesn't seem to travel to the very ends of the tool. Instead, I have previously had to go back over my kitchen floor with the crevice tool, but you could say that's something to be expected.
This is an all-rounder of a vacuum, but it does have certain qualities that will make it even more appealing for pet owners, including the Anti Hair Wrap technology on the main vacuum head and on the additional dedicated Anti Hair Wrap Power Tool. To use the pet attachment, you attach it onto the nozzle of the Flexology wand, and it features as a mini, super powerful head that you can use on cushions, curtains, upholstery or whatever you see fit to bring up embedded hair.
The main vacuum head has two motorised brush rolls which can target larger debris and dust at the same time. I have to say that I was deeply skeptical about the Anti Hair Wrap Technology, as I feel like every brand claims this to be true, and I've had countless experiences of the opposite. I was also very bitter about recently needing to cut swathes of hair that wasn't mine out of the previous vacuum that was left by past tenants in my flat. To my genuine surprise, the Anti Hair Wrap technology actually works in this vacuum and cuts hair to stop it clogging, meaning you don't have to do any painful untangling yourself. I don't have a pet, but I do have long hair, and I am very happy my days of trying to wrangle a pair of scissors into a vacuum brush roll are over thanks to this vacuum.
The other attachments that you can make use of with this vacuum are the crevice tool and the upholstery tool. The crevice tool is perfect for me for reaching up to areas in my flat that I have no hope of cleaning even when I stand on a ladder. I set to work on my extremely high kitchen cabinets after I first moved into my flat, and I really liked how it got into all of the spaces that the larger brush head can't. After a while, it is laborious to hold the Flexology Wand with the attachment as the whole get-up is so long.
Another gripe I have with the vacuum is that it feels like the main body should be able to stand up on its own, but I find this is never the case. You have to lay the body of it flat on the ground as you get around and then maneuver it back it up to store it again. The inconvenience of this is saved by the joy that is the button that gathers your cord back up for you, but it does feel the maneuvering element of this vacuum could go a little smoother.
Maintenance and storage
For me, the worst part of vacuuming is trying to remove the hair and guck that has gathered inside. I've previously tested the Dyson Omni-glide, and it has a point-and-shoot mechanism that I've regarded as the pinnacle of bin technology ever since. There's something vaguely similar with this Shark vacuum, as the tank has a button that forces the bottom to collapse, and the majority of the dust and hair will fall into your bin. It's not completely effective, meaning you do still have to fish some of the horrible detritus out, so it is something that could be improved upon, but it's still useful. The capacity is very good, and I can go a good few cleans without having to head to the bin, though there is still more I need to establish as I learn how to clean a Shark vacuum, including exactly how often I should be emptying it out.
My flat isn't very big, which makes storing this rather sizable vacuum a bit of an issue for me at times and probably cuts down on how often I give my flat a once-over. Unfortunately, I do have to stash it in our spare wardrobe, alongside my ironing board and mop, which is a squeeze. The fact that you can't really break down the Flexology wand any smaller, and that the body of the vacuum is so big might be an offputting feature to some, though I do think this model is worth the space it steals, as it allows you to get a real deep clean that I don't think you always get with the best cordless vacuums.
How does it rate online?
On Amazon, the Shark Bagless Cylinder Vacuum Cleaner [CZ500UKT] has 191 reviews and has earned a 4.5-star rating. 75% of those reviewers are five-star, and many mention the great suction power, the flexibility of the handle, and the convenience of the cord wind-up button.
Those who were less keen on this vacuum took issue with the fact that the vacuum is naturally set to suction level two when you turn it on and preset to 'hard-floor' mode too. Others also found the wand heavy to hold above their heads, as I mentioned earlier, and that the main vacuum head can sometimes be too lightweight, and lose the needed contact with the floor.
How does the Shark Bagless Cylinder Vacuum Cleaner [CZ500UKT] compare to other vacuum cleaners?
Our top-rated corded vacuum at this moment in time is the Numatic Henry HVR160, and it's a similar family-sized, multi-feature buy to this Shark vacuum. Those who really need a huge capacity should head straight for the Henry, as it has an incredible six-litre tank, and it is adept for handling jobs like DIY clean-ups that involve bigger pieces of debris. For more casual vacuumers, I think that there's a strong argument that this Shark model is more appealing, as it is a lot lighter to manoeuvre, and it has an excellent user experience with the touchscreen control panel.
If you're trying to decide between a cordless and a corded Shark vacuum, the model you'll want to compare this one to will be the SHARK ICZ300UKT. That particular vacuum has an incredible amount of power without the bother of a cord, and it is also absolutely fantastic at picking up pet hair, and so does slightly steal the show where this vacuum is concerned. However, you do get a much better capacity with this model, and you won't have to bother with charging points and battery life faff. In terms of affordability, the CZ500UKT (£329.99) is considerably cheaper than the ICZ300UKT too (£429.00).
Should I buy the Shark Bagless Cylinder Vacuum Cleaner?
I've been using this vacuum for months now, and I can safely say that I'm a fan. You can set it up and use it without fuss (or needing to wait for charge), it has excellent suction, and the controls and look of it are expensive. The added attachments are all useful and worth their place in the box, and I love using the long wand to get under my sofas and bed on my rounds around my flat.
There are low points with this vacuum, including the fact it doesn't stand upright on its own, and the space you'll need to store it, but if you want something to lift historic dirt from your carpets and ensure a deep clean, then I think you'll find these annoyances to be worth it. Plus, while the RRP of this vacuum is somewhat steep (£329.99), this model is regularly available for a lot less when Shark deals crop up and sometimes you can even grab it for half price during sales events like Black Friday, so there is a level of added affordability to it too.
About this review, and this reviewer
Molly is the Ecommerce Writer across Homes shopping content, spending time reviewing products, particularly vacuums and steam cleaners, to see if they can earn a place in buying guides. She regularly tests cleaning products as part of the Real Homes testing process in order to see if they're up to standard.
This vacuum was tested in her home, as you'll see from the photos. It was also possible to keep this vacuum after testing, allowing for this review to be updated over time, to see how it holds up.