If you're on the quest to find a new, easy-to-use cordless vacuum cleaner that can cope with pet hair, then I've got just the one for you. I've been testing Shark's newest vacuum, the Stratos Anti Hair Wrap Plus Pet Pro model, for one month now. Pulling it out once a day or once every two days, I've found it's perfect for cleaning up the pet dander and crazy dust that accrues in my (rather spacious) two-bedroom apartment. Even my husband likes using it, which says a lot seeing that every other vacuum I've tested he avoids like the plague.
What can this vacuum do that other Shark vacuums can't? Well, for starters we think it's the best vacuum cleaner for pets as it's fitted with CleanSenseIQ technology, so it automatically adjusts its suction power based on your floor type — and how clean (or dirty with pet hairs!) your floors are. Essentially, you only need to turn it on and walk around your home. It also works with clever scent pots to emit a lovely aroma as you clean, so your home has a nice smell to complement your clean floors.
This Shark vacuum made it to our best vacuum cleaners guide as our number three pick, and although I've given it five stars, it doesn't sit at number one because of its price tag. It costs $499.99 and I know this isn't budget-friendly for the majority of us, but it has been on sale before, so you might be able to get it discounted at some point if you really want it.
One thing's for sure: I will be keeping this vacuum as my main vacuum (yes, I've got a couple — it's part of the job), and it's undoubtedly the best vacuum I've ever tested. The vac has proven its quality, too. I've been using it pretty haphazardly, bumping into my furniture, and it's come away unscathed. Here's why else I loved it.
FYI: I tested the UK version of this vacuum (model number IZ420UKT) but it's also available in the US and is called the Shark Stratos Cordless HairPro, model number IZ862H.
TLDR: What I thought of the Shark Stratos IZ862H
The Shark Stratos Anti Hair Wrap Plus Pet Pro is a seriously impressive Shark vacuum that can cope with a lot of pet hair and an abundance of dust. It hasn't failed me once while reviewing, and I've used it to clear up everything from flour on my kitchen floor to crushed Oreos (thanks to my nephews). It even sucked up leaves that had been traipsed through our home by the dog.
It works well on hard floors and soft rugs and carpets, though sometimes it's a bit too powerful on carpets (this is hardly a bad thing, though). It has a 60-minute battery life from one battery, so basically, I rarely have to charge it, which is another win. It's similar to other Shark vacuums with its bendable stick that reaches underneath furniture. What's different? Its anti-odor technology is really noticeable when you're cleaning. Instead of leaving behind that dusty scent, this vacuum works with pods to give a nice aroma. It also has CleanSenseIQ technology built inside. This means it will automatically adjust its suction power based on your floor type and how dirty or clean your floors are when in normal mode. No worries about fiddling around with any other buttons.
I used the included tools to clean my sofa, the dog's bed, and my mattress, and to get into tight corners as well. They're nothing out of the ordinary in comparison to what you get with other stick vacuums, but they're still handy.
Testing the Shark Stratos IZ862H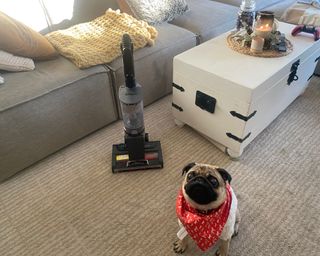 Reviewed by
Reviewed by
Annie has been using this vacuum in her home for several months. This is her sixth vacuum cleaner review for Real Homes. Shark gave it to her to keep after the review, but unlike other vacuum cleaners she tests, this one will be staying with her at home. She loves it that much!
The techy stuff
• Model number: US - IZ862H (UK - IZ420UKT)
• Weight: 8.9 lbs
• Power: 12.26 A
• Runtime: 1 hour/battery
• Charge time: 3.5 hours
• Power modes: Normal, Eco
• Dimensions: L13.78" x W10.24" x H51.18"
• Bin capacity: 0.8 L
• MSRP/RRP: $499.99
• Colors: US - Ash Purple (UK - Silver)
• Accessories: US - Duster crevice tool, anti-allergen brush. (UK - Crevice tool, multi-surface tool, pet tool)
Unboxing the Shark Stratos IZ862H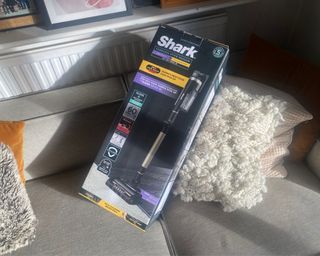 This Shark vacuum cleaner arrived in one box, and inside all of the parts were wrapped sustainably in either cardboard or paper. I was impressed by this, to say the least. Even the scent pod came in a recyclable tin. The only thing that I couldn't recycle was the stickers on the vacuum that show you which buttons do what.
After unboxing the vacuum and splaying its parts and accessories out on my sofa, I then turned to the instructions to find out what each was.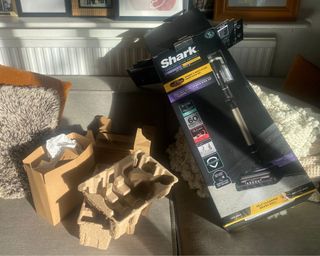 I let it charge first until it was at 100%, as per the instructions (I always do this for good measure). You can charge just the battery or the main part of the vacuum.
Once charged, I clicked the parts together and got to cleaning. Much like all other stick vacuums, this one is in three parts. Just attach the wand to the vacuum body then the brush roll to the wand to start vacuuming your floors. I also added the scent pod.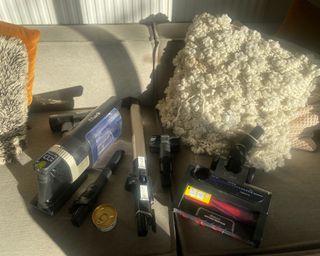 How to use the Shark Stratos IZ862H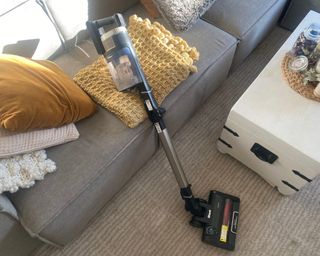 It really couldn't be easier to use. It has a power button and a boost button and that's it. You can see its battery level on its LED display.
Here's what the buttons do:
Power button: This turns the vacuum on and puts it into CleanSenseIQ mode. This means it will automatically tailor its suction based on how dirty it thinks your floors are and whether they are hard or soft. The roller brush and LED lights are on.
Fan button: Puts the vacuum into eco mode. This turns off the roller brush and LED lights. Its battery life will last the full two hours (from both batteries) in this mode.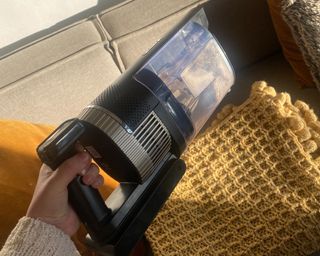 The control panel on this vacuum is quite simple. It shows the vacuum's battery life in a percentage, and it displays which mode you are in — it will say CleanSenseIQ or a green leaf will be illuminated.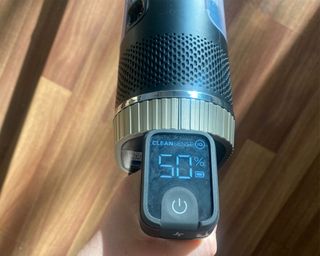 Using the vacuum on hard floors
The long and short: Use this Shark vacuum in normal mode to activate CleanSenseIQ. This makes it easier work for you.
My whole apartment more or less is fitted with hard flooring, a mix of lino and tiles, so it's always very important that a vacuum can clean hard floors well. My floors are dark, too, which means they show every speck of dust and pet hair. This makes it all the more important that a vacuum boasts impressive suction power.
I'll be honest: I really only use this vacuum in its normal mode. I only used the eco mode for the purpose of this review, and on a rug here and there, but it is good to know it's there if your vacuum is low on juice and you need to clean your floors ASAP.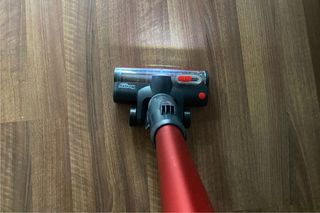 When using this vacuum on my hard floors, it does an incredible job of sucking up everything the first time. Its LED headlight makes it 10 times easier to see the dirt and dust on your floors, too, and it helps steer you in the right direction.
Its bendable stick is truly what dreams are made of as I no longer have to crouch down to clean underneath my bed or my TV unit. Bliss.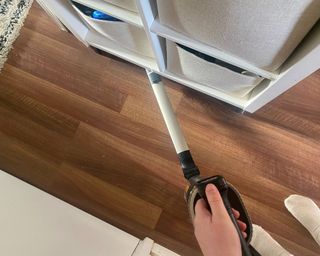 It glides from hard flooring to soft rugs and never gets stuck, and the same can be said for going from lino to tiles.
Using on carpets and rugs
The long and short: Use the Shark Stratos Anti Hair Wrap Plus Pet Pro on its normal mode on soft floors.
Unsurprisingly, this Shark vacuum also works incredibly well on carpets and rugs. It automatically notices that it has moved from hard to soft flooring, and it will increase its suction power to really get deep into the fibers. I sometimes found that this vacuum was a little too powerful on soft floors, depending on what I was cleaning. In this case, I would switch to eco mode but then the LED light turns off, which isn't very helpful.
For the IKEA short pile rug in my living room and the La Redoute runner rug in my entryway, I use this vacuum in normal mode to activate CleanSenseIQ, and I feel very much rest assured that it's picking up whatever is lost in there.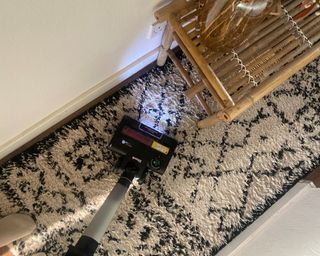 The only time I had an issue was with my short pile Ruggable rug in my bedroom. I've had this issue with other vacuums, but essentially this rug is quite thin so vacuums try to eat it up. It definitely isn't as bad with this Shark vac as it was with other models I've tested. I'll either switch onto Eco mode or I'll just clean this rug really fast without stopping, so I don't give it a chance to sit on one part of the rug for too long.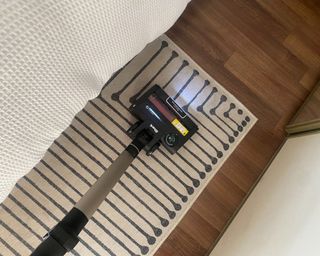 All in all, there's not really anything else to comment on when it comes to this vacuum's performance. It's super impressive and does the job the first time, which is hard to come by in most vacuum cleaners — especially when there's pet hair hanging around.
Using the accesssories
This vacuum comes with three tools included in the box when you buy the UK model. I will be honest and say that I don't often use the tools that come with stick or upright vacuums, mostly because I have a separate handheld vacuum that I use for this job. The Shark Wandvac helps me clean all the nooks and crannies in my home, as well as my upholstery, and it's super lightweight.
For the purpose of this review, though, I did indeed give these attachments a go, and I very much liked them.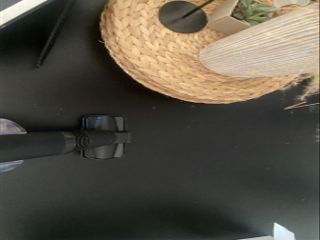 First up: the multi-surface tool. I've used other vacuums that have come with a two-in-one tool and this Shark one is no different. This tool has two heads, one with a brush and one without. If you slide the brush away from the tool, it will reveal the second. It's great for cleaning hard surfaces and upholstery.
I used the brush part of it on my dining table, coffee table, and TV unit. This gives peace of mind that these surfaces won't be scratched while being cleaned.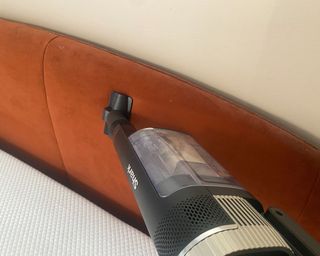 After taking the brush section off it works as a smaller attachment that you can also use to clean surfaces and your upholstery. I used this to de-dust my velvet bed frame entirely, and it really needed it (how does it get so dusty that fast?). This is a super smooth attachment that's pretty versatile.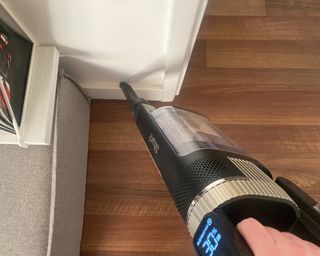 The crevice tool is a commonly included accessory with most vacuum cleaners, so ordinarily, I use this one to clean my skirting boards and get into corners. I also use it for getting into corners to get rid of cobwebs as it's nice and long.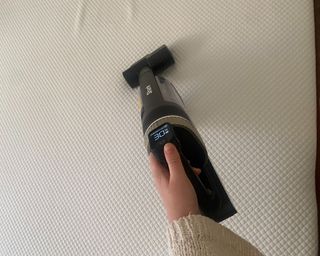 I really liked using the pet tool that came with this vacuum. It's essentially a smaller version of the big roller brush head, meaning it's great for cleaning tighter spaces. Like down the side of my sofa, in between its arm, and my patio doors. Or, down the side of my toilet, in between there and my bathtub. It has a smaller width than the main roller brush attachment, so it's better for smaller jobs. I also used it to vacuum the dog's bed, as well as our mattress. It's quite handy for deep cleaning smaller rugs, too.
US attachments
I tested the UK model of this vacuum, and these were the only attachments included. It does say online that there was supposed to be an extra attachment, the anti-allergen Brush, but It wasn't in the box.
If you buy this vacuum in the US, it comes with different attachments. Included in the box come two tools: a duster crevice tool and an anti-allergen dusting brush.
Battery life
The Shark Stratos' battery life is somewhat impressive for a stick vacuum. At its least powerful, it can offer 120 minutes of battery life from two batteries. It takes 3.5 hours to charge to 100%. This vacuum cleaner will automatically turn off when it needs recharging.
When it comes to charging, you can charge it one of two ways. The first, and my preferred way, is to detach the vacuum from the roller brush and the stick and just charge the entire unit. Otherwise, you can remove the battery and just charge this, too.
How to clean the Shark Stratos IZ862H
Emptying this Shark vacuum is easy, you just need to make sure it's detached from any tools before doing so. Simply hold it over your garbage bin and press the button with a photo of a trash can on it. Give it a little shake and the dust should fall out on its own.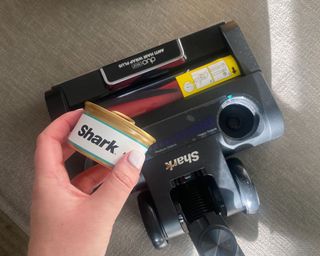 This Shark vacuum works with scent pods so that when you clean, it leaves behind a nice scent. To insert a scent pod into your vacuum, find where it's supposed to go (it's clearly labeled on the roller brush head). Take the pod out of its tin, recycle the container, and pop it the pod into the hole. Using the arrow, you can move the scent pod around to tailor its strength. The smaller your home, the less powerful you want to go, IMO.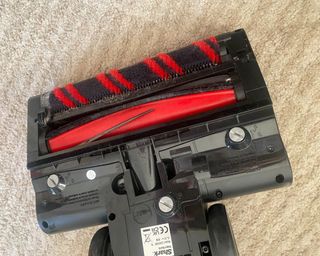 Maintenance is nothing out of the ordinary with this Shark vacuum. In fact, it might be the easiest vacuum cleaner I've ever had to maintain. After four weeks of use, there wasn't even one strand of hair wrapped around its roller brush, which meant I didn't have to remove it. Though it is easy to remove rest assured, you just need a coin at hand to help you do so.
While cleaning my home during the first month, I will say that this roller brush has managed to get some things stuck in it, to name a couple of items: part of a coat hanger, my phone charger, and a rather expensive scarf of mine. This is my fault for vacuuming near these things and not thinking about how powerful the vacuum's suction is, so this is your warning! Otherwise, I will say that when they did get stuck I managed to unwrap them from the roller brush with a tug, and nothing was damaged (apart from the already broken part of a coat hanger).
Is the Shark Stratos Anti Hair Wrap Plus Pet Pro vacuum right for you?
If you've got a little extra to spend on a vacuum cleaner and you want something that's high-quality and built to last, then this is definitely the vacuum cleaner for you. Having pets isn't a necessity with this one I'd say, because before I had a dog I found that even my own hair was managing to clog and wrap itself around the brush of my previous vacuums. It can definitely cope with cleaning a busy family home and if you have a small amount of storage space for a vacuum, it's also great.
Essentially, it offers all of the bells and whistles but it does come at a higher price tag. If you can afford it, then I say get it as you definitely won't regret it.
More top vacuum picks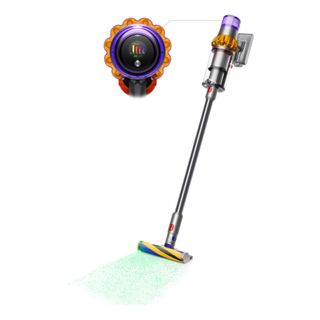 If you're a Dyson fan, then the new V15 Detect might just be your cup of tea. It retails at $749.99/£599.99, so it's not cheap, but it's definitely an investment. It boasts laser technology to ensure your floors are as clean as they can be, plus it's great at collecting pet hair.
• Weight: 3 kg
• Runtime: 60 mins
• Charge time: 4.5 hours
• Power modes: Auto, Boost, Eco
• Bin capacity: 0.76 L
• Accessories: 8