I'll be honest: I never understood why anyone really needs a handheld vacuum cleaner when the majority of full-size vacuum cleaners can convert to a handheld model. But, after testing a bunch of them I now get why they are so popular. And quite frankly, I'm not sure I could live without mine. Yes, I have a pet. Yes, I like to vacuum my kitchen every day because I am clumsy, but that aside my handheld vacuum means I am always prepared for any spillages or messes that come my way.
Yep, these vacuums are specifically designed for those little jobs; from removing crumbs on your coffee table to getting pet hair off your sofa or car seats. I will always rave about how much time my handheld vacuum truly saves me every day. Because who really wants to dig their vacuum out of their cupboard every time they spill something on their floor? Not me.
Whether you're here to find a handheld vac to supplement your brilliant upright vacuum or your robot vacuum, then I get it. Even if you have a convertible cordless vacuum, a handheld-only model will help you get into all the most awkward spots, like under the bed or down the back of the couch ASAP.
Along with Real Homes editors, I've reviewed my way through the best-rated handheld vacuum cleaners currently available to share what we think are the best models to buy right now.
5 of the best handheld vacuum cleaners
Why you can trust Real Homes Our expert reviewers spend hours testing and comparing products and services so you can choose the best for you. Find out more about how we test.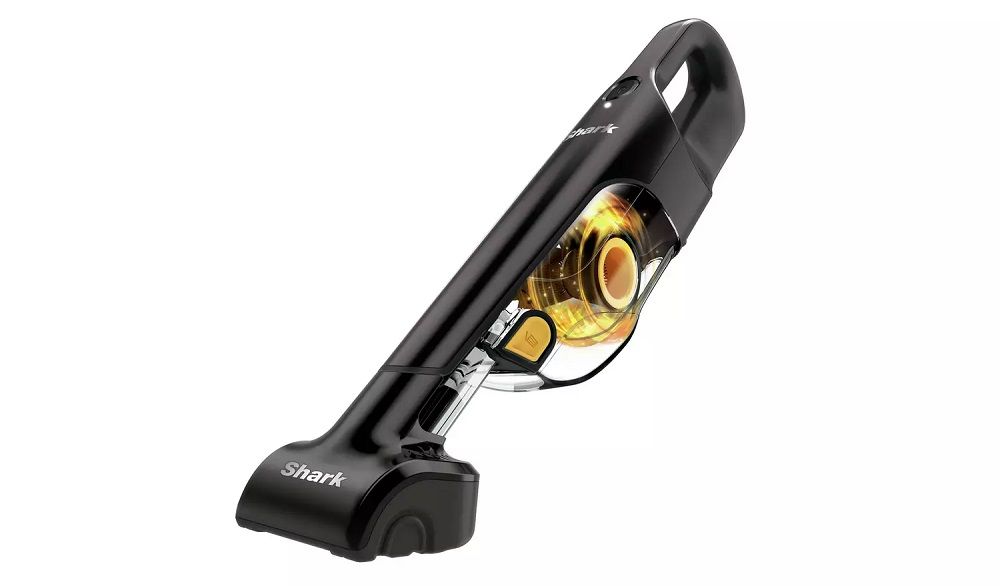 We do like a Shark vacuum cleaner, especially when it's so well priced at just £59 (or thereabouts). And this one is cordless, and handheld, which can help to tackle pet hair (since it's designed to rival some of the best vacuums for pet hair) and keep biscuit crumbs under control.
Our verdict
No amount of debris was too much for the suite of three attachments that come along with this vac — crevice tool, dusting brush, and motorised pet tool — and all of them can be easily interchanged depending on the task at hand. The main unit can also be used on various surfaces, but any one of these attachments was useful to have to target any particular spots, according to our vacuum expert Jen. The suction wasn't affected at all when the attachments were in use, even when the battery was running low.
Things to note
During testing, Jen found that the battery would last for 10 minutes, which could be better. Charge time is just four hours and you can always plug in the vac for a shorter amount of time to quickly finish what you started.
Read our full Shark CH950UKT review.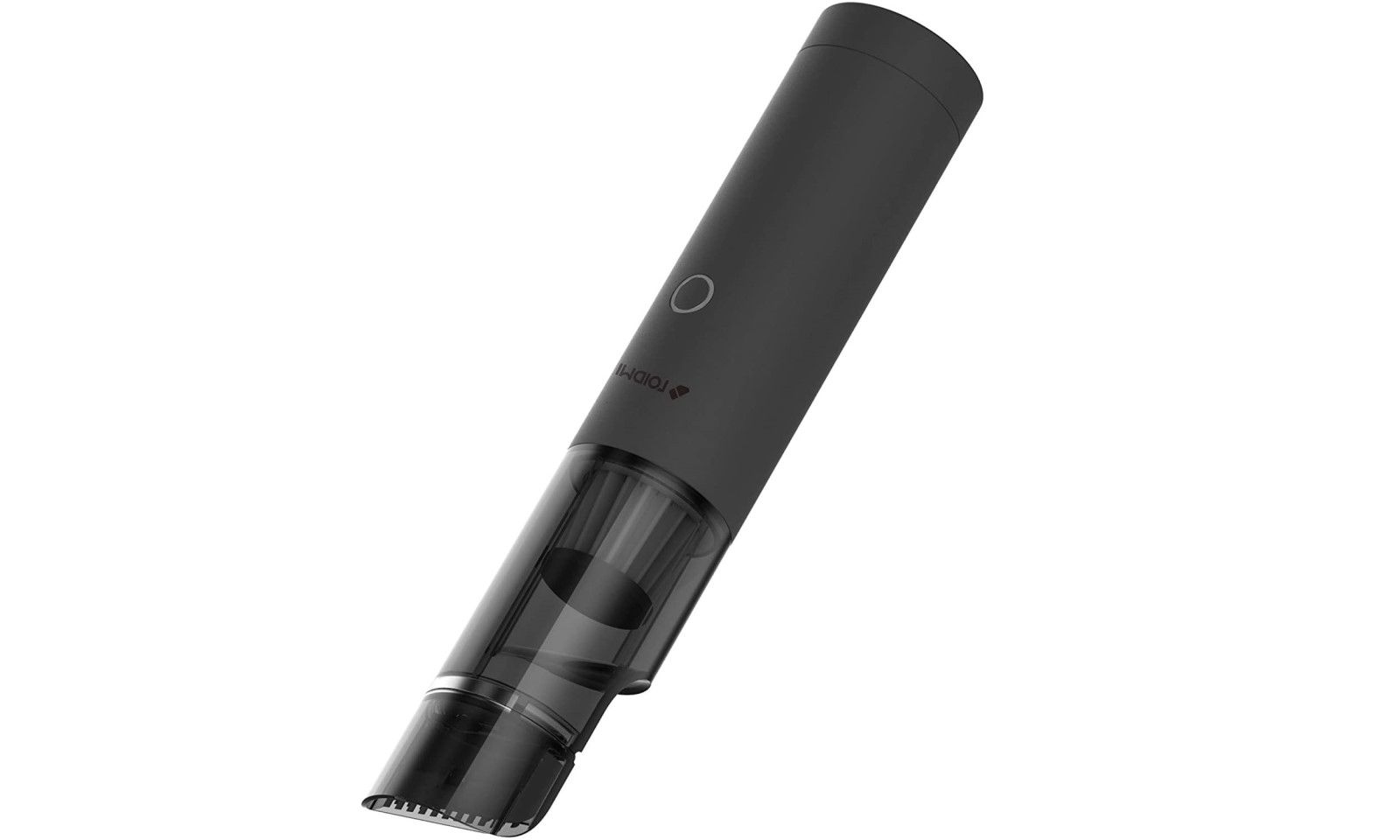 While this Roidmi vac doesn't have the size or attachments of some of the handheld picks in our guide, this is still a fantastic choice for smaller areas. It's also a top pick for cars and upholstery thanks to its powerful suction.

Our verdict
When testing we loved the lightweight design and long battery life of this handy vac. It's a small machine with a capacity of only 0.1 litres, but it's fantastic for keeping in kitchens to tidy little messes as you go. Our head of reviews Millie used it for picking up coffee grounds and crumbs in her home. Because it is so lightweight, it would also be the perfect companion for road trips. The lightweight design and small frame don't equate to a lack of power either. This vacuum did very well in picking up all sorts of debris, including rice.
Things to note
The RRP of the Roidmi Nano P1 Pro is £119, which is more expensive than many handheld vacuums on the market. It also isn't the nimblest, so you may struggle to vacuum every corner, but it is very powerful.
Read our full Roidmi Nano P1 Pro review.
The super lightweight and slim Eufy HomeVac H30 Mate by Anker is about the size of a bottle of wine, meaning it can easily fit in a desk drawer or tucked underneath the seat of a car for quick clean-ups. It would be higher up our list if it wasn't for the price, but we feel that this does set it back a bit given the cost of living crisis.
Our verdict
For such a small vacuum, it's big on power. During our tests, our reviewer Jen found that dust, crumbs, and even compost from a toppled-over indoor plant were tackled in a single pass. The 2-in-1 crevice tool was Jen's favourite accessory for getting into tight, awkward spaces and was best used in her car to clean the boot. She also found the mini motorised pet brush was good for handling stray hairs on the upholstery that she couldn't even see were there.
Things to note
This is a slightly bigger handheld vacuum than the others featured in this guide, so it can deliver a runtime of up to 20 minutes. Jen found that this was (almost) enough for cleaning her whole car and it is more than HomeVac H11 (an older Eufy model). However, it does have a tiny dust bin, which is a little annoying since you have to empty it more often, especially since it affects the suction as it gets fuller.
If you don't want to spend as much on a handheld vacuum as you would on a full-sized one, then you can expect the affordable Dirt Devil Scorpion Handheld Vacuum Cleaner to get the little jobs done well. You'll never have to remember to keep it charged either, just plug it in and clean!
Our verdict
The Dirt Devil Scorpion Handheld Vacuum Cleaner is small, light, and easy to handle — it proved to be an ideal purchase for sucking up crumbs from sofas, vacuuming underneath the radiators, or other small clean-ups during our tests. Our reviewer Alex felt a noticeable difference in power, and found that it had more suction than any other handheld she's tried. Alex's favourite attachment was the stair tool — she can recommend it for banishing dust and dirt on not just stairs but also upholstered furniture and rugs.
Things to note
Unless you have an outlet close to your car, you'll likely want to skip out on the Dirt Devil Scorpion for consistent car upkeep. However, unlike cordless models, you have the benefit of extended cleaning for however long it takes to get surfaces cleaned.
One downside of this Dirt Devil model is that it's difficult to properly clean the stair tool as hair accumulates inside the brush roll. If pet mess or long hair is your main cleaning concern, you might want a tool that has special features to banish caught-up strands.
Read our full Dirt Devil Scorpion review.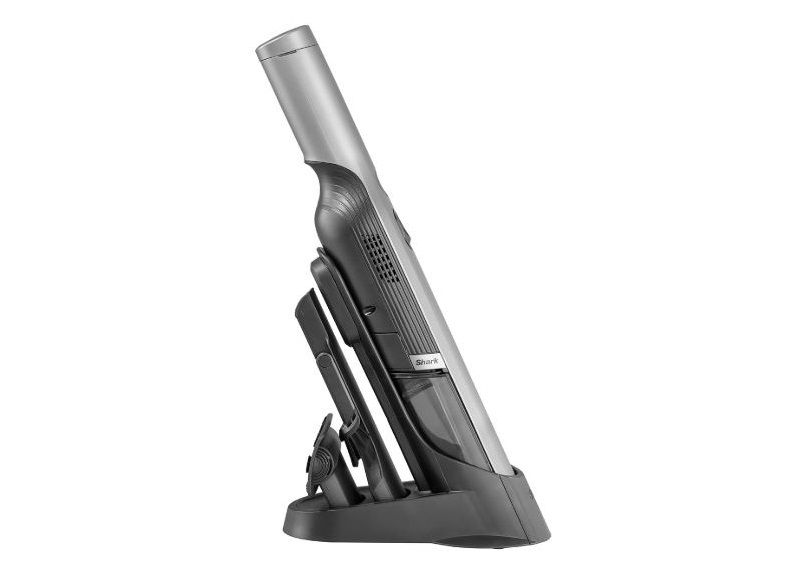 The sleek design of the Shark WV200UK means it's very easy to stash in a cupboard or drawer — but at the same time, we'd totally understand if you want to leave it out on the counter for all to see. It's definitely the best-looking of all the handheld vacuums, though it has a small dust bin and a short battery life, which is why we say it's best for smaller homes and apartments.
Our verdict
Aside from this vacuum's looks, it's also included in this round-up because our tester Jenny really rated its performance at home. She found that it was more than capable of dealing with pet dander and toddler debris in her home, and she loved how quiet and light it was to handle, too. The duster crevice tool was brilliant for all of the smaller spots you sometimes can't get to, and Jenny also found that the emptying process was a dream. You only need to slide one button down to release the contents into a bin.
Things to note
The one real drawback is that, at just 10 minutes, this unit's battery life is on the shorter side of average for a handheld vac — a fact that caught Jenny out during testing. Also, because of its ultra-sleek design, the debris-catching dust cup is very small. But for quick jobs, it does very well and looks great while in action and at repose.
Read our full Shark Cordless Handheld Vacuum WV200UK review.
Real Homes review process — How we test handheld vacuum cleaners
At Real Homes, we know it's important to have hands-on experience with the products we recommend. That's why, as part of our testing protocol, we've tried all of these products out at home for at least two months to give you our honest verdict.
Not only have these vacs been busy lifting actual dirt and debris, but we've also purposely spilt cereal to see how it gets on vacuuming foods too. Alongside the suction power, other factors we measure include how easy the vacuum cleaners are to set up and use, their versatility, runtime, and (of course) a justification of the retail price.
Meet our handheld vacuum testers below:
Jen is now homes editor on TechRadar. Previously she has written for Ideal Home, Real Homes, and Homes & Gardens as our appliances editor. She has tested the Shark UltraCyclone Pet Pro Plus, which is a great pick for homes with pets. She also has hands-on experience with the Eufy Homevac H30 Mate, which has an impressive amount of power for a mini vac, making it perfect for compact spaces.
Annie has been reviewing products for Real Homes since 2018, and she has tested two Shark handheld vacuums for us. She uses the Shark WV200UK Wandvac as her main handheld vacuum at home and uses it mostly to clean pet hairs off her dark lino floor that her pug leaves behind, plus she cleans his bed(s) with it.
Millie is our head of reviews at Real Homes. She has tried a few handheld models, but rates the Roidmi Nano P1 Pro as an ideal buy for those looking for a quick-to-use vacuum.
Jenny is our senior digital editor and joined the team in January 2021. She also tested the Shark WV200UK at home and found that it was perfect for storing in her kitchen for smaller messes. She would recommend it even if you have a large home, as the speed and convenience of this smaller vacuum are excellent.
Alexandra is a freelance writer and former journalist. She tests products out for Real Homes to see if they're worth your investment, and from this list she has tried out the classic Dirt Devil Scorpion+ while cleaning up after her cat, Dish, at home in New York City.
Which other handheld vacuums have we tested?
Here's a vacuum cleaner we reviewed that didn't make it to our list.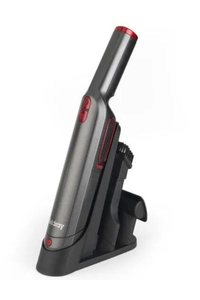 (opens in new tab)
Beldray BEL0944 Revo | View at Amazon (opens in new tab)
We tested the Beldray BEL0944 Revo vacuum but only gave it 3.5 stars. Saying that, we do think it's great if you're looking for a handheld vacuum for solely cleaning your car as it offers 35 minutes of battery life and a 1-litre dust bin. We did note that if you want to use it indoors, it might not be as strong as you'd hoped when it comes to cleaning skirting boards.
Read our full Beldray Revo Cordless Handheld Vacuum Cleaner review.
6 things to consider when choosing a handheld vacuum
When you're looking to buy the best handheld vacuum for your household, there are a few factors to consider to ensure you make the right choice. They are:
1. Weight
Cleaning power aside, we consider the small size and manageable weight to be the most important feature of these small vacuums. If your handheld is too heavy and bulky, you might as well just get an upright vacuum for its greater cleaning power, and use its hose or attachments for spot-cleaning jobs.
2. Corded vs cordless
Once upon a time, handheld vacuums came with cords that had to be plugged into an electrical outlet, but that appears to be a thing of the past. We actively tried to find a standout corded model and selected the Dirt Devil Scorpion as the only worthy corded option.
3. How long do you need to clean?
The omnipresence of cordless handheld vacuums means that they all come with a built-in limiting factor: How long the battery charge lasts.
A run-time of 10 to 20 minutes is typical, so if you find yourself routinely needing to clean for longer, we recommend looking for a lightweight, easy-to-manoeuvre upright or stick vacuum cleaner with appropriate accessories for getting into those hard-to-reach places.
4. Attachments
Like any vacuum, many of these handheld vacuums come with a variety of accessories for a more precise clean. Most should come with a crevice tool, and other nice-to-have attachments might be speciality brushes for carpets and pet hair, dusting brushes, and even hoses for added reach.
5. Level of suction
Handheld vacuums can differ widely in suction capabilities, and sometimes get a bad rap for not being powerful enough, though a 12-volt product should be more than enough for your light housework. A good handheld vacuum will have multiple suction settings, though many have just a simple switch.
6. Dust bin capacity
Size matters. While you want a handheld vacuum that is lightweight and easy to use, you'll also want to consider the dust bin size, and how much you will be cleaning. Typically, the lighter the vacuum, the smaller the dust bin, but a standard dust bin size for a handheld seems to be about a half-litre. Look for designs with see-through containers so you can see how much debris has accumulated as you clean.